Working in the film and television industry while living in Fort Worth means you'll probably spend a lot of your time traveling to other cities. Richard Porter spends much of his time driving to Dallas, Austin, or other cities to work as a key grip on movies and television commercials. Fort Worth doesn't attract many filmmakers. Porter enjoys landing the rare local shoot because it means he can sleep in his own bed at night, and he has a shorter drive to work each day.
Last week, he spent a muggy morning setting up camera equipment in a working class neighborhood on the Near Southside. His crew was working on Bomb City, a feature film currently being shot in various cities around North Texas.
"There is not a lot of stuff that actually shoots in Fort Worth, so it's fun when there are locations out this way," Porter said. "Back in the day, Walker, [Texas Ranger] used to shoot a lot out here."
Since Chuck Norris' karate-cop show went off the air in 2001, there hasn't been much "except for minor television and stuff like that."
Fifteen years is a long dry spell.
"There isn't a professionally established market in Fort Worth for film or television or even commercials," Porter said. "Independent contractors live here, and people have shot here, but there is not enough consistent work here to attract people to want to shoot in Fort Worth."
Porter sees that changing. Business leaders and city officials are karate chopping Fort Worth's reputation as a backwater burgh in the eyes of filmmakers.
"It's going to change," Porter said. "Fort Worth just started its own film commission about a year or so ago. I'd like to see more locations out this way, and they're starting to trickle this way. It's becoming more and more viable to shoot movies here."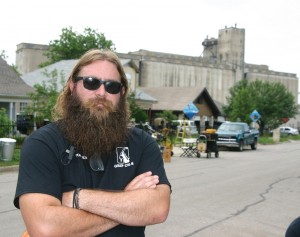 Film commissions serve as the primary contacts for film and television producers looking to work in town. With a commission in place, filmmakers don't have to blindly call around and deal with a dozen different people while trying to find locations, hire a crew, secure various permits, book hotels, rent cars. In many places, including Fort Worth, the commission is affiliated with the city but housed under the Convention and Visitors Bureau and mostly funded by private donors and grants. The Fort Worth Chamber of Commerce kicked in $10,000, while the Convention and Visitors Bureau provided office space and staff.
After a couple of years, the commission will likely seek city funding as it tries to establish an annual budget somewhere in the $250,000 a year range. The money will pay for marketing the city and its film industry, registration fees for film festivals, and various travel costs for networking events. The thought is: small investment, big return.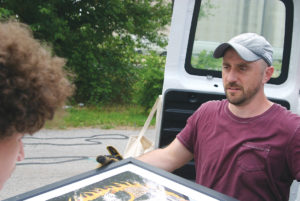 Getting much of the credit for establishing the film commission is Red Sanders, president of Fort Worth-based Red Productions, one of Fort Worth's busiest film production companies. Sanders makes TV commercials, industrial videos, and the occasional feature film. A 2004 graduate of TCU's film program, Sanders chose to stay in his hometown rather than pursue a career in Hollywood or other film-favored cities. He was one of the most vocal early proponents of establishing a film commission because it "gives Fort Worth a place at the table," he said.
David Berzina, executive vice-president of economic development for the Fort Worth Chamber of Commerce, "didn't realize that Fort Worth was positioned as well as it is in the film industry" until he heard Sanders making noise.
After talking to the filmmaker, Mayor Betsy Price, and the Convention and Visitors Bureau, Berzina wanted to "try to retain this element of the creative class," he said.
If you wonder why Berzina wants to keep the artistic rank around, just look at his job title. He's in charge of economic development. Filmmaking creates jobs and money, a fact not lost on Berzina and another early proponent, Mayor Price. She and City Council members were encouraged by discussions with Sanders and other filmmakers choosing to live in Fort Worth.
"We see a terrific opportunity to help seed these creative types here in Fort Worth as they compete on a national and international stage," Price said. "Supporting these kinds of TV and film productions also boosts awareness about Fort Worth and the creative talent and businesses we have here. We are the fastest-growing city in Texas, and a new generation is discovering that we're a great place to live."
Sanders wants to remain in Fort Worth, even though many film deals are generated on the West Coast. Recently, he opened a branch office in Los Angeles while remaining anchored here. Some deals he will be inking in L.A. and bringing back to Tarrant County for production, where he can shoot them for less money.
On the flip side, producers Josh Mills and Steve Camp recently moved their independent film production business, Desert Wind Studios, to Fort Worth after being based in Los Angeles for 15 years. Mills grew up in Fort Worth, graduated from Nolan High School in 1994, attended Texas A&M University, and then sought fame and fortune in New York City and, a few years later, Hollywood.
"A lot of people scratch their heads a little bit," he said. "We were in the Mecca of filmmaking, and we pack it all up and bring it here."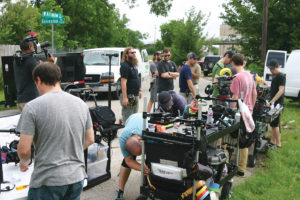 He co-founded the film production and finance company Desert Wind in 2008 with the idea of bringing it back to Fort Worth once the company was established. Recent projects include the indie Christian movie Brother's Keeper (2013) and the feature documentary Sugar Wars: The Rise of the Cleveland Mafia (2012). The creation of a film commission is a vital part of the process, Mills said.
"I'm passionate about bringing the infrastructure to Texas," he said. "The state is so conducive for filmmaking. Unlike a lot of other states, we have a lot of room. It's real business friendly. You don't have to be in L.A. to do film work."
Desert Winds has lined up several productions since establishing its offices here in October, right about the time the film commission was getting started. He credits the face of the Film Commission, Jessica Christopherson, with making Desert Wind's relocation easier. Christopherson, a 2004 graduate of UTA, was already working as director of public relations at the Fort Worth Convention and Visitors Bureau. That group volunteered to house the film commission. Christopherson relies on help from the Visitors Bureau's vice-president of marketing, Mitch Whitten, a former Fort Worth Star-Telegram reporter who moved into marketing in the 1990s and served as a marketing director at SMU until 2013, when he joined the Visitors Bureau. There are no actual commissioners, just Christopherson and Whitten in leadership roles, overseen by Visitors Bureau CEO Bob Jameson, and reporting to city officials. Everyone is relying on financial support through private donors, the Chamber of Commerce, and the Visitors Bureau for now. The city will probably be asked to kick in money once the commission has been operating for a couple of years and proven vital in attracting film projects.
For now, a typical day for the commission involves helping people find shooting locations, providing assistance with permitting, and answering myriad questions about accommodations, transportation, catering, and "anything and everything needed to make a production happen," Christopherson said.
An online database is currently being developed to list the city's available locations.
Christopherson is happy to be in charge –– she relishes promoting Cowtown. Her natural exuberance provides an air of confidence and capability that impresses local filmmakers.
"You can feel the energy," Mills said. "She is taking the right steps. If I were going into production tomorrow, I could hire 80 percent of my crew from the DFW area."
Desert Winds expects to build a 10,000-square-foot sound stage in the near future, he said.
In the past, potential filmmakers might search online for a film commission in Fort Worth, find none, and then call Dallas or another city. Fort Worth finally made its move in 2015, securing certification through the Association of Film Commissioners International, the Beverly Hills-based nonprofit organization that monitors more than 300 film commissions across the globe. To establish a certified film commission, Christopherson completed classes required by the international group. She is currently taking more classes, which she plans to complete by September, to qualify as an officially certified film commissioner.
The state's other large cities –– Austin, Dallas, Houston, San Antonio –– established film commissions years ago. Even smaller cities –– Amarillo, Brownsville, Corpus Christi, and El Paso –– have them.
It took a while, but Fort Worth is in the game now.
A place at the table can be prosperous. The Dallas Film Commission reported $322 million in economic impact from film and TV work in 2013. The city logged 522 productions that year. Houston secured more than 200 film and video projects that same year, with $18 million in direct expenditures and $54 million in economic impact, according to its film commission.
How much did Fort Worth earn in 2013? Good question. Without a film commission, nobody was crunching the numbers and compiling the information. The Texas Film Commission reported only two film productions in Fort Worth in 2013.
"Every town that is a serious movie city has a film commission," said local filmmaker Porter Farrell, who shot Windsor,  starring Barry Corbin, last year in North Texas. "Having a film commission will be great because there is a central point for people to go through, and it will lead to a think tank of people in the business. You won't be hearing Dallas this and Dallas that. A film commission in Fort Worth will help films get made here."
That Fort Worth-Dallas rivalry still exists in the minds of many natives around here, but Christopherson doesn't buy into it. She has been working closely with the Dallas Film Commission for years while trying to accommodate filmmakers looking to shoot here. The commissions will continue working together for the good of both cities, she said.
******