The distinctive monthly gathering in which hot rods and caffeine are combined has gotten so popular that it has –– yet again –– moved to bigger environs. The new home for Cowtown Cars & Coffee is Texas Motor Speedway.
TMS, said CC&C founder Zig Gardner, is "a great fit" with "large parking lots." Overall, the racetrack in North Fort Worth is "an appropriate venue."
Cars & Coffee is a cruise-in style car show, meaning people drive up, show off their cars, hobnob, drink a hot cup of joe, and enjoy a Saturday morning. From Model Ts to Lamborghinis, all makes, models, and years are welcome for display.
Gardner held the inaugural event in October 2012 at LaGrave Field, the former home of the Fort Worth Cats on the North Side.
"I just did as much social media and word of mouth as I could for the first event," he said. "Sixty cars showed."
The event remained at LaGrave until the contract expired and then relocated to the Chick Fil-A parking lot at Montgomery Plaza. But the steady growth in attendance prompted another move a year later, this one to Farrington Field.
"When the crowd was too big there, I went looking for a new home," he said.
Enter: TMS.
The largest turnout that first year was around 200 cars, Gardner said. Its appeal is simple, he said: People just like to hang out and talk cars.
There are dozens of car shows in North Texas. Many are fund-raisers for charities or for local people needing medical help. You can find at least one car show every weekend –– North Texas Auto Events' Facebook page is pretty comprehensive. More events are in Dallas County than in Tarrant County, perhaps explaining why Cowtown Cars & Coffee has been packing them in –– less competition locally.
What sets Cars & Coffee apart, Gardner said, is that all cars are welcome. Diversity is the show's greatest trait, he added.
CC&C has a sponsor this year: TMS' Speedway Club, kind of like a country club for race fans. The show is now held every third Saturday of the month in the Crystal parking lot, across the street from the Speedway Club.
"We jumped at the idea of hosting Cars & Coffee here," said club Project Coordinator Brittany Crabtree, noting the event's popularity.
Cash donations are encouraged in exchange for coffee provided by Texas Motor Speedway. The cash benefits Speedway Children's Charities, a 19-year-old nonprofit whose members offer various kinds of financial assistance to North Texas children.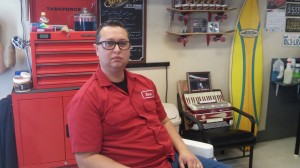 Steve Clary, a local business owner and pre-1963 classic car enthusiast, said he plans to attend this month's show to network with other auto enthusiasts and pass out business cards. Clary, 42, owns Fender's Barber Shop, a classic car and vintage sci-fi themed barbershop, where he is known as Straight Razor Steve.
While sweeping up his shop located inside the Fiesta Mart at 2700 8th Ave. near the Hospital District, Clary said his love of classic cars and vintage sci-fi started in his early childhood. He created his business by overlapping his passions.
Talking about the various hubcaps and Star Wars memorabilia around his shop, Clary said a lot of designs for spaceships and flying objects in sci-fi movies seem to borrow from contemporary car culture.
"I've always been into science fiction mostly because a lot of your sci-fi movies will have some kind of cool, fast-speed contraption," he said.
Clary agrees with Gardner that the best part of CC&C is that it's open to fans of all cars and not limited to specific makes or models.
"It's really just a parking lot on a specific morning dedicated to people who love their cars and think it's worthy to be discussed among people," he said.
Clary owns a white 1962 Chevrolet Impala but said he will probably show up to the event in his newly repainted 1965 Chevrolet C10 pickup. He bought it in 2007 in Allen off of Craigslist. He bought his custom-painted white Impala in 2011 right before he enrolled in barber college.
"Cars & Coffee is an interesting crowd because you have so many walks of life showing up," he said. "You've got the guy who has a 1995 Toyota Corolla, but that's his baby."
The event is free.
"The ultimate goal is to go to Cars & Coffee to try and meet people that share your interest in your type of cars and find out about other car events," Clary said. "If I can get a customer or two to come to the shop, well, that's gravy."
[box_info]Cowtown Cars & Coffee
8am Sat, Jun 18, at the Speedway Club, Texas Motor Speedway, 3545 Lone Star Cir, FW. Free, donations welcome. 817-215-8550.[/box_info]