In North Fort Worth, past the Stockyards and just a couple of blocks off Main Street, on Ross Avenue, there's a small museum on the grounds of Meacham Airport which probably tells the story of aviation better than any other source. The Fort Worth Aviation Museum was opened in 1989 by a group of Marine Corps veterans as an homage to the history of aviation. And what a history it is. From training foreign fighter pilots for WWI to building some of the best aircraft ever to fly, aviation is as important to the history of Fort Worth as cattle drives and the railroad.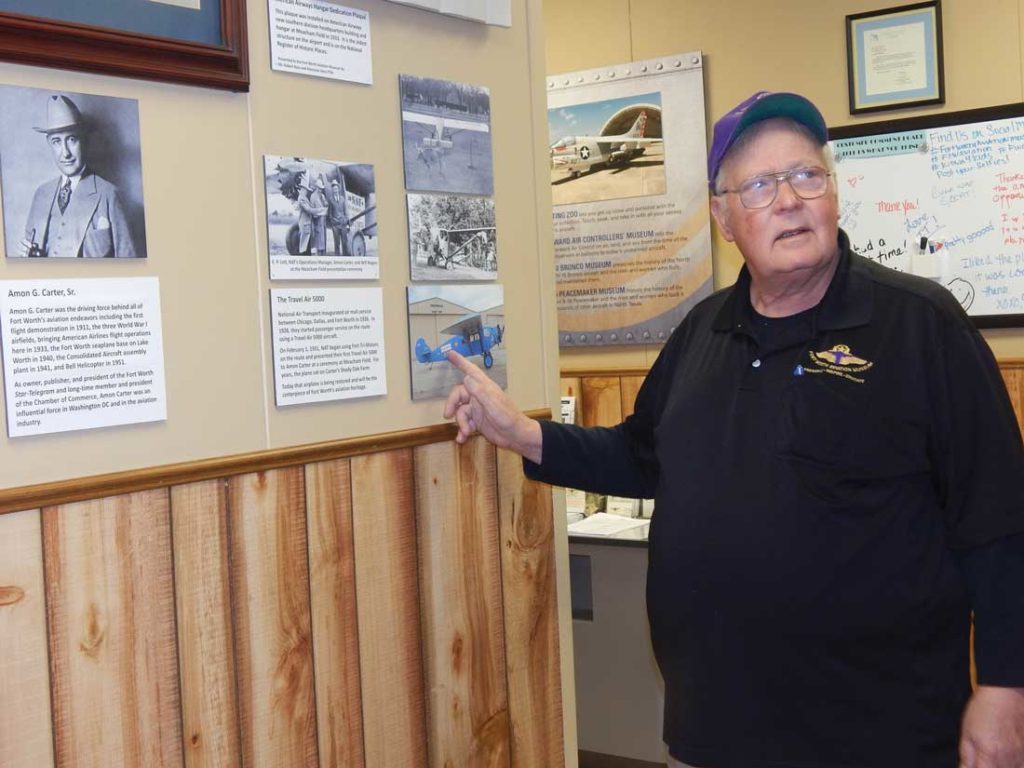 Consider this: Since the 1940s, 70,000 airplanes have been built in North Texas. Their estimated economic impact, not including the infrastructure associated with them, has put $1 trillion into the local economy. One in five jobs in North Texas is aviation related — among the highest concentrations of aviation jobs in the United States — with 140,000 people working just at DFW International Airport. Sixty-three million passengers pass through our airports annually, with DFW alone generating $44 billion a year to the North Texas economy
"And when you consider DFW, Lockheed [Martin], Bell Helicopter, Alliance Airport, and all the other aviation interests here," said Jim Hodgson, executive director of the Fort Worth Aviation Museum, "you're probably looking at a $100 billion annual contribution to our economy."
The numbers make your head spin. So does the realization that Billy Bob's Texas and other parts of the Stockyards were used to build aircraft for WWII, that the Navy's dirigibles all had to come to Fort Worth to refuel with natural gas in the 1920s, that Fort Worth was designated the Southwest center of airmail for the United States Post Office Department (that airfield later became Meacham Airport), and that a small group of Fort Worth businessmen founded what would become American Airlines.
Pretty heady stuff for an industry that started here with very humble beginnings.
"Aviation in Fort Worth all started on January 12, 1911," Hodgson said. "There was a group of international aviators who were traveling around the country doing flight demonstrations, and a group of Fort Worth businessmen paid them to come here to put on a show. The flights in that demonstration were the first powered flights ever done in Fort Worth. There had been glider flights, but those were the first powered flights."
Those businessmen included Fort Worth luminary and food and beer distributor Ben E. Keith, who would remain instrumental in building the aviation industry here.
In 1917, the next big thing in aviation happened. Preparations for WWI were underway, and Keith went to Washington, D.C., to see if he could get something established for that effort in Fort Worth.
"Well," Hodgson said, "he met with the head of the Air Force, which was part of the Army at that time, Benjamin Foulois, and out of those meetings came three airfields that were used to train Royal Flying Corps pilots from Canada and Great Britain. Now you've got to remember that aviation was in its infancy. And we needed training, so in exchange for establishing the fields, the Royal Flying Corps agreed to train American pilots. They wound up training about 300 initially and then about 2,500 maintenance people."
The Canadians and Britons stayed for only about five months, Hodgson said, and once America entered the war in 1917, the airfields reverted to the United States as part of the Army Air Corps Flying Service and pilots continued to train there.
"There really wasn't anything special about the Canadian and British pilots," Hodgson said. "It was just a question of us learning to fly."
*****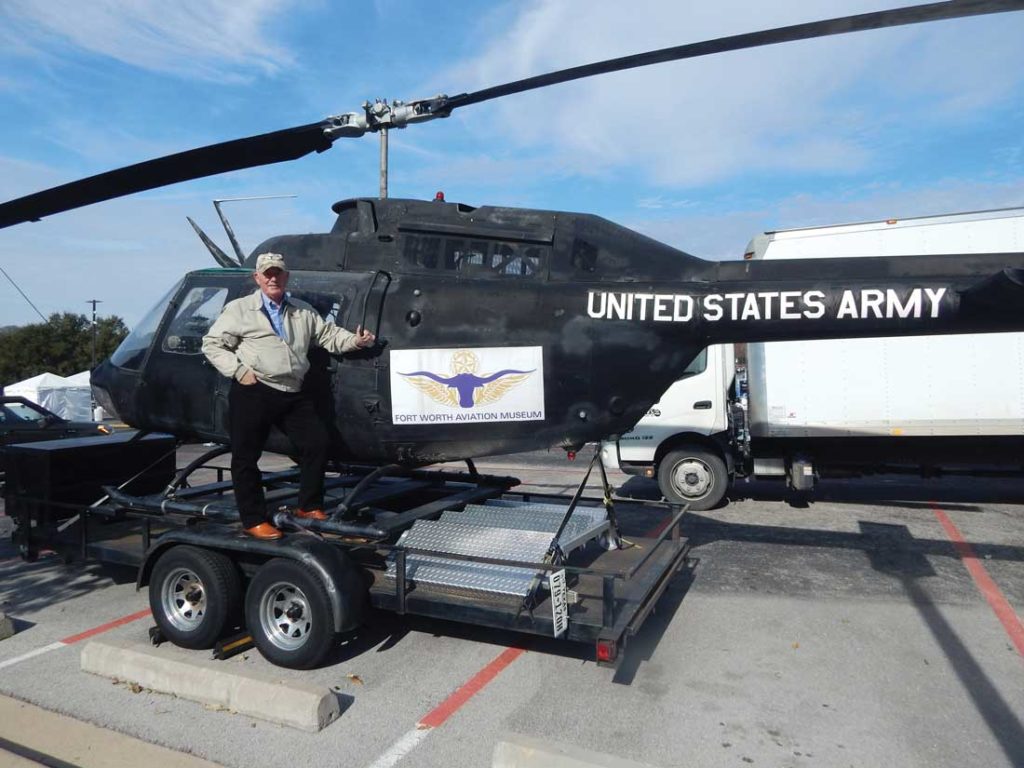 Jim Hodgson loves talking about airplanes and the history of aviation in Fort Worth. The 68-year-old has classic movie star good looks, piercing grey-blue eyes, and a commanding presence. Born and raised in Chicago, he spent a year at the Coast Guard Academy before heading to the University of Illinois. He followed that with a nine-year stint in the Marine Corps as a pilot, mostly flying the Rockwell OV 10-Bronco — first utilized during the Vietnam War, where the Foxtrot Alpha website says it provided forward air control, helicopter escort, ground attack, and observation and also performed light logistics duty. Hodgson said he joined his squadron as they were returning from Vietnam.
Following his Marine stint, Hodgson went to work as a commercial pilot for Continental Airlines, where he flew the 727, 737, 777 and the 787. Which one did he like best?
"My favorite was always the one I was flying," he deadpanned.
His favorite routes were on the 777, which took him to Europe, the Middle East, and Asia. His favorite layovers were in Shanghai and London, "London because it feels like a big village and Shanghai because it's one of the most modern, progressive cities in the world," he said.
Hodgson, who retired three years ago, was itching to get back to aviation history: "So after WWI, one of the training fields, Barren Field, remained as a municipal field for Fort Worth. And during the early 1920s, there were attempts at establishing air commerce here, but not much happened until 1925, when Amon Carter and several others started up the Fort Worth Aviation Club to promote aviation here. They persuaded the city to establish a new airport on the North Side of the city, which became Meacham Field. That's what got things going. That field was designated by the postal department as the airmail center for the Southwest, and all the contract mail routes came through Fort Worth, just like they did with the railyards. So by the late 1920s, Fort Worth became a hub for air commerce."
By the 1930s, air commerce expanded and became involved with passenger transport. Texas alone had between 20 and 30 airlines around the state, with a dozen of them under the direction of Amon Carter, C.R. Smith, and Juan Trippe.
"They put those airlines together and formed Texas Air Transport," Hodgson said, "then they got together with a couple of other small airlines and formed what became known as American Airways, which became American Airlines."
Smith went on to run American Airlines from 1934 to 1968, while Trippe, a New Jerseyan, founded Pan Am.
The next boom in the airline business in Fort Worth occurred just prior to the start of WWII, when President Roosevelt, in 1939, decided to establish an Air Force of 50,000 planes.
"The Pentagon began to establish places to build those airplanes," Hodgson said, "and Amon Carter lobbied Washington to establish a plant here. And he got it. It became known as Air Force Plant No. 4, and it was one of the largest plants in the country. Fort Worth was chosen because there were the natural resources needed to build those planes, a large capable workforce, and good weather year-round. Grand Prairie, through North American Aviation, also began building planes for the war effort."
Hodgson said that what's now Billy Bob's and some of the other buildings in the Stockyards were home to a small company out of Saginaw called Globe Aircraft during the war as well. "All military," he said.
But Plant 4, he continued, "was the big one. They were building B-24 Liberator bombers there. That was Consolidated Aircraft building the planes under contract to the Army Air Corps. Following the war, General Dynamics took over the plant, and it's currently used by Lockheed Martin. That's some history for an aircraft plant in White Settlement."
The major boosts for aviation in Fort Worth post-WWII included Carter convincing Bell Helicopter to move from New York to Fort Worth and the construction of DFW airport.
"Which spins up to today, with all those jobs connected to the aviation industry," Hodgson said.
*****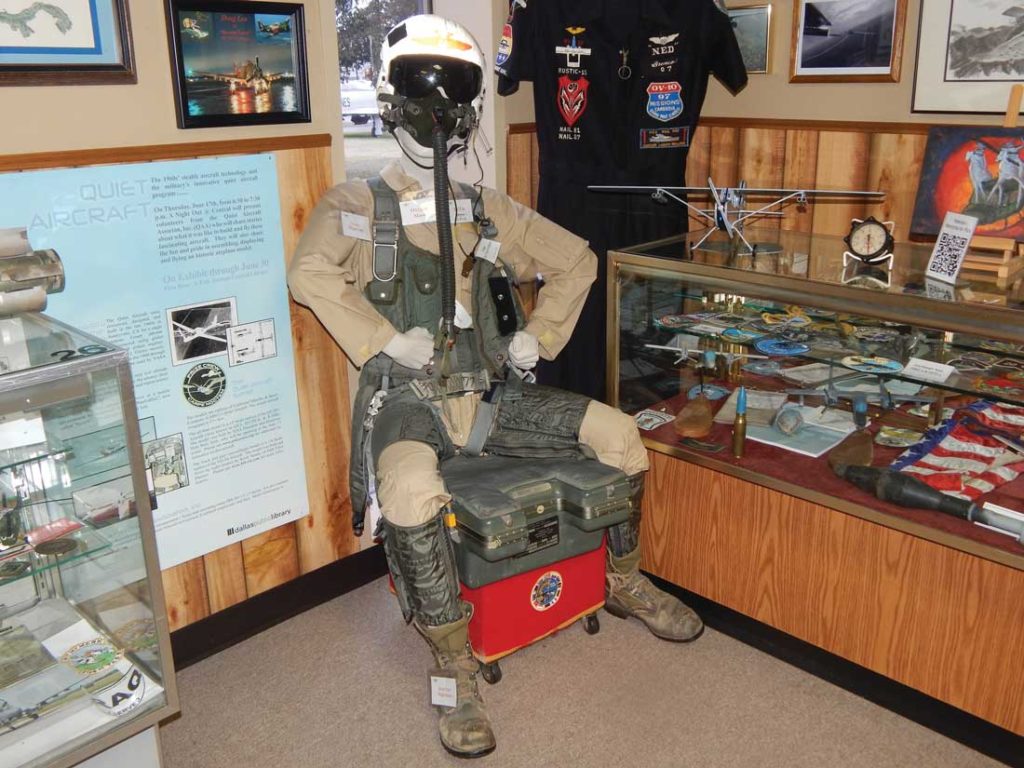 Hodgson's love of Fort Worth's aviation history led him to get together with a small group of former Marines to form the OV 10-Bronco Association in 1988, with the intention of starting a museum that focused on the aviation history of North Texas, in Fort Worth. They initially opened the museum, under the aegis of the Bronco Association, as the Forward Air Controllers Museum, located in the Vintage Flying Museum — one of six air museums in North Texas and one of about a dozen in Texas — on NW 38th Street. They were able to lease their new location in Meacham Airport in 2009 and rebranded themselves as the Fort Worth Aviation Museum three years ago. They began collecting aircraft in 2000, and most of the more than two dozen on display have come from the National Naval Aviation Museum in Pensacola, Fla., on permanent loan. Most of them don't come to Fort Worth in display-ready shape.
"We get these old rusted planes and rebuild them here," Hodgson explained. "We've got about 30 maintenance volunteers who do that work. Most of those are former military. But our claim to fame as a museum is that we're the only one to focus on the aviation history of North Texas."
Those 30 are part of a volunteer staff of about 100 who work at least occasionally at the museum, which is funded by gifts, an occasional grant, and a $5 adult entry fee. The Bronco Association pays a low rent to Meacham but receives no money from the government.
The focus of the museum, Hodgson said, is inspiring kids. "That became apparent to us about the time we moved to our present location eight years ago. We had discussions with Tarrant County College and others who suggested that we focus on middle school kids," children who are old enough to appreciate the aircraft but still young enough to be inspired.
One of the groups the Bronco Association works with regularly is Imagination Fort Worth, a nonprofit that helps schools develop creative programs for students. Lauri McKay Bevan, Imagination Fort Worth's executive director, said she first met Hodgson about two years ago at the Center for Nonprofit Management in Dallas.
"He seemed like a great human being," Bevan told me, "and our organization is all about using the community as a resource and taking kids out to spots around Fort Worth that are sort of secret. So we started talking, and what came out of it was what we call the Photography Flight program. We integrate art with curriculum. The museum has such great history, and then you have the science and engineering of aviation, and we thought that photography would be great to pursue in combination with that.
"So these kids coming from photography classes in the Fort Worth school district are learning from experts in aviation photography," she continued, "and they get to look at objects in a fresh manner, from new angles. And then the kids are learning about the aviation museum as well. It's super-cool. We have seven visits arranged for this year, 40 kids a visit. Some are middle school, some high school. They're shooting with a variety of cameras that we provide — digital cameras — and then they've got cell phones, and some of the schools, not many, have their own cameras. I think this is a great partnership.
"It's an integration of the science and history of aviation with the artform of photography all in hands-on learning," Bevan continued. "It's just an unforgettable experience for them. They look at the world with fresh eyes. They see something industrial in a new and beautiful way."
*****
The museum is impeccably run. Tickets are purchased in a little gift shop that's stacked with toys, models, Air Force insignias, and a host of other items. On a recent visit with my teenage daughter Madeleina and my 6-year-old granddaughter, Taylor, Gerry Fix was holding down the fort.
"Welcome to the Fort Worth Aviation Museum," she beamed. "You're going to like this place."
Fix turned us over to two docents. Wes Cloud and Richard Prestianni were longtime airline men, Cloud a retired airport controller who paints the insignias on museum aircraft when they're restored and Prestianni a retired airline mechanic for Delta and American. Cloud took me, while Prestianni took the ladies.
We stopped in a small hallway just beyond the gift shop. One wall had dozens of displays shown bulletin-board style, and Cloud pointed out one small group of photos in particular.
"That's Bessie Coleman," he said, pointing to the picture of a young African American. "She was the first black woman to ever get a pilot's license. She tried to get one here in the U.S. but was turned down, so she moved to France, learned the language, went to pilot training school, got her license, and came back here. She made a living barnstorming in aviation shows."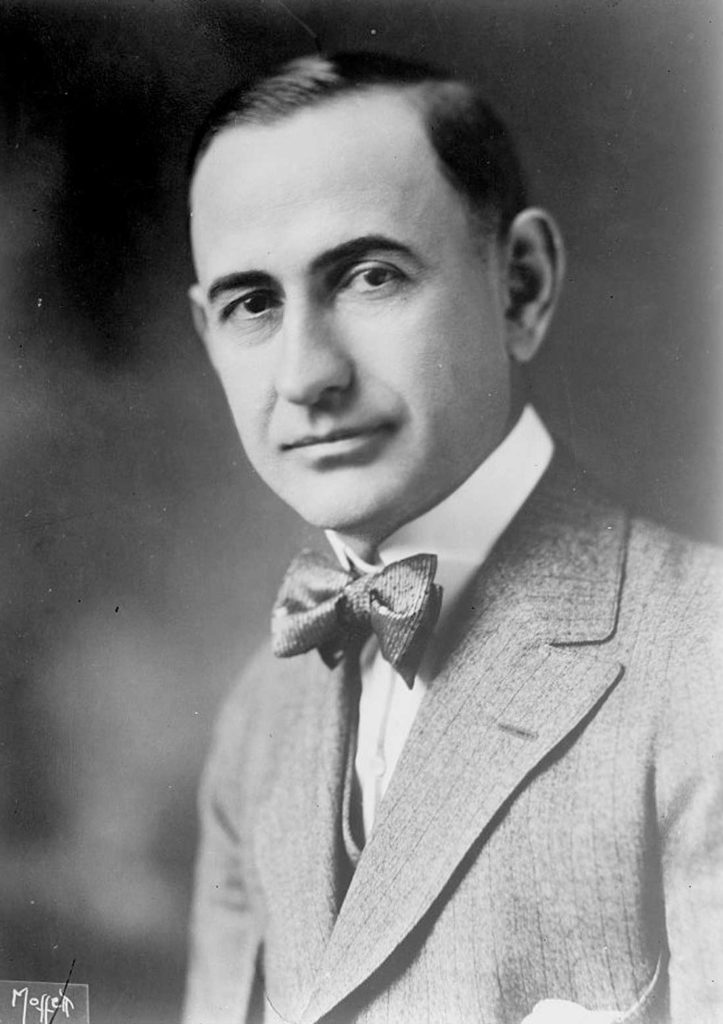 Cloud next moved to a display dealing with Amon Carter. "He's the man who brought aviation to Texas," Cloud said.
Cloud looked as though he, if allowed, could easily spend a couple of hours just on the hallway displays, but I was itching to get into the main room and then out to the aircraft.
The museum's primary area is a large room packed with tens of thousands of vintage aviation artifacts, from airline logos to military jumpsuits and everything in between. The most prominent piece was an old T-38 pilot procedures training cockpit that you can sit in.
"Climb in and look at all those switches," Cloud said. "That's a real simulator that thousands of pilots trained on before they were allowed to go anywhere near a real cockpit."
I tried to encourage Taylor to climb in, but she was too shy.
"Just as well that she didn't get in," Prestianni said, "because while we've eliminated the power from all the switches and shifters, we've never gotten rid of the juice from the ejection seat. That causes problems from time to time."
Outside is where the planes are, 26 of them — the number includes a couple of helicopters — in a large L-shaped yard. With the restoration work the museum volunteers do, they all looked ready to take off.
"We don't restore the engines," Cloud said, "so they don't work, but they sure look like they could."
Each of the craft has a history: In one corner of the yard sat a Northrop F-F Tiger, formerly a Top Gun plane, used at the U.S. Navy Fighter Weapons School. The one at the museum was also used in the Tom Cruise movie Top Gun. It was painted black and given a new insignia to make it look like a Russian fighter.
Nearby was a Vaught A7 Corsair II, with a history of sorties during the Vietnam War. Considered short and ugly, it was the Navy's best fighter in that war.
On the side of the museum building sat a Sikorsky CH-53 Sea Stallion helicopter that spent five years in Da Nang, Vietnam. During those years it was hit by enemy fire 260 times.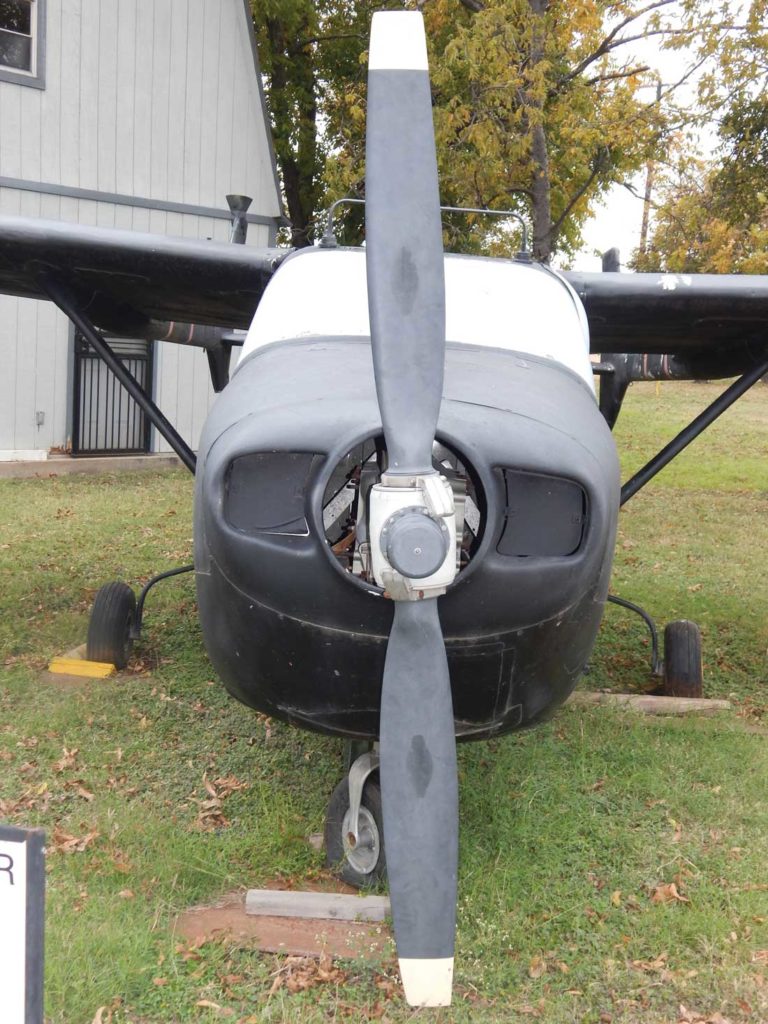 "See those metal patches," Cloud said, pointing to small green metal patches that matched the color of the chopper. "They never brought her down, and the fellows just kept patching her up and sending her out again."
The rear of the helicopter was open, and Cloud said we could walk through it. It was large, dank, and empty, except for some benches lining the wall. Its job during battle would be to bring in supplies, people, vehicles. "It was known as a heavy lifter," Hodgson said, when talking about it later.
Cloud unlocked the door to the cockpit, and both Madeleina and Taylor climbed in eagerly.
"Can we fly it, Grandpa Gorman?" Taylor asked me.
"You'd need lessons first," I answered, "'cause I don't think it's easy to fly one of these helicopters."
A McDonnell Douglas F-4 on the grounds recorded the first kill of a Russian MIG in the Vietnam War; a Convair B-58 Hustler, built in Fort Worth, was the first bomber capable of reaching Mach 2 speed.
You don't need to be a fan of war or even an airplane buff to fall for these incredibly engineered industrial beauties. The elegance, the grace of their construction is stirring. The history attached to each of them, nearly all wartime history, invokes quietude.
*****
Madeleina and I went to visit Hodgson at Amon G. Carter Stadium just a few days before Christmas. He was in the tailgating parking lot sitting on a flatbed loaded with the museum's Bell OH-58 Kiowa helicopter. He brought it to the stadium for the 2016 Armed Forces Bowl the following day.
The Kiowa on the flatbed had seen duty in both Vietnam and Operation Desert Storm. It was one of 12,000 built that saw a total of more than 600,000 combat missions, sometimes as a spotter, sometimes as a light gunnery craft, occasionally to extract soldiers, Hodgson explained.
"These Kiowas flew more combat missions than any other aircraft, and when they were retired for newer models, a lot of them wound up as police helicopters, because when you outfit them with a searchlight, they're excellent at spotting things. A lot of them have also been converted to private use."
Hodgson was at the stadium as part of the museum's outreach program.
"We're here to inspire people about aviation," he said. "We've reached over 40,000 people so far this year, and we'll reach a lot more tomorrow before the game when people get a chance to climb up into the cockpit." l