"It's an amazing event. Every year it gets bigger, it gets better and I really expect nothing less from Nancy Lieberman."
Former NBA player Stephen Howard, speaking about the Nancy Lieberman Charities Dream Ball.
Expectations create challenges. When people anticipate you'll deliver something, you kind of have to do it. Basketball Hall-of-Famer Nancy Lieberman made a career out of going beyond the norm, from making an Olympic team as a high schooler to playing in men's leagues to coaching in the NBA. When she started a charity, she wanted to make it bigger and better, too.
"I think all along she was trying to take it to where it is today, in 2017, and that's where she's having a huge red-carpet affair and big-time people coming and donating and just giving back," said Theresa Pusateri, who assisted Lieberman in the formative years of what was then called the Nancy Lieberman Foundation (now Nancy Lieberman Charities).
Helping the Dream Ball grow has certainly required Lieberman's legendary energy and connections. Notables the caliber of Emmitt Smith and Martina Navratilova attended the 2012's inaugural Dream Ball, entitled "A Night of Magic with Lady Magic," and many more have followed. Maintaining their participation, and that of sponsors and ticket buyers, has required making sure they enjoy themselves enough to want to return the next year. Here then, are a few of the memorable moments from past Dream Ball galas that might have caused folks to jump up from their chairs and take notice.
2012 : "Please help send Nancy to the Olympics." That's what Nancy Lieberman said her neighbors wrote on the can they passed around Far Rockaway, New York to raise money to send her to the Olympic trials when Lieberman's single mom couldn't afford to send her. The evening's host told how that episode inspired her to charitable pursuits and helped propel her to basketball success.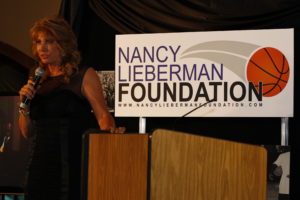 2013 : As in 2012, one can always expect to hear some Lieberman's compelling stories at her events. But in 2013, the Dream Ball created its own amazing story. As the evening's host, John Rhadigan of Fox Sports Southwest put it, "Larry Fitzgerald went and he did the most generous thing I've ever seen at one of these (charity events)."
That evening at Ruth's Chris Steak House the theme was "Together We Can." Starpower donated a big-screen TV as a raffle item, and the winner turned out to be not one of the well-heeled guests or celebs, but a girl named Katelyn Gordon whose family had benefitted from the foundation's outreach efforts.
"The little girl is so sweet. She tells me to tell Nancy 'please auction this off. We're going to give this back so that we can auction it off.' So we're like, 'no, no, no, you keep it,'" noted Rhadigan.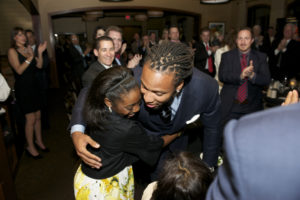 The young lady insisted the TV become an auction item to benefit the charity's programs. The auctioneer started soliciting the bids, which trickled in as auctions will do, getting over $1000 fairly quickly. Then the Arizona Cardinals wide receiver made an exceptional offer. Fitzgerald would pay $5,000 for the TV if, and only if, the little girl's family would keep it. That's exactly what happened.
Rhadigan said, "It gives me chills when I retell the story. It was an unbelievable moment."
2014 : Fitzgerald featured prominently the next year, too, as he, Smith, and Deion Sanders participated in a roundtable discussion with host Gina Miller. Perhaps the most inspiring messages, however, came from honoree Diana Nyad, who joked that "I've been on Dancing with the Stars. It doesn't get any bigger than that," before delivering some profound wisdom that spoke to why the event bears the name it does.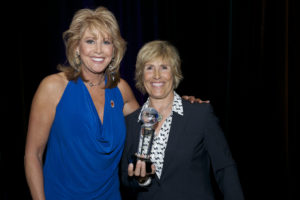 "What makes us feel alive is our dreams," said the athlete who, at the age of 64, had just completed a 53-hour Cuba-to-Key-West swim on her fifth try. "All of us – every human being on this planet – suffers heartache, knows disappointment, and worse. And if you see where you're going, you imagine it, you envision it. You bring good people around you to get there. You run up against obstacles. You get thrown back by jellyfish, whatever it is. And if you find a way around, if you do not give up on that vision, eventually you walk up on that shore."
2015 : The charity honored Dallas Cowboys quarterback Tony Romo and he proved himself worthy in more ways than one. Early on in the evening, as the auctioneer sought bidders for backpacks that would help send kids to basketball camp, Romo and his wife bought all the remaining stock. When it came time for him to accept his award, Tony Romo didn't mail in a perfunctory thank-you speech.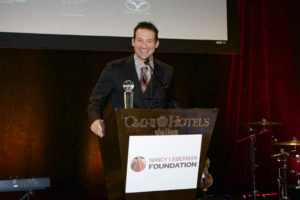 The media latched onto a small portion of the talk wherein he predicted his team would go to the Super Bowl, apparently considering it somehow newsworthy that a star player might think his division-winning team from the year before would advance slightly further in 2015. Hopefully, however, those who watched Romo's speech because of the prediction also paid attention to the rest of the talk, as he provided powerful insight into why programs like those of Nancy Lieberman Charities benefit children. He talked of the "10,000 hours" necessary to acquire expertise in a skill, and how an entity that builds basketball courts where there are none, or sends kids to camps they would otherwise not attend, can help a child achieve great things.
"To give these kids that avenue and that chance to start that process earlier?" he said. "That's a gamechanger."
2016 : As always, sports played a major role in the Dream Ball program. Cowboys Executive Vice President and Chief Brand Officer Charlotte Jones Anderson was introduced by her father, Jerry, as she received her award. Mavericks coach Rick Carlisle brought up his boss, team General Manager Donnie Nelson. But music, in some ways, grabbed the spotlight on this night. From Jerry Jones dancing a bit to the opening music to dance numbers from the Cowboys Cheerleaders and the Mavs ManiAACs, the evening featured a lively soundtrack.
Two moments stole the show, however. The first one came before the auction. Many charities will play a video describing their work before asking attendees to spend money supporting it. This video featured a custom musical track, as local artist Big Joe Walker had recorded a version of one of Lieberman's favorite songs "With A Little Help From My Friends" especially for the event. As soon as Walker's powerful voice hit the opening lyrics, the room fell completely silent, a reaction rarely, if ever, seen at an event of this type. It remained that way throughout his sparse yet arresting rendition.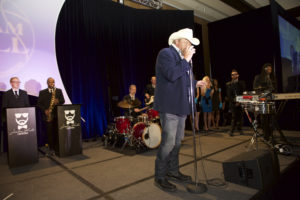 The evening's final honoree provided a moment that all who attended will not forget. Toby Keith accepted his award, and then strolled to the microphone for an impromptu performance with the Jordan Kahn Orchestra. They filled the intimate setting with a cover of the Bill Withers song "Ain't No Sunshine," followed by one of the tunes that got Keith into the Songwriters Hall of Fame, "Should've Been a Cowboy." Keith, gracious throughout, name checked the house band and gave the saxophone player a solo.
Nancy Lieberman has earned the trust of a lot of famous friends over the years, so the expectation will indeed be for future Dream Balls to continue to provide memorable happenings. To ensure the event's continued success, she might have even grown her own star power, as son T.J. Cline has turned into a legitimate professional prospect hooping at the University of Richmond. In fact, T.J. has actually exceeded expectations on that front – apparently that quality runs in the family.
This year's Nancy Lieberman Charities Dream Ball happens February 20 at the Factory Ballroom in Deep Ellum. Tickets are available at nancyliebermancharities.org.
Disclosure : Nancy Lieberman Charities has sometimes paid me to help with audio-visual content at events.