The guys in the band didn't seem too worried about volume as they plugged in their instruments and tuned up. The Unlikely Candidates, clad in all black like a modern recasting of The Lost Boys, had already been practicing for a couple of hours in this two-car garage. The space is adjacent to a post-war bungalow that all five members share in the emerging Hemphill Heights area.
It was the middle of the day, and the neighborhood kids were just coming home from school. As he closed the garage bay door, drummer Kevin Goddard waved at a neighbor who was watching her children ride bikes in the street.
"We've been practicing here for almost half a year, and no one has ever complained," he said.
With the click of his sticks, the Candidates launched into "Ringer," an up-tempo anthem that crescendos with one of frontman Kyle Morris's signature monster-hook choruses: "She's a ringer / Put a ring, put a ring, put a ring / Put a ring around her finger."
Morris slinked and vamped around the concrete floors as though he was performing for a stadium full of people. The rest of the guys –– Goddard with guitarist Brenton Carney, bassist Jared Hornbeek, and guitarist Cole Male –– all played with the polished charisma and musical telepathy of a band that's been together for decades.
The Unlikely Candidates' average age is 25.
The song was the first single from the group's upcoming EP. Each of the six songs on Bed of Liars sounds radio-ready, as if it had been engineered for an Apple commercial. The sonics range from Led Zeppelin to The Strokes, with sleek, infectious riffage and smart, catchy vocals.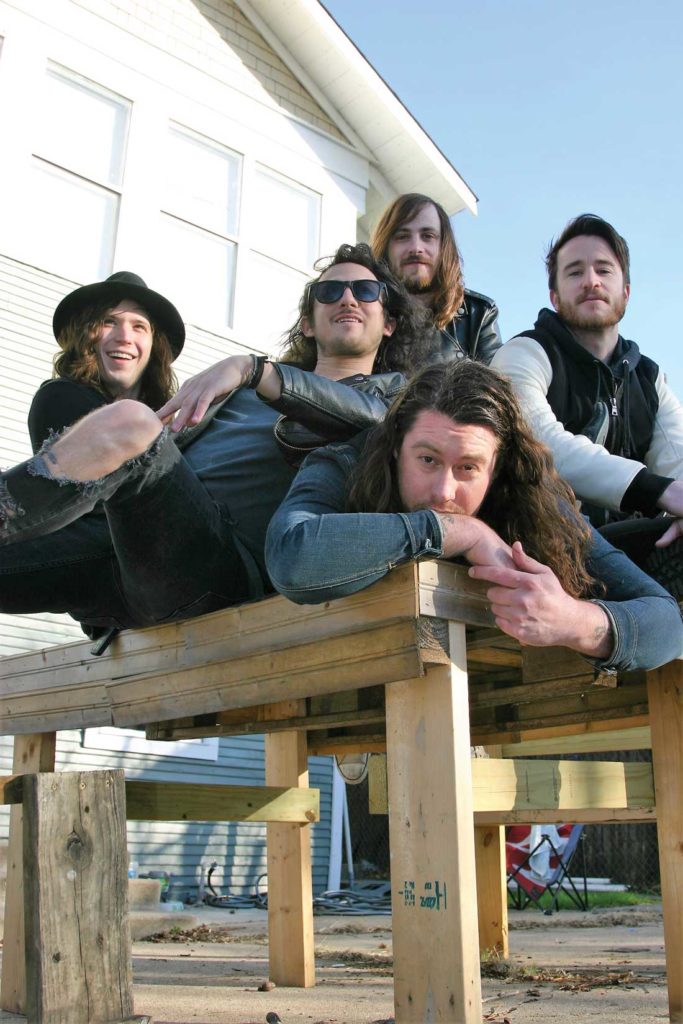 Though the Candidates, in their current iteration, have been together for about five years, the oldest member, Goddard, is just 28. Carney, 23, is the youngest. Despite their relative youth in the world of touring acts, the guys have been a band on the verge of breaking for nearly as long as they've been around. The Candidates' cofounders, Male and Morris, were dealing with managers, record labels, out-of-town producers, and the weight of lofty expectations for practically their entire adult lives.
After wowing crowds at South by Southwest and signing a major-label record deal with Atlantic Records in 2013, the Candidates went from relative obscurity to the tips of national tastemakers' tongues seemingly overnight. The five-piece did all of the things you're supposed to do after signing a record deal. They released an album, toured rigorously to support it, and shot a few videos of select tunes.
But like so many bands, the Candidates got lost in the shuffle and red tape of a major label. After more than a year of broken promises, turnover at the label, lack of support, and an unreleased follow-up recording, the band and Atlantic parted ways.
"Our A&R believed in us, but he had to go through his boss, who had to go through his boss," Morris said. "Their currency is opinion, so one person can change the tone of an entire conference room. If one person in the room doesn't like you, that could push you back a whole year, two years, three."
The Candidates' story could have easily been one of a washed-out band that peaked too early. But the quintet persisted. Last year, the group was signed to another major label, this time on Santa Monica-based Another Century, a boutique-ish tendril of Sony Records. Few bands get an opportunity to attach themselves to a major label, let alone the chance to do it twice.
The Candidates entered the new deal with their eyes wide open, Morris said. The band has learned from its past experiences and is now more self-reliant.
"This time around, we knew that this label was completely invested in us," Morris said. "They made that super-clear right off the bat. … Find someone who you know loves your shit and isn't just telling you that they love it."
*****
Upstairs at the Candidates' house, in a small, carpeted, sparsely decorated bedroom, is a console and laptop where Carney mixes and writes most of the band's material. When he's done writing the song, Morris comes in and records vocals and melodies. All of the guitars are recorded in that tiny space, and Carney uses live drum samples to fill out the sound – eventually live drums are recorded over the song at another studio. If the guys judge a song to be good enough, then, as Hornbeek put it, the tune "flies out to New York or L.A." to another studio for additional mixing, mastering, and tweaking.
Though the process is a complicated, unorthodox way to write a song, few things about the way the Candidates operate were taken from the Band Start-Up Handbook. Most of the tunes the guys write never make it onto an album. The label honchos and the band decide together which songs make the cut, and they hold some tracks back for future releases ˆ the Candidates have another album's worth of songs already written.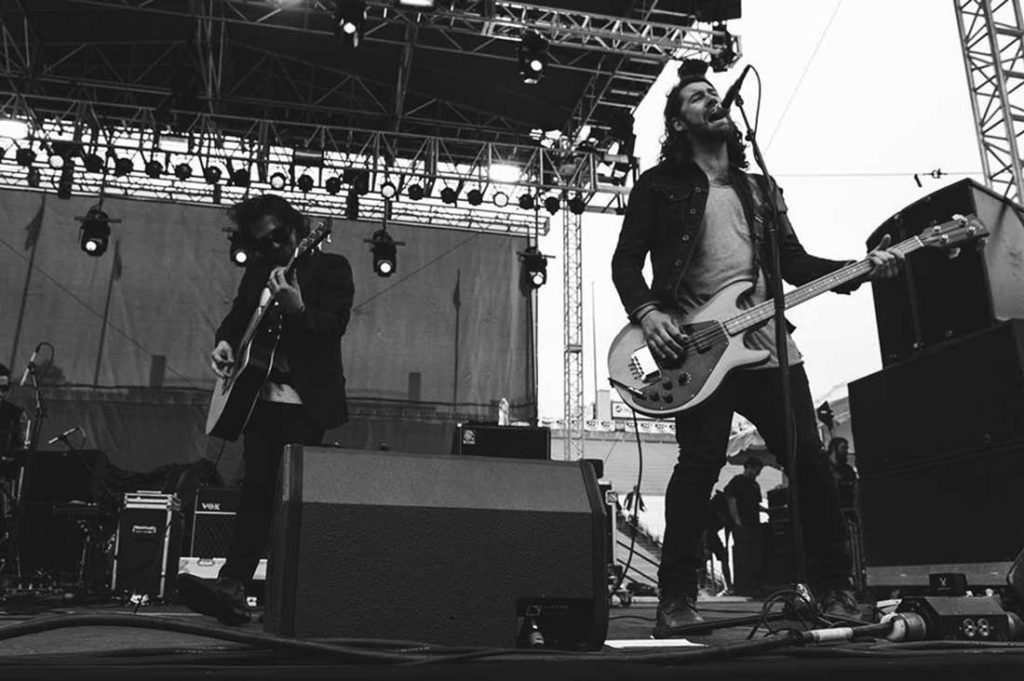 The Candidates weren't always an indie-pop, radio-ready song factory. Male and Morris started playing together as an acoustic duo while classmates at Keller High School. Morris said they would play music together for up to four hours a day after school.
"For me and Cole, that was always our getaway," Morris said. "Neither of us knew how to write a song. Our early material had, like, three tempo changes each and were terrible indie-pop-acoustic-prog or something. It was awful. But we kept doing it."
Eventually the two left the area and moved to College Station, where Morris attended Texas A&M University. The two played the occasional bar gig but didn't gain much traction in that country music-dominated market. Morris' father, an electrician, was working on a club in Tempe, Ariz., and told Male and Morris that he'd pay for their gas if they wanted to come play the place's opening.
"We drove 20 hours and played the show," Morris said. "Right after the show, a guy came up and said, 'Hey, I really like your sound, and I want to invest in you.' He turned out to be ridiculous. He didn't know anything about the music business."
After burning through a second manager, the duo connected with Loren Israel of Faktory Group, a Los Angeles-based management and artistic development company. Israel hosts a songwriting program and invited Male and Morris to attend after being introduced to them by the band's second manager. Israel wanted to work with the guys on their sound, and he eventually brought in manager Patrick Gillespie to focus on developing the business side.
Morris' voice "was it," Gillespie recalled. "I worked on the R&B side at Colombia Records, and I love that R&B-infused rock stuff like Pearl Jam … I felt like [Morris] had that same kind of tone. When you have an instrument like that, it's a no-brainer. You find a way to work with them."
After developing a style with Israel, Male and Morris put together a new band to start playing gigs. The two met Goddard through a mutual friend and eventually hooked up with Carney, who was originally the band's second bass player. When Hornbeek joined the band, Carney moved to guitar.
The Candidates' first big break came at their 2013 SXSW gig. Hornbeek was the promoter for that show, and he said the buzz behind the band was palpable.
"Literally, as soon as they got offstage and started loading up gear in the alley, there were label reps just coming up to them," he said. "Like, eight of them, 'We need to talk to you.' "
Morris called the experience at SXSW a fairytale. The bandmates flew to New York to play for labels and were at the airport ready to leave the city when Atlantic asked them come perform. The label treated the young musos like kings.
"We drank $8,000 worth of liquor at the bar," Morris said. "We never left the bar for five days."
The Candidates signed with Atlantic and released the Follow My Feet EP in 2013. The recording's title song spent 20 weeks on the Billboard charts and climbed all the way No. 35 on the Alternative chart.
With some momentum behind them, the Candidates recorded demo versions of a second album and then for mixing sent the songs to the well-reputed Carriage House Recording Studio (The Pixies, Sugar, Violent Femmes) in Stamford, Conn.
Male said that what they got back was disappointing.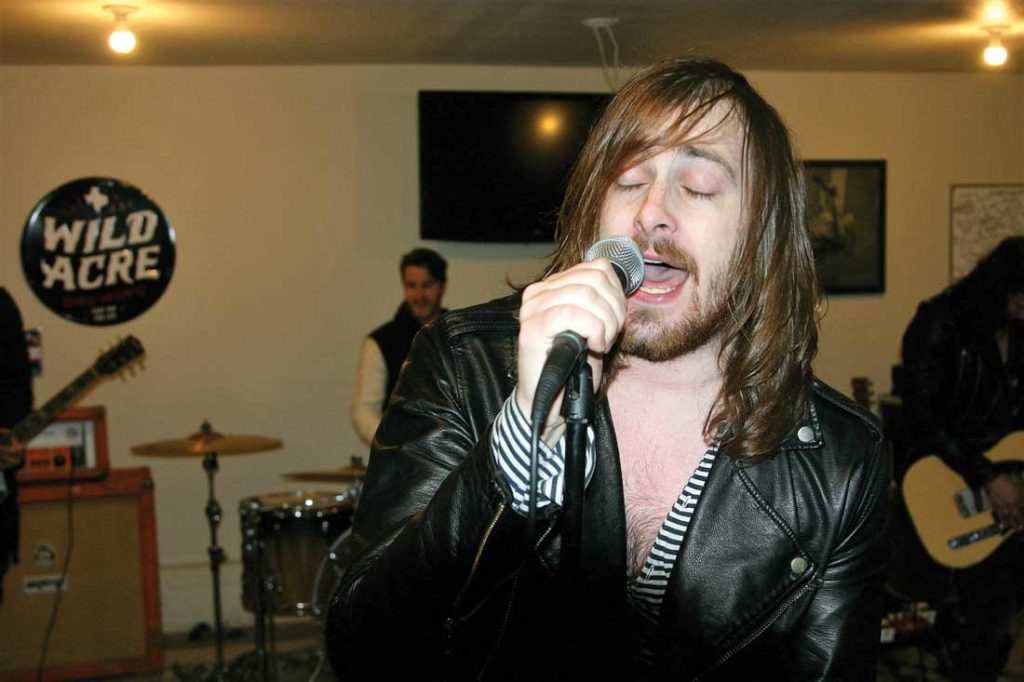 "We got it back, and the songs weren't as good as they were on the demo," he said. "We were expecting it be incredible. When we heard it, we were, like, the stuff [Carney] did in his room was better. … If we would have turned [the Carriage House version] into a label, they would have laughed at us."
To make matters worse, one of the band's champions at the label quit just as the Candidates were gearing up toward mapping out the strategy to promote Album two.
A high-ranking executive at Atlantic said he owed them, Hornbeek recalled. "He said, 'Next album, we're going to do it right. I'm going to personally push it to all of the radio stations, and we're going to go big.'
"Pretty much everything with Atlantic went crumbling," he continued. "It's frustrating. They promise you everything. They want to tickle your butt with a feather."
The band and the label split ways, but Gillespie said the break-up was amicable and that the label gave the Candidates favorable terms when the two sides terminated the contract.
"It's no big deal for people like me who have been in the business for as long I have," he said. "That's what I told them. I mean, Katy Perry had three or four deals before landing the one that made her a star. … I told the guys, 'Let's reset the clock. You're an independent band. Let's get back to the grind.' "
The Candidates eventually found their way back to SXSW in 2016, where an A&R rep from Another Century caught their show and signed them to a deal soon after – the gig was at The Firehouse Lounge, the same venue where they were discovered by Atlantic.
Morris said the new label has been more nurturing and that there isn't nearly as much red tape.
"We would go to Atlantic, and their offices would look like you've walked into a modern art museum," he said. "You have to go through security, through glass doors.
"Another Century's entire operation is out of a house in Santa Monica," he said. "They don't have a conference room. They go to the living room to have meetings."
*****
On a recent weekday afternoon at the Candidates' barracks, Morris was sorting through video clips from the website Fiverr. He hired people around the world to record quirky vignettes of themselves for the band's upcoming video to "Ringer." One woman in South Africa wore a mustache and top hat while drinking beans out of a glass.
"I told her, 'You don't have to eat the beans,' " he said, "but she always eats the beans."
Morris clicked on a violinist from Mexico playing along to "Ringer," a man in Germany wearing a "Kevin Goddard" mask who did back-flips down the street, and man wearing a The Unlikely Candidates shirt and a unicorn head while shopping at Walmart.
Considering five guys in their 20s live there, their house doesn't look like a disaster area. It's definitely not anything you'd see in a Southern Living spread, but, besides the odd bits of clothing sporadically dotting the landscape, the place is relatively tidy –– relative to a frat house.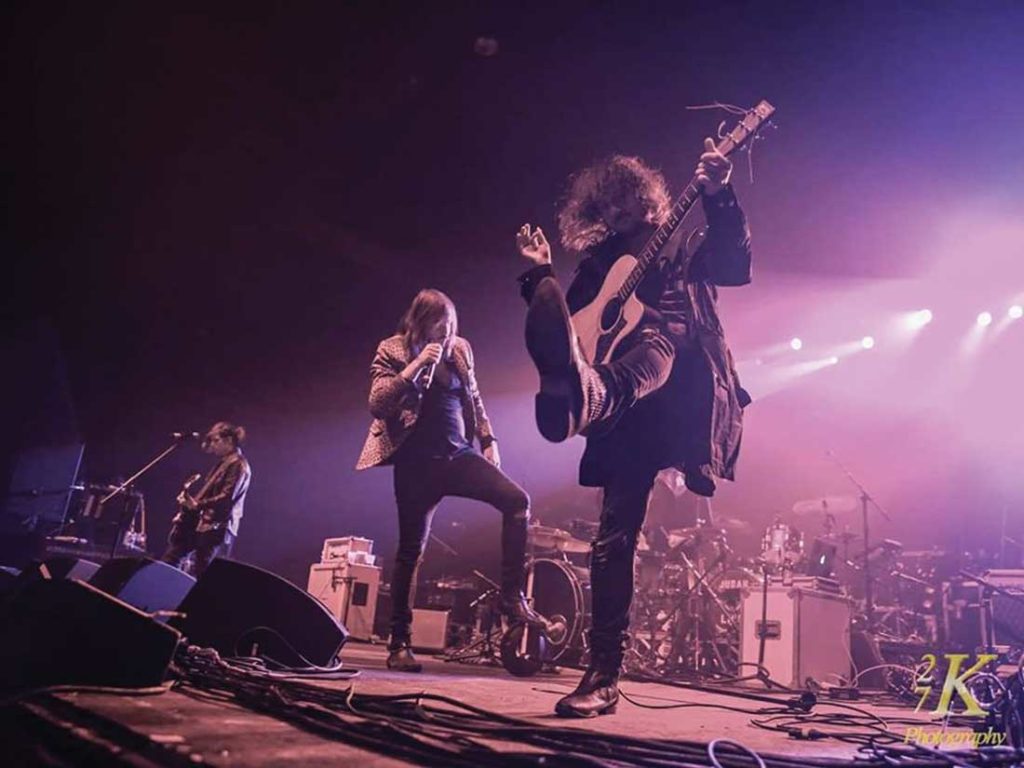 Though the musicians are decidedly, perhaps stereotypically, hard-partying band guys, they also work tirelessly, often toiling at odd jobs here and there so they can continue to hit the road for a gig at a moment's notice.
Like many band guys before them, the Candidates occasionally have had to rely on parents, girlfriends, and well-wishers. Carney's folks, Meg Kaszynski and Jon Carney, who are part owners of the Chat Room Pub on West Magnolia Avenue, have been particularly supportive. The band lived with Meg and Jon at their Fairmount-area home for six months, and Jon occasionally hires them to work at the bar. The couple also co-signed on the Candidates' house (officially owned by Brenton Carney) and allows them to live there at a reduced rate. Hornbeek referred to Jon Carney as "Saint Jon of Magnolia."
Jon said that he and his wife were lucky enough to come to Fairmount at the right time, and owning the bar has allowed them to have the extra income to help out.
"I'm super-proud, don't get me wrong," Jon said. "I just want them to be safe. They're so young, and you worry about them with their travel in their van. Who is driving? Have you had enough sleep? Are you allocating your time for who will take this shift?' I remember asking Brenton, 'If you're driving, who is awake with you to have a conversation?' "
The guys have also worked as painters, bar-backs, and even bakers.
Male and Hornbeek started a Kolache business called Cole-Ache, and they sold their pastries to the Chat Room crowd as the bar closed.
"We made all of the dough at night," Male said. "We'd go stay at the bar, come back and party, let the dough rise up over night, wake up and start rolling dough, and go back to the bar."
The band lived off the sweet treats for months, Brenton Carney said.
"They were so drunk doing that," he said. "There was flour everywhere."
When the bandmembers recently spent three months recording and writing in L.A., they stayed with Hornbeek's parents in Long Beach.
"My parents would wake up and were literally stepping over bodies asleep on the ground," Hornbeek said.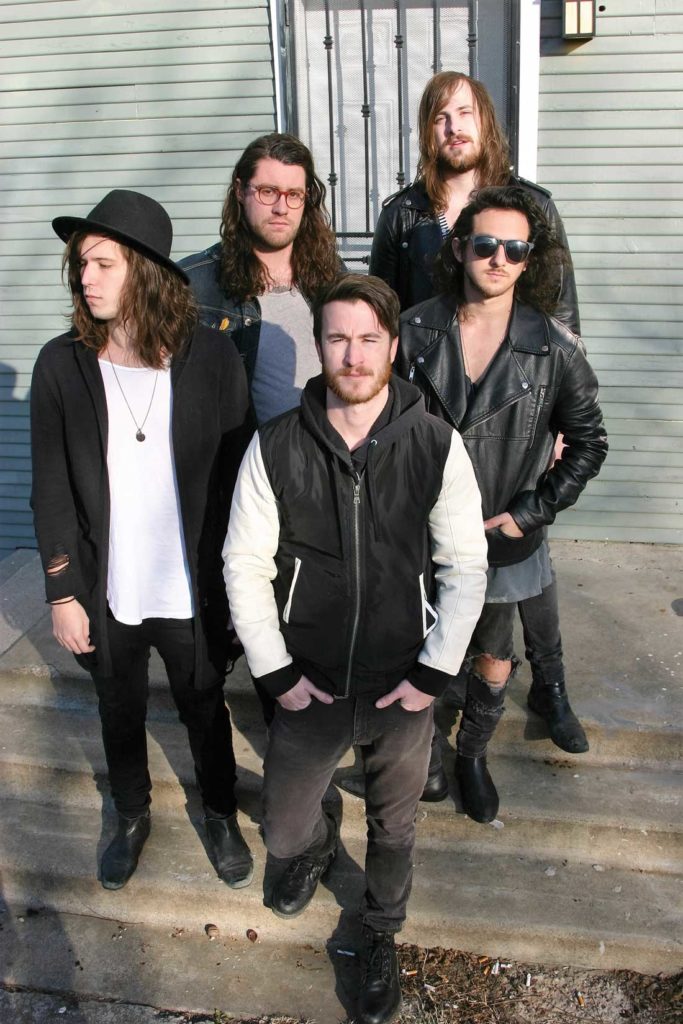 Though they are just scraping by, the guys seem content to focus on touring, practicing, writing, recording, and running the day-to-day operations of a band.
"Once I get up, I'm on the phone talking to management every day for three or four hours," Morris said. "We can't really have jobs. Who is going to hire you when you're gone for weeks at a time? When a gig pops up, you just have to go where things are."
Gillespie said he and Israel have pushed the band to constantly produce new material. He believes they have what it takes to blow up the Billboard charts.
"The sky is the limit," Gillespie said. "With that voice and the hooks they write, they should be a crossover act. That's the direction we're headed. The goal is to keep them grounded firmly in their alternative roots, because that's who they are. They are a rock band that plays slightly pop music.
"They are a live band first, make no mistake about it," he continued. "You can hear their songs and think they're great, but when you see them, it's like, 'Holy shit, these guys are incredible.' "
Contact Eric Griffey at eric@fwweekly.com.