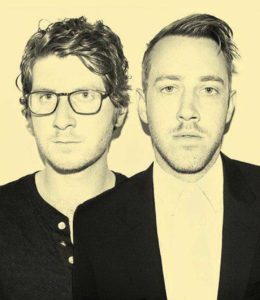 They may not be the biggest band to come from Fort Worth, but they are among the most influential. In the early aughts, when Dallas still drove the music conversation, artists from the 817 seemed leery of even claiming Fort Worth as home. Not so the Burning Hotels. Co-songwriters/frontmen Matt Mooty and Chance Morgan, along with drummer Wyatt Adams (later Mike Ratliff) and bassist Marley Whistler, could easily be credited with doing the at-the-time seemingly unthinkable: bringing Dallasites westward for a loud and proud Fort Worth indie-rock band. From a couple of albums of stylish and sophisticated yet still rocking synth-pop, the Hotels achieved some radioplay nationwide, on KXT, and on The Edge ("Stuck in the Middle" and "Austin's Birthday" were huge), nabbed marquee gigs here and throughout the States, were fawned over by local, regional, and national media outlets, and in 2009 landed a performing cameo in a Disney movie starring Vanessa Hudgens and Lisa Kudrow (Bandslam). Though there's no empirical way to prove it, the Hotels blew up right before the Fort Worth scene as we know it now began to spring up. A coincidence? That would be wildly inappropriate. – Anthony Mariani
Every day is Mardi Gras for James Hinkle. He's lived a full life overflowing with music, color, art, celebration, friends, loved ones, and maybe even a little something to sip on. Put a guitar in his hands, and he'll start a parade.
Hinkle earned his degree in fine arts from the University of Texas-Austin in 1984, but his real education came from the Bluebird School of Music, where he learned from assorted Fort Worth blues masters at the legendary Como-area club.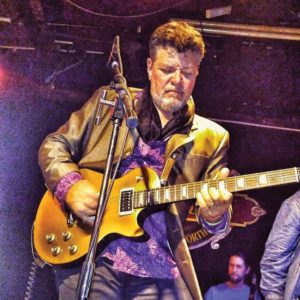 Hinkle's 30-year artistic journey started when he toured the world playing with Marcia Ball. Since then, he's played alongside, recorded with, and/or produced some of Texas' finest musical talents such as Tommy Alverson, Buddy Miles, Johnny Reno, Robert Ealey, John Lee Hooker, and many more. He's recorded several solo albums, and I've been lucky enough to play drums for his most recent band, James Hinkle & The Transatlantics, featuring two players from Belgium.
Hinkle's guitar mastery is matched only by his brushstroke. He painted the artwork for the Transatlantic's first album, First Crossing, while on tour in Belgium and France. His work has been displayed and sold at galleries all over the country.
His artistry, both musically and visually, have become a staple of the Fort Worth scene, and any given week you can find him telling stories through his guitar, voice, or paintings – hanging around town, adding his brand of gentle sophistication to any room.
You never know exactly what kind of show you'll get when you see Hinkle play, but I promise you'll leave with a greater knowledge of music, a renewed spirit, a smile on your face, and probably some beads around your neck with no recollection of how they got there. – Lucas White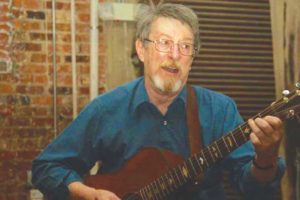 Singer, songwriter, multi-instrumentalist, storyteller, comedian, and general bon vivant Greg Jackson described his music career as "funner than having your own duck." He played in many bands over the years but was most associated with the Salt Lick Foundation, an exploratory bluegrass band whose debut album, Rural Lust & Urban Rust, dropped in 1980. The band followed with Daynce of the Peckerwoods in 1982 and Salt Lick Sockeroos in 1985. The music kept coming for another three decades. Dr. Demento, the nationally syndicated radio host who specialized in the bizarre, took a shining to Salt Lick in the 1980s and made them frequent guests on The Dr. Demento Show over the years. Other bands that included Jackson were the Draught String Band, Buffalo Grass, Bluebonnet Plague, City Lights Singers, Musical Miscreants, Self-Righteous Brothers, and the Bruton & Price Swingmasters Revue. Jackson and his sister, Kathleen, anchored Tanstaafl Pub's Thursday night acoustic bluegrass jam sessions for years. Greg excelled on numerous stringed instruments, particularly guitar and dobro. He wrote heartfelt songs but might have been most appreciated for his many humorous, offbeat novelty songs and politically satirical ditties. All were delivered with a deep, booming voice and twinkling eyes. – Jeff Prince