Terry Propps knew it was going to be a long night. Miss Missile had just birthed another foal, and things weren't looking good. The 125-pound, 5-foot-6-inch breeder led her stakes-winning champion mare beneath the starry springtime sky to join her baby. Helpers were carrying her from the barn to the house to be taken to the hospital, where the 60-pound filly would spend the next two weeks in intensive care under the supervision of veteran Weatherford veterinarian Dr. Lazlo Hunyadi. Though diagnosed with septicemia and meningitis bacteria, North Korean Missile (tentatively named because the family wasn't sure she was ever going to get up) eventually pulled through.
"She should've never made it," Propps said. "She just didn't want to die."
North Korean Missile seemed small standing in the stall near her 12-year-old thoroughbred mother, a striking bay that weighs about 1,200 pounds. The daughter's spindly legs, not having developed their full potential, gave her an uncertain appearance. Yet that will likely change since the foal's stitches were removed a few days ago following surgery to strengthen her legs — and once Propps' husband works his magic.
Propps is "raising them up until its sale time, or they need to go to the track," said husband and trainer Charles Smith, who seems to be on some sort of lifetime winning streak, having gone from champion collegiate swimmer to a force-to-be-reckoned-with criminal defense attorney to thoroughbred champion horse trainer. "When they go to the track, I train them."
Propps, who cares for the foals and yearlings until they're 2 years old, when they then can race, sees a parallel between the horses and Smith's clients. She knows the back story of each horse and is keenly aware of any strengths or weaknesses. She fights for them. And she's hopeful the foal will become a champion. Another one.
"No doubt about it, when someone trusts you with their case, they are putting their life in your hands," Smith said.
Smith and Propps have raced horses all over the Midwest and Canada. Propps was recognized as an outstanding owner in Manitoba, where Miss Missile, now retired, is legendary. Propps said people still ask about the horse, which has her own fan base there as well as in Nebraska and Texas. Miss Missile is also the mother of Spider's Alibi, a 5-year-old bay that Propps said is performing well.
Spider "has to have a lot of luck," she said. "He's one that goes from, like, 20 lengths back and just comes running hard. It's like afterburners turn on."
Miss Missile is the horse that "kind of got us really rolling," Smith said, mentioning how she had set two track records and went on a winning streak spanning three years (August 2007-May 2009) at Assiniboia Downs in Canada.
"Miss Missile won $100K," Propps said. "She taught us a lot of things. She was just so professional about everything … very smart, very competitive."
Propps also said that between two of their horses, Ruby's Big Band and Miss Missile, they have won 30 races, 20 of which were stakes. An entire room of Smith's home is covered wall to wall and floor to ceiling with horse racing trophies and memorabilia. Reflecting on it all, Smith said he always felt that Ruby's Big Band, a red mare that has won 14 races in nine stakes and made right at $320,000, was a bit overshadowed.
"I ran her once against the boys," he said. "They were bumping shoulders, and she just gives it back to them tougher than they were giving it to her."
There's also Portales, a then 2-year-old brown filly named after a city in New Mexico, which competed in a Canadian race they had won for five consecutive years with different horses.
The key to Portales, Smith said, was tapping her on the left hip to get her to change leads. When they lost their rider because he couldn't cross the border legally, the horse's new rider used his right hand, and Portales came in second that year.
"She responded better when she was touched from the left-hand side than from the right," he said. "Usually, it's just to let them know you're ready for them to explode."
For Smith, a high stakes horse race victory is a bigger thrill than winning a lawsuit, he said, because of the many intangibles involved. "We've got to have luck," he said.
The two sure were lucky on June 25. That's when Propps' horse – Dark Desert Wine, a bay filly jockeyed by Ernesto Valdez-Jiminez – took first at Lone Star Park with a finish time of a 1:05.09.
It was also luck, Smith said, when he won a court case years ago that paid him "a good amount of money for a young lawyer not knowing much."
*****
He said he took the payout in the mid 1970s and built a law office in Arlington, reasoning that it would be wiser than buying a shiny new sports car. That way, if he didn't make it as a lawyer, he could always sell the property and do something else. But his mind was focused.
"I just hung a shingle out," he said. "And I was befriended by an old man named [James] Knapp. He was very kind to me, almost like a father figure."
Smith said Knapp, a fellow lawyer, would send him cases, and Smith's law practice grew from there. Smith "sort of fell into" the criminal defense side of things, he said during a recent interview from his home at Windy Meadows Farm in Annetta North (near Aledo), and started "having some luck with it."
Smith has never had to advertise. Coming from a middle-class background, he said, he has a good rapport with people, so everything has always been word of mouth.
"Most of my clients have just been hard-working guys and gals," he said. "It's not my job to call guilt or innocence on them. My job is to give them a good defense – if they can come up with it. Sometimes that ends up in an acquittal, a dismissal, or a conviction.
"There's only a small portion of the case that you're really interested in pursuing," he continued. "Most of it's against you."
Smith, who grew up in East Fort Worth and spent a lot of time helping his uncles work cattle on their land, doesn't look like a typical big city lawyer. His hair, now gray, is pulled back in a ponytail. And most days, he's dressed in a t-shirt and jeans. He generally leaves the farm before 5 a.m. and then stops at the Race Trac on Beltline Drive for a croissant or pastry and some strong black coffee before driving to Lone Star Park.
"I'll drink yesterday's coffee," the 68-year-old said. "I'll leave a little bit. And every morning, it's cold, but it'll get you kicking. I'll get a hot cup when we get to galloping."
*****
Whether at the racetrack or the courtroom, Smith, his voice a bit gruff and his ways a bit unorthodox, is the kind of fighter you'd want in your corner. He's not afraid to go against the grain, and his natural insight is apparent in both arenas. He strives to make a difference in the lives of his clients and his horses.
At the racetrack, the horses generally gallop a mile but are conditioned to do different things, Smith said. They might walk one day, or to change things up he will sometimes jog a lightweight filly up backward and then gallop her out while constantly trying to evaluate her condition. With the recent addition of their 2-year-old colt, Texas Storm Chaser, the couple currently has seven horses at the track, and the Texas heat is tough on them. Smith said once he has everything under control at the track in the mornings, usually around 8:15, he'll head to the courthouse.
"I have two or three [jackets] stashed in the judge's chambers," he said. "I'll just go by and get one, and off to the races I go. I usually wear nice boots into court. But it's true, not many guys wear a Western hat into the courtroom."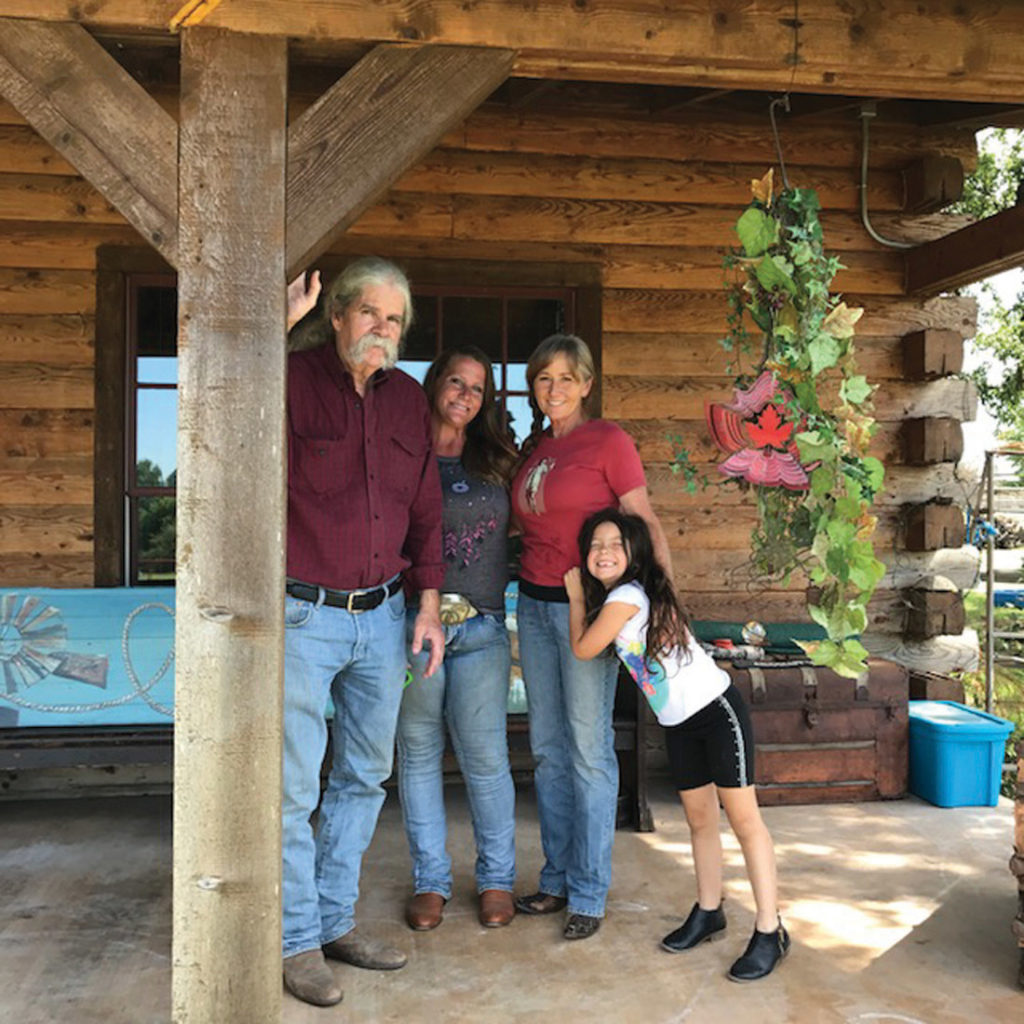 Propps first met Smith while at the Tarrant County courthouse in need of an attorney for her son and thought he was a bounty hunter, or a biker, at first glance.
"They know he means business," she said. "He doesn't say much, but when he does say something, they listen."
Smith feels he's on relatively good terms with the Tarrant County Criminal District Attorney's office and that he's always received a fair trial. He mainly tries cases in Tarrant and Parker counties as well as a handful of other areas, such as Johnson and Dallas counties. Sitting in his two-story log cabin, surrounded by Western décor, including an ornate 1898 cash register from the Stockyards Hotel, Smith talked about a few of his more memorable cases. He had represented a man who had knifed the guy who raped his sister. Smith said the man had taken his sister to the hospital, waited for the family to arrive, and after his sister was safe, the man "found that SOB and cuts him, just almost kills him."
Smith said the charge against his client was attempted murder.
What Smith remembers most about the case was that the defendant used a knife rather than a gun. The man wanted his sister's rapist to suffer, Smith said. With the sound of a nearby train whistle blowing, Smith said he wasn't sure that he would not have done the same thing himself, because "you can't just let someone rape your wife, or your daughter, or your sister.
"While they may not be legal, they may be righteous," he continued. "I'm just saying, there are occasions that you can understand the conduct."
Smith also talked about a case involving 18-year-old Bryan Alexander, who died of a penicillin-resistant pneumonia in 2001 after spending time in a boot camp facility.
"The boy died a bad death, something you would expect to see in a Korean boot camp," Smith said. "I'm really glad I did that case. I think it's probably the greatest principle I've ever stood up for."
The privately run boot camp, which is now closed, had a policy of prohibiting inmates from seeing the nurse for three days, Smith said, adding that he believes "if they had sent [Alexander] to the hospital [sooner], he'd still be here."
Smith had put together a team of lawyers that met every Saturday for two years. And he said the case pretty much consumed the lives of everyone involved. The jury award for the case was $38 million, but Smith said Alexander "paid a hell of a price to get that much for his parents."
Criminal courts judges, who technically had oversight of the facility, had been sued, and a lot of things changed because of the case. Tarrant County did not renew its contract with the company that oversaw the boot camp, and when the camp closed, it was amid growing nationwide criticism of the privatization of correctional facilities. However, immunity statutes were also strengthened by lawmakers to better insulate private prison operations from lawsuits. Smith explained that while the boot camp may have seemed like a good concept initially, problems arise when people are warehoused in places that are trying to operate at a profit per head. He said Alexander's case is a good example of why correctional facilities should not be privatized.
"It just becomes a money-making machine," he said, noting that "we have the largest percentage of population imprisoned than any country in the world, and more and more of them are privatized. That's an ongoing issue."
Marijuana is another big issue. In Texas, more than 70,000 people were arrested for marijuana charges every year from 2008 to 2012, according to the National Organization for the Reform of Marijuana Laws. In Johnson County, a mother of five was recently charged with five felony counts of child endangerment after smoking pot while breastfeeding, according to published reports. The woman said she could not afford health insurance or the expensive medication she needed to control the grand mal seizures she had been having, so she resorted to smoking marijuana instead. Although 28 states have decriminalized marijuana use for medical purposes, the case is a stark reminder that Texas has not.
Smith said that while people may be over-penalized for marijuana, the real issue is opiates, specifically heroin. Several court cases are targeting pharmaceutical companies as a result. According to the Centers for Disease Control and Prevention, the opiate epidemic killed more than 33,000 people in 2015, and nearly half of those deaths were caused by a prescription opiate. Of those, 2,588 were Texans. And according to the Tarrant County Medical Examiner's Office, 118 overdoses took place in Tarrant County the same year.
Smith said things have grown more complicated since he started practicing law. Punishment used to range from five years to 99 years, depending on the nature of the crime. The code book was only about an inch thick, he said, and he's not so sure that everything today couldn't still be covered by the same book.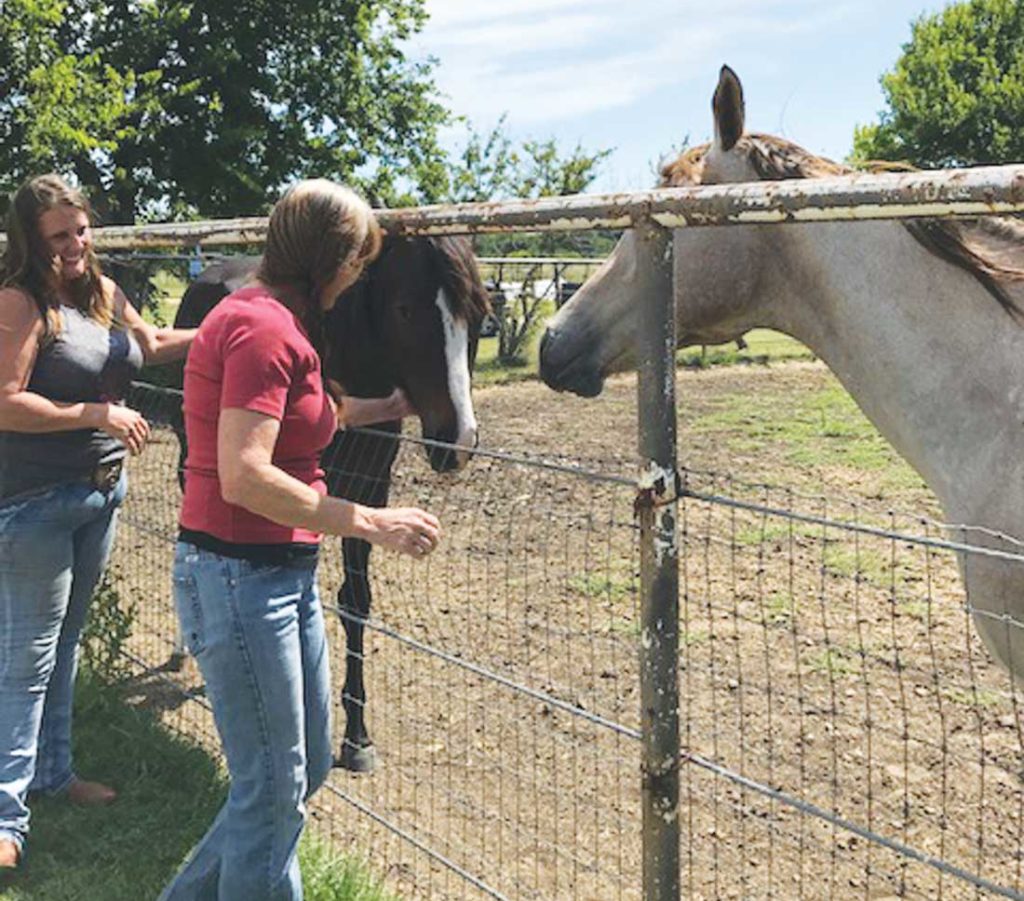 Back at the farm, Propps has her own book that she refers to when selecting studs for breeding purposes. It's a couple of inches thick and is filled with photos and statistics of what she calls "millionaire stallions," horses that have earned more than $1 million during their lifetimes. Propps tries to sell most of the colts that are born and keep most of the fillies to develop into stakes mares.
"I just try to get good blood in them," she said.
Propps, a barrel racer and the daughter of a mother who was a trick rider from Odessa, grew up around Pecos. She's been around horses all her life, she said, and will sometimes rely on her instincts when caring for the animals. One of her horses, a paint mare, had cancer inside her mouth, and two vets had advised her to put the horse down. But she wasn't having it.
"I used essential oils and pure shea butter," she said. "I put it on there. A big circle came out. It grew in new pink flesh. Every bit of it was gone. It stunk so bad. No cancer has come back yet."
Propps wakes up around 5 a.m. and puts in some long days brushing, feeding, and watering the horses. They drink about 30 gallons of water a day, she said. She will also check on them during the night. She once found one of the horses upside down in a stall with his leg stuck.
"I got him loose, and we've been friends ever since," she said. "Before Jamie [Thompson] came, I did all this myself. Jamie, she's really good with horses. She handles them good. And, you know, she loves them."
Thompson, a friend of the family who began working at the ranch earlier this year, said the work gets hot, but it keeps her fit and tanned. She also enjoys spending one-on-one time with each horse.
Of the 20 or so horses at the ranch, eight of them are yearlings, Smith said. There are also some breeding mares that just needed a break as well as "three or four pension horses that did us a lot of good. We don't sell them to the slaughter houses or anything," he continued.
Propps described the feeling of winning a race as "the highest high," but Smith said the flipside is that there can also be incredible lows.
"You can wake up one morning and have to put one down," he said. "It broke its shoulder somehow. It affects you every time you do it."
Propps explained that while everyone hopes to win the big stakes prize money, if they think they are going to get rich, they're in the wrong business because there are so many hours in it.
"It never ends," she continued. "It's a lifestyle."
And the lifestyle is one that is shared by their 6-year-old daughter. The sparkly-eyed, dark-haired Lola knows all the horses and sometimes helps feed them. Other times, she's content to sit on a hay bale and play with the barnyard's brood of kittens. There are also donkeys and chickens on the farm and Lucy, a noisy goose with her own swimming pool. Smith showed off the barns' Great Wolf Lodge-style bunkhouse where he and Lola sometimes camp and where the whole family camped for three weeks when the air-conditioning went out in the house.
"I didn't think they were ever going to leave my barn," joked Thompson, who said she tries to camp out there some during the day herself.
There's also a historic church on the property that Smith said they bought to keep someone from moving in who might do something that was unhealthy for the horses. The deed was a mess, he said, and it took a while, but they finally got everything ironed out. They closed on the property on a Monday, Smith said, and the preacher who had owned the place died that Wednesday. No services were being held there at the time. The structure, which still has its baptismal tank, podium, wooden pews, and pianos, is being used as storage.
"It was just the most peaceful place I think I've ever walked into," Propps said.
And the church may not be the only historical artifact on the property. During our interview, Propps placed what looked like a mummified head, complete with teeth, on the dining room table. She said she had found it one day while picking up rocks. She's excited about the prospect of its historical significance, she said, especially since an ancient skeleton was unearthed at a nearby quarry in the mid 1980s. According to published reports, the bones, estimated by archeologists to be between 1,000 and 10,000 years old, were those of a young woman. And according to the Parker County Prairie Sketchbook, the skeleton of a Native American woman was also found in the area, during the 1930s, and "placed on display for many years at the Fort Worth Children's Museum" after being studied by archeologists.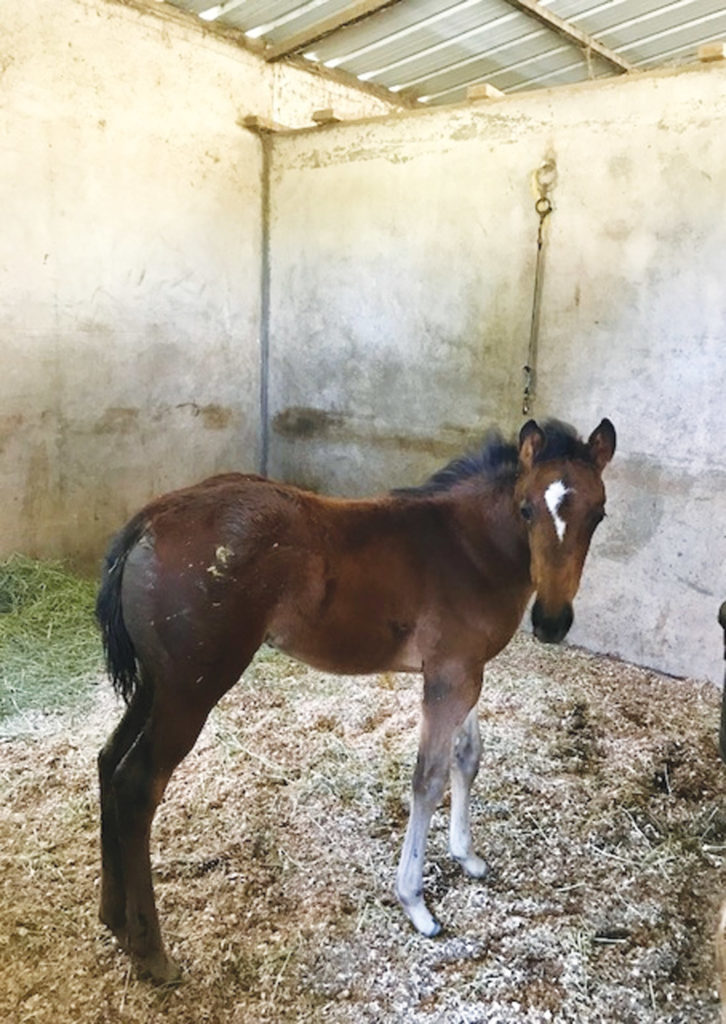 Before summer is over, Smith will be headed to Minnesota and then on to Canada for a stakes race.
"Lola and I'll be in one of the trucks and that white [horse] trailer hooked up with a horse or two," he said. "She'll ride all day and never gripe about how far. All she does is check the destinations. 'Poppy, we're still going to Canada, right?' "
As Texans, they are seen as a novelty by the Canadians, Smith said, who are always good to them.
"We had one race [the Jack Hardy Stakes] where our horses were first, second, and third," Smith said of the Canadian race.
Propps believes if the horses didn't get to run, they'd go insane.
"I've had times I've took them off the track to rest, and I had to call the vet," she said. "They wouldn't eat. They had 'racetrack letdown,' they called it."
Smith said the horses all have different personalities, and it's fulfilling to watch them develop, mature, and learn lessons. Currently, his eyes are on True Confession, a 2-year-old chestnut filly he hopes will be ready to race by fall.
"They're not all fitted just exactly the same as far as their training goes," he said. "They're just like people. Some days, they just don't feel quite right … or some of them just don't take adversity well. … You just evaluate each race and try to place your horse where it's competitive."
Propps agrees, saying that once a horse is out on the racetrack, "you've done all you can do."
Her words seem to echo Smith, who said he just tries "to lay out what is truthful and what is not truthful [in the courtroom] … which is about all you can do."
And then, with some luck, they become champions. l
Freelance writer Karen Gavis can be reached at karen.gavis@mavs.uta.edu.