You might not recognize his name, although his soulful voice has been featured on records by Jay-Z, Kanye West, and J. Cole. As a backup singer and featured vocalist, the weight of his influence on classic albums such as Kanye's College Dropout and Jay-Z's The Blueprint 3 has gone largely unnoticed by average music fans. With his upcoming show at Lola's Saloon on Sunday, The World Famous Tony Williams hopes to begin fulfilling the promise of his moniker and prove he's more than a backing player.
Born and raised in Oklahoma City, Antony Williams has always had a gift for singing, thanks to his musical upbringing.
"My family had songs that we would sing every year," he said. "And we made it our business to be at my grandmother's house every Christmas.
Some of his passion for making music rubbed off on his younger cousin, Kanye West. Over the years, West and Williams have maintained a healthy business relationship. Most recently, Williams was hired as the lead background vocalist on Kanye's 29-city Saint Pablo tour. Williams has been on every tour with Kanye since Touch the Sky was released in 2005.
"Saint Pablo was one of the most fun," Williams said. West "decided about two or three days before the tour that the band would be about 30 rows into the audience, and it gave me a very interesting perspective."
Aside from his work with Kanye, Williams prides himself on having his own sound that he calls a mix of soul, funk, rock, and gospel.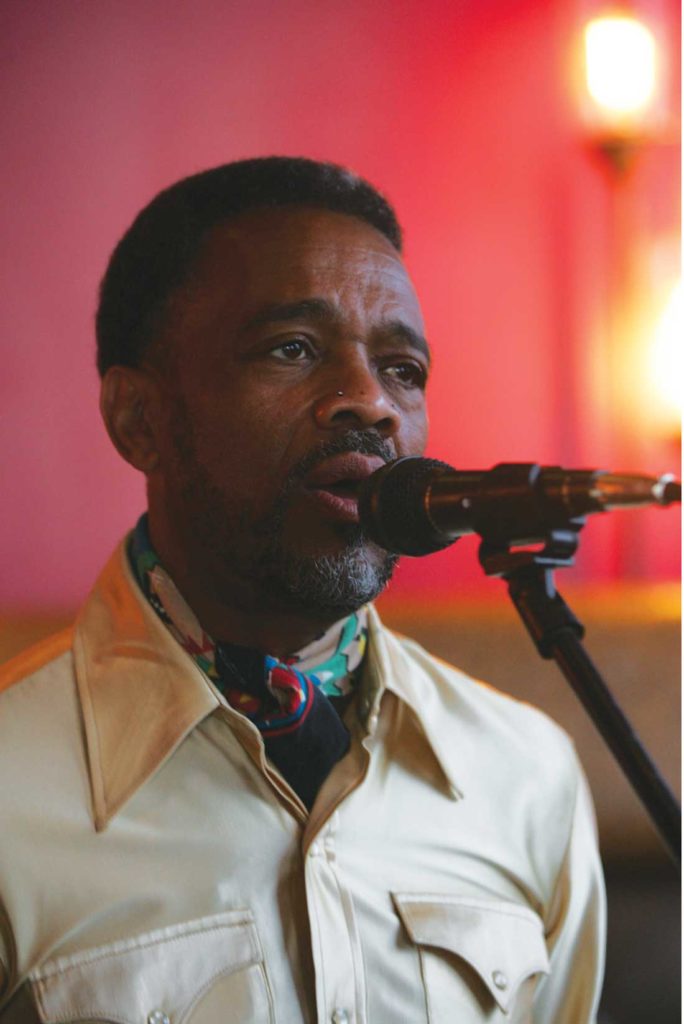 On his recent release, The 7th Day EP, he showcases a wide array of styles, flow, and vocal range. With an all-star production team of Bink! (Jay Z, Blackstreet, Rick Ross) and No I.D. (Jay Z, G-Unit, Bow Wow), the five tracks sound polished, dynamic, and radio ready. On "Money," Williams' soulful vocals are draped over funky guitar riffs. The tune's hard-hitting lyrics deal with greed, wealth, and the downfall of mankind over money. On "Mr. Safety," he mixes smooth R&B with classic soul. Williams said the EP, which marks his first release in five years, serves as a bridge for his next album.
"When people ask me what kind of music I make, I tell them to listen and tell me," he said.
Williams didn't develop his unique style until he moved from L.A. to Fort Worth in 1992. On the Left Coast, he went through a band breakup in the mid '80s that left a bad taste in his mouth, he said, so he moved away from the fast-paced city.
"When you don't have a clear-cut plan, a big city can kill you," he said. "I didn't even want to be around music. But when you're bit by that bug, you can't get away."
After his move, he looked for new bandmates and could find only rock players in his new town. Eventually, he embraced the rock path, and it led to a shift in his songwriting style.
"I started to think differently about how music worked," he said. "I feel, since a picture is worth 1,000 words, my words should paint thousands of pictures."
Today, Williams said he continues to work as an independent artist with his band, Terminal D, and owns and operates a record label, Uncle Pete's Parade. The name Terminal D comes from the DFW Airport terminal for international flights. Uncle Pete's Parade pays homage to both his first band, with prominent bassist Matt Hembree and guitarist Daniel Gomez, and the band's manager.
"I've lived here since '92, but I've never been a DFW artist," he said. "I'm a national artist that lives in Fort Worth. It's important for me to connect with a local fanbase."
Williams said he hopes his label will eventually host a monthly series of shows that highlight local artists with promising talent.
Along with West, The 7th Day EP also features singer-songwriter Raheem Devaugn, Dallas rapper Bobby Sessions, and more. In late August or early September, Williams plans to release a full-length recording, King or the Fool: An Opera, Volume 2.
The World Famous Tony Williams

8pm Sun at Lola's Saloon, 2736 W 6th St, FW. $10. 817-877-0666.