There's something about baseball that brings out the kid in us. It happened to me, a 70-year-old man, last month when I went to the National Baseball Hall of Fame in Cooperstown, N.Y. for induction weekend. That's when I saw many legends of the game, spanning three generations. It made me feel like a kid again as I reminisced about my love of the game and its legendary players. I was starstruck. The kid in me wanted to take their pictures and talk baseball with them.
My love of baseball goes back to my childhood days in McAllen, Texas. My love of the game continues to this day.
I have come to appreciate baseball because of what it has taught me over the years. Not only did it instill in me the will and determination to succeed. It also taught me U.S. geography, math, and race relations. Growing up in South Texas, I had never been to other states, so while I knew where New York City, Boston, Washington, and Chicago were, I did not know where places like Brooklyn, Cleveland, Baltimore, Milwaukee, and Cincinnati were located. It made me want to know more about these cities and their parts of the world.
Baseball also taught me math. You have to know math to figure out batting averages, earned run averages, fielding averages, and other statistics. It also taught me race relations. I came to admire and appreciate players for their play on the field regardless of their race or ethnic origin.
I also attribute my love of the game to my second grade teacher at Stephen F. Austin Elementary School, who insisted that the boys play baseball during recess. We did and loved it.
That summer I became a true fan. I listened daily to broadcasts of major league games. My favorite time of day was 1 p.m., when I would hear the radio announcer say, "It's baseball time from coast to coast and around the world." It was also that summer when I was introduced to baseball cards, and I spent what little money I had buying them by the pack.
I quickly became an avid fan of the game, though not necessarily of any particular team since Texas did not have a major league club at the time. The following year, at the urging of my next-door neighbor, I signed up to play Little League. There was one problem. I didn't have a glove. But that did not stop me –– the league provided all of the catcher's equipment, which included a catcher's mitt. Naturally, I became a catcher.
Catcher is great because you're involved in every pitch. I enjoyed being behind the plate and learned a lot about the game from talking to the umpires behind me.
At the age of 12, I collected my first baseball trophy as our team won the city championship.
By that time, I had become a Boston Red Sox fan. Years earlier I had seen my first major league game on television, albeit in black and white. Still, it was awesome to see. The Detroit Tigers were playing the Red Sox at Fenway Park. I fell in love with the Red Sox and Fenway Park with its popular left field wall known as the Green Monster. Not only that, the team had a great hitter by the name of Ted Williams, and I just happened to have his baseball card.
As a catcher and now a Red Sox fan, I made a baseball card trade that must rank as one of the worst in history. I traded a Sandy Koufax rookie card for one of Red Sox catcher Sammy White. My explanation at the time was that the back of Koufax's card showed no stats. It said he was not even in organized baseball.
A few years later, another team caught my attention, and again it was because of television, this time on a color set. The first thing I remember was the beautiful green grass of County Stadium in Milwaukee. I also fell in love with the Milwaukee Braves' colorful uniforms that featured a tomahawk below the mascot name. What impressed me more was the dark blue hat with its red visor and white "M" in front. I pretended the M stood for McAllen. I also liked players Warren Spahn, Eddie Matthews, Hank Aaron, and catcher Del Crandall.
Back in the 1950s, when I was a young fan, baseball was indeed the most popular sport. Little League, baseball cards, and radio broadcasts of major league games played a major part in the game's popularity.
It's unfortunate that baseball now trails other sports in popularity. I've heard dozens of reasons: Baseball's too slow, the players are paid too much, the games are too long. It's the world we live in today. People demand instant gratification. Yet while some may see the national pastime as somewhat old or even old-fashioned, baseball attendance is still pretty steady, and every time autumn rolls around, ratings for playoff games soar.
One of the best things about the sport is that anyone can play it. You don't have to be super-fast or super-large like in football or super-tall like in basketball, and you don't have to be able to afford the kind of specialized equipment needed to play hockey.
Again, except for maybe soccer, baseball truly is sport's great melting pot. And I was reminded of this on induction weekend. The biggest reason I decided to go in the first place was a stocky Puerto Rican catcher by the name of Pudge. And though he played for several teams throughout his long career, Ivan Rodriquez was inducted as a Texas Ranger.
For the past 18 years I have written dozens of pieces about many of the Rangers' Hispanic players, including Rafael Palmeiro, Juan Gonzalez, Ruben Sierra, Alex Rodriguez, Sammy Sosa, and, of course, Pudge.
So when I learned in January he had been selected to the Baseball Hall of Fame, I quickly made plans to be in Cooperstown for the induction festivities.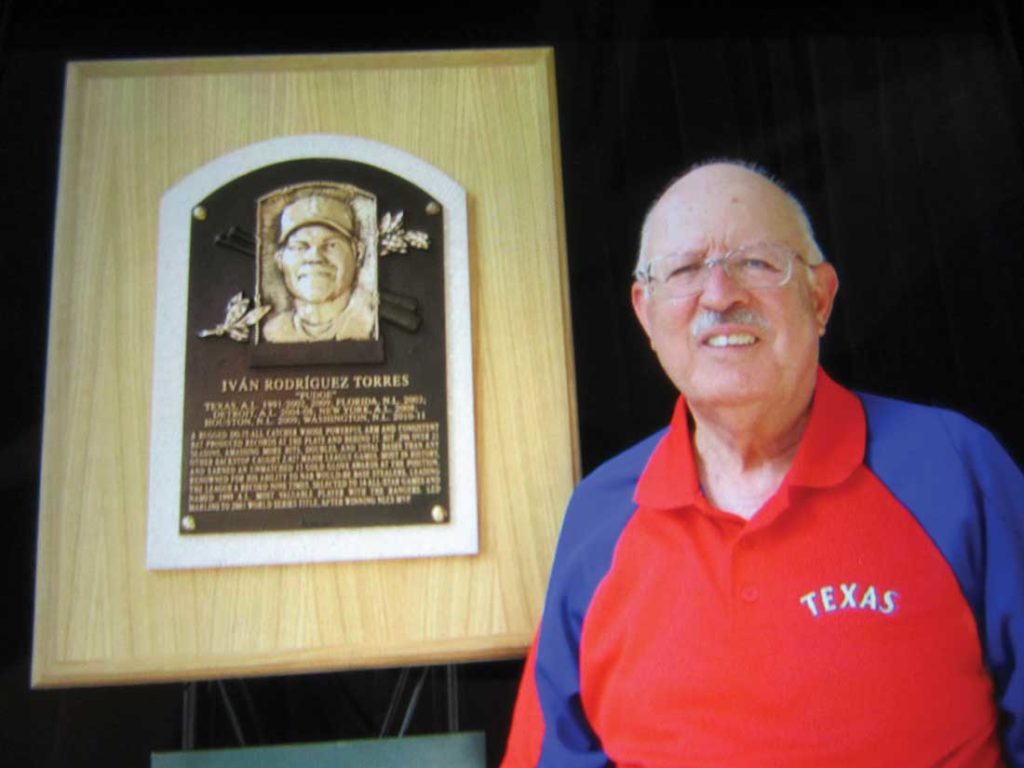 The Lone Star State did not get a major league team until the Houston Colt .45s (renamed the Astros in 1965) became one of two teams added to the National League before the 1962 season, the other being the New York Mets. Still, I did not see my first major league game in person until 1970. By then I was in the Army and stationed in Washington, D.C. The United Service Organizations provided baseball tickets to military personnel, and I always took advantage of that.
On a cold April night in the nation's capital, I accompanied a few of my Army buddies to Robert F. Kennedy Memorial Stadium to see the Washington Senators play the Detroit Tigers. After all the years of listening to broadcasts and watching games on television, experiencing baseball in person was truly a memorable experience.
The first thing I remember is how gorgeous the diamond looked, with its manicured grass, the infield dirt, and the white foul lines. On the field were the Senators in their red and white home uniforms and the Tigers in their visiting grays with "Detroit" written in front of their jerseys.
Once the game started I came to appreciate hearing the crack of the bat and the roar of the crowd. What I did not appreciate was not being able to see replays of spectacular plays. That would come later. I also remember the hot dogs and peanuts. They always taste better at the ballpark.
I quickly became a Senators fan, especially when Ted Williams became their manager. I went to as many games as I could. My allegiance to the franchise grew even stronger when the team moved to Texas following the 1971 season and became the Texas Rangers.
Although I remained in the D.C. area after I left the Army in 1971, I continued to root for the Rangers from afar and would always go see them when they came to nearby Baltimore. I also went to see them one spring training in Port Charlotte, Fla.
One of my fondest memories was wearing a Texas Rangers uniform. It happened in 1994 when I went to a Rangers fantasy camp and for a week lived the life of a major league player. I still recall walking into the dressing room and seeing my name on a locker with my uniform hanging beneath it. I really felt as if I had made the majors. It was a tremendous experience. My coaches were former Rangers Bert Campaneris and Jim Bibby. I was the catcher on the team, and we won the championship by beating the Milwaukee Brewers' fantasy team. One of the Milwaukee coaches was former Braves catcher Del Crandall. It was great meeting him. I was thrilled when he signed a ball for me that read, "From one catcher to another."
Part of the fantasy camp package included tickets to the Rangers' opening day game at their new stadium, now called Globe Life Park, on April 11, 1994, against the Milwaukee Brewers. Throughout my government career as a press secretary to a U.S. Congressman and a public affairs officer for the U.S. Department of Labor and later the U.S. Department of Veterans Affairs (VA), I always planned to return to my native state one day. That day came in 1999, when I moved from Arlington, Va., to Arlington, Texas, to head the VA's Regional Office of Public Affairs. That was my daytime job.
I wanted to somehow get involved with the Rangers now that I was living in their backyard. I met with the publisher of one of the local Spanish publications and offered to write stories for him about the large number of Latin ballplayers in the Rangers system. He agreed and asked the Rangers media office to provide me with a media credential that would give me access to the Globe Life Park press box, the clubhouse, and the players.
One day I was asked by John Blake, the Rangers' executive vice president for communications, if I could do a piece about their young centerfielder Ruben Mateo for the game program. I agreed. It was then that I began my close affiliation with the Rangers.
Later I wrote a piece about the large number of Latin players in the major leagues. "That just goes to show that we can play this game," Rangers first basemen Rafael Palmeiro told me back when he was playing first base for the Rangers.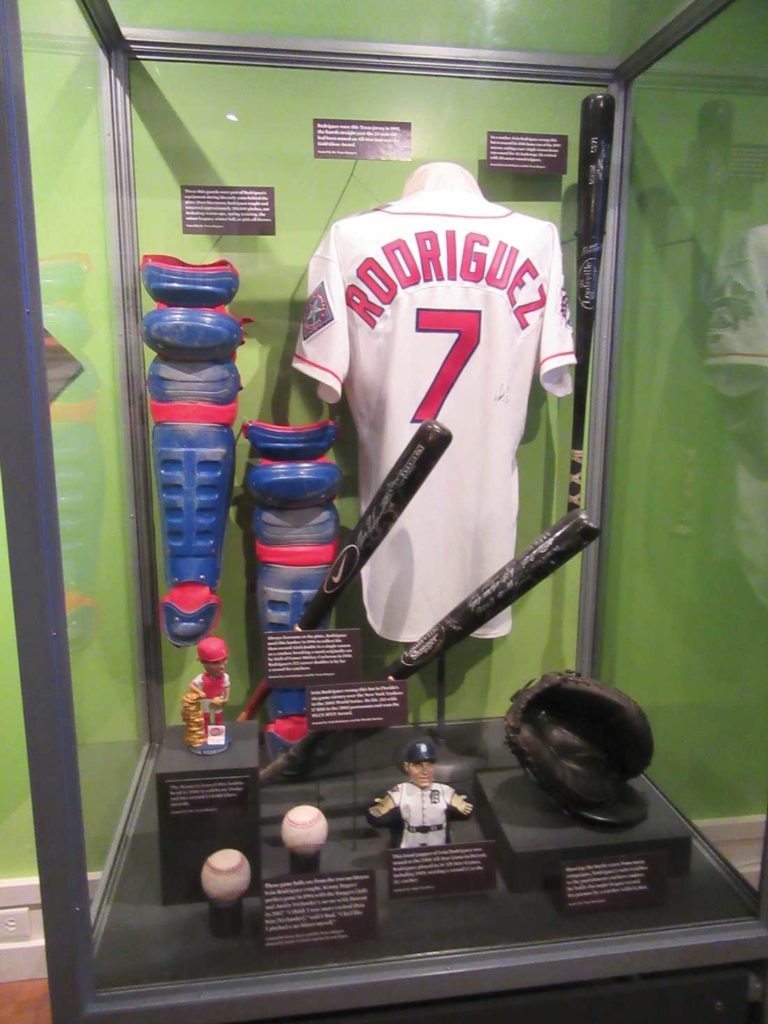 While I had been to Cooperstown before, I had never been to an induction ceremony, so I booked my flight. My trip to upstate New York began the morning of Friday, July 28, when I boarded an American Airlines Flight bound for Newark Liberty International Airport. My first stop in New Jersey was the Hackensack Cemetery to visit the grave of my father-in-law, Richard Manton, a World War II veteran who became a Rangers fan in the last year of his life when he lived with my wife Sandy and me in Arlington.
Before heading to Cooperstown, I drove by my wife's childhood home in Oradell, N.J., hometown of the legendary Bill Parcells, who coached the Dallas Cowboys from 2003 to 2006. Driving from Oradell to Cooperstown is equivalent to driving from Fort Worth to Austin, and it takes a little over three hours. (While New Jersey may unfairly get a bad rap, it is a beautiful state with many nice homes, parks, and neighborhoods.)
When we think of New York, we may imagine the hustle and bustle in the largest city in the country, with its more than 8 million people and its dozens of skyscrapers that make up the impressive skyline. It's totally a different world upstate. The farther I drove north, the more beautiful the scenery got. On this Friday afternoon, I noticed a large number of luxury late model cars also on the road. I imagine people were leaving the city and heading to their weekend retreats in the Catskill Mountains, and who can blame them. It is beautiful.
While there is no major highway that goes directly to Cooperstown, my GPS took me to a number of back roads that gave me a good view of the lush rolling hills and glistening lakes and farming communities that make this region gorgeous. I also saw some Amish folks and had to maneuver around their buggies.
I arrived in Cooperstown late in the afternoon. Located in the foothills of the Catskills Mountains, the city is proud to be a one-stoplight town with quiet streets and charming old homes. On this evening, however, the streets were not so quiet – the town was buzzing with baseball fans from all over the country.
As I walked along Main Street, one store grabbed my attention. Its sign read, "Come buy the baseball cards your mom threw away." To set the record straight, my mother did not throw away my baseball cards. She simply gave them to two baseball-loving youngsters she used to baby sit. My heart sank as I saw the Koufax rookie card I had traded decades ago, selling for hundreds of dollars. Nowhere did I see a Sammy White card.
There was a sign in one of the stores that said Pete Rose would be signing autographs the next morning, so I was up early on Saturday to have the all-time major league hits leader sign a ball for me, which he did – for $65.
Saturday was a busy day with numerous activities taking place. The 2017 Hall of Fame inductees were available to the media. While they fielded numerous questions, they all admitted to being nervous at having to deliver their remarks the next day. Pudge appeared relaxed after playing a round of golf with senior-tour legend Chi Chi Rodriguez that morning.
The Hall of Fame, which I visited on Saturday, is like the Smithsonian Institution in Washington, D.C. There is just too much to see – it houses one of the most extensive collections of historic baseball-related items in the world. You could spend days there and still not see everything.
Next on the Hall of Fame weekend agenda was the Parade of Legends on Main Street, which featured many Hall of Famers. One-by-one, they stepped off the vehicle onto the red carpet that led to the museum entrance. There was Whitey Ford, Hank Aaron, Bob Gibson, Juan Marichal, Rod Carew, Frank Robinson, Nolan Ryan, Tony Perez, Joe Morgan, Johnny Bench, Cal Ripken Jr., Ken Griffey Jr., and many more. The last to arrive were this year's inductees: John Schuerholz, Bud Selig, Tim Raines, and Jeff Bagwell in addition to Pudge. It was quite a sight.
Following the parade, I attended a reception that the Rangers were hosting for Pudge. Present were many of his former managers, coaches, and teammates, as well as family members and friends. Hall of Fame catcher Johnny Bench also made an appearance to salute his fellow catcher. The atmosphere was joyous and festive as everyone was looking forward to Sunday's induction ceremony.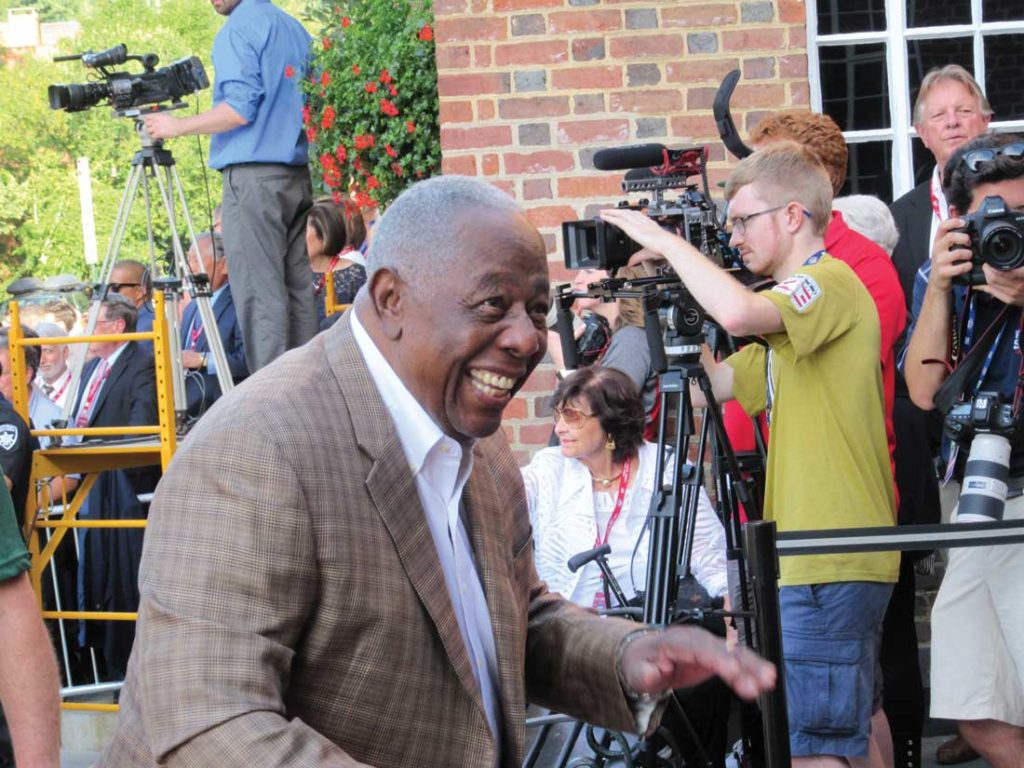 Although the ceremony did not start until 1:30 p.m., people began arriving to the site early to reserve their spot. The town opened its arms to welcome its visitors. Young entrepreneurs in nearby homes offered parking for $20, and there were numerous lemonade stands throughout the route.
It was a beautiful day. Hall of Fame President Jeff Idelson welcomed the more than 25,000 in attendance to Cooperstown, calling it "the spiritual home of our national pastime."
In their remarks, all of the inductees talked about their love of the game and thanked the people responsible for their achieving "the highest of all baseball honors," in Selig's words. Rodriguez was the fourth to speak. He addressed the crowd in both English and Spanish. He said he was honored to see the many Puerto Rican flags waving in the audience.
"This is a dream come true," he said. "Never let anyone take the dream from you. Do what makes you happy. Dream big and know that those dreams do sometimes come true."
He encouraged the youngsters to "enjoy the game, respect the game, and, most importantly, love this great game of ours."
The 14-time All-Star who won 13 Gold Glove Awards choked up when he talked about his parents, who he said were always there for him, guiding and encouraging him. It was his father who suggested that Pudge be a catcher rather than a pitcher. He thanked the Texas fans and the organization. "I grew up there, and I'm proud to wear their cap forever in the Hall of Fame," he said. "The Rangers always treated me first class, and I did everything in my power to return the gesture. I hope the team and fans feel I accomplished that."
Following the three-hour ceremony, the five inductees made themselves available to the media afterward. They all appeared relieved to have the induction and their remarks over. Pudge took the opportunity to congratulate Adrian Beltre, who registered his 3,000th career hit minutes after Rodriguez had completed his remarks.
Pudge received one more honor when he returned home. The Rangers retired his number on Aug. 12, prior to the Houston Astros game. Pudge's 7 joins the retired numbers of Nolan Ryan (34), Johnny Oates (26), and Jackie Robinson (42).
As I left Cooperstown I reflected on my life-long baseball journey that has taken me to 25 major league stadiums. During that time, I have seen two All-Star games, three World Series, dozens of postseason games, three opening day games one year, and a no hitter. I was also present on Sept. 5, 1995, in Baltimore, when Ripken Jr. played in his 2,130th consecutive game, tying Lou Gehrig's record.
It's been a rewarding journey, and the journey continues. When I retired from government last year after 45 years of federal service, I became a Texas Rangers employee. In addition to writing articles for the Rangers' game program, I am now a stadium tour guide at Globe Life Park.
For the first time in 45 years, I now punch a clock at work and make minimum wage – I love every minute of it.
In the words of Cuban-born player Minnie Minoso, the only professional player to play in seven different decades, "Baseball has been very, very good to me."
Ozzie Garza was born in Texas City, Texas, on Feb. 14, 1947, two months before the Texas City explosion that killed more than 500 people, including his father, and injured more than 5,000, including his sister and brother. He moved to McAllen, Texas, in 1952. A North Texas State University graduate, Garza served in the U.S. Army as a public information officer for the Military District of Washington in Washington, D.C. He also worked on Capitol Hill, at the U.S. Department of Labor, and for the U.S. Department of Veterans Affairs. He has written numerous articles for the Rangers game program and other sports publications. He is in his first year as a Globe Life Park tour guide.