Praise Touchdown Jesus, college football is back. The rivalries between schools, friends, and families are blossoming in the boiling heat of August as many of us prepare for never-ending trash talk that happens in Big 12 country. Since most North Texas fans throw up frog fingers, a gun, a bear claw, or a pair of horns on lubricated Saturdays, let's review the last season in light of a new one, starting with the local faves.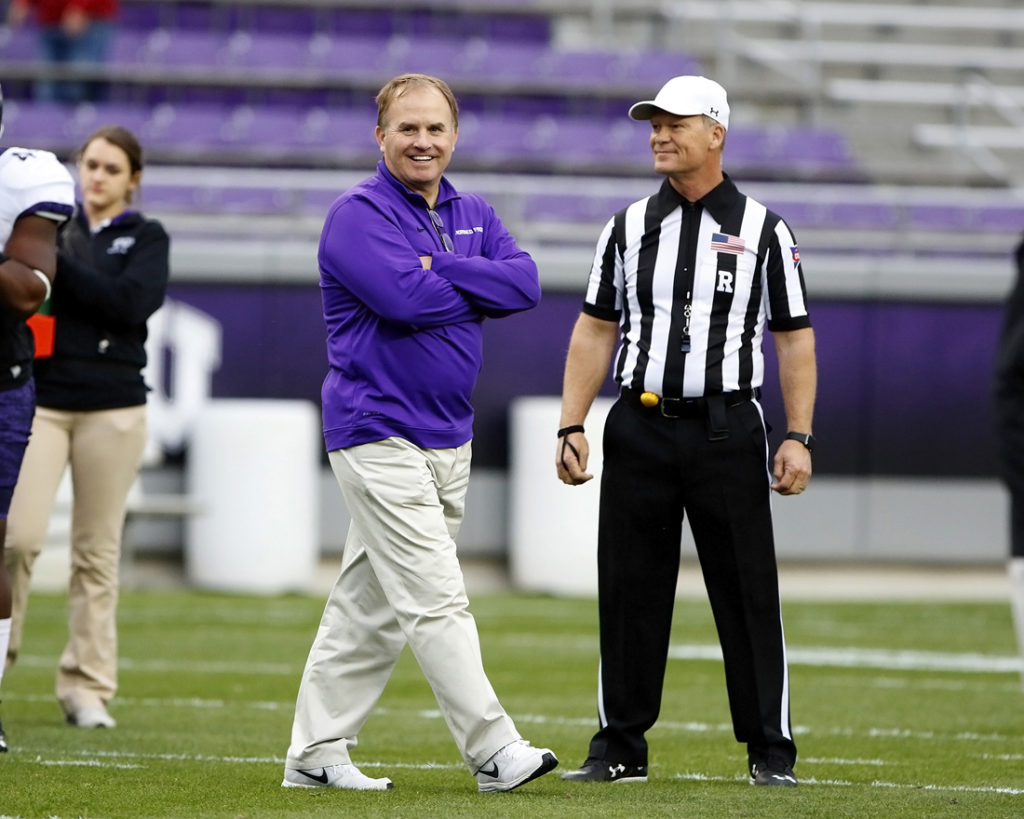 TCU Horned Frogs: Gary Patterson's hometown boys are coming off a letdown season, despite appearing in a bowl. It is difficult to assert if the Frog faithful should be enthused or apprehensive going into the year ahead.
Frog Up: The wide receiving depth chart is among the deepest in the conference. Senior Taj Williams racked up more than 700 yards last season with an average of 18 yards per catch. Though Williams will be the primary big-man target, the most exciting man on the field is without a doubt 5'9" KaVontae Turpin. Turpin, a slot receiver and kick returner, is the spark plug of the offense, and the coaches will construct a variety of ways to get him the ball. The junior accumulated 986 all-purpose yards last year, despite missing five games due to injuries. If he can stay healthy, then fans will likely enjoy a heaping helping of "Turpin Time." The offensive line returns four starters who will try to keep defenders off 1,000-yard rusher Kyle Hicks, who was probably the most consistent factor in TCU's offense last season, even though fans were disappointed he wasn't utilized more. Sonny Cumbie is now the lone offensive coordinator for the Frogs after Doug Meacham departed for Kansas. A single coordinator should provide a more consistent vision for what the offense will be.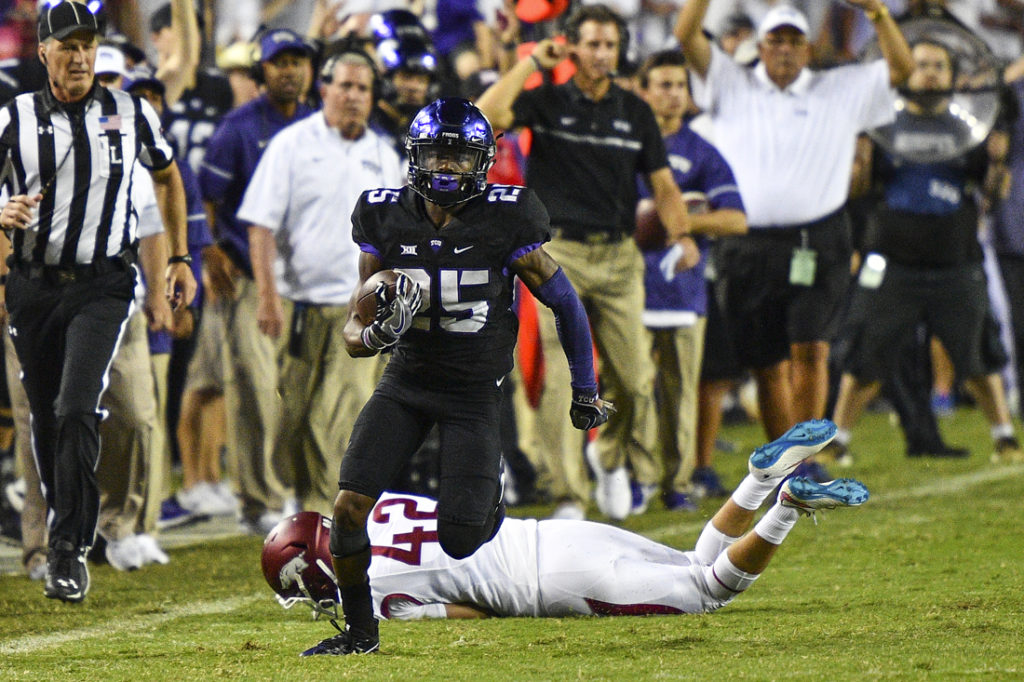 Frog Down: The calling card of Gary Patterson has always been his defense, but TCU gave up an average of 28 points per game last year and seemed susceptible to the pass and the power-running game. The defense returns two all-conference linebacker selections and most of the secondary is returning, but there is no big-name pass rusher on this squad with the departure of defensive end Josh Carraway. Ultimately, the defense will go the way of the pass rush: If a new star emerges, then the experience in linebackers and secondary could bring the Frogs back to defensive prominence. Kickers and quarterbacks made the wrong kind of difference for TCU last season. Field goals were a gut punch for fans last year, likely shanking wins against SEC opponents Arkansas and Georgia and allowing a fledgling Texas Tech team to win at Amon G. Carter Stadium. There is no clear starter as of yet, but the new kicker will most likely be Arkansas transfer Brandon Ritchie, because fate is not without a sense of irony. Then there's Kenny Hill, who should wear the number Catch-22. Hill showed flashes of brilliance when he played loose last year, but those flashes were followed by 13 interceptions. When Hill played it safe, there were fewer turnovers, and the ball was safely in the hands of the punter.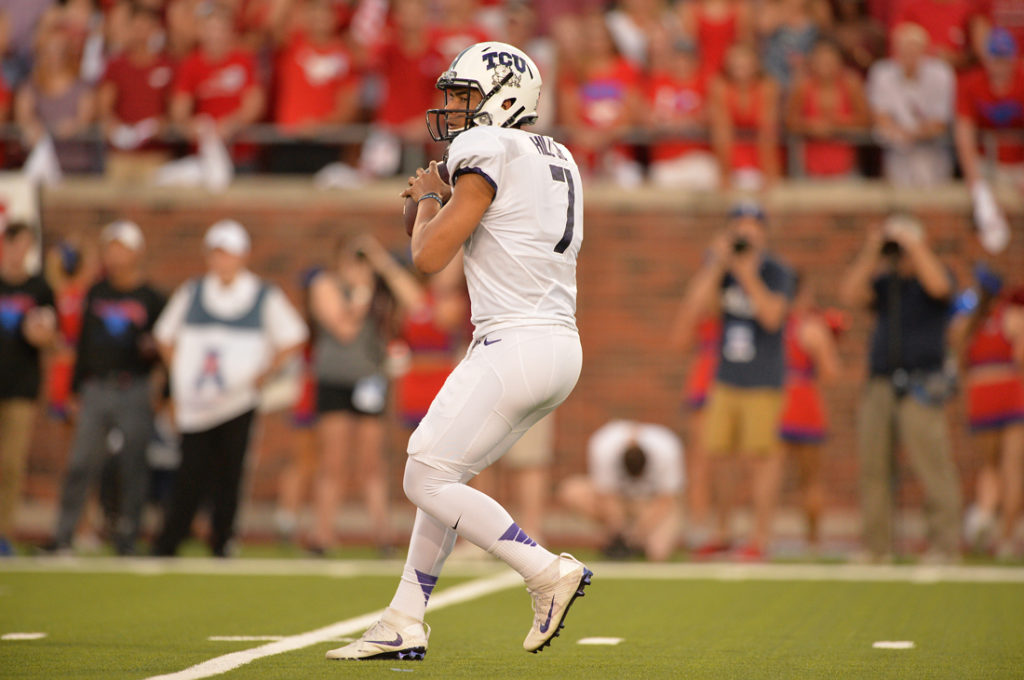 Frogs' Bottom Line: The defense, rushing game, receivers, and special teams are all window dressing. If Hill can play loose without turning the ball over, then TCU will win 10 or more games. I expect the game to slow down for him this year and for the receivers to drop fewer passes. The Frogs will likely drop games to the state of Oklahoma and possibly Kansas State, leaving them to finish third or fourth in the conference but still as the best Big 12 team in Texas. TCU is currently No. 26 in the Associated Press preseason poll and No. 28 in the NCAA coaches' poll. Patterson has mentioned that he likes being under the radar, but you can be sure he'd take it either way.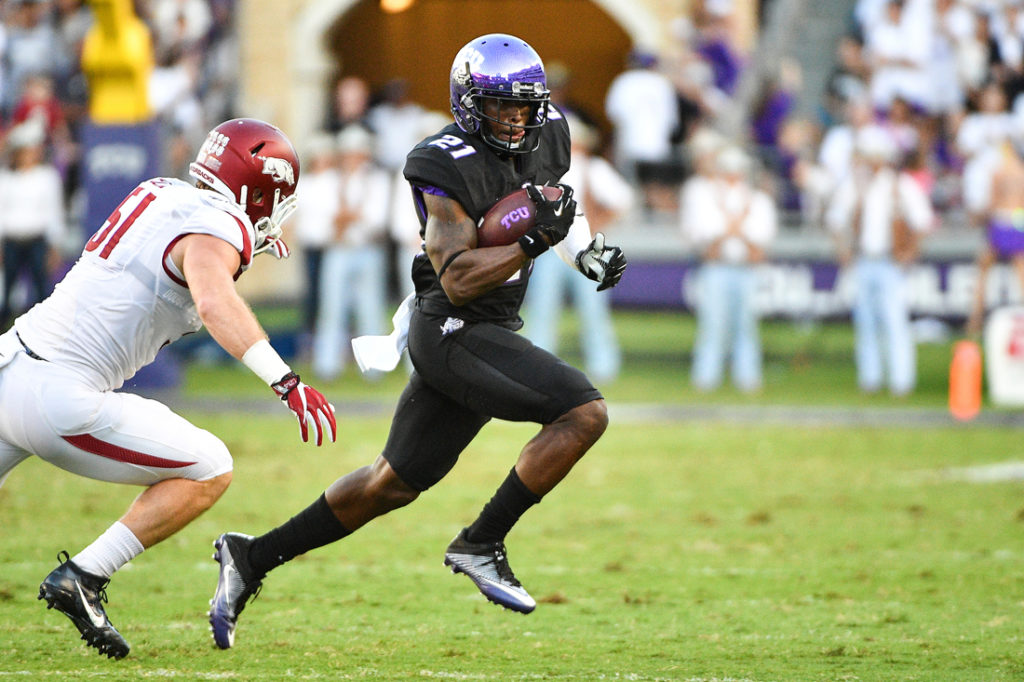 Texas Longhorns: There's almost nowhere to go but up for UT, who are coming off a 5-7 year that got Charlie Strong fired. Texas has retooled with new coaches throughout. Tom Herman has arrived from the University of Houston because he did what Strong couldn't last year: beat Oklahoma. The Longhorns have not been a factor in the conference for the past three years. That's likely to change.
Horns' Bottom Line: The Longhorns were competent on offense last year. True sophomore Shane Buechele inherits four returning offensive linemen and the three most productive receivers from last year. The burnt-orange crew will return 10 starters from a defense that ended strong but started terrible. For all his shortcomings, former head coach Charlie Strong was a defense-first coach. New man in charge Herman is known as an offensive guru, but new defensive coordinator Todd Orlando will take the veteran defense and try to transition them into a 3-4, a philosophy that will surely come with growing pains. Texas also has a brutal five-game stretch late in the season, when they will face all the conference contenders in marathon fashion. Expect to see UT ruin conference championship aspirations for someone and make a bowl, but their ceiling is probably eight games while the new staff and players adjust to one another.
Texas Tech Red Raiders: Remember when Michael Crabtree beat Texas? Well, people are starting to forget. The Red Raiders haven't had a winning conference record in the Big 12 since Mike Leach (definitely the weirdest coach in college football) was forced out of Lubbock. Tech's current coach, Kliff Kingsbury (definitely the best-looking coach in college football), hasn't posted a winning overall record since his first year in 2013.
Raiders' Bottom Line: Corsicana native and starting quarterback Nic Shimonek saw limited action last year when prolific passer Pat Mahomes II was hurt. Shimonek continues the pass-first offense. The bad news for fans is that Mahomes was special. Shimonek will rack up yards, but he doesn't have the same improvisational and running abilities that Mahomes did. Kingsbury's offenses have never averaged under 30 points per game. Unfortunately, the defense gives up an average of 40 points per game. Even a freshman humanities major can understand that is bad math. The linebackers and secondary return for Texas Tech, but the defensive line is new, which is bad news for a unit that gave up 66 points to conference bottom-feeder Iowa State last year. The Red Raiders remain fun to watch, but fans will likely endure six to seven losses this year with an unfriendly non-conference schedule that includes Arizona State and the University of Houston.
Baylor Bears: The turmoil surrounding Baylor seemed to hit a critical mass as the team lost six straight games coming off their bye week last year. The good news for Bear faithful is that new coach Matt Rhule has a promising record of winning with unlikely squads. It's probable that this will be the rawest talent the former Temple head coach has ever commanded. Quarterback Zach Smith will handle the ball for an offense that returns their prominent rushers and most of their offensive line.
Bears' Bottom Line: The Bears will look unfamiliar this year, with their offense likely to have more run/pass balance. Rhule will emphasize defense while giving more priority to the running game on offense. Baylor's only non-conference test is Duke University on the road in Week 3, and their schedule sets up nicely against most of the conference. It shouldn't be a surprise if the Bears are a nine-win team this year, if they can focus on football. It will take a strong-minded coach and players to differentiate themselves as a new team with no connection to the fiasco that the previous administration and Art Briles left behind.