A year has passed since then-rookie quarterback Dak Prescott came onto the field in relief of a writhing Tony Romo, took control of the offense, and never let go. It was a moment that will forever be fixed in my mind as a jarring fault-line break between two different eras of Cowboys history. In a single play, the page was turned, and, surprisingly, the next words read, "The End."
The scene: Week 3 of the preseason, the "dress rehearsal" game. Romo, in his first action in nine months, was looking to put an injury-marred 2015 season — one that saw him play in only four games — behind him. Finally healthy, bolstered by a shiny new weapon in running back Ezekiel Elliott, and protected by the league's best offensive line, Romo looked to pick up where a questionable catch reversal in Green Bay left the team in 2014 (#Dezcaughtit). Yet on just the third play of the game, Seahawks defender Cliff Avril dragged a scrambling Romo down from behind, slamming him awkwardly into the turf, resulting in a compression fracture in his spine, an injury that would ultimately end his playing career and send him wincing into an entirely new profession, in CBS's broadcast booth.
I'll never forget it. I sat stunned, mouth agape, watching one of my favorite players rolling on the ground, clutching at his back. My stomach sank, knowing the scene was likely some metaphor for the season. There was more than just my favorite player grimacing in pain, prone on the field. Any hope for Cowboys success seemed to lie there too. A season over before it began.
What was lost on me at the time wasn't what was potentially over but what was just beginning. On his first snap, Prescott, unshaken by the pressure of the situation, completed a pass to Cole Beasley to convert a third down. The Cowboys would eventually punt on the drive, but on their next possession, the offense, helped by some aggressive running by Elliott, marched powerfully down the field. The series resulted in Prescott hitting on a tight-window throw to a streaking Jason Witten in the end zone for a touchdown.
The composure and leadership that Prescott demonstrated after Romo went down, and that ensuing touchdown drive, would become a microcosm of sorts of a historically significant season for the Cowboys. As he did as a backup quarterback at Haughton High School and again at Mississippi State, Prescott would take advantage of opportunity through injury, and once given a shot at starting, he would not relinquish the position.
If I'm honest, I have to admit that throughout the season, Prescott's triumphs were a tad bittersweet. The youthful jolt that he (and fellow rookie Elliott) provided the offense was wildly exciting to watch, but for me, there was a small part of it that was tarnished by … I don't know what. Guilt? Remorse? Jealousy even?
Don't get me wrong. I was beyond elated as the team rolled off win after win — 11 in a row at one point. But, at the same time, it was heartbreaking for me. Having been an almost defiant Romo defender for the length of his controversial career, I had a hard time watching a team — one that might have finally been good enough to help him rewrite the legacy of a sunsetting career and perhaps even ensure a future bust in Canton — being led to glory by a rookie who still had his whole career ahead of him. Each successive victory forced the window of opportunity for a Romo redemption story ever smaller and eventually slammed it shut for good.
Things shouldn't have ended that way for Romo. He deserved better than to become a casualty of one of the very things he'd been relentlessly ridiculed for: injury.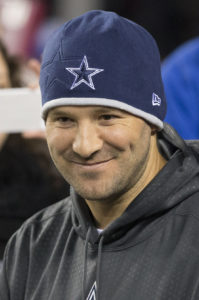 It's my largely uninformed opinion that no player in football (at least in my memory) has been more unfairly castigated than Tony Romo. For sure, he's earned his share of fair criticisms. He's also been unreasonably denied the respect owed to a player who has played through fractured ribs, punctured lungs, and a broken back. For more than a decade, he was the face of the franchise and the sole reason for any amount of success, small as it may have been, that the team enjoyed during his tenure.
Like others, I spent a considerable amount of time throughout the season debating Dak v. Romo with friends (in person and on social media). I was squarely in Camp No. 9. To borrow the famously tearful plea of Terrell Owens, "That's my quarterback!"
"Let Romo have one more crack at it," I thought. "Dak might be the future –– he's been great sure –– but this team needs Romo!"
And now, I'm here to confess.
I was wrong.
I was wrong to doubt it. Even as it happened before my eyes. Even as the season wore on, and it was brought into even sharper focus — with each impressive drive, each staggering quarterback performance, and each win — that it was no longer Tony's team.
As Romo stated in his own words last fall in an awkward if undeniably classy press conference, Prescott has "earned the right to be our quarterback. As hard as it is for me to say, he's earned that right."
He knew it then. A great deal of my friends (and perhaps the majority of Cowboys fans) knew it then. And I should have known it too. Prescott may well have put together the best rookie quarterback season in NFL history (apologies to Big Ben and a certain Steelers fan familiar to readers). And that's not even taking into account the impressive young man Prescott appears to be off the field. With NFL players often challenged by struggles with character, Prescott is the exact type of player you want to root for. Composed, articulate, rigorously focused, with an unshakable commitment to excellence. It is obvious that his performance is as much a product of sheer determination as it is natural ability.
So now, the question is, can he do it again? Can he repeat or even build on last season's accomplishments? By setting such a high bar, it's unlikely he matches the statistics. That's not to suggest he falls too far from those marks. The myth of the "sophomore slump" is incredibly overblown. But it is not entirely without merit. The NFL landscape is littered with the remains of phenom first-year starters who plummeted harshly back to earth in their second campaigns. Some, like Matt Ryan, would eventually right the ship. Others, like Robert Griffin III and Colin Kaepernick, have floundered their way out of the league entirely.
Of course there's more to a quarterback's success than his own play. And the situation in Dallas is as good as one could reasonably expect for a young signal caller. A solid running game (in spite of the looming suspension to Ezekiel Elliott), three Pro Bowlers along the offensive line (although there are serious questions at the other two spots), an All-Pro caliber wide receiver, and a future first ballot Hall of Famer in tight end Jason Witten. And based on his performance so far this preseason, there's no indication that Prescott will suffer the same fate as Griffin or Kaepernick. Through two games, Prescott is a laudable 18 of 22, for 219 yards, two touchdowns, and a quarterback rating of 138.4. Essentially picking up right where he left off last season.
I attended the Cowboys' 24-20 preseason victory over their AFC mirror image Oakland Raiders a few weeks ago. And I saw for myself what seemingly everyone else has seen all along: a remarkable young man earning his name in the NFL.
There's no doubt I felt in my heart that Romo deserved a better end to his career. Even more than that, I believe Prescott deserves all the success he looks ready to enjoy in his.