"Of all the means to ensure happiness throughout the whole life, by far the most important is the acquisition of friends." ― Epicurus
A sideways grin unfurled beneath Matt Tedder's mustache.
"Yeah?"
I grinned back.
"Yeah, man. Let's go."
I dropped my pants, my pale ass lighting up the beach with all those stars. Matt laughed and followed suit. We went charging into the Baltic Sea, splashing, swinging, giggling, crashing into the water on either side of the young Lithuanian lovely whose petite, goose-pimpled breasts and hardened nipples beckoned just above the surface.
Matt seemed the embodiment of joy.
"Well, I can check skinny-dipping in the Baltic off my bucket list!"
"Yessir, Mr. Tedder. Hard to beat swimming naked in the sea under the stars."
We were on the last leg of our six-week run together, a string of 10 consecutive shows around Lithuania with perhaps the country's most well-known blues artist, Aleksandr Belkin. Earlier that night, with Belkin on harmonica, we'd performed two sets of music in the coastal town of Palanga at an intimate little music hall where Belkin and I had played the previous two summers.
Back in 2012, prompted by an invitation to perform a small theater for a Dutch radio station — which was spinning my third album, A Thousand Dreams — I booked and performed my first music tour of Europe. Since that three-month run, I've spent about half of each year playing the house concerts, record shops, pubs, clubs, and festivals of the Old World.
It was on such a tour in 2014 that I first met Belkin in Vilnius. Over the years, I've had the good pleasure of making friends with a number of great musicians from various countries who have occasionally sat in on parts of my runs.
However, Matt's six weeks with me was the longest stretch either side of the Atlantic that I've enjoyed any particular musician's accompaniment since the long-gone days of my old Fort Worth band Catfish Whiskey, which called it quits in 2009 after drunkly swimming about Texas and the greater United States for seven blurry years.
Naturally, my six weeks on the road with Mr. Tedder were full of adventure and misadventure, a whole lot of laughs, and a whole lot of great music. The protection of the guilty won't allow some stories to see the light of day anytime soon, but there's still plenty of meat on the bones which is acceptable for immediate public consumption — skinny-dipping in the Baltic being one of the tastiest.
Along with the young woman with whom we swam naked, Matt and I were joined to the beach by several guys who'd come to see the show that night in Palanga and another young woman from Germany whom we'd met in Estonia the week prior. She'd been on the road with us several days in Belkin's blues van, whose back doors reads, "On the seventh day, God created the blues."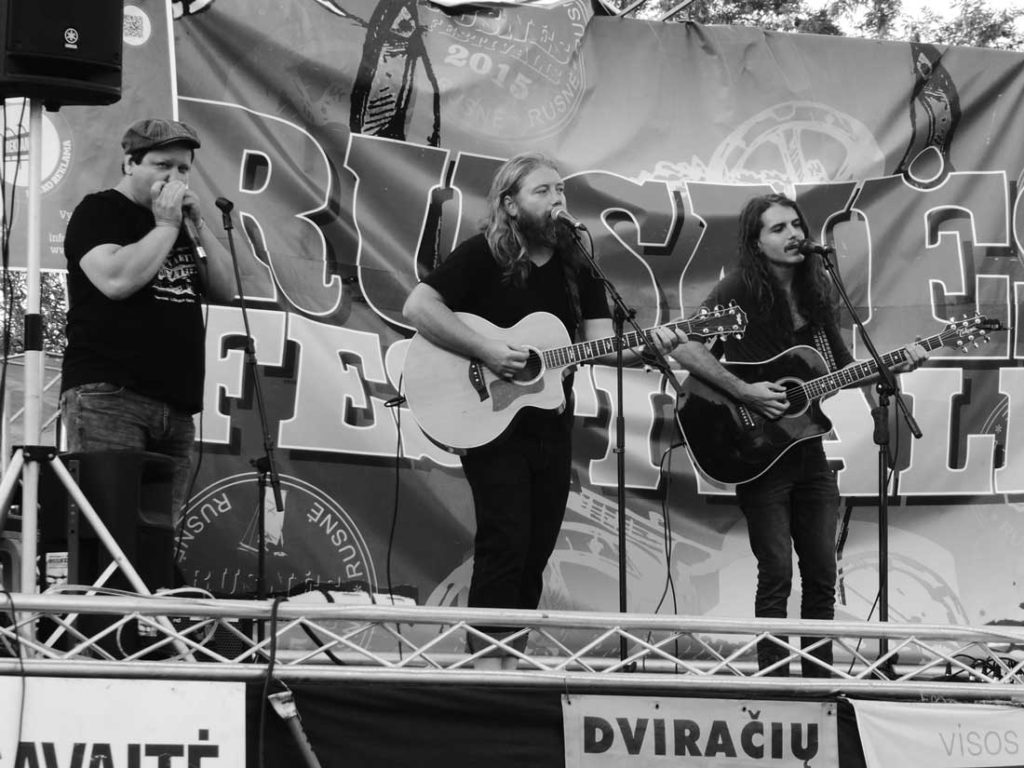 Aside from one young gentleman, who upon arrival at the beach immediately strutted directly into the water, somehow never breaking stride while removing all of his clothing, it was only the Lithuanian woman, Matt, and I who found ourselves in the Baltic that evening.
After a few minutes in the water with us, the Lithuanian woman trotted out of the sea a little ways, removed her panties and came running back in. The slightness of her chest belied the fullness of her bottom half. One could imagine her, a Lithuanian Aphrodite, sculpted in marble, coyly twisting her hair with face turned down, perched within a giant clam shell.
After some time, we emerged from the water and walked over to our dry clothes and dry, fully clothed friends. I pulled my pants on but left my shirt off to air dry.
One of the guys became concerned.
"Hey, Keegan. Put your shirt on. You'll get sick."
"I'm an old man. I know what I'm doing. I'll be fine."
I have a strong disinclination for being told what to do — to a fault, undoubtedly, as I now sit and write a little over a week later in Riga, alone, with some sort of sinus issue that may be — see: probably is — related to my shirtless stand in the sand.
Something about hubris before the gods.
"It really would be a good idea to put your shirt on."
"I'm good," I replied. "Thank you."
I was trying to keep my agitation from showing. They were very nice guys.
I turned to the Lithuanian Aphrodite.
"So what's the plan? Find a bar somewhere? Go dancing?"
"I'm going back to my grandma's house."
It seemed a funny thing to say. I chuckled. "You're going back to your grandma's house?"
"Yeah." She twisted her face up and offered an air of distaste and offended modesty. "I'm sorry if you thought something was going to happen tonight, but I'm not staying out."
It had, in fact, occurred to me that something might happen. The two of us had enjoyed some time in her tent together a couple of weeks prior at Bliuzo naktys, a blues festival our trio had played in Varniai.
It was no problem that she didn't want to stay out, but her tone and her sour expression struck an ugly chord in me. I hadn't directly suggested coitus. Hadn't we just been naked and sea-frolicking together moments before? I put my shirt on.
As we walked away from the beach, back toward the Palanga nightlife, I silently veered off and away from the young woman and the new friends. Matt, recognizing that I was intending to make my exit without announcement, quietly slipped in behind me with our German Freundin.
We made our way to the nightclubs. As we came into the heart of the bustle, we were stopped on the sidewalk.
"Marry me." A pretty blonde had grabbed Matt's hand.
"Sorry," he said, smiling at our pretty German companion. "I'm spoken for."
The blonde turned to me.
"How about you?"
"I'm not."
"Come on inside."
She led us into the bar she'd propositioned Matt in front of and made for the entrance to the nightclub within, which had a separate entrance and a cover charge.
I stopped her. I'd partied here before.
"Eh, sorry, but we aren't really looking to pay an entrance fee tonight."
"You don't have to pay."
And with that and a whisper in the ear of the bouncer, in we went. She disappeared, clever woman, and we danced what was left of the night away. After then putting a good dent in the new day, Matt and our friend left together, and I soldiered on alone for another couple of hours.
This staggered giving-up-of-the-ghost was a relatively common ending to our nights on the road. Be it wisdom, 12-and-a-half-years less practice in sleep-deprivation, or some combination of the two, but Mr. Tedder quite often — though certainly not always — caught more winks during our sojourn around Europe.
A shrug of the shoulders and "know thyself" became a common response of mine to some of Matt's earlier-early retirements during the first week or two of the tour. But as the weeks wore on, he seemed to take more and more to my lusty squeezing of every drop that a given waking period has to offer — of course, the longer the waking period, the more drops.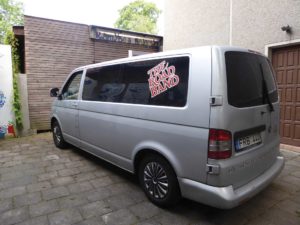 The sharing of brainwaves and intention — as in his deciphering and understanding without word my ambling movement sideways to remove myself from the group in Palanga — became a common occurrence, be it an unusual expression uttered at the same time, a song suggestion to one as the other was ready to suggest the same, or some other such moment of a seeming oneness-of-mind.
One night in Jena, Germany, a friend of mine had offered us her bedroom. Matt and I declined the kind offer to take her bedroom from her. After her protests were assuaged, she took us into a little living room with a small orange couch. In unison we exclaimed, "This is perfect for us!" The expression became one of many catchphrases of the tour.
This uniformity of mind was not an expected given or an experienced past. Matt and I hadn't known each other long or well when I invited him to join me for a portion of my annual European summer run.
I had been hearing of Matt for several years around the Fort Worth music scene before we met, which, given his young age, is quite impressive. He's been making a name for himself as an exceptional guitar player for almost 10 years already, playing bars and clubs in and outside of Texas since before he hit puberty. He's also a gifted songwriter, as his debut EP, California Mercy Me, makes plain.
Our paths didn't manage to cross until February 2016, when he attended the release party for my album Uncouth Pilgrims at Lola's Saloon. After, we played a few shows together and attended a few of each other's gigs around town, but we didn't see much of the other outside of that.
The invitation for him to join me this summer was extended on a drive from a Dallas gig he'd invited me to play with him earlier this year. During our conversation amid I-30 traffic to Fort Worth, it had come up that Matt is half-Turkish. Turkey was a place I intended to go. I asked if he might like to join me for some days. A timeframe was later discussed and confirmed.
A few months later, I was stepping out onto the balcony of a friend's place in Leipzig, grinning at a sideways-grinning Tedder, lit up with the sunshine and the afterglow of his first night partying at a punk-bar in Germany.
"Whoa, buddy!" I said, smiling. "I dig that mustache."
"Yeah, well, you mentioned how well it'd fit over here, so …"
"Damn straight. Looks real good on ya."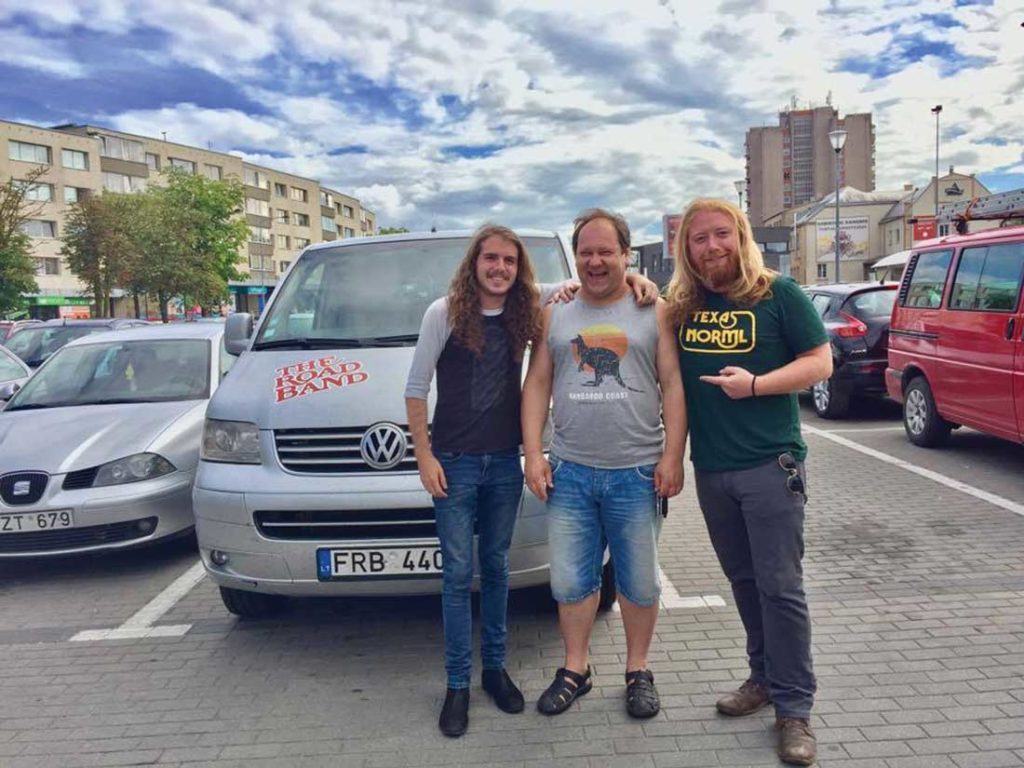 A big hug and more of that sideways grin that just lights me up every time I see it. It's infectious. It's youthful curiosity, mischief, readiness, and enthusiasm personified. Any slight reservations I might have been feeling about having someone with me for such a long stretch along my precious road vanished.
I'd been in Europe since late April. With the musk of Holland, Ireland, Switzerland, Italy, and England on me, I'd hopped an overnight bus from Hamburg to Leipzig to convene with Matt for the new leg of my four-and-a-half-month tour. My friend, harmonica-blower extraordinaire Florian Escherlor of Dresden, who'd already played a couple of shows in Germany with me a few days prior, was to meet up with us that evening for our first show of about three weeks of gigging around Germany, with some back and forth to Belgium in the middle.
"Gonna be a helluva a run, buddy," I said. "Let's drink the last of this Amsterdam tea."
Between sips, Matt said, "You know, I'd really love to learn a new Dylan song for this tour."
"What about 'Simple Twist of Fate'? I met a nice German girl at a bus stop in Groningen, and I'm feeling romantic."
Within minutes, it was downloaded on his phone and picked out on his guitar. The song became one of the staples of our set, the only song we exchanged verses on equally during our nightly song-swap format.
Another song I learned that first afternoon in Leipzig was Matt's lovely and melancholy original tune "1701 Blues," which he wrote while living in Nashville, feeling particularly lonely. He taught me Ry Cooder's version of "Jesus on the Mainline" as well.
Our many shared musical influences and loves across the genres of country, folk, and blues made for a most enjoyable and natural working-up of songs together. I can't recall a time where either of us wasn't enthusiastic about the other's song suggestion.
Though there was no concrete setlist, a favorite opener of our's became J.J. Cale's "Crazy Mama," which we lazily harmonized together on. Along the road, during the course of the tour, many songs were added to our repertoire, including Tom Petty's "Yer So Bad" and Merle Haggard's cover of "Jimmie Rodgers' Last Blue Yodel (Women Make a Fool Out of Me)." Additionally, a new song or two we hadn't played before would fall out of one of our vast internal song-banks almost every show. By the time we said goodbye here in Riga a couple of days ago, we had a pretty solid two or three hours of material worked up.
It's a high level of comfort to be able to so easily fall in with someone musically. And it's fairly rare. I've been making my living playing music for over a decade now, and in that time, I've been part of many a musical train-wreck — which I am undoubtedly often a catalyst for — where the anxiety builds up to your throat and getting off the stage can't come soon enough. But Matt is a good listener and a tasteful instrumentalist, and it was never the case that I looked forward to the ending of a show — except perhaps our last show of the tour, when a drunken bar owner in Lithuania hijacked our microphone and our show to scat and grunt and mumble in neither English nor Lithuanian, a sort-of-singing that Matt, Aleksandr, and I just did our best to play over between bursts of laughter and grimaces and a few rolled eyes.
Back at that first night in Leipzig with Florian, we played outdoors to a modest but appreciative crowd, including a friend who was ready to go into labor at any moment. She told us that if her water broke while we were performing, she was naming the child after me. Unfortunately for the child, she made it through the show, water intact.
That first weekend, we did four shows in three days for the multi-block neighborhood festival Bunte Republik Neustadt in Dresden, two with full bands that Florian had helped assemble, two as a trio. Our Sunday matinee, in the wake of two days of mass, debauched carnage across the Neustadt neighborhood, was my favorite of the four, not least of which was because of the stage-banter between Matt and me that day.
We'd stumbled upon an improvised version of John Lee Hooker's "Whiskey and Wimmen" the night before in the midst of "On the Road Again," a Canned Heat song Tedder was rocking, me suddenly jumping to the microphone, spitting some sort of strangeness, building to the heart of the matter, with a little addendum of my own.
"Whiskey … and wimmen … and reefer … done wrecked my life! Done wrecked my life!"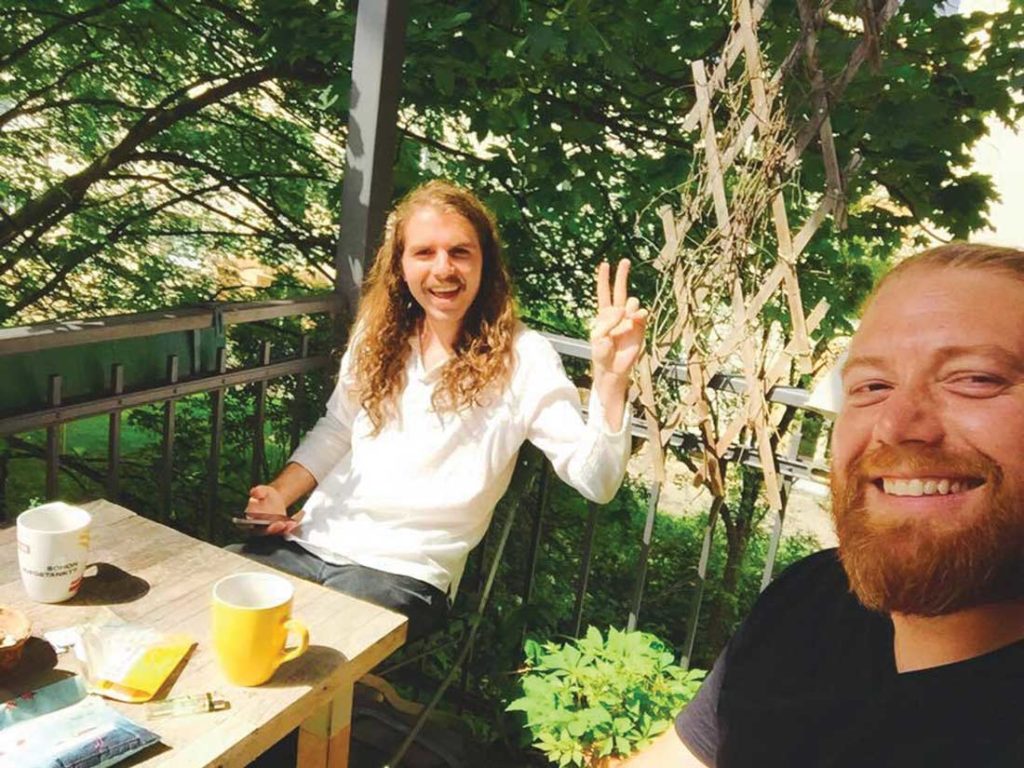 The next morning, as the Sunday afternoon crowd sat below us, nursing their hangovers, the smell of strong tea filling the air and the stage, Matt thumped out that familiar riff that would become "Whiskey and Wimmen," this time with some verbal back-and-forth between us as the band laid back and let us spit. He was saying something about the shape I looked to be in. I shot back Bukowski's line about finding what you love and letting it kill you, shaking my finger and growling out, "But I'm still here. Yes, I'm still here!"
After the song, Matt turned to me and snarked into the microphone about the gruff nature of my Sunday voice. I replied that when his testicles dropped, he'd understand. Without missing a beat, he stomped his boot down hard on the stage.
"How about that?" he grinned. "There they are!"
I roared my appreciation, the crowd rippled with laughter, and we jumped into another nasty blues number. The show was a strong capping off of a ridiculous three days — BRN, one of my favorite parties anywhere.
During our time with Flo, Matt acquired three nicknames: 11-Shot Tedder, Tiger Duck, and Der kleine Süße — in English "the little sweetie," which a grandmother in Deulowitz, Germany, dubbed him due to his sweet disposition, I suppose.
I'll leave the Tiger Duck story for the Tiger Duck himself, but the occasion of 11-Shot Tedder came on the heels of an outdoor performance in Leuven, Belgium. The rain had begun falling as the last notes of our set were fading. Many of us began hurrying to get gear inside a van and tear down the stage. Tedder went to help move some equipment into a bar nearby.
Suddenly, there he was, grinning sideways.
"I just took two shots. I'm Two-Shot Tedder."
Half an hour later, inside the bar, "Guys, I just took a fourth shot. I'm Four-Shot Tedder."
Six-Shot Tedder requested we cut him off, but within a minute or two, Seven-Shot Tedder was announced –– we were told not to worry about him.
Nine-Shot Tedder sprang to action with gusto when I half-jokingly suggested a bad pick-up line on a table of what were likely 16-year-old girls, and 10-Shot Tedder danced and got in the middle of an upstairs music jam.
11-Shot Tedder passed out on that same upstairs floor, which when asked about its sticky nature, was explained to be a mixture of booze and semen and possibly several other substances.
I coined those 11 shots of Jim Beam "a drunkard's dozen," and Mr. Tedder became 11-Shot Tedder to the good people of Leuven.
The following evening, with a night off and an invitation from fellow Fort Worthian Jeff Dazey to come enjoy a Nathaniel Rateliff show he was sitting in on in Groningen, Holland, we made the drive north, and ended up backstage, Matt impressing Mr. Rateliff with his slide guitar skills on the man's beautiful old Gibson.
I couldn't help but swell with a bit of Fort Worth pride in that moment, Jeff in the midst of a run with one of the biggest acts touring right now and Matt there working that slide to the clear amusement and visible respect of Nathaniel, a guy we'd just been blown away by on a stage in front of thousands of enthusiastic Dutch people. Nathaniel Rateliff & The Night Sweats put on a hell of a show.
Sipping tea, watching Matt make love to Nathaniel's instrument, I got a little caught up thinking of how slightly surreal the moment was and how music eliminates walls, makes vanish barriers, opens doors. The youngest guy in the room was holding court, and he had everyone's respect and appreciation, including the star. Of course, that's just a small particular of the overall idea — how music can bring us together in different ways and level the various fields of posturing, social and otherwise.
People pay attention to and recognize authenticity — some people. But those are the kind of people an artist is looking for and setting out to communicate with — and in the case of those who perhaps don't pay attention or recognize, try and shake in some direction.
Music is the true universal language, and it is powerful and beautiful.
And it was a kick watching Matt breathe the blues there in the green room.
After a few hours, our trio loaded back up in the car, and my two companions slept as I drove through the night back to Germany, where 11-Shot Tedder transformed into Tiger Duck that evening in Erfurt with the help of a bottle of Jim Beam, a buxom young school teacher, a rubber glove, and a sharpie.
There was only about a week and a half where Matt and I performed as a duo, beginning with the Playground Festival just outside of Riga, which was another Sunday matinee hangover-set for the early-risers, all sprawled out in dark sunglasses on the grass and various small, square bales of hay in front of the stage — Matt on the mend from an overnight illness, me on the mend from an evening with the actual Captain Morgan, himself, and his wenches, all dressed in red and black.
I wasn't aware the Captain is Latvian, but this is apparently the case.
Following Playground, Matt and I traveled north to Estonia, where we spent a spontaneous week in Tallinn, a night in Tartu thrown in for good measure, picking up last-minute gigs, busking in the streets, making friends, dancing, getting tours of the city by lovely locals, and, at least on one occasion, living the words of that Jimmie Rodgers song.
Indeed, two damn Finnish girls made a fool of us.
Along with a German lad we'd befriended our first night in town, we'd just put in some time at a karaoke bar where Matt had given a Tom Cruise-esque rendition of "Hooked on a Feeling," complete with warm-up ooga-chockas. I had done my karaoke-staple, "What a Wonderful World," to a surprise standing ovation, and so we were riding high when we stepped into another bar for Tedder to fulfill the wishes of his dancing shoes.
Immediately, two gorgeous blondes entered, one with some sort of exotic, fat underneath pigtail-braids falling gently along either side of her charming neck. Before long we were chatting them up. Things were going swimmingly. The one with the braids looked at me as if we'd been powerful lovers in at least four previous lives together. Tedder gushed about it when the ladies went off to the bathroom.
"Do you see the way she is looking at you? She's in love, man!"
"Yeah," I pulled on my chin-whiskers a bit. "It's confusing — best not to question it, though."
They returned, and we stepped outside for Tedder, our German friend, and our two new stunning companions, both Finnish nurses, to scratch their nicotine itch. A young man walked up and began speaking to the women. He also had blonde hair. Long blonde hair and a baby face.
"I'm a model," he said. "Want to kiss me?"
"No," the lady with braids replied.
"Come on, just a little one on the cheek."
Braids groaned but consented. It was a trick. He planted one on the lips.
"Ugh," she recoiled. "Go away."
"Come on. I'm a model. Kiss me. Want to fuck me?"
Our German friend spoke up.
"You look like a woman."
"Excuse me?" The "model" didn't approve.
"Yeah, man. Come on. You look just like a woman."
They began having words. Matt and I slipped back inside with the women, but after some time, they informed us they had an early ferry to catch and had to leave. We walked back outside. Matt took the other for a dance on the patio, cigarette in-mouth, and the braided lovely continued gazing at me like she was ready to start a fifth life together. I questioned bachelorhood. Then they left.
The next morning, as we were hunting breakfast, Tedder exclaimed, "Well, look who it is!"
It was past their departure time. They clearly had not slept, changed outfits, or de-braided. They looked caught. They also looked completely unconcerned by it.
"Hey, didn't y'all have a ferry to catch?" I asked.
Braids did all the talking. "Yeah, we catch the next one."
"I see. What're y'all doing now?"
"We find food."
"So do we. Join us?"
They looked at each other.
"No, we need girl time."
Matt and I grunted. We'd been ditched. Damn Finnish girls — probably still out prowling Tallinn.
Our German friend got a good laugh out of the story.
"Man, y'all are terrible rockstars."
Despite the Finnish girls, our week in Tallinn was a much-appreciated break in travel. I love the road, but it's nice to have a place to post up for a while, decompress a bit, and recharge. Getting to know a town, getting to know some of the locals, collecting favorite haunts, sinking one's teeth a bit deeper into a particular place –– all this adds to the richness of the road, and I am always grateful for it.
Eventually, we traveled back to Vilnius with a Californian artist we'd met. He dropped us with Aleksandr, and we made our run in the blues van. The last night, after Aleksandr left us, Matt, the German lass, and I recapped the adventure in a strange sports hotel with a curfew before getting a morning taxi to the bus station.
"What a Wonderful World" came on the radio just in time to play in full before the taxi left us. Matt and I looked at each other and laughed. All prior indication was that it was a shitty pop station.
I put my arm around my friend.
"That's the universe winking at us, buddy."
We hopped the bus to Riga and got Matt on the airport shuttle to deliver him to Turkey. I played my first solo gig in six weeks that evening, followed by an ill-fated sleep in a park to save a little money — in addition to my sinus problem, my hands and feet have broken out into some sort of horrible allergic reaction, my likely hobo piss-pad apparently not the place to sleep. I look like a speckled hen. The itching is incessant.
But I've got a few days to heal. Then it's Sweden, the Balkans, Switzerland, and Spain, where I'll finish this tour and head home to Texas.
I greatly value my time alone on the road, both personally and onstage — I would guess there will always be a part of me that needs that and carves out the time for such adventures. But it's obviously a different time than that spent with a good friend and a fine musician. The right kind of musical partner can amplify one's strengths and mask one's weaknesses. From all indications, the music Matt and I performed during our time together was strong, indeed. A drunk at a pub in Tallinn went so far as to call it "magical." I don't know about that, but I am certainly pleased with how it all shook out, not only musically but even more so in the sense that I now have more than just an exceptional musical acquaintance — I have a dear friend.
Here's hoping when I get back to Texas, that sideways grin still has a gentleman's mustache hanging over it.
Keegan McInroe and Matt Tedder: European Hangover Song Swap

9pm Fri, Sep 15, at Fort Worth Live, 306 Houston St, FW. $7-9.