Minutes after Derek Hubenak unlocked the front door to his new Mansfield brewery, a slow but steady stream of curious locals traipsed in. The sleek 4,200-square-foot space is in a long stretch of mixed-use buildings in Historic Downtown Mansfield. Inside Dirty Job Brewing, about a dozen hand-built wooden tables occupy the main room, which also holds a modest-looking bar and tap wall in the far corner from the entrance. Most of the patrons were first-time visitors.
"A few friends told us about it," a middle-aged man said as he walked up to the bar.
Hubenak patiently walked him and his wife through the beer offerings, making recommendations. The proprietor seemed undaunted when the woman admitted she wasn't much of a "beer drinker."
Between serving customers, Hubenak described his new business. The company, which is co-owned by his wife Lashawn Hubenak and friend Justin Watson, opened in late July after several months of construction and a few setbacks. The original opening date was scheduled for March, but unexpected projects related to code compliance meant that more fundraising and time were needed before Dirty Job Brewing could open its doors. Hubenak said city officials have been "incredibly helpful" throughout the process.
Dirty Job Brewing is part of a new trend within the local craft beer scene. Whereas Fort Worth has traditionally been home to large production facilities like Martin House, Rahr & Sons, and Panther Island Brewing, the Mansfield brewery works off a small brewing system that caters to locals. Of the several brewpubs planning to open next year in Tarrant County, all are focusing on the local community rather than supplying stores across the state.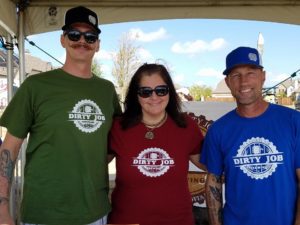 Hubenak and Watson are longtime homebrewers and winners of around a dozen homebrew competition awards. The duo first looked at properties in Arlington, but any viable buildings were too close to Arlington-based Division Brewing and Legal Draft Brewing. Mansfield, Hubenak said, offered the perfect locale for a new brew site — the sprawling city is growing, and he believes residents are excited to have their first craft brewery.
Some are still learning about micro-brewed beer, though. One middle-aged woman, the one who said she wasn't much of a beer drinker, tried several samples and said they all tasted the same to her. "Tastes like beer," she said with a chuckle.
As I overheard the conversation, I was having a very different experience with my flight of four small pours. Each was unique and delicious. The Agave Davida was a citrusy wheat ale that had pleasant blueberry notes. The Maize Runner had a distinct corn flavor, almost like a tortilla, while a hefeweizen (Main Street Wheat) was surprisingly clean with hints of banana. Better off Red was a no-frills, bready ale that didn't exactly impress.
More than half of the beers on tap had a fruit aspect to their flavor profiles. Hubenak said vegetables, fruits, and herbs (most locally sourced) will continue to be a source for Dirty Job Brewing's recipes.
Locked away in an adjacent room is Dirty Job Brewing's modest barrel-and-a-half brew system. (A barrel equals 31 gallons.) The beer-making equipment, which includes around a dozen fermentors, has to be used around the clock to keep up with the demand. In the coming weeks, in addition to supplying hundreds of weekly visitors, the Mansfield brewery will begin supplying area bars and restaurants, including nearby Big D Barbecue. Hubenak and his team have some fun projects coming up. Three wooden barrels from Lewisville-based Witherspoon Distillery hint at Dirty Job Brewing's barrel-aging ambitions, and the brewery has plans to collaborate with local breweries on special releases.
Making beer is labor-intensive work, but Hubenak said he and Watson aren't looking for shortcuts. Even things that can be bought at stores, like fruit purées, are cut and blended by hand at the brewery.
"We take time and pride building the [craft beer] culture here," he said. "It's a dirty job. And somebody has to brew it."