When we think of beer, it conjures lots of images: pretzels, lederhosen, football, and frat parties, to name a few. Classical music is nowhere near the top of that list. Why? Is it because orchestra concerts have become hoity-toity affairs where cabernet and merlot are seen as the only libation worthy of being paired with Mozart and Haydn?
In fact, beer has a long and storied history with classical music. That time-honored pairing will be on display October 18 as Beer, Beards, and Beethoven, a chamber music concert, returns to Wild Acre Brewing Company. To shore up my assertion, I contacted TCU musicology professor Dr. Will Gibbons for some historical tidbits.

"There are definitely fewer pieces about beer than about wine, but there are a few," he said. " 'Brahms' Academic Festival Overture' [which features drinking songs] is a good example. There's a good drinking song about beer in Romberg's operetta The Student Prince and also one in Smetana's opera, The Bartered Bride. The middle-class theater Auf Dem Wieden, where Singspiel like the Magic Flute were performed, probably [served beer]. Also, we know for sure beer and sausages were all over the place in the Prague theater where Don Giovanni was premiered."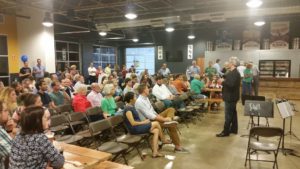 Beer, Beards, and Beethoven, a program of the Chamber Music Society of Fort Worth, was a sold-out success last year. The program will once again feature the Cézanne Quartet,
SMU's ensemble-in-residence. Admission includes three pints of Wild Acre brews, and there will be a casual after party following the 30-minute concert. The Chamber Music Society is partnering with Presbyterian Night Shelter, so please bring unused, packaged socks for the donation drive. A food truck will also be available. I think Beethoven would have approved.
Don't forget to follow On Tap in Fort Worth's Facebook page.
On Tap this Week:
Rahr & Sons Brewing Co. hosts 8th annual Oktoberfest 5K, Sept. 30
From Rahr: Lace up your running shoes and lederhosen for Rahr & Sons' 8th annual Oktoberfest 5K! Costumes are highly encouraged for the fun run, which has raised $69,250 to benefit local nonprofits since its start. Runners receive a dry-fit t-shirt, an on-course TX Whiskey shot, and a finisher medal. Following the race, participants will enjoy live entertainment in a festive "biergarten." This year's event will benefit the Fort Worth chapter of Brotherhood For The Fallen, a nonprofit that supports the families of police officers killed in the line of duty. To register, click here.
Flying Saucer Hurricane Harvey Relief Drive at Flying Saucer
From Flying Saucer: As Texas begins its long road to recovery this month, lots of restaurants are stepping up to support the relief effort. Flying Saucer Draught Emporium is one of them. Throughout September, cash donations are accepted in-store. Each Wednesday, 100 percent of proceeds from a selected keg tapping will be donated to the relief fund. Patrons can purchase $10 raffle tickets for a chance to win a $200 Saucer gift card (drawing Oct. 1). For more details, click here.