Many a celebratory beer will be hoisted when the fifth annual North Texas Beer Week begins this Friday. The 10-day event coincides with the third anniversary of The Collective Brewing Project and the 13th anniversary of Rahr & Sons Brewing Company.
NTX Beer Week executive director Matt Dixon said the quality and uniqueness of NTX Beer Week events has reached an all-time-high.
"During the first couple years, [North Texas Beer Week] involved a lot of education," he recalled. "We explained why a 10-day celebration like this exists. A lot of the events now are things breweries would do anyway but on steroids."
Burger battles, costume parties, a pinewood derby car race, 5Ks, and a "zombie beer dinner" are just a few of the offerings awaiting North Texans. The annual celebration continues to grow, both in the number of events and geographical reach.
"The map is well represented from Denton to the Mid-Cities and beyond," Dixon said. "It's a good indication of the growth of our scene that it's not just downtown areas participating. Most of the breweries got on board. That's always something I'm proud about."
Fort Worthians can be especially proud of the quality of craft suds being churned out locally, he added. Many bars and restaurants are forgoing national brands in favor of beers from Panther Island Brewing, Martin House Brewing Company, and Shannon Brewing Company, among many others.
"I like the stuff that HopFusion is doing," he said. "I love their approach to having four or five main beers but also variations like Feisty Redhead. I like seeing Chimera getting their footing and keeping things going. I love the concept of a brewpub. Another beer I'm looking forward to is Panther Island's [new release] Witch Ash."
North Texas Beer Week has evolved over the years. What has stayed the same is a mission to promote the responsible consumption of craft beer. Dixon aims to entice locals to try a new brewery or restaurant while they're at it.
Don't forget to follow On Tap in Fort Worth's Facebook page.
On Tap this Week:
October 27 through November 5. Fifth annual North Texas Beer Week
NTX Beer Week is a 10-day celebration of all things craft beer-related in our neck of the Lone Star State. Now in its fifth year, the annual event includes (but is not limited to) beer dinners, bottle shares, festivals, glass giveaways, meet the brewer events, and tap takeovers. Last year, NTX Beer Week boasted hundreds of events at dozens of venues across North Texas. To see what your city has planned, visit here.
The Collective Brewing Project's Bottle Project
I joined this last year and plan to do it again. Members of the Bottle Project receive 14 exclusive releases over the course of a year, beginning November 1. Members have "early purchase access along with Crowler Club members to buy public releases before the public release day, generally the Wednesday prior to a Saturday release. Other perks include a 32-ounce growler, invites to private parties, and 10 percent discount on Collective draft beer and merchandise.
October 28. Flying Saucer Pintwood Derby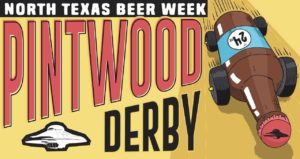 From Flying Saucer: We are teaming up with Deschutes Brewery to host Flying Saucer Pintwood Derby! It's all the fun of the classic Pinewood Derbies from your Boy Scout days but with delicious Deschutes beer! Come out on Saturday, Oct. 28, and compete in a bracket-style racing tournament for fabulous prizes, all while enjoying the amazing patio weather and tasty Deschutes beer. Did we mention it's for a good cause? To raise money for Hurricane Harvey relief, we're donating half of all Pintwood Derby entry fees and $1 for every Deschutes beer purchased.

We'll have two categories for racing: Brewery vs Brewery and Beerknurd vs Beerknurd. Winners from both categories will face off in a Beerknurd versus Brewery Showdown Race. The entry fee is $20, with $10 going directly to Hurricane Harvey relief efforts. The entry fee gets you your own pinewood racer and a token for your first delicious beer from Deschutes. Click here for more information.