Painter Sam Swihart's "Cosmetic I," "II," and "III" is a grotesque series of black-and-white portraits depicting morbidly disfigured faces. The three male subjects are painted in close-up perspective, and each figure has a pair of red lips superimposed over his mouth. The lips are painted on strips of paper held over their faces by fingers with painted nails. It's as if they were plucked straight out of central casting for the role of Joker in a twisted sequel to society's version of Batman. In that sense, these paintings are also thrust onto the viewer, forcing us to confront our flaws and sicknesses.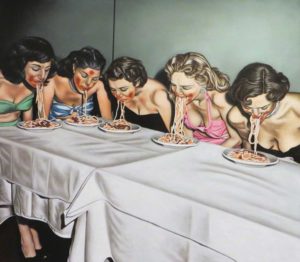 Swihart's paintings are rooted in his concern with what he describes in his artist statement as "the torturous pursuit of ideal beauty and the moral dilemma that it entails." In one of his other paintings in Unplugged, a four-person group show at Gallery 414, Swihart recreates the famous 1948 photo "Women in a Spaghetti Eating Contest." With his faithful recreation of the photograph, Swihart paints the five Broadway showgirls who appear to be in their underwear trying to finish a bowl of spaghetti without using their hands. There is nothing beautiful about this painting beyond Swihart's ability to recreate what is in the photograph. The showgirls are tragic figures performing their beauty in an ungraceful scenario, as if to demonstrate that their beauty transcends the performance.
John Hartley has curated a well-balanced exhibition with Unplugged and cleverly constructs the show to explore dark themes in these figurative works. Rachel Black's paintings from her family photos are no exception. In "Fruition," a dinner table is set with Christmas colors. There are wine glasses and cups filled to the brim and what appear to be burgers and fries are neatly set around the edges of the table. A woman alone stares off to her right, perhaps in contempt or resignation. The ideal dinner scene is skewed. It is the exact opposite of a Norman Rockwell holiday feast, where the labor of the matriarch goes unappreciated and the feast goes unattended. Melancholy reverberates in these scenes meant to be festive events and threads Black's paintings together.