It's not a surprise that activity is picking up around South Main Street, now that the street's reconstruction and re-prioritization of pedestrian space is complete. Work is now underway on one of the larger projects closely adjacent to South Main, and it's going to add a lot of new residences to East Broadway Avenue, just south of neighborhood watering hole Shipping & Receiving.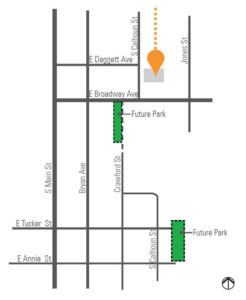 The location, once the home of Foremost Dairy, is getting a multi-building infill apartment development by owners StoneHawk Capital and designers Architecture Demarest. The project, which I'll just call the East Broadway Apartments until I hear differently, will redevelop a sizable piece of property that extends from East Broadway south to East Tucker Street, and from Crawford Street on the west to the railroad tracks on the east. It's a bit rare to see such a large area remain basically vacant and undeveloped so near to existing centers of activity like Shipping & Receiving, HopFusion Ale Works, and Amphibian Stage Productions, and getting something new built on this site (and restoring the long-broken street grid) should do a lot to bring even more energy to South Main Urban Village.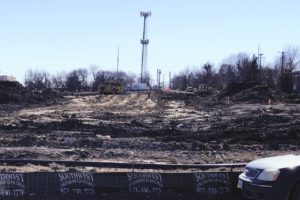 Spread across the development's multiple buildings will be a total of just over 300 units, a pretty significant boost of residents to the Near Southside's newest hotspot. That total will make East Broadway the largest of the recent South Main-area apartment developments by a good 80-90 units.
What's more, the East Broadway Apartments project isn't strictly about new private development. Going hand-in-hand are plans for two new small neighborhood public parks, something that South Main Village hasn't had much of apart from Watts Park, located west of the Rahr Brewery and the Highpoint development. A new public park will be located at both the northern and southern boundaries of the East Broadway project: one at East Broadway and Crawford, and the other at East Tucker and South Calhoun Street.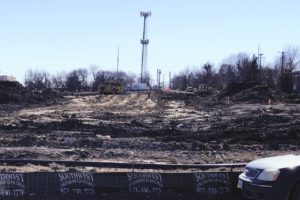 New residences, built in a walkable urban fashion, are needed in the Near Southside (and the rest of central-city Fort Worth) as it grows and develops. To create a truly self-sustaining district, we'll need thousands of new people moving into places like the Near Southside, and developments like these help us get there bit-by-bit. In the march toward new private development, though, it's important not to leave public investment behind.
Besides making big improvements to the basic public places of neighborhoods like South Main Village – the public streets and sidewalks that form the basis of most of American urban life – new public spaces like parks should be an integral part of the redevelopment of the central city. Places that everybody want to be and that are owned by the people, not wealthy developers, are key to a healthy civic life. It's very encouraging to see more investment in Fort Worth's public parks as places like the Near Southside evolve toward becoming lively and healthy places to live once again.