I could see The Collective Brewing Project's Brewer's Brunch reaching Magdalena's Supper Club or Hot Box Biscuit Club fandom levels. Last Sunday, I stopped by the Near Southside brewery where chef Jen Williams (owner of JayCee Hospitality) was catering the brunch. Williams' culinary pedigree includes Sera Dining & Wine (executive chef), Piattello Italian Kitchen (sous chef), and, most recently, The Collective Brewing Project (chef de cuisine). The menu that day included: Build Your Own Board; Salmon, Whiskey & Rye; Moules Frites; Smothered Chicken & Biscuits; and Belweigan Waffle.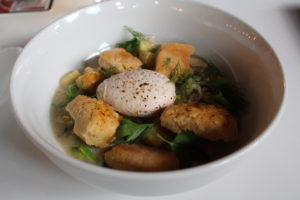 The items were carefully handcrafted atop a makeshift kitchen as customers partook in wild ales and sours while waiting for their delectables to arrive. I picked the smothered chicken. A very nuanced and savory take on what I would loosely compare to chicken and dumplings arrived. Small, buttery chunks of biscuits floated atop a rich chicken broth. Bits of dill, light veggies, and an egg poached in beer were welcome accoutrements. All of the items on the menu that day incorporated one or more of Collective's brews. If you don't want to wait until February for the next Brewer's Brunch, you can purchase light dishes prepared by Williams anytime Collective Brewing is open.
New Rabbit Hole Beers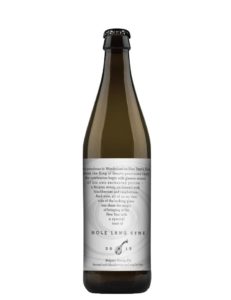 For those of us who couldn't make it to Justin-based Rabbit Hole Brewing for the special release of Hole Lang Syne, the brewery brought the Belgian strong ale to us. I noticed several Fort Worth pubs carry the seasonal brew, which has spicy and fruity notes due to the Belgian yeast and infusion of blackberries. Bombers of the ale are still on shelves and taps in select bars and pubs.
Rabbit Hole co-founder and head brewer Matt Morriss recently told me that February will see the release of Beerserker (strong ale made with dark chocolate and chipotle peppers) and Skroob Beer (dark lager). The lager was originally brewed by Robert Brown and was selected as part of a partnership Rabbit Hole has with the annual Bluebonnet Brew-off competition.
Don't forget to follow On Tap in Fort Worth's Facebook page.
On Tap this Week:
Panther Island Brewing's Smoked Cinnamon & Orange GZ Taproom Release.
From PIB: Come join us this Friday for a very special taproom release! This marks the first brew from our new lead brewer, Christopher Tidwell. Smoking the cinnamon and orange released a world of flavor. The cinnamon and orange are balanced on the nose and the smoke comes through in the body, perfectly pairing with the rose hips and local honey in our GABF award winning Unfiltered American Wheat Ale. We'll have Funky Town Food Truck Texas serving up their delicious grub and Josh Dutton on the mic! PIB Founder and brew master Ryan McWhorter will be in the house and giving the tour! Trust us, you won't want to miss it! Even info here.