What if it were possible to separate colors from nature, drape them on a clothesline, and look at them when they had dried? Ellen Carey's "Pulls with Mixed & Off-Set Pods" is what I imagine they would look like. The images are part of Carey's Dings, Pulls, and Shadows, one of three featured exhibits at the Amon Carter Museum of American Art. Waterfalls of colors melt and bleed into one another, cascading down photographs in the four prints that make up "Pulls." In each image, flame-like forms ooze in both directions vertically and become flattened lava lamps or aerial views of windswept sand dunes in deserts of pure color.
The Polaroid dye diffusion process that Carey used to create "Pulls" was invented by Edwin Land and patented in 1962. In the process, Polaroid film is exposed in-camera, and the double layer of film and paper is pulled through the camera's two rollers, bursting a pod of dyes that evenly spreads between the layers. With the paper and negative making contact, a positive image is transferred onto the paper side. The process takes about a minute, and the negative is pulled away from the positive image, allowing it to dry and become a finished print.
Carey, however, subverts this process. Sometimes she interrupts the film development by prematurely separating the two layers. At other times she pulls the print through the rollers beyond the actual length of the image on the photographic paper. It results in the vivid images in "Pulls," and the negatives, shrouds of darkness that drip and shimmer like the clipped wings of black birds, balance the compositions when exhibited together.
In a written statement about another series of her pictures titled Photograph Degree Zero (a reference to Roland Barthes' Writing Degree Zero), Carey says her work "represents a departure from the picture/sign idea in photography found in images such as landscapes, portraits, or still life. Instead, my work consists of a photographic image made without a subject or any reference to a place, a person, or an object."
Freed from any constraints of place or subject, Carey's pulls ("Pulls") explore the inherent nature of photography. The mechanical process becomes a performance in her work, recording both light and motion, and the marks made by the still-viscous dyes and chemicals as they spread over the image stand as evidence of the inner workings of the camera and her relationship to it. Imperfections unique to Polaroid photography are magnified in the scale of Carey's prints, made with a Polaroid 20-by-24-inch camera, one of only five originally built by the company in 1976.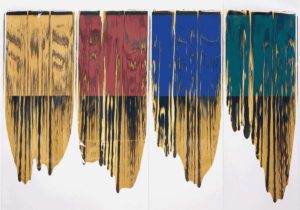 Carey's other work, making up the titular dings and shadows, are dye coupler prints (the common way of printing color photographs, with the dyes embedded in the paper). The exhibition text describes the process as one in which Carey folds color photographic paper in her darkroom and exposes it from different angles to light with color filters attached. The lightly crinkled prints of crumpled paper that have been flooded with color-filtered lights also have a slight crinkle in the prints on exhibition. The result is a convincing illusion of surface depth and shadows.
Carey's abstractions, although highly conceptual, occupy a critical position in the history of images, a place where photographers and viewers alike are becoming more aware of the space between the camera and the world around it.
Rania Matar's In Her Image is a more straightforward approach to the history of images, focusing on the development of female identity through portraiture. Matar's subjects appear in their moments of innocence, strength, and vulnerability as the photographs in the gallery progress from children to young women and finally to mothers and daughters. "Bisan, Bethlehem, West Bank," from the series A Girl and Her Room, shows a pensive teenager looking off the frame, her feet in a chair with her hand nervously pushing against her big toe. On the sparse wooden shelf is a collection of sunglasses, lotions, and perfume bottles. A Tom and Jerry cartoon mug and stickers of princesses, fairies, and castles all cling to a childhood she is leaving behind.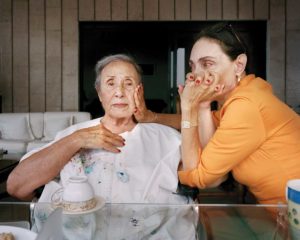 In another gallery, there's a stunning inkjet print. With "Brigitte and Huguette, Ghazir, Lebanon," it's easy to imagine a kind of Vulcan mind meld in this image. A daughter's touch to her mother's face appears to bring every moment of a shared lifetime to the present. In that gesture we see every argument, every embrace, and every reassurance. Their forlorn expressions ignore the camera, leaving us viewers clinging to fragments of what they share. It is a tender moment and one of many that reverberates in this photograph. A dark corridor frames Brigitte's and Huguette's torsos, and their bodies fill the foreground of the frame, putting us at the other end of the dining room table where they are seated. An overturned teacup in a saucer suggests the beginning of a shared ritual or perhaps the end of one. The picture is simply breathtaking, and it is easy to linger in these faces for hours.
In the museum's downstairs gallery dedicated to regional artwork, Celia Eberle shares a sparse exhibition space with Kana Harada, Sharon Kopriva, Sherry Owens, and Linda Ridgeway. Commanding Space: Women Sculptors of Texas features seven sculptures from the five artists. Eberle's "Secret Ceremony" is a hidden delight. The materials description for the sculpture reads like the storeroom checklist of an apothecary or a magician's closet. Wood, metal, glass, snowflake obsidian, coral, and "music box mechanism" all come together for an unexpected encounter, filled with melancholy and poetry. "This work represents the love goddess, a love story, music, and memory" Eberle writes in the gallery's wall text. She also reveals that the title is from a 1968 film of the same name and that the sculpture, indeed, functions as a music box.
"Secret Ceremony" is roughly the scale of a hall table, white and rectangular. The underside of the table is also white, and beneath it carved wood objects arranged as chess pieces are placed hanging upside down. There is a black glass container on the surface, and dead branches and flowers are arranged inside, with an orb on the top surface. As the table is approached, Beethoven's "Moonlight Sonata" fills the small gallery through an electronic music box triggered by a sensor. But it's easy to fall into the spell the music creates and become oblivious to where the sound is coming from.
Each of the three exhibitions is anchored by photographs and sculptures that take advantage of the scale of spaces they occupy and offer works of art that spill into other pieces in each show, reframing perceptions of the images that photographers make and artists' perceptions of the world.
Amon Carter Museum of American Art

Commanding Space: Women Sculptors of Texas thru Nov 18. • Dings, Pulls, and Shadows thru Jul 22. • In Her Image thru Jun 17. All at 3501 Camp Bowie Blvd, FW. Free. 817-738-1933.