3rd Street Bar & Grill, 425 W 3rd St, FW. 817-882-0514. 11am-10pm Sun, 11am-12am Mon-Thu, 11am-2am Fri-Sat.
There are few more reliable predictors of whether or not I'm not going to enjoy a meal than television sets, the number of which in view from my table generally bears an inverse relationship to the quality of my dining experience. A single screen is usually OK, particularly if it's tuned to soccer or telenovelas (bonus points for Dora la Explorada). But by the time my count creeps past four or five LED displays, I figure I'm either eating in a sports bar or an establishment with very skewed priorities. Turns out, 3rd Street Bar & Grill is a little of both.
When I first sat down at a roomy booth in the newly opened eatery that took over Frankie's Sports Bar & Grill's space, I started counting TVs. I'd start each run incredulous, offended even, that there could be so many televisions in one place — and yet somehow, by the time I got up to around 50, I would start to lose interest and, invariably, lose count. I had stopped caring — my worries were on the doorstep. The overstimulation gradually fuzzed out into soothing white noise. Too many TVs were too many TVs, but way too many was somehow just right.
Chef Steve Mitchell's menu is, too, a kind of high-caloric assault that covers a swath of land from Baja to New Orleans fairly indiscriminately, resulting in the kind of improbable but irresistible combinations designed to cushion convention-goers against alcoholic excess. If his food at the ill-fated M Bistro harked back to old-school indulgence, his latest offerings call to mind a kind of glutinous chaos that makes the Cheesecake Factory menu look concisely edited. How about a tempura shrimp quesadilla with garlic aioli and habanero papaya sauce? A pan-fried tilapia with linguini tossed in chimichurri pesto? Maybe a chicken Marsala pizza? Wherever you look, there's a lot going on, pulling you in several different directions at once until you just kind of give up.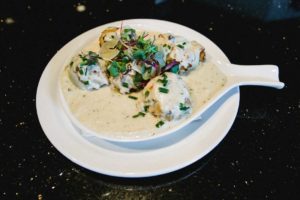 I started with an appetizer of mushroom caps stuffed with "Maryland" crab cakes, swimming in a lake of lemon garlic cream sauce. I can't tell you why I thought this sounded like something I would want to eat — there was nothing about the place (or the price) that suggested fresh crab was getting flown in from the coast. But the plump niblets neither surprised nor disappointed. They tasted exactly like tinned crab meat in mushrooms, with too much garlic and 3,500 calories worth of butter cream sauce. If you're feeling nostalgic for 1992, this dish is for you.
What could possibly follow 3rd Street's crab cakes better than the Ruben [sic] sandwich, served on a pile of seasoned waffle-cut French fries and with tobacco-fried onions packed in between the grilled corned beef and the Swiss cheese? You couldn't screw up a sandwich like that if you tried, but you'd also be hard-pressed to eat it all in one sitting. That didn't stop me from trying — hot, greasy, salty, unbelievably tasty, it was everything we've spent the last 20 years training ourselves not to want. "Who eats like this?" you might ask yourself, as you stuff the last fat-soaked rind of marbled rye into your slackened mouth.
Then, for the hell of it, I thought I ought to at least try one of the pizzas, for the sake of our readership. No artisanal wood-fired pie, this — it had the kind of bready, par-baked crust that, had you ordered it from Radisson room service at 3 a.m., would have you feeling very pleased indeed.
If it sounds like I'm ragging on the place, giving it a hard time for a menu that isn't as hip as some (or most) of its neighbors, geared toward exhausted out-of-towners who aren't even hoping to get laid, I want to be perfectly clear — I ate every bite that my smiling server set in front of me, and I enjoyed myself, even if it was the kind of self-indulgent enjoyment that doesn't wear particularly well a week later. If there's any residual guilt about my own lack of judgment and control, though, well, that's on me.
3rd Street Bar & Grill

Crab: stuffed mushrooms $9

Tobacco-fried-onion Ruben $10

Small pizza $7