At Ol' South Pancake House last Saturday, the back room was filled with heart decorations and various other love-themed trinkets from Dollar Tree and Target.
The room was also full of a couple dozen eligible seniors.
They were all there by way of the Fort Worth Dating Company, a 40-year-old matchmaker that's been in its current location on South University Drive for the past 18 years.
Though most of us think of online dating as a simple matter of swiping left or right, the Fort Worth Dating Company knows better.
While the company is open to anyone 25 or older, regional director Sarah Riordan said the average Fort Worth Dating Company user is in his or her 50s. Riordan believes one reason her company is so popular among the older set is an extreme vetting process.
"We pre-screen and run criminal background checks on all our members," Riordan said. "So it's much safer than online dating, plus more genuine."
Another reason is simply generational.
"We have more people who are 50-plus come in because they have more of a challenge with online dating than younger people," Riordan said. "If I were 60 and single … and I meet someone [online] only to find out he's a scammer or married, online dating could be a disaster."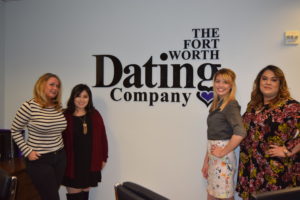 Offering safety that can't be offered elsewhere online and appealing to an older demographic is how Fort Worth Dating Company competes with modern online dating, Riordan said.
The brunch was come-and-go with 36 total RSVPs, most of whom were senior citizens.
Cathy Whittle, a spry and vibrant 53-year-old, said she was a little nervous at first, but the brunch was a successful first for her, especially after being burned by online dating in the past.
"I just signed up with them Friday," Whittle said. "The company contacted me a year ago and said when my divorce was final to give them a call. And once my divorce finalized [last November], I thought I'd try it."
Whittle said she met her third husband on Match.com in 2010, but wound up divorcing him because she believes he hadn't been honest on his dating profile.
Whittle said her son met his wife on Tinder, so she tried a few other online dating sites. She was frustrated by wading through what she described as false advertising.
"I decided to do Fort Worth Dating Company because you can come in and meet with people and see them face to face," Whittle said, "versus online, where someone can falsify their picture."
Whittle said she was glad she attended the brunch. She only wished for a better turnout.
"I didn't see as many good-looking people there as I had hoped," she said. "Maybe that's just me being picky, but I met some nice ladies and struck up a conversation with a guy. Time will tell."