Bravado has been the chitinous veneer that has armored the soul of hip-hop since its inception nearly four decades ago. What began with perspicacious MCs boasting about their lyrical prowess (or shaming a rival's lack thereof) would sadly be distilled over the years into current radio-rap's hyper-concentrated braggadocio, substance reduced to basically how much money (and with what level of indifference) one can spend in a club.
Thankfully, existing mostly out of sight of the Sauron's eye of the corporate commercialization of mainstream rap music, there's been a steady underground stream of rappers who still have something to say. Fans who prefer hip-hop that offers material to ponder instead of shallow club bangers can find a kindred soul in Fort Worth's Therron Coleman, better known in the local hip-hop scene as Sage Mode Wrex.
"I always got A's in school in literature and social studies," Coleman said. "And rap is pretty much just applied literature and social studies – seeing the world and analyzing it and being able to express yourself in a certain way about it."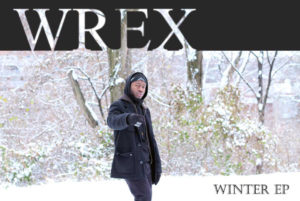 The 28-year-old rapper (who recently axed the "Sage Mode" prefix from his performing name) just dropped his latest release, Winter, the first of a proposed foursome of EPs. Each disc will be named after one of the seasons, and he plans to release them all over the course of this year. Coleman imagined the concept after he came to the realization that marketing and promotion were aspects of the music business he needed to improve upon. Like many artists, his energy and focus had always been on the creative side, and he shied away from the necessary dirty work of building a "brand." The self-described hippie liked the idea of using the different seasons as a metaphor for the different moods he wants to inspire in listeners with his work, and this process marks his first real attempt at establishing an identity as a rapper.
"The seasons thing just matches my persona," he said. "I like nature. I like being outside. So I just wanted to make music that matches moods and seasons and energies. It just seemed natural to try to do that."
The self-released five songs that comprise Winter certainly bring the chill to the season. The smoky, laidback beats from the likes of Valentineaux, Milky Beatz, and EyeJay (main producer for local hip-hop royalty Dru B Shinin', who is featured on a track) lend themselves to relaxing indoors, avoiding, but being well aware of, the heavy gray clouds and gelid hibernal temps outside. The downtempo rhythms and melancholy synth arrangements are a complementary hot tea and cozy blanket backdrop for Coleman's confessional, introspective lyrics.
"I treat music like diary entries almost," Coleman said. "I just try to be super-honest. This is the Winter EP, and I wanted the music to be moody and reflect the feelings of being lonely, being stressed, going through a breakup, getting drunk about it, et cetera. I hate to make a club record. I just gotta do whatever I feel. The pen moves itself, really."
An avid reader, mostly of self-improvement, inspirational, and philosophy texts, Coleman tries to apply what he learns from them. When he writes, he said, his goal is to present his listeners with subject matter and experiences they can relate to and, more importantly, to show what lessons can be learned from those experiences. While so much of rap music is about displaying an (even manufactured) image of success and the accompanying opulence, Coleman is interested in showing people real life and hoping to push them to progress.
"Don't get me wrong, I'm still a rapper," Coleman said. "I'll still say something slick like, 'Your girl like my cologne' or something. But by being honest and vulnerable, by saying, 'I got this going on,' or 'I got that thing going on,' I want them to hear it and say, 'Yo, I feel this. I can relate to this.' But more importantly, I want them to think, 'Yes, I went through this, but what are we learning from it, and how are we growing?' "
Winter is available now through Wrex's Bandcamp and Soundcloud pages and through all other digital distributors shortly.