If you live anywhere near Fort Worth and care about craft beer, you should be following Brutal Beerworks. I met the co-owners — Eric Johnson, Jason Perez, and Sallie McIntyre — who chatted with me at Johnson's North Richland Hills home, which houses a 1 barrel brewing system in the garage. The three friends aim to open a brewpub in North Texas by the end of the year.
Johnson, a multi-award-winning homebrewer, and Perez, who recently left his position as head brewer at Martin House Brewing Company, each bring divergent tastes in beer and a shared vision for a neighborhood brewpub that churns out memorable beers like the Pineapple Milkshake IPA, a pale ale made with fresh fruit, lactose sugar, and vanilla beans. (It's frothy, fruity, and delicious.) Brutal Beerworks' stout won gold in its division at the recent Bluebonnet Brew-off homebrew competition.
Perez reached out to Johnson through Brutal Beerwork's Instagram account (@brutalbeerworks).
"Just because I was a professional didn't mean I had nothing to learn from him," Perez said. "That's how you grow. He might have found something [in the brewing process] that works better for him."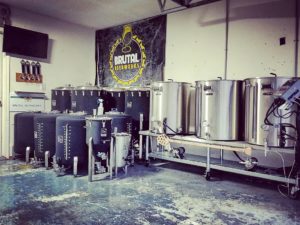 McIntyre said social media has helped them reach new fans. Johnson and Perez regularly post photos and videos of their most recent beer releases. Free pourings at craft beer events and can giveaways have also helped garner a larger following, she added.
"The biggest thing [people notice] are the different kinds of beers they're doing," she said. "Whether it's a Raspberry Milkshake IPA or Strawberry Milkshake IPA, that's not something people see every day. People are constantly contacting us."
"We want to brew everything," Perez said. "We want fresh beers. Every week or two, it's going to be different beers on tap. When you go to large breweries you often find the same beers week after week. It happens. We want seasonal beers, but we want to shake it up as well."
McIntyre added that some of the more popular Brutal Beerworks creations like the stout and blonde will likely become the base for variations. When the right investors are lined up, the aim is to have a family-friendly brewpub that's unpretentious and inviting — a space that invites conversation and making new friends.
You can get your hands on Brutal Beerworks' brews this Saturday at Lone Star Taps & Caps in Fort Worth. The Beerworks team will be pouring Primetime Apocalypse, triple dry hopped NEIPA; Squadzilla (collaboration with Dallas Beer Squad), a banana milkshake IPA; King Butternutz, peanut butter and chocolate milk stout; and Little Daddie, strawberry shortcake milkshake IPA.
"If it takes to the end of the year to get this open, so be it," Johnson said. "We're going to get it up and running, and we're going to make some bad ass beers."
Don't forget to follow On Tap in Fort Worth's Facebook page.
On Tap this Week:
Brutal Beerworks — The Sneak Peek!From Lone Star Taps & Caps Fort Worth: Stop by at 3pm for a very special and unique tasting from Brutal Beerworks and our friends at The Dallas Beer Squad! They'll be sampling four beers for free! They'll have merch, and Geaux Kitchen will be bringing the delicious food. Event page here.