KL: A lot of talking points to get to now that everyone's played one game, but the first is, well, me. We put the wrong picture initially on our WC preview, running a photo of the Confederations Cup trophy when we should have run the Jules Rimet trophy (see above), the ugly-ass thingy that the World Cup winner gets, which looks like it should be on a tap behind your local bar. For this, I'm getting some stick on Facebook. I deserve it, but G.P. Kennedy does not. He had no part in choosing the photo. Neither did I, but I'm the editor so the buck stops with me. I'm embarrassed beyond any measure. I'm more embarrassed than David de Gea after he let Ronaldo's shot roll in off his ankle. Now, let's get to games and the biggest upset so far, Mexico taking down Germany 1-0. G.P., how inspiring was that?
GP: I, too, was confused by the image that accompanies the article, but there really are more important things in life, so anybody giving you stick on Facebook should have a long, hard think about their priorities. Seriously. I watched on Telemundo as Mexico took down Germany and, in all honesty, the win could have been much wider. With more composure in the multiple two-on-one situations Mexico created they could have easily scored four or five goals. They now have a pretty sweet looking route to the Round of 16 if they simply avoid defeat to Sweden and South Korea.
KL: Germany was well below their best, with tons of passes a few inches off the mark and a lot of shots hit directly at Guillermo Ochoa. (Striker Timo Werner was just bad.) Still, the curly-haired keeper had the game of his life in net, especially with a spectacular stop on Toni Kroos' free kick. (Cool fact: Ochoa is now only the second goalkeeper ever to record shutouts against both Brazil and Germany at the World Cup, the other being the great Polish beanpole Jan Tomaszewski.) The winning goal came from Hirving Lozano, who is tearing up the Dutch league and is nicknamed "Chucky" for his resemblance to the doll from the Child's Play movies.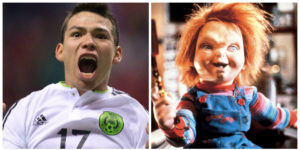 KL: And to think that Mexico almost fired coach Juan Carlos Osorio after El Tri's 7-0 loss to Chile in the 2016 Copa América. Now the Mexicans have a soccer win they can talk about for decades, and the Colombian Osorio won't have to buy agave-based spirits in Mexico for a while. If Mexico plays on the counterattack like that the whole tournament, everyone needs to be afraid. Do we think that Fox is half-assing this World Cup? I had to see that Germany-Mexico game on Telemundo, and while I probably would have watched it there anyway, it'd have been nice to have that on the network channel instead of the cable channel.
GP: I'll be watching all the games on Telemundo because their in game team is much more exciting to listen too. Plus, the Fox in studio team really is a third-rate band of folks rejected by UK broadcasters coupled with Lalas who is, well, a tool.
KL: No argument regarding Lalas, though I give both Fox and Telemundo credit for hiring women to commentate on their games (Aly Wagner for Fox, Viviana Vila for Telemundo). Meanwhile, Spain fired their coach Julen Lopetegui two days before their first game, and while that probably didn't affect their draw against Portugal, my question to you is: Are they insane?
GP: What would the World Cup be without some last minute nonsensical and unnecessary drama? Spain fires their coach for signing with Real Madrid while he's still employed. His new role isn't active till after the tournament but, yeah, let's create a drama, shall we?, and draft a replacement 48 hours before our first game. That said, Spain was robbed against Portugal with Ronaldo flopping for the penalty and free kick, but props for curling in the dead ball for 3-3.
KL: Whatever you think of Ronaldo, he gave one of his patented "I'm freakin' Superman" performances against one of the best teams in the world. I still say Spain should have won, and would have if not for de Gea suddenly looking like crap. They'd better hope he just had an off day, or start warming up Pepe Reina. I figured the Saudis would suck in this tournament (and their plane catching fire on their way to their next game won't help), but I was surprised that Nigeria looked so impotent. Victor Moses played well, but the Super Eagles should have started Kelechi Iheanacho over the misfiring Odion Ighalo. Who has underwhelmed you? Did Egypt make a huge blunder by leaving Salah on the bench against Uruguay?
GP: As stated in our preview, Nigeria is my not-so-secret crush, so I was bitterly disappointed by their performance. If a very fast moving thing travels at the speed of light, the Nigeria team moves from defense to offense at the speed of dark. Argentina underwhelmed in their opener against Iceland, topped off by the most gifted soccer player I have ever seen flubbing a PK.
KL: Like I said, Iceland is legit, and TV ratings there indicate that 99.6% of the country watched the game. That's slightly more than the population of Plano. In other news, your England guys just got bailed out by Harry Kane. It's good to have a guy like that on your team when others have off days. (Looking at you, Dele Alli, Raheem Sterling, Marcus Rashford, and Jesse Lingard.) We saw Tunisia goalkeeper Mouez Hassen get hurt and stay in the game to give up Kane's first goal before being replaced. Can you explain to our readers why it took so long to take him out?
GP: One more time … England are not my guys. The England team performed exactly as I expected based on suffering the sight of them most of my life. They were average at best. The England shirt seems to turn most good players to mush. As far as Hassen goes, I imagine the medical team thought he could "run off" his injury. Plus, it takes a while for a replacement goalie to get warmed up. Tunisia would have secured a draw had their left back Ali Maâloul (apparently no relation to their coach Nabil Maâloul) smacked the ball forward late in the game rather than messing around, which gave up the corner from which England scored the winner.
KL: I noticed something else during the England-Tunisia game: The fonts on the jerseys! Many of the jerseys like Germany's and Egypt's have the player names written in this squarish, fake-Cyrillic font (for Russia, I guess) that make the names hard to read. The font on Tunisia's kit was even worse, in a spidery fake-Arabic font with the dots on the "i"s reaching above the other letters. By contrast, England's names were perfectly legible. Can't we have jersey fonts that are cool and yet still readable?
GP: I don't care.
KL: Fair enough. Just before this post went up, Japan scored a surprising result by beating Colombia 2-1. This is less of a shock if you know that defensive midfielder Carlos Sánchez made the dumbest play of the opening round by sticking his hand out to block a shot in the third minute, thus handing Japan a penalty (which they converted), getting himself a red card, and forcing his team to play almost the entire game down a man. Back when the Japanese hosted the World Cup in 2002, they beat Russia and Tunisia to make it to the round of 16, but this qualifies as their biggest World Cup victory ever. For Los Cafeteros, the rest of their competition in Group H is evenly matched enough that they still have a shot to advance, but Sánchez will be suspended against Poland.
GP: I liked the look of Senegal in their win against Poland (who are no scrubs) this morning. They played with all the pace and well-directed physicality my Nigerian Super Eagles lacked. I'd back the Lions of Teranga to make it out of their group, with games against Japan and Colombia to come.
KL: Four of the established superpowers (Argentina, Brazil, Germany, Spain) failed to win their opening match. Which of them is in the most trouble? It's got to be Germany, right? They lost their game instead of drawing, and while I have no doubt that they can beat both Sweden and South Korea, their margin for error is gone.
GP: None of them are in trouble right now. As the tournament unfolds, Argentina could be screwed if Messi doesn't pull himself together. Germany and Spain will get out of their groups and improve as the games go by. The truism about Brazil's national team is that it does not travel well. They are likely to make it out of the group but could well fall to the first stiff opponent. In addition to having the worst hairstyle ever to grace a soccer field (and there is stiff competition for this "award"), Neymar diminishes the Brazil team. He is so obsessed with his own effort that he makes poor choices that negate the team's attacking élan.
KL: Well, if Germany finishes second in their group, which is a distinct possibility, they may very well face Brazil in the round of 16, which I'll file under Please God, Let This Happen. I'd like to end this post with a tribute to Walter Bahr, who died yesterday at the age of 91. Besides being the father of NFL kickers Chris and Matt Bahr, he was the last surviving member of that USA soccer team that upset England at World Cup 1950 (assisting on the game-winning goal) and a great ambassador for the sport.
GP: Well said, KL.