Sometimes food exploring backfires. Here was my big idea: Find the next Salsa Limón. Long before the authentic taqueria started its rapid expansion, it was a humble food court restaurant at La Gran Plaza. "Surely," I thought, "I could be-bop on down to the Plaza and discover what new, exciting culinary experiment was blossoming inside those nurturing environs."  
As far as I could tell, the Mexican mall's food court proper consists of just two eateries: the aforementioned Salsa Limón and the 12-year-old Las Ranitas Restaurante Mexicano (4200 S Fwy, Ste 1715, 817-923-4344). On the fly, I conjured a quick-pivot second idea: Eat at Las Ranitas and write stuff. Brilliant!
"Ranitas" translates to "little frog," and the owners really ran with that theme. Walking up to the ground-floor storefront, you're greeted by a huge cardboard cutout of an anthropomorphized Mexican frog couple holding a sign that lists the hours of operation. Inside, the host stand is perched atop a frog a la Atlas. On the main wall, there's a mural depicting a whole community of old-timey-looking Mexican frog people posing for a group portrait. 
From the outside, Ranitas appears to be a cozy, sleepy little place tucked away beneath the elevators. Walk inside, and the dining room seemingly never ends. Its walls of tan, orange, and yellow are offset by brown booths, tiled tables, and several wait stands. 
There are also a dozen or so televisions, two large-screen projectors, and a contiguous cantina, La Emajada Rusa, or, The Russian Embassy. (I'll go ahead and resist the urge to make a joke about a Russian embassy in a Mexican mall, given our current political climate.) The hostess told me Ranitas was a happening spot for sportsball watching, and apparently there was a rather large soccer tournament that just ended. 
The plastic menus, replete with pictures (for those who need a refresher on what nachos look like), are several pages long. Ranitas lives in the space between authentic Mexican fare and Tex-Mex, and that's a strange place to dwell. 
Because of my white privilege, I wanted to dismiss the offerings on sight. As a middle-class white person, I am passionately (read: shamelessly) protective of all native cultures and zealously defend "authentic" versions of any cuisine, while deriding any derivations as offensive knockoffs. Then I remembered Ranitas has been in business for more than a decade and that non-white people (in particular those who would never use a borderline offensive term like "food explorer") seem to really like it. I could sense those frog people from the mural judging me, so I stopped being stupid and ordered. 
A good example of the kitchen's Mex-Tex-Mex amalgam was the pastorcitos appetizer ($9.95), eight fried gut-rockets filled with a mildly sweet pork pastor and accompanied by a neon green salsa, cilantro, onions, and lime. "OK," I thought. "We're off to a good start. Maybe they're on to something." They were not.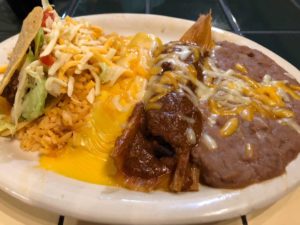 My guest's hamburguesa con queso ($9.95) was exactly what it sounds like: a cheeseburger. The thin sliver of meat was way overcooked, and one of the fries was still frozen. My Combo #9 – El Panzon ($8.95), with an overly salty ground beef crispy taco, one Velveta-level cheese tostada, and a cheese enchilada and tamale topped with chili con queso that tasted just out of the box – were all competently bland. 
I didn't know how to feel. One thing was certain: This was not the next Salsa Limón.