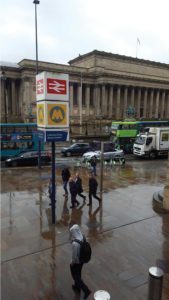 I happily departed England in July 2014, bound for Fort Worth. My wife and I moved with 30 boxes of books, three overweight suitcases, and a ton of hope two years ahead of our five-year plan to make a better life in Texas. S-J had secured a great job at TCU, and I was planning to carry on my long-standing freelance writing gigs, develop a new network professionally and personally, and scope out the full extent of my options before taking my career to exciting new heights.
Fast-forward to April 2018, and I have not been back to England in the intervening 45 months. Honestly, I felt no desire to return to my notional homeland. Yes, I missed people and had a hankering for fish and chips on the rare cold and damp evening in the Fort. You see there is a sweet spot for enjoying fish and chips. They have to be eaten indoors, having scurried in from the cold, or outside on a sunny day when the temperature is between 65 and 72. My new home was treating me well despite a number of unforeseen missteps along the career path, most of which were the result of federal bureaucracy and my new hometown's alarming aversion to H-1B visa sponsorship. A rudimentary search of data relating to immigrant employment visas shows that Dallas sponsors 20 times the number of highly qualified foreign nationals to work in schools, colleges, and offices than Fort Worth. We are missing a trick that could be crucial to our growth as a city from regional player to national powerhouse.
Since we moved, Mom suffered a series of health challenges back in England, the most serious of which was breast cancer. She had kicked cancer in its ass and as of March 2018 had been 100 percent disease-free for 18 months. Ostensibly, Mom was a healthy seventysomething. When she was admitted to hospital in March, it appeared she was being treated for a chest infection, with doctors using an abundance of caution and keeping her for a couple of weeks. A multitude of long text conversations and phone calls did little to disabuse me of the notion that while Mom was ill, it was nothing to be sufficiently concerned about, at least enough to merit a check of flights to England. To say that both my dad and younger brother unwittingly misrepresented Mom's degree of illness and attendant suffering came to be seen as an understatement of epic proportions. Once Mom was discharged from hospital, my junior sibling informed me that, lump very much in his throat, "She could have died." Who the? What now? Quite simply, I would have flown to England immediately had I known the extent of mom's illness, so to Google Flights I took and started to plot out the best value route and dates to England this past spring. For a few days, I duly tracked prices on a couple options for direct flights to London Heathrow or bouncing through a northern city stateside en route to Manchester, which is a mere 45-minute drive to my folks' house just outside Liverpool.
Tuesday, April 3, 2018. There are certain dates you remember in the span of a life. This will surely be one for me. It was a pleasantly warm spring morning on a day that would reach 86 degrees. I was in my remote office, a.k.a. Central Market's patio, sitting alone at a table for four with my laptop, sunglasses, and a Breakfast Blend coffee. A call came over Facebook Messenger. It was my dad. This hardly happens, if ever. Typical dad, right? I had spoken with both parents the previous day for our weekly catch-up. In an uncharacteristically low and hesitant voice, Dad proceeded to detail a series of tests that Mom had undergone that day whose results were as unequivocal as they were terminal: triple-negative metastatic breast cancer. This is cancer that, having laid dormant for two years, thought it a terribly good idea to spread to one of Mom's lungs, metastasizing in the process such that it was incurable: terminal cancer. My dad signed off the call by apologizing for needing to share "the bad news" and wishing that he had "better news" to be calling with.
April 11, 2018, and I am heading to DFW airport to make the trip to England. I had hastily booked the flight and arranged places to stay with friends and family. My 15-day trip would see me land in London; travel immediately to Oxford for a couple of days; then go by car to my former home in the Liverpool area. Courtesy of my brother's inexplicable love of English roads, he would drive three hours from his home, a mile from where we grew up, to collect me only to turn right back around and drive three hours back with me garbling incessantly in his right ear. The following week's plan was to spend as much time as possible with my folks before catching up with friends over a few drinks in Liverpool and then Manchester. For scale, the whole trip takes place in a space similar to that of the triangle between Austin, Fort Worth, and Dallas as I travel between London, Liverpool, and Manchester. I guess in this space, Oxford is represented geographically by Marble Falls. If only the picturesque Central Texas riverside town had a world-class university founded in 1096. Yes, a university 922 years old.
*****
At DFW airport, I felt content, safe in the knowledge that I would be returning soon to my Texas home. The day of my departure was a perfect spring day in that it started out cloudy and cool but wasted no time in becoming a welcome 80 degrees with that quintessential blue sky, the one that is as faultless as the clearest diamond and as blue as the finest topaz. On a more prosaic side note, the check-in experience at the airport was, well, dehumanizing. From the desk clerk who cares less about you but greatly that you remove a pair of jeans from your suitcase so that it makes weight, leaving me feeling a little like a boxer who needs to remove his pants to get within the limit, to the TSA agents … look, I know those people perform an essential function but come on, man. If you can put me through a scanner that takes photos of my cock through my jeans, surely you can tell that the item that I accidentally left in my pocket is a passport. Enough with the third degree.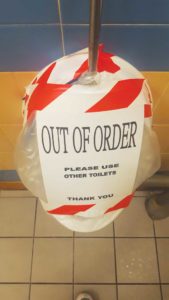 Once through the barbed-wire minefield, one decamps to the high end mall-like environs of Terminal D, for international departures, to sit down, charge devices, pay slightly too much for bottled water, and relax. After all, this tall, creaking, middle-aged guy has nine-and-a-half hours in an economy window seat to look forward to. I am not grumpy about this, I am not grumpy about this, I am not grumpy about this. I did score a free upgrade at the gate, which was pretty awesome. 
The initial concept for this article was that it would be a travelogue with some first-hand knowledge of England and the occasional memory recounted for color. The piece self-evidently had to change with Mom's terminal diagnosis. The trip, and the story, became about memory and loss, something that England has in abundance both for me personally and as a nation. The country of my birth has willingly become a large-scale theme park, brought to you by the omnipresent Wetherspoons. Imagine if Waffle House did pubs. As far back as 1987, Robert Hewison penned his spot-on critique of a country in decay, The Heritage Industry: Britain in a Climate of Decline. For 30 years, Britain has been perfecting the art of social amnesia, made the more permanent by the destruction of the socioeconomic fabric of the country along with the attendant bulldozing of the workplaces and dwellings that formed the engine of the country. To paraphrase Hewison, when a country loses sight of the past, its people are made to lose sight of their social identity. One could argue that opportunity to reinvent a better self lays herein. Stateside, this is not only a truly held belief but may form a pillar of American exceptionalism. On the other side of the Pond, acquiescence and a DNA-level unfounded belief in the superiority of Brits over others conspire to create a self-defeating fecklessness. These dual weapons of self-harm were likely forged in the days of empire but might be more pithily and contemporarily summed up as white privilege.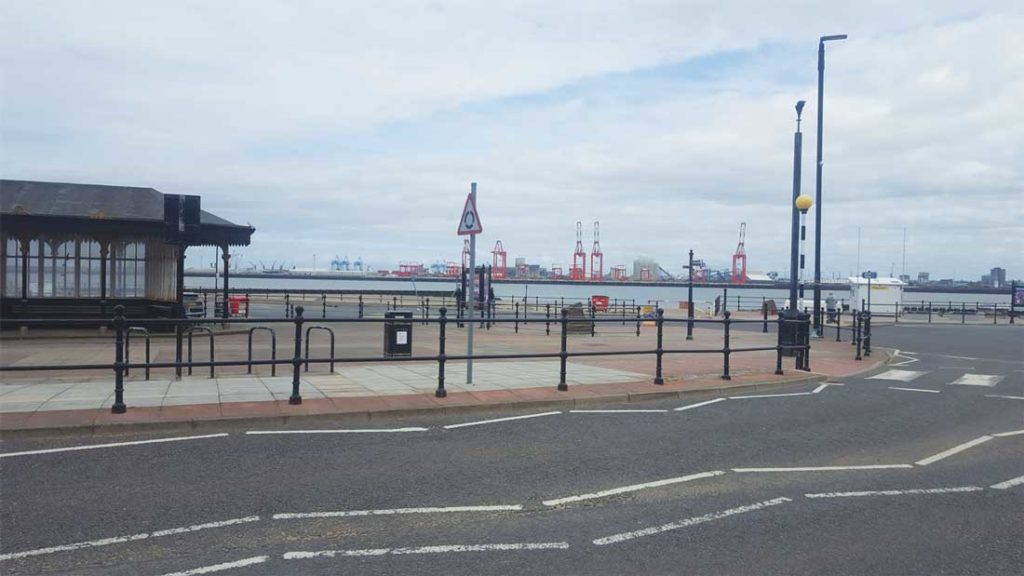 Liverpool has, for many years, run on 50 percent employment in local government jobs, with the remainder coming from tourism and allied businesses fueled by The Beatles and Liverpool Football Club. Liverpool was typical of postmodern England, with its long-standing socioeconomic structure, reliant as it was on the munificence of others, tourists to come stay, eat, drink, and view while the central government handed down grants to overpaid local government mandarins whose sole responsibility was to decide who got what check and when. That all changed in 2010, when the Conservative Party rode the fear train all the way to a parliamentary majority and the keys to No. 10 Downing Street. As the Obama administration was spending its way out of the Great Recession, the British right-wing government pledged austerity, cutting all public spending to the bone while urging redoubtable Brits to "do more with less." This is similar to asking a Michelin-starred chef to continue to make high-class fare with a few old carrots, a moldy potato, and a neck end. As government-funded employment shrunk across the country, towns and cities swiftly and deftly reinvented themselves as re-enactments of their long-former selves, on the orders of the "betters."
It was evident from 2011 that theme-park England went into overdrive as the heritage industry rubbed its expensively moisturized hands. There had been nothing in my social media space and voice and video call interactions with people in England these past years that marred the clarity of this view as I prepared to touch down on the tarmac of Heathrow airport. I was feeling ready for a difficult trip, ready to "be there" emotionally and physically for the first time in a long time. The arrivals hall at Heathrow is a fully automated process, making it as speedy as it is utterly devoid of human interaction. On exiting the airport, I was met by a sharp, damp cold that was instantly recognizable though long forgotten. The chaotic bus station and its miniscule coffee shop with a "trainee barista" on duty for the morning rush felt small, dirty, and cold. At every turn, a different sign forbade one to sit, cross, or set down luggage. The warm welcome was extended by the coach driver, who, without a greeting or eye contact, boarded the dozen or so of us bound for Oxford or stops between. Our driver spent the first five minutes of the journey negotiating at speed a dizzying series of left-handed roundabouts all the while listing in detail the hit list of forbidden activities on board. While he was clearly to have no truck with feet on seats or incorrect use of the toilet, he was most highly aggrieved by the prospect of people playing "music on personal devices so as to interrupt the comfort of fellow passengers." Welcome to England.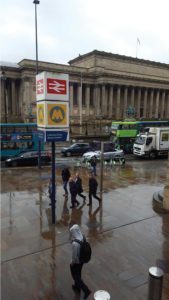 Oxford is the apotheosis of Heritage Britain, frozen in time as it is. The only changes that have been wrought to the center of this ancient work of art in the decades that I have lived in and visited it are different shop fronts along the four narrow streets that fan out from Carfax Tower at the town's center. The archaic tapestry of Oxford is woven on the centuries-old walls of its university buildings, rightly protected to their very boards by a dyslexia-inducing array of legislation. So I found Oxford as I left it – beautiful and inaccessible to most beyond gawping and picture taking. The gawpers and the picture takers were as numerous as ever, even on a misty April afternoon, clogging up the narrow cobbled passageways and flag-stoned courtyards. Two days of twee was enough, and, besides, I had caught up with one of my oldest friends. He has changed not at all, but I knew that from keeping up with him regularly on Skype. I had the perennial face-to-face conversation with him about whether he is going to pack up his bar job and put to use his college degree, boundless energy, and ability to get along with everyone, and his passion for sports to turn it all in to a 40-hours-a-week thing that he will truly love. He effected his expert deflection. On my reacquainting with his elderly parents, they were sitting on the same sofas in the same style – immaculately put-together outfits – and were enviably mentally and physically adroit. They are good and generous people who just so happen to be obsessed with the number and depth of potholes on the rural roads between their house and the center of Oxford.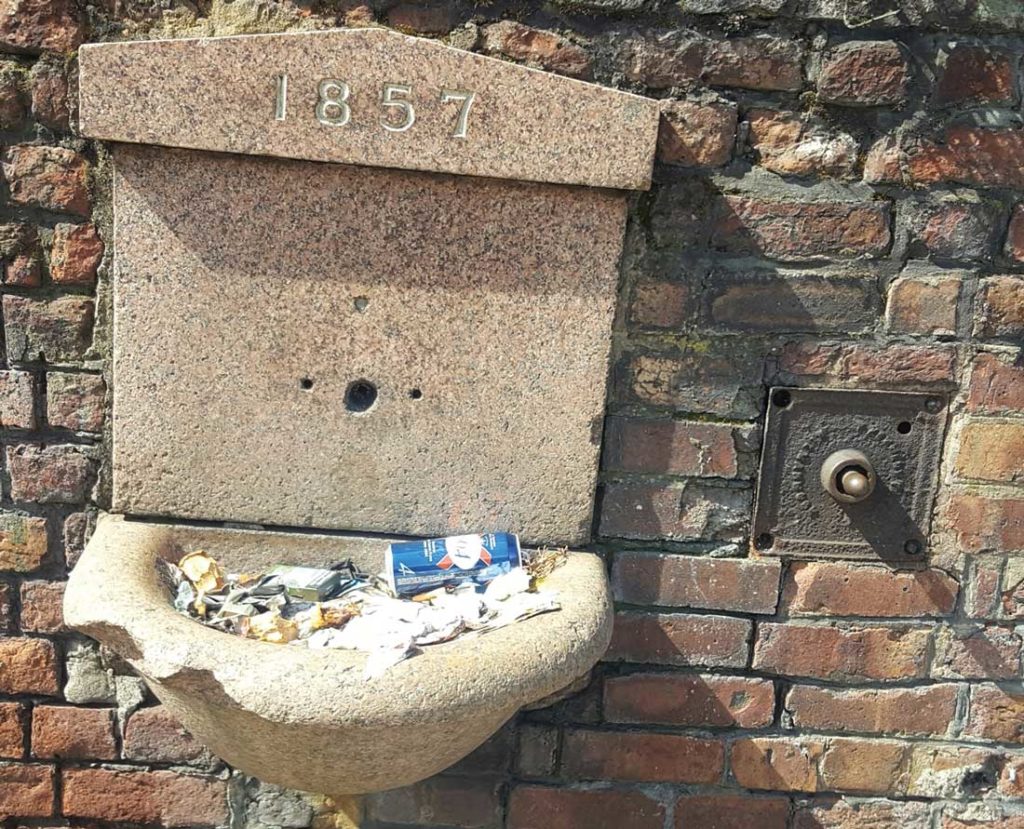 Very early into the three-hour trip north along the M6 motorway I was reminded of the depth and vehemence of my brother's vernacular. It is a well-known linguistic trait of those born and raised in and around Liverpool that they say what they are thinking, without fail, and do so with an accent and lexicon strewn with violence. Compliments and positivity, should they be unavoidably necessary, are expressed in the negative. For example, the end of an enjoyable meal is most likely to be greeted with, "Ah! Da was 'orrible, da," which should be read, "Ah! That was horrible, that" but that should be understood to mean, "Thank you. I greatly enjoyed that meal. I appreciate all your hard work in preparing it for us."
I will spare you the minutiae of the following 10 days' worth of family dynamics, denial, avoidance, drinking, unhealthy eating – the meat pasties! oh, the pasties! and the alfresco fish and chips wrapped in sea air and serenaded by seagulls – more drinking, and general lack of any reflection on the fact that I had been away so long. This is what is great about old friends and family: You can pick up conversations where you left off years earlier. However, I was frequently frustrated on this trip by the failure or refusal by those around me to acknowledge loss, hobbling the ability to live in the now – the today and tomorrow. That loss can be physical, financial, or of opportunities, but overarching all of this is the loss of time. I found that England and its people are living all their yesterdays to the extent that today is too scary to face and tomorrow is all but ignored. The reality that people who live like this are indolent as their once-thriving towns and cities become "reimagined" and then ossified for the amusement of paying guests should have come as less as surprise than it did. Worth pointing out is that despite England's becoming a heritage theme park, customer service is appalling across the board. The grumpy, hectoring coach driver of Heathrow was the rule rather than exception. He set the stage perfectly, foreshadowing for the paying guests nearly every human interaction between customer and server.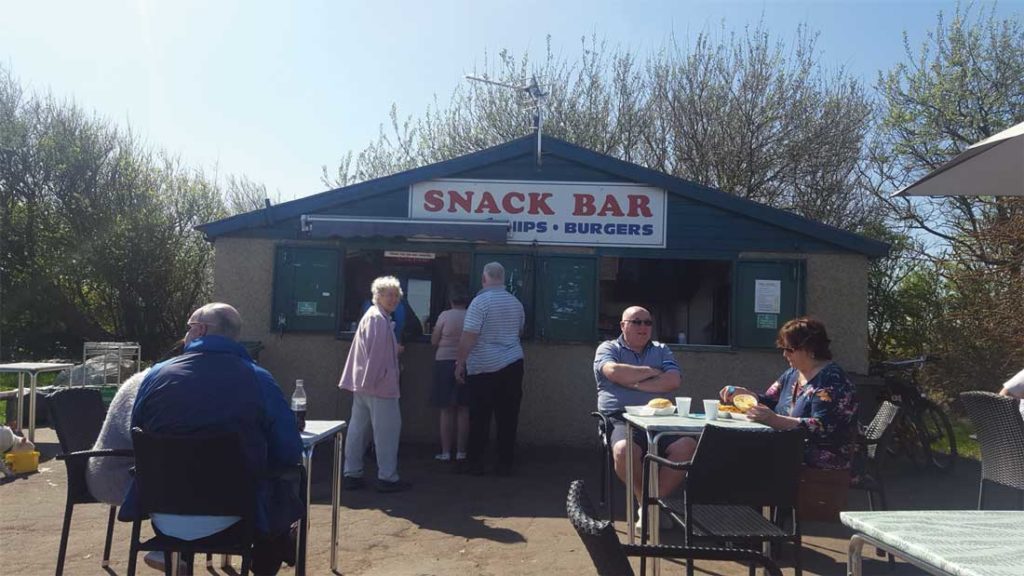 I have never seen a human corpse, well, save for the time I was in the backseat of a Mercedes speeding and bumping its way through eastern Nigeria when we drove by a headless man at roadside. To be more specific, I have never viewed the body of a dead loved one. Of the multiple family members who have died over the years, I have chosen every time to eschew the invitation to gawp at their shells. When our beloved family dog died last year, I found him expired in his bed, and he was instantly not Finley, the faithful, loving transatlantic companion of 14 years. Finley was not fur and flesh. He was patience, energy, hot breath, long walks, and ill-advised plunges in pools of water. While the body of a dog remained, the essence of Finley was lost. So it is with England. Its integument remains, and on viewing it, remembrances are triggered and relationships renewed. As with Gaston Bachelard's "house of memories" in The Poetics of Space, home and memory are psychologically intertwined, creating lifelong behavior and a codependency between the physical and the memorial. Strip away the places and repurpose the spaces, and psychological turmoil will surely ensue. My old home is tormented with this disorder, and the diagnosis appears terminal. My new home is young enough, gloriously ingenuous enough to not be crippled by a mania of change that creates loss. Fort Worth knows about yesterday, but it glories in today and relishes tomorrow. I crossed the Atlantic twice and in so doing realized home is not where you grew up – that vessel for memories. Home is where your head's at. For me, home is Fort Worth.