Here's a semantic question for you: What's the difference between routine and ritual? I'd argue that a routine is a behavioral pattern you fall into out of habit, while a ritual is one you adhere to in order to effect a desired result. I brought this up with Panic Volcanic frontwoman Ansley Dougherty over beverages at a local bar, seeing as how Rituals is the title of her solo debut, a nine-song vinyl slab on Hand Drawn Records she'll be releasing at show on Saturday. 
To Ansley, rituals are cyclical things. "Like on-and-off relationships," she said. But Rituals is also themed around how people listen to music in 2018 versus the way they used to back in the ancient past when analog formats ruled the Earth. 
"You pull up Spotify and type in your favorite thing, and you can hear it in an instant," she said. "But it used to be, you had to wait for a record to come out and go to the store and get it. You'd have a tangible thing, and you couldn't wait 'til you got home to listen to it. You put it on first thing, and you pored over the cover, and it used to be a ritualistic thing."
Ansley has pursued a lifelong love affair with music, first in her teens as one half of a folk duo called Mind Twins with Sealion's Sam Villavert and more recently as the singer of the aforementioned hard-rock trio Panic Volcanic. She also regularly gigs around town playing covers, both as a solo act and as part of Frank y Los Frijoles, and, until last week, she was a teacher at School of Rock.
Obviously, Ansley is up to her ears in music, but her dream is to have a career as a touring artist. Rituals is basically the manifestation of that desire, though, curiously, it came from a period in her life when she wasn't writing any music at all and saddled with an unsupportive, jealous boyfriend.
The relationship was, she said, "terrible – one where I was restricted from writing music. He would go through my journals, and he would be like, 'Who is this song about? This isn't about me!' So I just stopped writing. I didn't write for, like, a year and a half, really anything – for Panic [Volcanic] or my own stuff."
This was a little more than two years ago. At that time, she was just starting to think about a career as a solo songwriter. Once her relationship ended, she resumed writing songs. Periodically over the course of last year, she headed down to producer Taylor Tatsch's Audiostyles studio outside of Austin to track tunes whenever she saved enough money for studio time. She fleshed out her songs with a local who's-who of choice session players: Joe Cannariato and Kris Luther on bass; Joshua Ryan Jones, Matt Mabe, and Peter Marsh on drums; and Cannariato, Tatsch, and Eric Webb on guitars and auxiliary keys and organ. 
Though its genesis in a frustrating, failed relationship makes for a gloomy origin, Ansley's piano-driven indie pop is polished with thanks to her ear for harmony and melody. She cites bands like Death Cab for Cutie and female vocalists like Regina Spektor and Lissie as inspirations. On wax, her clear, strong voice is distinctly her own, having trained on local stages and high school choir. In that way, music is indeed a ritual for her, but she is also interested in the religious connotations that ritual brings to mind.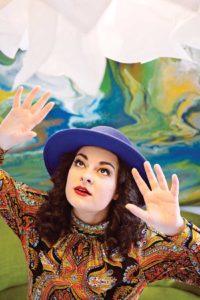 "I think about how we kind of admonish faiths like Wicca that have very ritualistic stuff," she said, "but we have the Eucharist in Christianity where people partake of the bread and drink the wine. That's kind of the same thing." 
At her album release, she will perform against a backdrop made by local artist Taylor Shelton King that reflects her spiritual ruminations. 
"We've made an installation for the show that is basically these panels that are meant to look like futuristic stained glass," she said.
And though she's looking forward to booking a tour in support of her first album, she's already writing a new one. 
"I kind of like the ritualistic self-improvement," she said. "I think this new record is going to be about the change that's occurred in me over the last year or so, developing my own identity outside of Panic Volcanic, developing as a songwriter. I'm trying to up my game. A-game all the time. No time for B-game." 
Hand Drawn Records showcase featuring Ansley's album release

8pm Sat w/Meach Pango, Vodeo, and Beatty at MASS, 1002 S Main St, FW. $8. 682-707-7776.