The convenience store at the cross-section of 4th Street and South Sylvania Avenue may appear to the layperson to be just another ragtag bodega in a poor neighborhood: A hanging sign reveals Newports are just $4.89 a pack; the lone employee looks like a zoo animal encased in bullet-proof glass; and off-brand hardcore pornography (Backdoor Babes, anyone?) occupies a small bookshelf. 
Almost lost in the humdrum is the walk-up counter space surrounded by striking pastel-colored walls decorated in luchador masks and a sizable vinyl sign depicting a Día de los Muertos-themed skull that sits at the back of the cluttered room. 
If the setting for Mariachi Tacos (301 S Sylvania Av, 682-760-9606) sounds sketchy, don't be fooled. The building that houses the three-week-old taqueria is nestled in the shadows of Martin House Brewing, Bathtub Gin's, and Top Golf on the "emerging" side of I-35, just east of downtown. Sure, you might witness a black-market shoe deal in the parking lot like my guest and I did recently, but you'll also be able to enjoy what might be the most exciting new taco joint in town. 
Chef/co-owner Angel Fuentes was manning the counter and kitchen on our weekday visit. The casual diner might dismiss the four-table dining room as just another off-the-beaten-path background for Bourdain-worshiping hipsters to take IG photos, but Fuentes has the kind of resume most haughtier eateries would pay a recruiter to find. He's wielded the spatula at Embargo, Bird Cafe, and, more recently, Local Taco H's on Rosedale Street. 
His small menu consists of mostly traditional Mex-Mex fare like street tacos and tortas, with a few unexpected flourishes, such as grilled-cheese sandwiches, burgers and fries, and plenty of vegetarian/vegan options.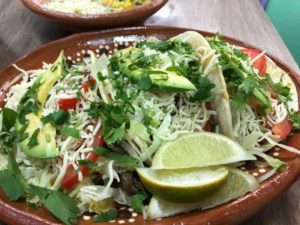 I wanted to sample the whole shebang at once, so we ordered like a two-man touring jam band. I started with the essentials: street tacos ($1.60 each) on double-ply corn tortillas cooked just on the verge of crispy, with onions, cilantro, and lime. Our lunch was accompanied by two salsas: a creamy, mild green version and a piquant, intensely flavorful red with strong overtones of garlic and distilled chiles. Mariachi's pastor could be the best in the city now that Revolver Taco is gone. The cubes of pork bore the telltale chalky-textured marinade of dried chiles and achiote paste, with a thick, spicy red sauce and a hint of roasted pineapple. On my second taco, juicy slabs of perfectly cooked carnitas overflowed the amply sized tortillas. 
The Mariachi Taco ($3 each) is not unlike Salsa Limón's flagship El Capitán. A buttery flour tortilla is stuffed with the meat of your choice, white cheese, tomatoes, avocado, and shredded lettuce. The barbacoa was well seasoned and tongue-meltingly tender, and the asada tasted as though it had spent considerable time in a flavorful marinade, then cubed and grilled. Though not as authentic as the street version, the house's signature taco stacks fresh flavor on top of fresh flavor – not unlike the torta ($5), which is basically the same thing but with a toasted bun. The juices of campechano, a combination of beef and pork, soaked into the bread like au jus. The fries ($1) were crispy on the outside, pillowy soft within, and coated with seasoning salt.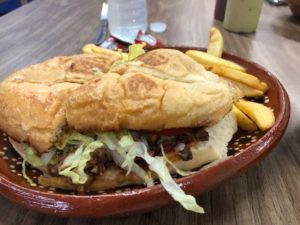 The one drawback of the setting is the drink situation. I would have killed for an agua fresca or Mexican Coke, but instead I settled for a bottle of water purchased from the convenience store cashier. Still, Mariachi Tacos is new and has plenty of time to evolve – maybe someday it will outgrow its humble beginnings.