Every October for several decades, Guitarlington drew hundreds of dealers, thousands of visitors, and many thousands of instruments. Gear-heads considered Arlington's massive guitar extravaganza among the country's biggest and baddest.
In the 1990s, friend and former bandmate Phill Rodriguez stopped by my house in eastern Fort Worth on his way to one of those Arlington shows. He carried a big red Gibson f-hole guitar he wanted to trade for a sleeker solid body. For some reason, I was unable to accompany him to the show, but we started yakking about guitars. I described my ideal electric guitar: a white Fender Strat with a rosewood neck. At the time, I owned a foreign-made, poorly intonated piece of crap and couldn't afford anything better.
Rodriguez went on his way. A few hours later, he stopped by my house again to hand me a mid-1980s white Fender Strat with a rosewood neck, still in its original case. I was dumbfounded. He'd just handed me the guitar of my dreams. He told me it was payback for my spending a previous weekend helping him build a shed for some ostriches he had purchased, even though I never expected any reimbursement. (Also, he might have grown tired of hearing me play that out-of-tune piece of crap I had been making do with for several years.) Regardless, the white Strat was a great gift that I'll never forget.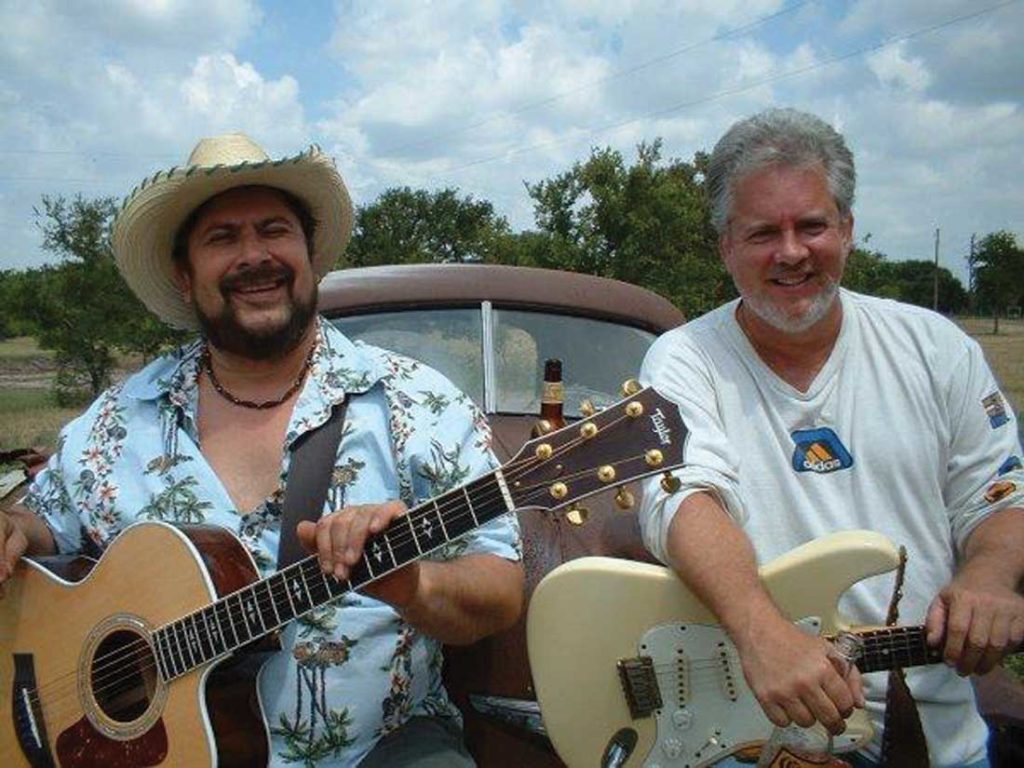 This fall, guitar nuts will be knee-deep in wood and steel about 20 miles farther west from the Arlington Convention Center, the show's previous locale that the city is spending millions of taxpayer dollars on transforming into an eSports arena. The newly named Amigo International Guitar Show will debut at the Will Rogers Memorial Center on Saturday and Sunday, Oct. 6 and 7.
The organizers couldn't be happier … now.
In February, they were terrified.
"We were scared to death at first, when we got blindsided by the City of Arlington," said Larry Briggs, one of the guitar show's founders, along with Ruth Brinkmann and Dave Crocker.
(Another founder, Ruth's husband John Brinkmann, died four years ago.)
They scrambled to find a replacement venue on short notice, scouting spots in Dallas, Grapevine, Irving, and Las Colinas. Everything was too small or too expensive or already booked.
Then up popped Willy.
"I went everywhere looking for a facility, and nothing just hit the spot," Brinkmann said. "When I walked into Will Rogers, I knew that was going to be our home for a long time."
The exhibit hall offers just shy of 100,000 square feet of space in one large room, meaning visitors and dealers can more easily check out the entire scene.
"This gives us some room to grow," Crocker said. "We're really excited about Fort Worth."
In Arlington, the convention center's complex layout required dealers to display wares in multiple rooms and even in hallways. Some visitors would come and go without realizing they had overlooked a portion of the dealers tucked away in different areas. 
Changing venues after 32 years prompted the organizers to re-dedicate themselves.
"In retrospect … we had been kind of resting on our laurels," Crocker said. "We had a good horse that we had been riding into the ground."
They plan to freshen and groom their horse in the Cultural District's most iconic setting. Unlike in Arlington, which offered hotel rooms on the site of the convention center, visitors at Will Rogers will have to travel to the nearby hotels. However, the guitar show is arranging to provide a shuttle service.
"The [Cultural District] is fabulous, and the people at [Will Rogers] are fabulous," Brinkmann said. "A lot of things are going to make the dealers happy. My husband used to always say, 'When you forget who the king of the music business is, you don't have a business.' The dealer is really the most important part of this whole thing. If you don't have them, you don't have a business."
The October show will feature about 275 vendors from 25 countries showcasing more than 10,000 guitars.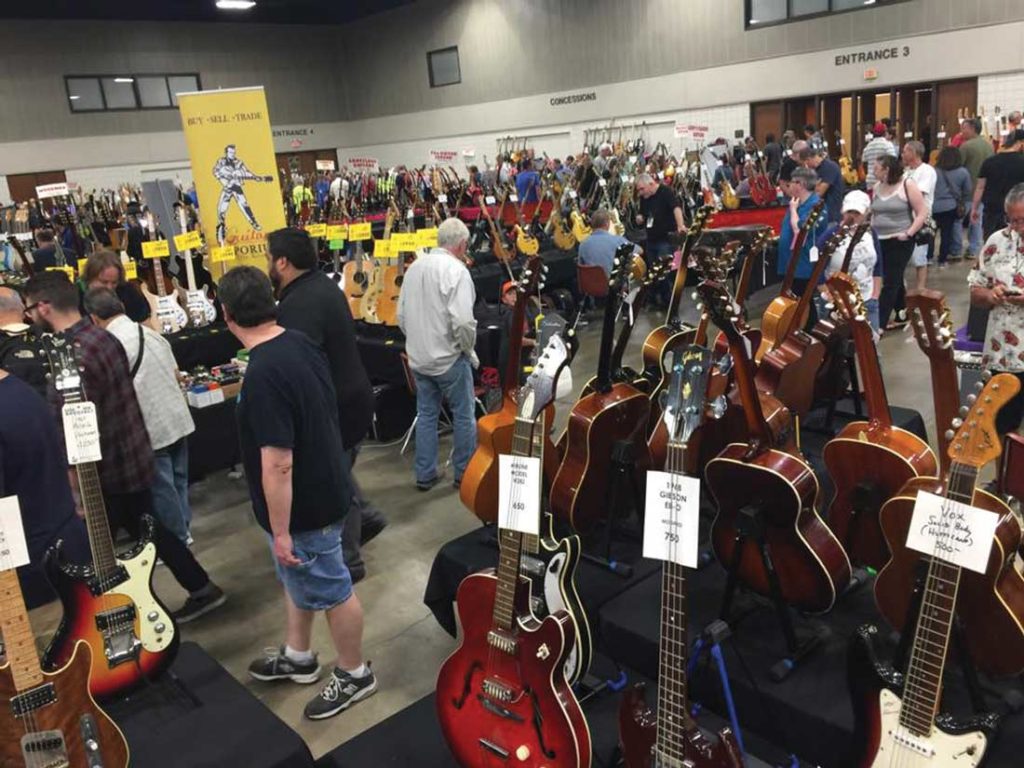 *****
In the early 2000s, Competition Music owner Scott Dyson created the annual Fort Worth Guitar Show. Arlington and Dallas had the big daddies. Dyson kept his small by comparison, offering about 30 vendors stocking about 1,000 guitars. Dyson's buy-sell-trade affair was a mainstay at the Green Oaks Hotel before that old haunt was demolished 10 years ago. The show is this weekend at the DFW Marriott Hotel & Golf Club at Champions Circle in Fort Worth.
Dyson said he's not worried about competition with the former Guitarlington. His event, he said, precedes the Amigo show by two months each year and is well established. There's room for a larger, international show, he said, adding that most of his vendors are from Texas and the surrounding states.
Besides, Dyson remembers 17 years ago when he first decided to try establishing a guitar show in Cowtown. The Amigo bunch and the organizers of the Dallas International Guitar Festival were among the first to sign up as dealers.
"The Brinkmanns set up at my show for the first several years," Dyson said. "Jimmy Wallace [from Dallas] comes when he can. He'll be at this one."
Dyson felt nothing but love from folks who, by definition, were competitors.
"There were already two shows in the Metroplex, and here I am starting another one," he said. "I didn't know how receptive they would be. They accepted me with open arms and offered me advice and all kinds of stuff."
The Dallas festival debuted in 1978 and currently relies on 140,000 square feet of space at Dallas Market Hall every May. John Brinkmann was one of the original founders but left those partners after a few years to create his own show along with Briggs and Crocker. They debuted the All American Guitar & String Expo in 1984 in Tulsa and moved the following year to Oklahoma City. In 1986, they changed the name to Texas Guitar Show and moved to Arlington, becoming one of the first big vendors to rent space in the city's newly built convention center. Over the years, everyone started referring to the annual gathering as the Arlington Guitar Show, so the founders changed the name officially in 1990.
Ten years later, they changed the name to Guitarlington.
I attended some of those early shows, being a guitar player myself and growing up in this area. I never had much money to spend but managed to make a decent trade or two. Even when I didn't deal, the trip was worthwhile. Being surrounded by a sea of guitars of every size, shape, and color – and being allowed to play them and learn about them from dealers – is sensory overload in a good way. Since the 1980s, the Amigos have added annual guitar shows in or near Chicago, Nashville, San Francisco, and Southern California. 
Imagine Charlie in the chocolate factory, except the lollipops are Les Paul Standards and Fender Strats.
Another time in the 1990s, I was at the Arlington show hoping to trade my cheap steel-string acoustic for a nylon-string classical. I finally found a taker, but he wanted me to kick in $50 to sweeten the trade. During our negotiation, he pulled out a piece of information that he apparently considered to be an ace in the hole.
"I traded for this guitar earlier in the day, and it belonged to Cameron Finley," the dealer said.
"Who's Cameron Finley?" I asked.
"He plays Beaver on the remake of the Leave it to Beaver show," the dealer said.
I burst out laughing. I had never seen the Beaver remake and wasn't impressed but forked over the $50 and had fun over the years telling people I was playing '"the Beav's" guitar.
Fond memories of Dyson's Fort Worth Guitar Show resonate with me as well. In the late 2000s, a friend and his wife – Jim and Melanie Cleveland – were about to celebrate a wedding anniversary. Melanie had saved up $700 and wanted to surprise Jim by giving him the best acoustic guitar available for that price. She didn't know squat about guitars and asked me to find a winner. 
I held on to the seven fresh $100 bills until Dyson's show came along. Rodriguez and I went to the event and wandered up and down the aisles, playing dozens of guitars we thought Jim would appreciate. He has a big booming voice and needed a big booming guitar. We wanted something that looked and sounded great, preferably from a name brand.
After a couple hours of browsing, we found what we considered to be the perfect pick, albeit something of a gamble. The Gibson J-200 with the blonde natural finish retailed new for about $1,500. We discovered a used version with a crack on top and nabbed it for $700. We knew a guy in Azle who would repair the crack for about $50.
Our friend Jim loves that guitar. And I love my Strat. Over the years, the white finish on my beauty has turned to a smoky yellow from all the bars, lights, cigarettes, sun, wind, and everything else it has endured while spitting out blues, rock, and country licks.
Jim's blonde guitar has darkened to a light brown, and that old crack can be seen on close inspection, although our friend's repair job is still holding tight. 
Both guitars are showing the ragged but right patina of time, just like their owners.
*****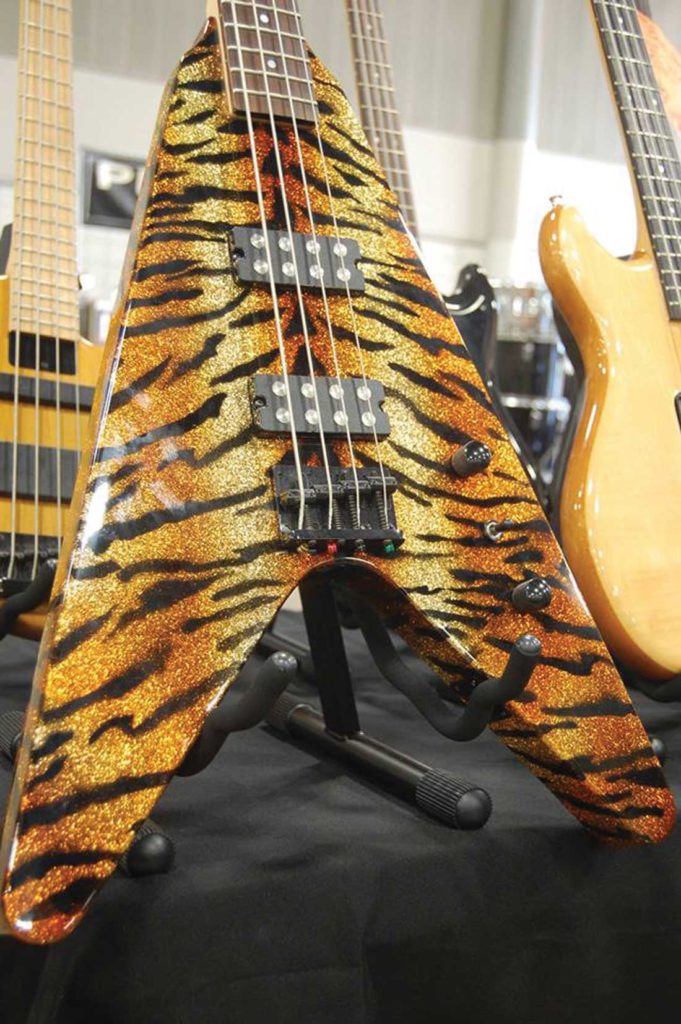 During those early years in Arlington, the guitar show grew along with the convention center. A 60,000-square-foot room provided ample room at first but became cramped by the 1990s. The convention center added more space over the years, and the guitar show snapped it up as it became available. 
Along the way, the founders established  tight protocols that would become standard operating procedure at the hundreds of guitar shows that would come along.
"A lot of the ideas that have made the guitar shows what they are were done by the Amigos," Brinkmann said. "Security. The hours. The way we take care of the dealers."
Instruments that come through the door are tagged with descriptions, serial numbers, and the owners' names and phone numbers. A tag stays with the guitar. The other goes to the owner. Both tags or a sales receipt are required to leave the show with an instrument.
"Every guitar is checked as it comes in and as it leaves," Crocker said. "Our security is second to none, something our dealers have always appreciated."
The prestige is evident by the number and quality of dealers. Heritage Auctions, billed as the largest collectibles auctioneer in the world, rents space at the Amigo show to showcase guitars it plans to sell later in the year.
"They use our show to preview a good part of the stuff they are going to auction in California," Crocker said. "They know a huge amount of the high-end buyers in the world will be [at the Fort Worth show] to preview those instruments and not have to make another trip to the auction. They can bid with confidence [online or over the phone] because they've already looked at the instrument."
People come from all over the world, many of them there just to buy. Some rent a booth and have no inventory – they just sit there and wait for people to bring them guitars to buy and take back to their country. Residents in Japan and other countries clamor for vintage American-made guitars, particularly the electric guitars made famous by the likes of Eric Clapton, Jimi Hendrix, and Jimmy Page.
"This show is the most international show there is," Crocker said. "People from Japan and all over Europe. There are probably 25 countries represented every year."
The values of vintage guitars soared leading up the Great Recession of 2007. Some early Les Pauls were selling for more than $200,000. Early Strats were fetching tens of thousands of dollars.
The "Bible" for collectors is Vintage Guitar, which sponsors the Amigo show each year. The magazine premieres its new price guide there. Many of the magazine's freelance writers are also vendors at the Fort Worth show, where the focus remains firmly on the instruments rather than the lights, dazzle, celebs, and concerts.
"This show is about guitars and guitar players," Crocker said. "We're catering to guys who are buying, selling, and trading guitars."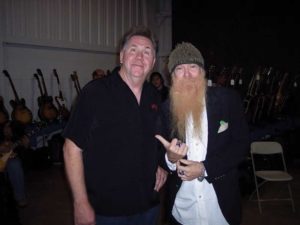 Often, the buyers and traders are famous. Billy Gibbons (ZZ Top) is a regular. John Mayer has attended several times. Elvis Presley's original guitar player, Scotty Moore, attended in 1993, the first time he had ever been to a vintage guitar show. He set up a table, played guitar, and sold CDs and autographs.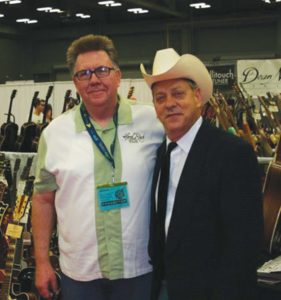 Not long ago, C&W star Brad Paisley told Ruth Brinkmann that he bought his first ever paisley-finish Fender at one of the early Arlington shows.
The list of celebs that have visited the event is longer than a "Free Bird" guitar solo. Organizers do their best to allow the rock stars to shop without being pestered. 
"We don't make a big deal about them," Brinkmann said. "We just give them a pass, let them in, and they do their thing. Nobody knows they're there, and they're having a great time."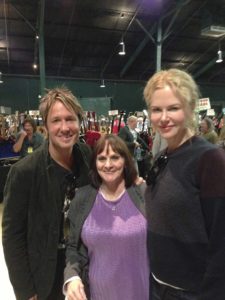 Most visitors are interested in guitars, not gods. The only time the crowd went gaga over a celebrity was when Keith Urban showed up at the Amigos' Nashville show – accompanied by actress wife Nicole Kidman, who created the furor. The power couple had to exit through a back door.
Otherwise, "the stars at our shows are the guitars," Crocker said.
Reach Jeff at @jeff.prince@fwweekly.com.