In the 17 years since Cresson was incorporated, the municipality situated along U.S. Highway 377 between Granbury and Fort Worth has boasted that it imposes no city property taxes. With so few residents – 741 at the time of the last U.S. Census, in 2010 – there was no real need to fund such things as infrastructure, parks, police officers, or a bevy of city staffers.
That will soon change, though, and over the span of a few years the change is expected to be big. Two major developments featuring both commercial and residential properties are either underway or coming, and dirt will soon turn on the Cresson Relief Route. Created by the Texas Department of Transportation (TxDOT), the new 3-mile stretch of highway will swing west of town, alleviating traffic jams that frequently impact Granbury commuters and other motorists at the "Cresson intersection," the meeting point of 377 and SH 171, where a railroad switchyard is located.
Fifteen-hundred new homes are expected to be built in Cresson within the next four to six years, Mayor Bob Cornett told me, and that's just the beginning for the ranch town sprawled across 64 square miles in Hood, Johnson, and Parker counties. The city plans to construct "backer roads" on each side of the bypass, Cornett said, because city officials believe that what is now ranchland will become prime real estate for stores, restaurants, and other businesses. If that happens, the additional sales tax revenues could keep the city property tax-free for years to come, which, Cornett figures, will likely make all those new homes that much more appealing to people who work in North Texas.
Another draw for potential homebuyers is a 23-acre multi-use park with five fishing ponds that city officials hope to create with grant funds from the Texas Parks & Wildlife Department. The city is finishing the paperwork with help from an experienced grant writer, Cornett said, and awards will be announced in March. If funded, the park will be on land donated by Ike Thomas, developer of Cresson Crossroads, a 744-acre commercial, industrial, retail, and residential development just a 20-minute drive southwest of Cowtown.
With so much on the horizon, sales tax revenues are more important than ever, which can be a challenge for a town so small it doesn't even have a grocery store or bank. To build those backer roads and meet other needs, Cornett and Cresson's five city council members will rely to a large extent on what has become a steady source of income for the little burg 25 miles southwest of Fort Worth: tourist-attracting, worth-a-day-trip barbecue.
*****
After an F-4 tornado destroyed the Rancho Brazos neighborhood in Hood County on May 15, 2013, leaving six people dead and drawing then-Gov. Rick Perry to Granbury to tour the decimated area, life became a whirlwind for John Sanford and Kathryn Warren. The couple had opened their BBQ on the Brazos restaurant inside Texaco Plaza off 377 in Cresson just a few months earlier, but it was the spring twister that led to their food capturing regional and statewide media attention.
Sanford said that journalists covering the storm's aftermath would stop for gas at the Texaco, smell the meat cooking in his smokers, and decide to stick around for a meal. Before long, the Fort Worth Weekly sang the diner's praises, as did the Fort Worth Star-Telegram. The Dallas Observer said that the food there was "worth the drive," and Texas Monthly listed the spot among its Top 50 barbecue joints in the state.
The magazine put BBQ on the Brazos on that list in 2017, but the first of several articles about the restaurant appeared on its pages in July 2013, just two months after the tornado. The writer stated that the diner "could even hold its own in Austin" and waxed poetic about its "pork rib perfection" that was due to flavors that were "a well-balanced mix of sweet and heat from a rub and subtle glaze and smoke from post oak."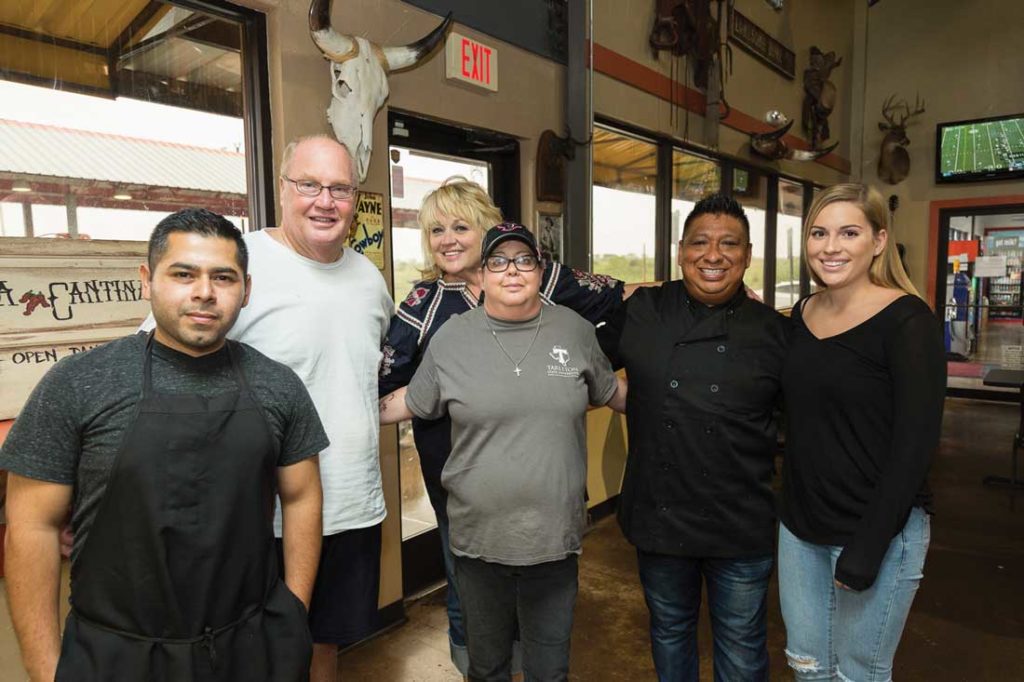 Two months ago, fans of BBQ on the Brazos posted expressions of alarm on Facebook after Sanford and Warren, abruptly and without warning, taped a "closed" sign on their diner's door and moved out of the space they had been leasing on a month-to-month basis for five-and-a-half years. The co-owners said they took the action after being unable to reach an agreement with the property's new owner on rent and hours of operation.
I spoke to both Sanford and Warren just days after the closing. Warren said they intended to take some time off since they had not had a vacation in six years but would start selling their meats and side dishes out of a 30-foot catering trailer sometime in September while building their own stand-alone restaurant. Although some Granbury fans posted pleas on Facebook for the barbecue business to come to the lake community 13 miles down 377, Warren told me that BBQ on the Brazos would remain in Cresson.
"I will not leave my customers," she said.
Sanford said the couple's future restaurant, unlike their gas station digs, might be open for dinner on Friday and Saturday nights.
"I'm meeting with the architect and contractor Saturday, and we're going to start blowing and going," he said when I spoke to him the second week in July.
At the time, neither Sanford nor Warren wanted to divulge their preferred location for the restaurant because negotiations were in the beginning stages and Warren especially was superstitious about jinxing the deal. It didn't take long, though, before Facebook posts revealed that the land allegedly sat next to the Texaco.
Since speaking to me in July, the couple seems to have gone silent. They have not responded to my assorted messages, although Warren did reply to one email inquiry with a promise to have Sanford phone me. That didn't happen. Perhaps their hesitancy to talk had something to do with their land purchase allegedly falling through. That's what Cornett said he heard second-hand.
On August 7, Warren posted a cryptic response to a fan's Facebook inquiry asking whether the restaurant had reopened. "Not yet," she posted. "Soon." A new web address for the barbecue joint –– Bbqonthebrazoscressontx.com –– bears this message: "We will be closed until we can get our trailer up and running."
While the loss of sales tax revenues from BBQ on the Brazos' supposedly temporary closure may be bad news for Cresson's coffers, it is not the only barbecue game in town. There is Max's Kitchen, a trailer within rock-throwing distance of the Cresson intersection with food so good it has been mentioned on KERA and, as of two weeks ago, another place that just may cement Cresson as Ground Zero for some of the best smoked meats and sides in the state.
Within days of Sanford and Warren walking away from their lease at Texaco Plaza, another couple cut a deal to take over that space. Rooster Beane, a preferred caterer for the NFL whose Nashville barbecue restaurant was once featured on the Travel Channel's popular reality show Man vs. Food, and his wife Lori Beane are now splitting their time between Nashville and Cresson.
BBQ on the Brazos, meet Rooster's BBQ.
*****
Rooster and Lori arrived at Texaco Plaza on a Sunday afternoon in August, the day after driving in from Nashville. When I got there at 2 p.m., various antlers and saddles were scattered on the floor. Lori said the items would be hung on the diner's "Texas orange" and tan walls. Rooster's framed Dallas Cowboys jersey, which was propped against a wall, was to be an exception to the Western décor. He was signed by former coach Tom Landry in the early 1980s to be a kicker and guard for the team.
Before the three of us sat down to talk at one of the diner's tables, Lori insisted on taking me upstairs to show off the additional seating there, both inside and out. A covered balcony overlooks the track at Motorsport Ranch, billed as the country's first sports car country club. Even with a second floor and a balcony, the diner is a modest size, which is just the way Lori and Rooster want it. Rooster said there is room, all total, for about 70 diners.
"Downsize is key to us," Lori said. "A lot of people want to get bigger and better. We're not minimalists, but we will always work smarter, not harder."
The couple found each other later in life. Both were married previously. They met through family and friends at a New Year's Eve party at Rooster's now-closed Nashville restaurant and married in that city not long after, in May 2012.
Both have kin in Texas as well as Tennessee. Lori's family is from West Texas, and she graduated from Texas Tech University with a degree in home economics. Among her Nashville relatives is an uncle, Sonny Curtis, the singer-songwriter who performed with Buddy Holly and joined his band, the Crickets, after Holly's death in 1959. Curtis wrote "Love Is All Around," the theme to the Mary Tyler Moore Show, and was inducted into the Rock and Roll Hall of Fame in 2012.
Rooster has family in Wichita Falls but grew up in Nashville, where his dad retired from the military. His brother Aubrey owned Judge Bean's BBQ (he removed the "e" from the end of the name simply because he wanted to), which Rooster said was the first Texas-style barbecue restaurant to open in Nashville. Rooster said that before selling his three restaurants four years ago, Aubrey succeeded in getting Blue Bell ice cream shipped in. His cobblers, with a scoop of Blue Bell on top, would sell for $7 or $8 a dish, Rooster said.
For a time, Rooster had a joint interest in Mickey Roo's Texas BBQ in Franklin, 20 miles south of Nashville. The "Roo" is for Rooster. Eventually he, like his brother, got out of the brick-and-mortar restaurant business in Tennessee, though Rooster continues to run a mobile catering business in Nashville. He said his catering career took off when he landed a gig feeding opposing teams at Nissan Stadium, home of the Tennessee Titans. As a preferred caterer for the NFL, he said, he can also feed teams "in any stadium in Indianapolis, New Orleans, and Atlanta."
On August 26, four days before having a soft opening at his new restaurant in Texas, Rooster posted photos on Facebook of a stadium serving line with the message: "Fed the 49ers last night and now heading to a little place called Cresson!"
Rooster said he grew up in a family that liked to entertain, but he did not learn the art of cooking from his parents. It is a skill he said he taught himself.
"People kept telling me, 'Man, you need to open up a restaurant,' " he said.
Rooster was a grown man before he ever sampled brisket, he said, and the memory is vivid. It was 1981, a year or two before his brief stint with the Cowboys. At that time, he was playing softball and went with a buddy to a diner in the Texas town of Jean, in north central Young County.
"I went up and ordered a hamburger, and [my friend] said, 'Oh, Tennessee boy, get yourself a brisket sandwich,' " Rooster recalled. "So I ate a brisket sandwich, and I bet I ate 20 of 'em that weekend."
After that, Rooster painstakingly taught himself how to cook a perfect brisket, implementing suggestions made by friends with each experiment.
"Time and temperature [are] a big key to it all," he said. " 'Low and slow' is what our motto is."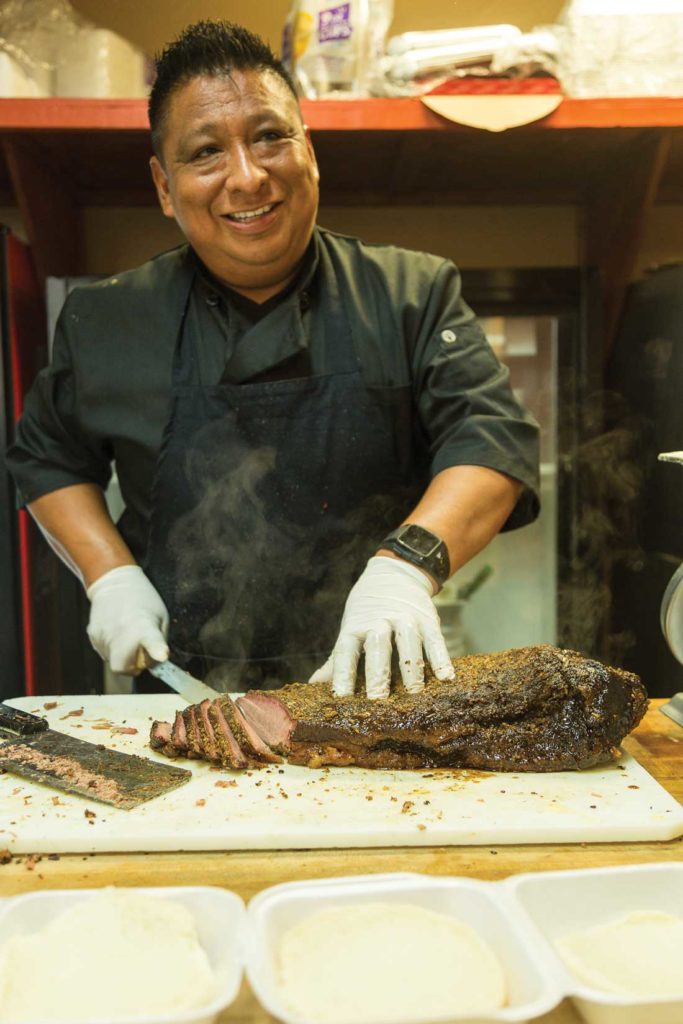 By the early 2000s, he was a partner in Mickey Roo's and went on to open Rooster's Texas Style BBQ and Steakhouse in Nashville. Among his fans, according to both Rooster and Lori, is singer Vince Gill.
"Vince Gill and Rooster are very good friends," Lori said. "Every time [Gill is] around, he wants Rooster's brisket."
After marrying Lori, a retired longtime Granbury schoolteacher, Rooster settled down with her there. It didn't take long, though, for him to start a business in Granbury. By 2014, the couple opened Rooster's Guitar BBQ, a music and wedding barn venue with a 1,200-square-foot dance floor, on property that Lori had owned for years. Johnny Lee performed there once during a Fourth of July music festival, Rooster said. The couple sold the property and moved back to Nashville in August 2017, exactly one year before a friend phoned Rooster and told him about the space that had just become available at Texaco Plaza.
Back they came.
Assuming that BBQ on the Brazos will return with the same staples as before, its menu and the menu at Rooster's BBQ will be much the same, featuring brisket, pulled pork, potato salad, baked beans, green beans, macaroni and cheese, mashed potatoes, and banana pudding. But the owners of each establishment have their own way of preparing their meats and side dishes, of course, and each offers some unique items. BBQ on the Brazos had pecan cobbler on its menu, and Rooster's offers an appetizer of Texas-sized cheese sticks. During a trip to Lubbock with Lori, he figured out the recipe used by a restaurant that is popular among Tech students.
Another difference is that he and Lori are planning to offer nights for steak, shrimp, and catfish. Rooster said he may even resurrect his 72-ounce challenge that was a feature at his Nashville eatery. Anyone who can down a 72-ounce steak with sides and bread won't have to pay for the meal. 
Lori said that after receiving many requests from Granbury commuters to open earlier and offer "breakfast on the go," Rooster's will be open from 6 a.m. to 7 p.m. or later Mondays through Saturdays. 
Rooster's doesn't sell beer or wine, but customers can buy those beverages at the Texaco convenience store and bring them into the diner to drink with their meal. Both the downstairs and upstairs dining areas have mounted televisions. Lori wants to have them tuned to football games, but, considering the ongoing controversy over players who kneel during the national anthem, Rooster isn't sure that's a good idea.
The couple is once again living part-time in Granbury, where Lori knows many people who work in the Granbury school district. They intend to split their time between their businesses in Nashville and Cresson, relying on employees at both sites to handle day-to-day operations when they are absent. 
On the Sunday of Labor Day weekend, Lori messaged me on Facebook.
"Girl," she said, "we have been BUSY the 3 days we've been open with folks LOVING it!!!"
*****
A warm breeze whipped a cluster of flags at a makeshift outdoor market by the busy Cresson intersection as traffic noises mixed with the voice of George Strait singing "Does Fort Worth Ever Cross Your Mind?" at lunchtime on a recent Wednesday. The music was emanating from Max's Kitchen, a red 27-foot trailer nestled between the Gulf and Exxon gas stations where Max Mengel, his parents, and brother labor to make every item on the menu from scratch, including the sausage and tortillas for their top-selling All the Way breakfast burrito.
Mengel decided to go into business for himself after attending culinary school and working for a time at Ellerbe Fine Foods, the award-winning Southern restaurant on the Near Southside. In the seven years since his order-at-the-window operation opened with help from family, Max's Kitchen has developed a loyal customer base made up mostly of area blue-collar oil and gas workers and Granbury commuters.
Mengel said he has never paid a dime for advertising. He has relied instead on, well, word of mouth. It's working. One night I heard praise for the little food trailer in the little-known Texas town while listening to KERA. Max's Kitchen has also been featured in 360 West magazine and other publications. Ninety-two percent of reviews on TripAdvisor give Max's Kitchen an "excellent" rating, although admittedly the 92 percent does not represent large numbers of people. Still, though, one person referred to the eatery as a "hidden jewel," another posted that her brisket taco was "probably the best" she'd ever eaten, and one man claimed that his burrito was "hands down" the best he ever had.
"We wanted to kind of ease into it, but it started to pick up pretty quick," said Mengel, who turned 36 on the Sunday of Labor Day weekend. "Within a year, we were rockin' and rollin'."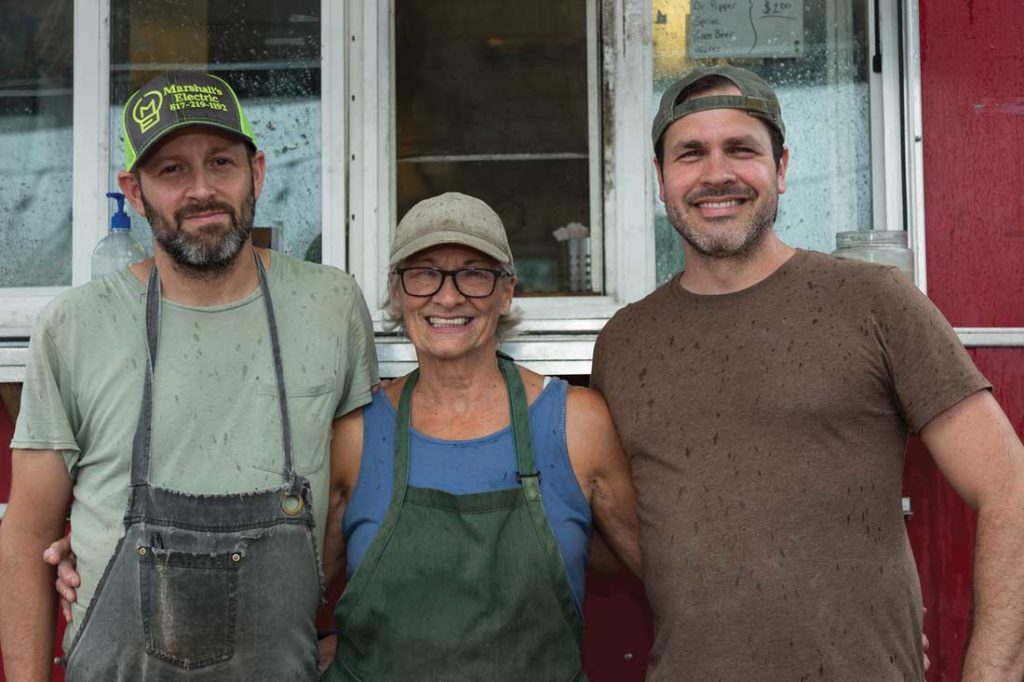 Although motorists who routinely drive the 377 corridor aren't exactly fond of the Cresson intersection, Mengel said the high-traffic area seemed the perfect spot to park his food trailer. 
"We were driving around looking for a place, and we saw how crowded this place, this intersection, always is," he said.
Elliott Mengel, Max's father, joked that they found "the worst spot we could possibly find." Mengel and his brother Casey, 37, moved to Granbury from Fort Worth last year. Tuesday through Saturday, the brothers wake up at 12:30 a.m. and arrive at the trailer an hour later to begin the smoking process and to make everything from scratch in preparation for the breakfast rush. Morning meal customers are mostly Granbury commuters, Mengel said.
Breakfast is served from 6 a.m. to 11 a.m., and lunch is from 11 a.m. to 2 p.m. The family usually locks up the trailer around 3. The grill is closed on Sundays and Mondays. 
Elliott and his wife Tonya drive in from their home in Weatherford, arriving around 2:30 a.m. In addition to helping with breakfast, they prepare lunch side dishes that include baked beans, potato salad, and coleslaw. The family has always enjoyed cooking together, but none of them had ever been in the restaurant business prior to the start-up of Max's Kitchen.
"We just decided to wing it, to give it a try," Mengel said. "Here we are, seven years later, going strong."
He tries not to feel bothered by a passage in that July 2013 Texas Monthly piece about BBQ on the Brazos that he said is incorrect. The writer, referring to the family-run food trailer up the road, stated, "No word on whether that trailer landed there in hopes that they'd get some business from inexact directions."
Max's Kitchen, its owner pointed out, was in operation two years before BBQ on the Brazos opened its doors.
All four family members said they love working together, even though the work involves odd hours and cramped spaces. For Mengel, his father's recent cancer battle helped him realize more than ever the importance of family.
"Being that tight, we'd kind of bicker and fight a little," he said. "But [the cancer] brought us all a lot closer."
Working the order window on a sunny Wednesday, Elliott said that family is "the perfect unit for a business" because it's just different when your coworkers are blood relatives.
Tonya said that the days are long, but they "thoroughly enjoy it. We enjoy the public. The customers are wonderful. I don't have anything negative to say about it except I could use a little more sleep."
Despite the cramped quarters, there are never too many cooks in the kitchen as far as Mengel is concerned.
"That's how it's always going to be," he said of working with his parents and brother. "We love working as a family."
*****
Peter Malin wants to talk to Sanford and Warren. He feels that BBQ on the Brazos would be perfect on the 400 acres he purchased in 2005, which includes two-and-a-half miles of frontage along 377. He's been waiting for TxDOT to pin down the exact location of the Cresson Relief Route before selling the land to developers for residential and commercial use. He has, though, sold a couple of lots for houses as well as six acres to Cresson Bluff Vineyards, where he said a winery is planned.
Because of the TxDOT project, he said, "basically nobody wanted to buy anything on the highway in Cresson because they didn't know, and really won't know until they break ground, where the highway's really going to go."
TxDOT officials say that the new four-lane divided highway will veer off 377 one mile north and one mile south of the Cresson intersection and will have a bridge to take motorists above the train tracks. The $61 million construction contract was awarded in August to the San Antonio-based Zachry Construction Corporation. Over the next four to six months, TxDOT will finalize right of way and coordinate with utility companies to relocate underground water, sewer, telecommunications, and gas lines and overhead electric utilities before construction work begins early next year, a recent press release stated. The project is expected to be finished sometime in 2022.
Construction of the bypass will presumably occur simultaneously with the building of homes and businesses in Malin's Cresson One North and Cresson One South developments, both of which have been platted, and additional development in Thomas' Cresson Crossroads, where Devon Energy Corporation is located. If the grant funding comes through, bypass construction will also coincide with the creation of the city's 23-acre park. Plans include playground equipment, a soccer field, horseshoe pits, walking trails, flower gardens, a basketball/volleyball court, exercise stations, picnic and barbecue facilities, and fields for baseball, softball, and tee-ball.
"Those guys that lost their lease – we ought to be putting in a building with a big deck or patio, and they can serve barbecue," Malin told me, referring to Sanford, Warren, and all that land he's about to sell. "We'd like to keep them here."
Cresson, Malin said, "is a crossroads like Frisco was 30 years ago. It's between Cleburne, Weatherford, Fort Worth, and Granbury-Stephenville. It will start to fill in."
Although he will not have a say in what type of homes will be built on his land once he sells it, Malin believes that the seven-acre lake and 40-foot bluffs that are there will merit "higher quality" homes and provide scenic views for restaurants. He also feels that Cresson may even be a prime location for a regional hospital. 
Both Malin's and Thomas' developments have their own Municipal Utility Districts (MUDs), according to Cornett, the mayor. The taxing entities allow developers to be paid back for infrastructure. MUDs are typically financed through bonds and are approved by the Texas Commission on Environmental Quality to provide sewage, water, drainage, and other services within districts where there is no city infrastructure. Although homeowners and businesses within each MUD's boundaries will pay taxes to the MUD, those outside of the districts will not be taxed, and the city itself will continue to not impose property taxes, Cornett said.
Cresson has "25 or 30" businesses, the mayor said, most of which are industrial and some of which are operated out of homes. Even though an industrial company may have a "huge plant," that usually doesn't add up to much where sales tax revenues are concerned, he noted.
The  amounts that individual businesses earn in sales taxes are not available through open records requests and are not included on the reports that Cornett receives from the state every quarter. But he knows that barbecue sales have been important to the city whose future he hopes to soon entrust to others. Now 78, Cornett plans to retire from city service within the next couple of years, a key point in the city's growth.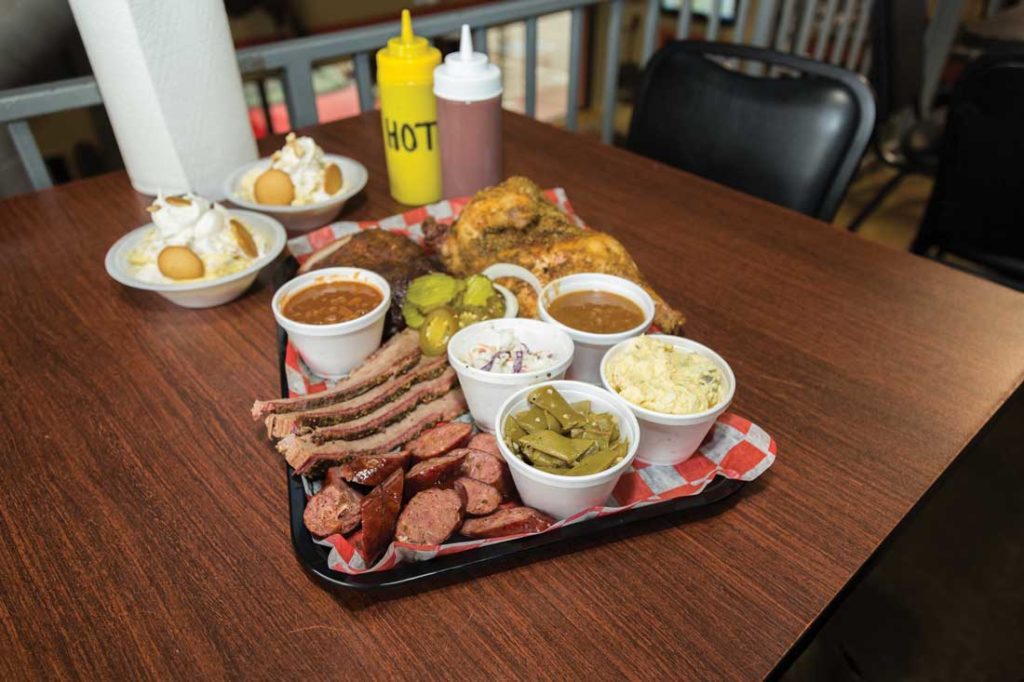 Around that time, the woman who has served as city secretary under Cornett will be elevated to city administrator (the equivalent of a city manager), and a new city secretary will come on board, Cornett said. Eventually there will be the need for a police officer and a public works director, but by that time, Cornett plans to be sleeping in and not answering his phone at odd hours.
Maybe by that time, his friends Sanford and Warren will have their restaurant built, whether it's on Malin's land or elsewhere. Mengel said the mayor sometimes comes to Max's Kitchen for lunch. He said that on one visit, Cornett told him about all of the new homes that are expected to be built in Cresson over the next few years. Mengel was surprised, though, when I mentioned what Cornett had told me about the big park with athletic fields and the backer roads off the bypass.
Mengel had been considering possibly moving his trailer to Granbury out of concern over how the bypass might affect his business. After hearing about what Cornett said, though, he decided to stay in Cresson.
"If it's going to be like this," he said, "we definitely will not move."