If there's one thing that's been depressingly absent in popular music since basically the turn of the century, it's rockstar mystique. Where stages were once stalked by long-haired and lecherous totems to sex, drugs, and rock 'n' roll made flesh, concertgoers must now settle for thoughtful, bespectacled, and otherwise wholly forgettable average mortals barely serving more purpose than a pantomiming jukebox. Sadly, the archetype of the rockstar –– as both tormentor of the button-down Tipper Gore set and enthralling snake-charmer of impressionable and directionless adolescents –– has essentially twisted into dust and been scattered to the recesses of the overstuffed memories of former hippies and graying Gen X-ers. In short, rock 'n' roll is no longer dangerous.
Whatever remains of that mythos has been commandeered and bastardized by kaleidoscopic, tattoo-faced YouTube rappers who've bled dry the bad boy image without refilling the stripped-bare coffers of artistic merit. But blues-tinged psych-rockers Royal Sons are doing their part to wrest away some of that bygone magic and reclaim the mantle of rock's forbidden anti-heroism. 
Armed with one of the most anticipated local albums in recent memory and a live show aimed at kicking down the barriers between band and crowd, the hard rockin', hard partyin' five-piece is focused on teasing listeners out of their comfort zones and pulling them into an unbreakable shared experience –– a music-guided trip into the darker, more intriguing spaces of human behavior. As frontman Blake Parish puts it, "We want [our listeners] to feel like maybe they're doing something they shouldn't, like it's a little naughty, but we can get away with it, like something seedy and dark is happening behind closed doors, but they want to find out about it."
Eager voyeurs will finally have their chance to peek at what seedy things the band has been up to behind those doors on Friday, Oct. 26, when Royal Sons releases Praise and Warships, their debut LP of chest-thumping '70s psych-infused heavy blues. The 11 songs will leave your neck sore from bobbing your head with your hair hanging in your face (provided you are fortunate enough to still have it) while air-guitaring along with the slinky bends of Chad Beck and Johnny McConlogue's serpentine fretwork. Whether over a vintage hi-fi or your favorite earbuds, the song are recommended loud.
*****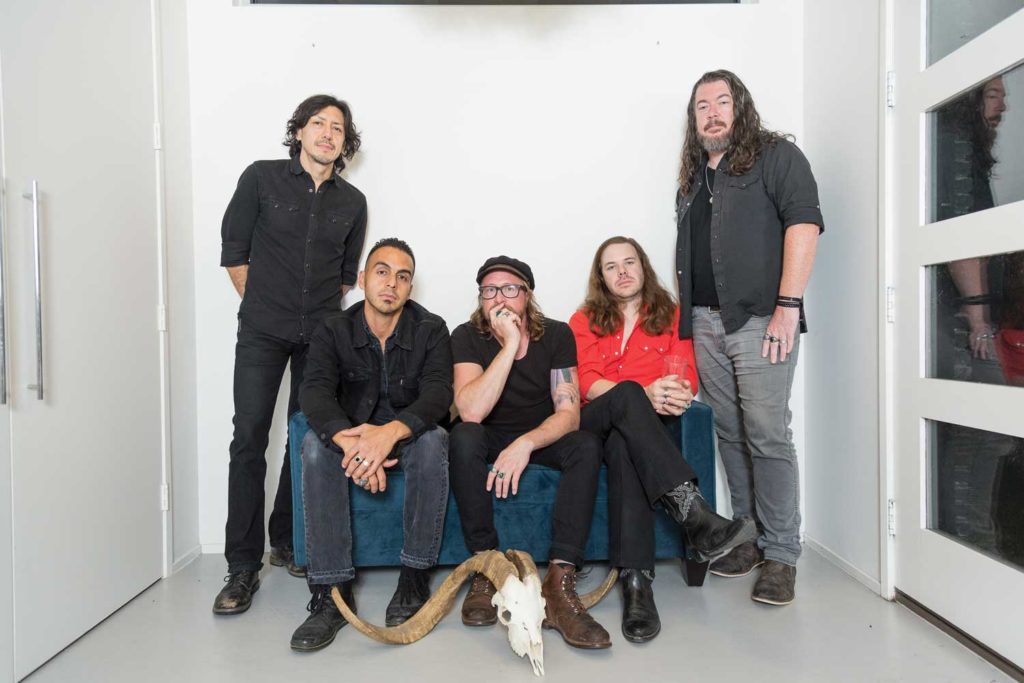 As the band's name suggests (intentional or otherwise), Royal Sons is the highborn progeny of two of the last decade's heavier hitters in local music nobility. During the turn from the aughts to the teens, Parish earned a reputation as one of the premier frontmen in the pantheon of the Fort Worth underground as the captivating and oft-acerbic mouthpiece for club scene darlings The Hanna Barbarians. The rest of the Sons –– Beck, who is also the band's principal composer, drummer Javier Garza, bassist Marcus Gonzalez, and McConlogue –– all hail from the high-powered Dallas-based band In Memory of Man. 
In their day, the Hanna Barbarians were as beloved a local band as had ever existed in Fort Worth. They were essential in earning Cowtown the credit it now enjoys as a legit music town for the scene they helped pioneer, if not for their short time as a band. In Memory of Man was a popular staple in Deep Ellum rock halls, routinely playing to crowds numbering in the several hundreds. 
The Barbs would eventually peter out, with a few of the members moving on to found junk-rock outfit The Longshots, leaving Parish dejected, tending bar at the recently defunct venue The Grotto and making due with the occasional acoustic cover gig. 
"I'd kind of been looking for another band after the Barbarians broke up," Parish said. "I tried to put a bunch of people together, and everybody was really talented, but I didn't really mesh with them. I sat in with a couple different groups and tried out a couple of different bands that were looking for a singer, and nothing really was striking my interest. I was kind of getting fed up and kind of fell into a bad despair."
Simultaneously, eastward down I-30, In Memory of Man was going through its own stall. Lead singer Alex Lilly began devoting more attention to a side project called Erstwhile, leaving his contributions to the dozens of songs the band had written unfinished. (They currently have a completed album sans vocals in the can that they hope to one day finish with Lilly.) 
Early in 2017, Beck, frustrated with IMoM's lack of progress, started to look for another outlet. After more than a decade spent in Dallas' melodic metal scene, he wanted to try something different. He wanted to get back to the music that inspired him to play guitar as a teen, he said, music that he shared a love for with his father.
This music "is what I'm more natural at," Beck said of his return to his roots. "My dad was a guitarist, and I grew up with Cream and all the classics. My first concert was John Lee Hooker and B.B. King and Johnny Winter. My first [guitar] lick was a blues lick, and my first progression was a blues progression. Everything I learned from [my dad] was all the blues."
Always mindful of local musicians and knowing who he wants to work with, Beck, a fan of both Parish's voice and stage presence, had had him in the back of his mind to recruit for a band for a few years. As Beck began to explore this new, bluesier material, he thought he'd stumbled upon a project that Parish might be a perfect fit to front.
"He was writing Blake songs and didn't even know it," Parish joked.
But actually getting Parish to pay attention to his pitches proved more difficult than he thought. 
"I knew I wanted to do something with this guy," Beck said of Parish. "But it took a long time. I kept bugging him at the bar at the Grotto, like, 'Hey, man. Let's do this. Let's do something.' And he'd just be like, 'Yeah, man. Sure.' And I could just tell, 'This guy doesn't even fucking remember me.' I swear it took like five years of me bugging him for him to even remember my name."
As In Memory of Man was still technically a band, the others took some convincing as well. In the spring of 2016, Beck invited Parish to a practice where the band was to jam on some of the new ideas Beck was toying with, so they could get an idea of what he was wanting to do. Parish decided to attend initially just to listen and drink, with the idea that he might join in if he was so inspired. After messing around for a bit, Parish's ears perked up at a certain lick Beck was playing. He asked him to keep repeating it and picked up his pen and began scribbling lyrics. Within an hour, the five of them had worked out basically a full version of what would become "Davey," the song that closes Praise and Warships.
After working out that track, despite its being a wild departure from any of the music they'd ever played, Garza and Gonzalez were squarely on board. McConlogue needed a bit more coaxing. 
"It was different than what I was used to," McConlogue said. "But I saw everybody kind of jumping in, and I could see what was happening, and then I was like, 'OK, don't leave me out! Just don't call it the blues, 'cause if you call it the blues, I won't want to do it."
To call Royal Sons the blues might be accurate, but it doesn't paint the whole picture. The riffs are 16 oz. prime rib-thick, and at times, the band is as heavy as any stoner metal trio, a byproduct of the rhythm section's hard rock past. 
"I never wanted to be, 'This is the blues –– let's do that,' " Beck said. "It's always our interpretation of it. Blake was trying to get the guys to start listening to older, bluesy stuff, and I was like, 'No, 'cause then we'll just do that.' I think it's best when we can have Javi do some Jon Theodore [from Mars Volta and Queens of the Stone Age] fill or something completely unexpected. We don't want to reach for something. We want to do something different. They start out bluesy, but by the time the song is completed, it's a little darker, a little edgier, heavier and more aggressive."
As the music was forcing the members out of familiar sonic territory, Parish found himself being pushed as well. The band had been playing together for so long that, despite moving away from what they knew musically, they were still really tight and well rehearsed. Parish, inspired by of the rest of the band, capitalized on their energy to experiment with just how far he could stretch his voice.
"Coming in to play with these guys was like someone tossing me the keys to a badass hot rod and saying, 'Why don't you take that shit for a spin,' " he said. "I've gotten to really dig deep and explore some influences that I had only gotten to entertain in my own head before. My voice has gotten a lot stronger with this band, and my range has gotten better. There are notes I can hit now that I couldn't hit five years ago."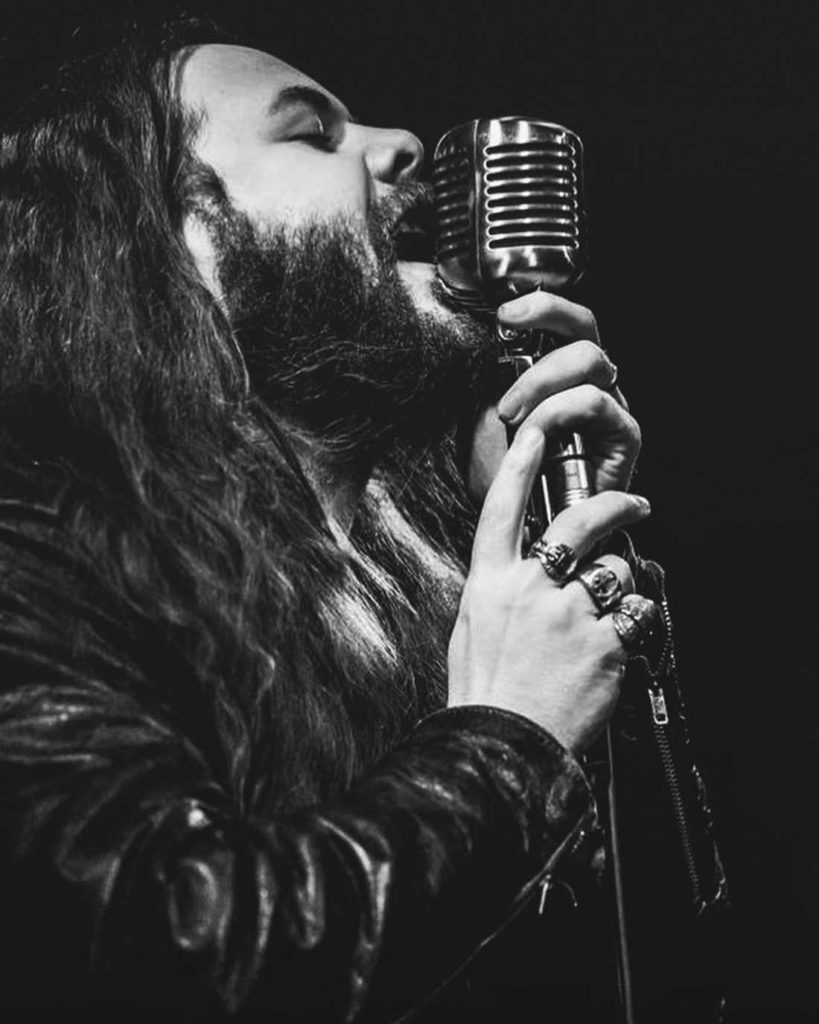 Once the Sons found their sound, Beck wanted them to stay rigidly focused on only the material that would make up Praise and Warships, a concept he employed to ensure the songs were down perfect and that when they were played live, the crowd would always receive the very best performance the band could muster.
"I've always written a lot and [am] always putting new songs into the set, churning and churning" Beck said. "But I made a conscious decision to focus on just these 11 songs, just these songs we'd written for the album, to record it, release it, and get it out into the universe before moving on. That way, we're not always distracted by the new thing. You know, because the new song is always the 'best' song, right? My theory was that if we just have these songs, everyone who comes to our show won't be thinking, 'Man, I wish they would play this or that.' And they get our all in those songs."
As the band members have pushed themselves, their goal was to push their listeners as well. 
"We wanted to draw a line in the sand," Beck said. "I want to divide the crowd and separate the [fickle fans]. I'd rather have only 100 loyal followers that really understand what we're doing and support it than 500 who are just, 'Yeah, these guys are pretty good or whatever."
Parish disagrees.
"He's speaking for himself. I want as many fucking people to like it as possible," he joked.
One way the band means to isolate the fakes from the fold is with the themes Parish explores in his lyrics on Praise and Warships. From the intrigue of "sin" and danger on "The Devil's Knockin'" and "Orale Culeros" to flirtation with sadomasochism on "Nobody Has to Know" and "Taste the Whip," Parish takes listeners on a tour of the taboo and the risque. He touches on the physical and mental toll of war on "Davey," a theme inspired by his uncle's experiences in Vietnam. He comments on our crack-like addiction to social media and electronics on "The Eye." In his words, we are both voyeurs and exhibitionists. "Watching you / Watching me / On your little screen!" he screams over the chorus.
Parish's disgust with people's attachment to their devices caused an uncomfortable moment for the rest of the band one night at a show at The Grotto when Parish started harassing concertgoers over having their phones out and filming the show instead of being in the moment and experiencing it with the band, which is the five-piece's stated goal with their live shows.
"I was just screaming, 'Put your fucking phones away, put your fucking phones away!' " Parish recalled. "Most everyone did, but this one guy didn't, and I just got right in his face saying, 'How can I have this moment with you when you're not even looking at me! You're just looking at your fucking phone!' The irony is that my wife was filming this all at the same time, so there's video of me bitching about people videoing me," he said with a laugh.
*****
To record Warships, the group went to Modern Electric Sound Recorders, the vintage Dallas studio owned and run by Dallas roots rockers the Texas Gentlemen. Recording began in May 2017, with some supplemental tracking taking place a few months later. Noah "Noaconstrictor" Eichler helped with engineering, and local singer-songwriter and lauded guitar whiz Matt Tedder offers some additional slide work on "Orale Culeros."
After briefly looking at other options, Beck and the others decided to once again recruit Barry Saling, who had produced all the releases of In Memory of Man and those of its previous incarnation, Loaded Moses, to run the sessions.
"Sometimes you think you want to add a [known producer's] name to a record, or you're looking for some new kind of magic, or whatever," Beck said. "We could have looked somewhere else, but why? Ultimately, we knew we wanted to take a brother, and Barry's a fucking brother."
Parish was unsure at first, but once in the studio, it didn't take long to convince him. 
"I was the new guy coming in," Parish said. "And the guys were like, 'Barry's the producer.' I was like, 'Fuck, are you sure?' I mean, I knew him from him running sound for me a couple times, years ago, but I didn't know what his style was or anything. But, man, Barry's a really talented guy. Everything I wanted, he already kinda had. The sound, the feeling, everything."
The studio and Saling's direction provided just the right environment for the guys to get into the right headspace, Beck said.
"We had to have the right vibe and the right feel," he added, "somewhere where we could get as loose as we needed to get to do our thing."
As the members are known for being enthusiastic partiers, Saling was responsible for making sure the Sons were comfortable enough to capture the proper feel they wanted while also keeping them on the right side of the line. 
"He's really good to work with and focused," Parish said. "He runs a tight ship, which is good, because recording is fucking expensive. Working with [Saling] kinda reminded me of, like, being a kid and working with your cool uncle, like, 'OK, we're gonna build this deck. You can have a beer, but you better still be able to swing a fucking hammer.' "
Adversity struck in the middle of making the album as Saling was diagnosed with prostate cancer just before the mixing sessions were to begin. Though his treatments delayed the process for nearly a year, Saling pushed through and delivered the mixes as he and the band were determined to do. Beck reported that Saling continues to be recovering well.
"When it happened, we were like, 'Dude, you gotta do your thing. This takes a backseat to everything,' " Beck recalled. "Of course, we didn't want anybody else [to mix it], but he had to go to treatment and had this crazy surgery, and when he got out of it he called me, and he was like, 'Look, all I've got to do is lay in bed and mix this album,' so we were like, 'Fuck it. Let's do it.' I think [the work] was a good distraction for him from everything that was going on."
After being mastered by Steve Nagasaki at Nagasaki Sound in Tucson, Arizona, Warships was pressed by Dallas' Hand Drawn Records on killer amber and smoke-marbled vinyl, with the slightly satanic goat's head cover designed by Beck and his father.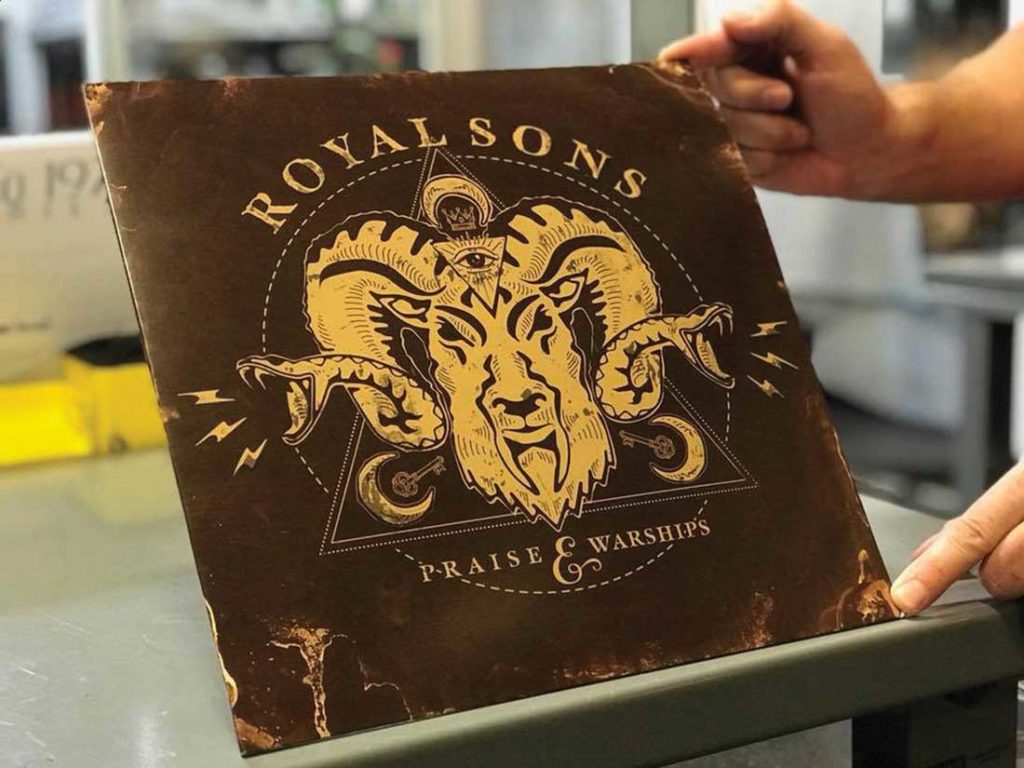 In anticipation of the album's release, the first single, "Let it Burn," and its accompanying video debuted last Wednesday. Shot in super-slow motion and edited by McConlogue (who is a professional video editor by day), the video gives a taste of the Sons' sensual live set.
The live experience has always been paramount for the band, Beck said. They feed off the crowd's energy, returning it back tenfold with Parish channeling a Jim Morrison-like shaman persona as he slinks around the stage, brandishing his Super 55 vintage-style microphone like a grenade while film projections of lava lamps cascade down the walls.
"We're all really boring in our real lives," Beck said, "so when we play, it's almost like we have these alter egos. We have this all inside, and we just let it out. We're mostly pretty quiet guys. Well, except for Blake. He's actually more quiet onstage."
Always striving to amplify their live show experience, the Sons refused to settle for the same old kind of release show in the same old clubs. Ambitiously, they've rented out the historic W.E. Scott Theatre at the Fort Worth Community Arts Center to be the spot where they debut the album. So close to Halloween, the band envisions a kooky carnival-style scene with magicians and fire-breathers entertaining attendees between sets. The Sons will be joined by several supporting North Texas artists, including stud rockers Dead Vinyl, the wildly interesting Cody Lynn Boyd, and the witchy, Fleetwood Mac-esque Atlantis Aquarius.
"We want it to be an event," Parish said. "We didn't just want it to be, 'Oh, great. These guys are releasing an album. Whatever. We want it to be a spectacle, something where everyone feels like they're in it. You're not just watching it. You're participating in it."
Though a band for only a little over two years, the members of Royal Sons are long-standing veterans in the scene with half a century's worth of experience among them. Perhaps to some degree they see this band as their last shot at doing something really meaningful, and they are going all-in on it. From reinventing their sound to resurrecting the atrophied guises of rockstar imagery, they're using all of their perspicacity to build what they hope is a lasting impression. 
"The thing about this band," Beck said, "is that there's fucking blood in it. There's years of harassing people who don't remember your name. There's being in bands with people you've known since you were teenagers. You get fucking cancer? Fuck it. Let's hang out. Let's fucking figure it out. If we're gonna call ourselves Royal Sons, that's maybe kinda ballsy, but we've earned our spot. There's a lot of musicians younger than me, and a lot of bands out there that are better than us, but when we do what we do, and we get what we get, it's because we deserve it. We fucking push for it." l