A bitter squabble between a family court judge and an associate judge over a candidate for a family court judgeship has wound up in the Tarrant County courts as a lawsuit.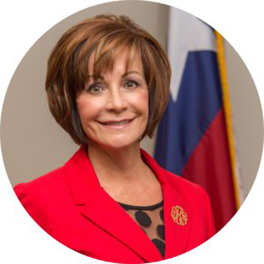 Diane Haddock, an associate judge in the 233rd District Court, recently filed suit against both Judge Patricia Baca-Bennett of the 360th District Court and Tarrant County, alleging that Bennett carried out a campaign of harassment that "created a hostile work environment." Tarrant County was named as a co-defendant for not taking steps to stop the alleged harassment despite being made aware of it on several occasions by Haddock, according to the lawsuit.
The gist of the lawsuit is that Haddock faced retaliation and harassment for the political speech of her husband, which is against the law.
According to Haddock's lawsuit, filed by her attorney, Walter L. Taylor, the campaign of harassment began in August 2016. That's when another family court associate judge, Jim Munford, declared his intention to run for judge of the 322nd District Court in the 2018 election, and Haddock's husband, Gerald Haddock, began to criticize him on social media. According to Haddock, Bennett, a Tea Party Republican who was elected in 2016, was pushing for Munford's election and asked Haddock to "get her husband under control."
A key section of the lawsuit notes that, "while trying to perform the duties of her job, [Haddock] has been subjected — both publicly and privately — to severe and pervasive harassment and a hostile work environment. This pubic and private harassment is making it more and more difficult for [Haddock] to perform the functions of her job, as well as causing her significant emotional distress. The constant badgering, threats, back-biting, undermining and maligning … have come primarily … from one of her supervising district judges — Patricia Baca-Bennett."
According to Haddock, Bennett demanded that Haddock talk with her husband "to stop badgering Munford."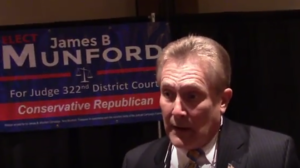 That badgering included questioning whether "Munford has been violating Second Amendment rights by signing family court orders seizing or requiring surrender of guns without any evidence of violence or danger; whether Munford abused and sexually assaulted his first wife, Denia Mendenhall;" and whether Munford's current wife had told friends of hers that she was terrified of him.
When reached by phone and asked to comment on the statements in the lawsuit, Munford said that as the case "is pending, and I'm mentioned by name in it, I don't feel I'm at liberty to discuss it."
The tension between Haddock and Bennett increased in the roll up to Munford's March 2018 primary election, with Haddock claiming that Bennett threatened to have her fired and that Bennett also made false public claims that Haddock was resigning.
In February 2018, an unnamed Fort Worth family lawyer — "who regularly practices in Tarrant Family courts" — set up Geraldhaddock.com. Since taken down, the website allegedly accused the Haddocks of spreading lies about Tarrant County political candidates, asked readers to provide the site with any "dirt" they might have on Diane Haddock, and referred to Haddock as "chicken lips." Judge Bennett is alleged to have supplied the "smear campaign website with fodder against the Haddocks," according to the lawsuit.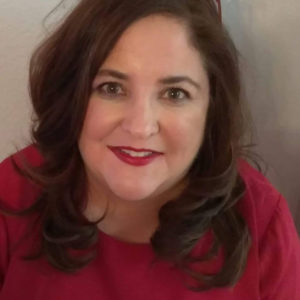 Bennett is also accused of trying to convene a meeting of the district judges to have Haddock fired and later of telling Haddock's immediate boss, Judge William Harris, that Haddock had suddenly resigned. Harris apparently believed it for a short while. Bennett is also alleged to have made several social media posts about the alleged resignation, which "interfered with [Haddock's] employment and demeaned [Haddock's] marriage and family relationships to all who read them."
Haddock also claims that Bennett's posts incited many lawyers who regularly appeared in her court to "trash" her, which undermined Haddock's authority as a judge.
While all of this was going on, Munford won his primary and is on the ballot this year, which Haddock claims has only caused Bennett to ramp up her efforts to get Haddock fired or to push her to resign. Haddock's preference, according to her lawsuit, is to remain on the bench until "her originally planned retirement date of January 2022."
Haddock is unsure that she will make it to that date because of the alleged campaign against her. In essence, she feels as though Bennett has put her in an untenable position of having to choose to "disassociate (divorce) from your husband or lose your job."
Haddock's lawsuit requests a jury trial and is seeking that the defendants permanently halt all retaliation and award Haddock "compensatory damages for the harm that she suffered, past and future, caused by [the] unlawful retaliation against her" and damages to cover her legal fees, among other things. No dollar amount is attached to the suit.
I made several attempts to reach Judge Bennett, Tarrant County, and Haddock's lawyer, Taylor, but no one was available to discuss the lawsuit by press time. It is not known whether a countersuit has been filed.
Editor's note: This article has been updated to correct erroneous information. Munford won his primary and is on the ballot. We regret the error.