Each fall, North Texas Beer Week (November 2-11) dutifully covers the spread between Halloween and Thanksgiving with promises of creative beer events and new brew releases. For those of us on the western half of the North Texas divide, here are some highlights.
NOVEMBER 2
Scott Collins Project at Division Brewing

Austin-based singer-songwriter Scott Collins brings his trademark indie-folk sound to Division Brewing this Friday. His tunes promise to be as colorful and varied as the beers on tap. The show starts at 7pm.
NOVEMBER 3
Revolver Brewing Saturday Tour Event

The several hundred locals who pack this brewery every week can't be wrong. North Texas Beer Week is a great excuse to start your Saturday off with a brewery tour from 12-3pm. Expect live music, fun tours, beer tastings, catered food, and great beer-centric conversations. No pets allowed but kiddos (leashed or unleashed) are welcome.
Learn to Homebrew at Cowtown Brewing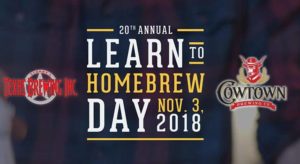 The first Saturday in November is something of a homebrewer's version of 420 Day. For most of the novice brewers, though, the only thing getting high will be the temperature of the wort as thousands of Americans celebrate National Learn to Homebrew Day. You can participate in this time-honored tradition under the guidance of Cowtown Brewery head brewer Sean Kidwell at his new brewery/restaurant. For more information, visit the event page.
NOVEMBER 6
Mall Madness World Championships with Ballast Point at Free Play Arlington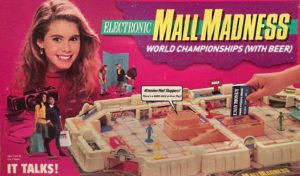 The term "vidiot" entered my vocabulary upon reading this press release. The rule of thumb is to use a new word three times if you want to remember it on SAT day, so here we go. Hey, vidiots, Free Play Arlington is hosting an Electronic Mall Madness tournament. You can cool off as your fingers work up a sweat with Ballast Point Brewery options like: Barrel Aged Victory at Sea, White Wine Sour Wench, Dead Ringer, Peanut Butter Victory at Sea, Indra Kunindra, and others.
The event promises to have more vidiots per square foot than a '80s trivia night.
NOVEMBER 9
Revolver Brewing Tap Takeover at Social House Fort Worth

Clink pints with Revolver staff at this rare tap takeover, featuring pourings of Sangre Y Miel, Full Tang, Long Range Pils, and Blood & Honey. Starts at 6pm.

NOVEMBER 10
Rahr & Sons 14th Anniversary Party at Rahr & Sons Brewing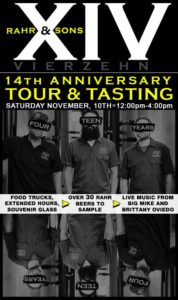 Rahr is all grown up now. These anniversary events are a Fort Worth must-see, er, must-drink experience. Each November, the Near Southside brewery churns out a new anniversary ale while offering pours of past birthday releases. With more than 30 beers on tap, this unique event is a laudable survey of the brewery that put Fort Worth on the beer map. Purchase tickets here.
Don't forget to follow On Tap in Fort Worth's Facebook page.