Horned Frog football is bad for your health. Tight, infuriating games plagued Gary Patterson's squad all season. Purple players sustained so many injuries I'm wondering if it influenced TCU's decision to acquire UNT Health Science Center. Informed fans knew the Cheez-It Bowl would be a slugfest, as both Cal and TCU play exceptional defense to overcome abysmal offense. The plot to this script unfolded in a game so ugly to watch, it just might have been the best bowl match-up of the year.
Cheez-INT Bowl
The Bears and Frogs threw nine combined interceptions, a Cheez-It Bowl record and among the most interceptions thrown for all recorded bowl games. The teams scored 14 combined points during regulation. Neither group eclipsed 300 total yards. Quarterback play, if you can call it that, was abhorrent. TCU senior QB Grayson Muehlstein seemingly regressed during three weeks of preparation after his admirable performance against Oklahoma State. Muehlstein threw four interceptions, three before halftime. Two of the senior's interceptions came on illegal forward passes. The pundits did their best to keep talking through their obvious confusion, as such ham-fisted offense seldom occurs at even the middle-school level.
Cal wasn't better –– its two quarterbacks combined for five interceptions. Freshman slinger Chase Garbers started the game for the Bears and rushed for the only Cal touchdown on a short drive after Muehlstein's first interception. Garbers threw three picks of his own in the first half, and coaches replaced him with senior Chase Forrest. When Forrest took the field, he and Muehlstein were the only two senior quarterbacks in the country to have never started a game before their senior season.
Jalen Reagor
TCU sophomore receiver Jalen Reagor is the iron lung supporting a dying offensive unit. All eyes fixated on the standout receiver to perform as the best player on either side of the ball. Clearly, as commentators pointed out several times, something was amiss with the juggernaut. Reagor seemed to be nursing a lower body injury from the outset, and the outstanding Bear secondary would not allow him to get rolling. The mere presence of Reagor as a decoy opened holes for fellow Froggies. Even an injury could not neutralize the electric receiver, who did most of his direct damage to Cal on kick returns. The lone TCU touchdown was built directly from a pulse-pounding 58-yard punt return by Reagor in the fourth quarter. Even the struggling Frog offense efficiently punched the ball into the end zone after starting from the Cal 33-yard-line.
Se-Woah
Coach Patterson and offensive coordinator Sonny Cumbie didn't have many options for yards or points, but they had Sewo Olonilua. The junior running back brought his bruising talents straight to the front seven of the Bear defense and ground them to the bone. Olonilua carried the ball 32 times for 194 yards and bulldozed for TCU's sole touchdown. Olonilua is the second runner on the depth chart and usually receives short yardage and change-of-pace carries behind the injured Darius Anderson. He was the obvious choice for offensive MVP honors in a game with only two scoring drives.
Kicker Catastrophe
TCU had an opportunity to kick their way to victory in the waning seconds of regulation. A long rush by Olonilua put the Frogs in field goal range with three ticks left in the game. Frog placekicker Cole Bunce trotted out to kick what would be the walk-off-winning field goal. Cal coach Justin Wilcox called a timeout to ice Bunce, who ran to the sideline to chat with Patterson. In a bizarre series of events, Patterson seemed to change his mind and call on TCU's other kicker, Jonathan Song, to kick instead. Bunce, obviously dejected, tore off his helmet and walked back toward the bench before being called back to hurriedly re-helmet and try for the game-winning points. Bunce missed the 44-yard field goal attempt, and this dumpster fire of a game continued to burn.
More Cheez
The shorter drives of overtime were a godsend for these woeful offenses. Cal took the ball first and promptly threw an interception that was nearly returned for a touchdown. TCU needed only a field goal this time to end the madness. Patterson didn't hesitate, sending Song out to nail his second game-ending field goal of the season.
Watching this game was like being trapped in Netflix's Bird Box –– the sight of it would cause you to either instantly wish for death or run around forcing others to watch it blabbering about how beautiful it is. Despite the missteps by the offenses, weird illegal interceptions, and game of musical kickers, this odyssey is an instant classic. It's nearly impossible to conceptualize this many bizarre circumstances and puzzling mishaps. The roller coaster season is over, but TCU won their third consecutive bowl game and cemented the understanding that even when everything goes wrong, Frogs can still win.
Basketball Bears
From now on, it's all hardwood hijinks with football season closed. TCU hasn't hit the court since their victory over Indiana State to win the Diamond Head Classic tournament in Hawaii. A scheduled game against the Hawaii Pacific Sharks was cancelled out of respect for the death of Shark sophomore Emil Isovic, who collapsed during a game against Southern Nazarene and later died on Dec. 26. The cancelled contest gave the Frogs a long layoff to prepare to open Big 12 play against the Baylor Bears at home in Schollmaier Arena.
Bad News
Coach Jamie Dixon's Frogs have been exploding offensively since an early letdown loss to Lipscomb that dropped them from the national rankings. The Frogs sprinted through their Hawaii tournament, and junior guard Jaylen Fisher's three-point shooting has been a pivotal component of the offensive onslaught. Fisher sat the bench on Saturday to rehab the knee for which he had surgery last year. Kaden Archie also didn't see the court. The four-star freshman forward decided to transfer from the team due to the lack of minutes he received during non-conference games. The loss of Archie does not make a significant dent in the Frog attack, but, combined with Fisher, the bench looked lean against Baylor.
Early Onslaught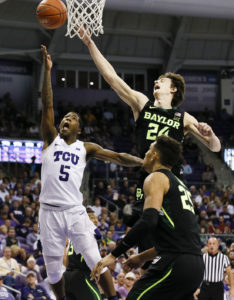 The Frogs took the tip-off and ran. The first half was positively purple from every angle, with superior rebounding and shooting. Desmond Bane revved up his offense to make up for the absent Fisher and finished the game with 22 points. Senior Alex Robinson continues to prove he's simply the measuring stick for point guards in the conference and throughout the country. He finished with 18 points and 10 assists for a double-double. The Bears struggled to shoot from beyond the arch in the first half. Their 2-2-1 zone was no match for Robinson's pinpoint passing. Despite trailing by 12 points at halftime and 18 in the second half, the Bears, much like the university's bad press, just wouldn't go away. The Waco wannabes thundered back within one point of Dixon's squad before being forced to foul with less than a minute to go. Clutch free throws by Robinson closed out an opening conference win for TCU and the third consecutive win over their Interstate 35 rivals. Dixon and company are out on a work trip this week, as they visit Big 12 powerhouse Kansas on Wednesday and Oklahoma on Saturday. The conference picture will be clearer next week after tip-offs against these two Top-25 opponents. And guess what? TCU has been returned to the national rankings and is now No. 25 in the AP.