This hasn't been a Cinderella season for our Frogs. Maybe if Cinderella had found her slipper, then tripped, shattered her ankle, and embedded shards of glass in her hands from the demolished shoe while the prince screamed in horror. Injuries. Transfers. Now assistant coach Corey Barker is on administrative leave after being linked with an agent convicted in a college basketball corruption probe. Despite all that, Coach Jamie Dixon and his boys had one last chance to rewrite their tale to beg for an invitation to the grand NCAA ball when they traveled to Austin on Saturday. The Longhorns fell to our Funky Five earlier this season in Schollmaier Arena, but traveling has been cold and lonely for the Frogs.
Last Chance
The burnt-orange Bevos are tough in Austin and this season fell only to Tech and K-State, the regular season Big 12 co-champs. Both orange and purple were fighting to make last ditch tourney pleas: UT trying to boost their conference record to 9-9 and TCU all but eliminated without a second road win to boast from an otherwise lackluster conference record. Texas looked polished in its half-court game, while the Froggies stole opportunities for easy transition points from full-court passes. The game was a back-and-forth affair. Lead, tie, lead until Texas seemed to break free, thanks to their dynamic forward Jaxson Hayes throwing down a posterizing alley-oop. A six to zero run by the Longhorns must have thrown fear into Dixon's disciples. They responded with 11 points before the home team could sink another basket. TCU's scoring run seemed to restore previously lost shooting confidence for the Frogs, and three separate purple players landed long balls during the last three minutes of the half. Dixon and company enjoyed a 35-27 lead heading into the locker room. They hadn't led at the break since beating Iowa State last month.
The duo of senior guard Alex Robinson and freshman forward Kevin Samuel started the half harassing UT with pick-and-roll poetry. The biggest highlight was junior Frog guard Desmond Bane. Everything else was a footnote. Bane, who started the year as the offensive star, has been woefully inconsistent, but he was unstoppable in Austin, swishing his first six three-pointers and accounting for almost half of the Froggers' total points by the end. Bane logged 40 game minutes (that's all of them) and scored a career-high 34 points. None of his teammates dropped double digits. The Longhorns' mid-range game, which had kept them close in the first half, fell apart like Angela Paxton's integrity. Our boys led by as many as 20 during the second half and happily milked the clock through the last five minutes of play as the burnt-orange watched their hopes for tournament inclusion tumble like sand through an hourglass. TCU won their second road game of the season 69-56 as they swept UT.
What Now?
The Frog ballers are something most TCU students/alumni are not: middle-class. Seven conference wins versus 11 losses for Dixon is worse than last year. The dribblers finish the regular season in eighth place behind the slimy Sooners, who also possess a 7-11 record in Big 12 play but swept the Frogs on the season and own the tiebreaker. TCU split games with West Virginia (last place), Oklahoma State (ninth place), and Baylor (fourth place). Iowa State (fifth place) and Texas (sixth place) each failed both times they faced the Frogs. The Jayhawks from Kansas are in third place and swept TCU but needed overtime the second time they met. Co-champs Texas Tech and Kansas State swept our boys and did so decisively. Or in the case of Tech, one could say dominantly.
The next tip for Dixon's team is the first game of the Big 12 conference tournament on Wednesday night against Oklahoma State. The winner moves on to play K-State. Senior JD Miller heroically floated the Frogs past OK State at the buzzer in Fort Worth before TCU traveled to Stillwater and lost to the Cowboys by seven. The tournament goes down in neutral-site Kansas City, and another win could help persuade the dance committee to take a chance on Fort Worth's finest. It's unlikely they could get past the Wildcats' stingy defense with 24 hours of rest if they do win on Wednesday, but they don't call it March Moderation. Some bracketologists still forecast the Frogs as part of the last four teams to receive a tournament bid if they wash out against OK State.
Perfect Shots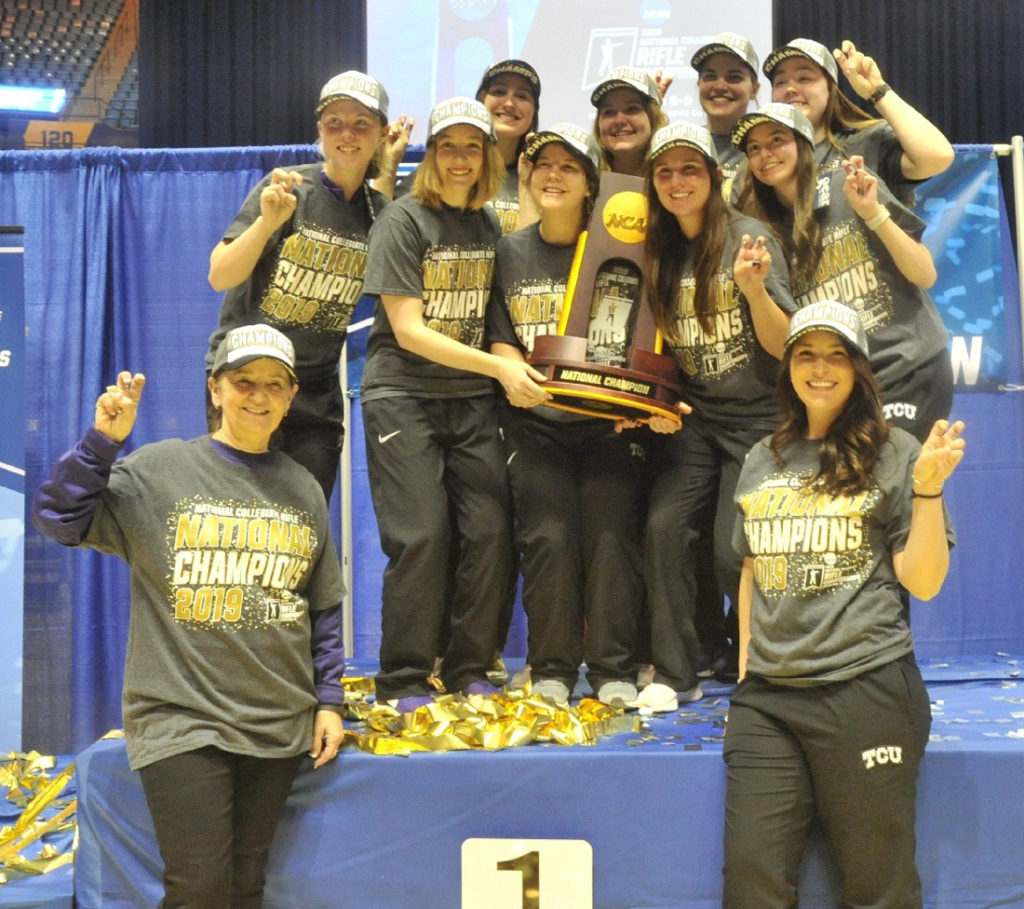 I would be remiss to exclude TCU's newest set of national champions from Buck U this week. Last weekend, women's rifle showcased their talents at the national championship meet in Morgantown, West Virginia. Rifle has two classifications: smallbore and air rifle. Sophomore Elizabeth Marsh bulls-eyed the individual championship in smallbore and was only the second shooter in program history to win an individual title. The Frogs also won the national team championship in the smallbore event. Freshman Kristen Hemphill joined Marsh as the third individual national champion in program history by edging teammate Angeline Henry by .3 points in their air rifle duel. Henry finished as national runner-up. TCU fell second to the Air Force Academy in the team air rifle competition (posting an identical score but losing in a tiebreaker based on bullseyes). Still, TCU hoisted the overall national team championship trophy. This natty is the third for the sharp-shooting Lady Frogs program since 2010.