My head snapped back as her right glove hit my jaw. The blow from my 132-pound opponent was just enough to knock me off balance, and before I'd repositioned my hands to protect my face, I was catching my fall with my 10-oz. red boxing gloves, staring up at a referee in a light blue shirt with gold lettering marking him as a Golden Gloves official. I immediately stood to my feet, my first thought playing louder in my head than the screams of spectators in the stands at the Will Rogers Watt Arena. I can't let my parents see this. I clenched my jaw and jumped to my feet nearly as quickly as I'd fallen and looked the ref in the eyes. I couldn't appear shifty or dazed and confused. I had to stand here and hold my gloves out, step toward him, and answer with a firm yes when he asked, "You good to box? You feel good?" I nodded to be emphatic and moved to the corner of the ring, where my coach wiped blood off my face and reminded me to "breathe." 
I was fighting in my first amateur boxing competition in the 2019 Fort Worth regional Golden Gloves earlier this month. Mercadies Ramirez and I fought the 16th bout of the night in the 132-pound novice women's category. We were matched up because we were the only two female athletes who had fewer than 10 fights (marking us as novice), and we weighed between 126 and 132 pounds. That also meant that whoever won the fight would become the Fort Worth Golden Gloves champion in our division. 
I began training in the sport of boxing in the fall of 2016, my sophomore year of college at TCU. When I tell people I box – competitively – they look me up and down and shake their heads. "You?" I realize I don't fit the typical profile of a boxer. I'm a 22-year-old female who started learning how to throw a punch only three years ago. I was far behind many of the boxers at Reyes Boxing Gym, who grew up watching the sport on TV and started training when they could punch only the lower half of the heavy bags that hang from the gym ceiling. I set a goal to train and learn as much as I needed to be ready for my first fight. I drilled myself with sweat-heavy workouts, hitting the heavy bag, shadowboxing, sparring, and even pulling a tire up and down a slope outside a gym. Curiosity and an eagerness to prove myself compelled me to keep going: Could I endure getting punched in the face without losing stamina? Could I win a fight?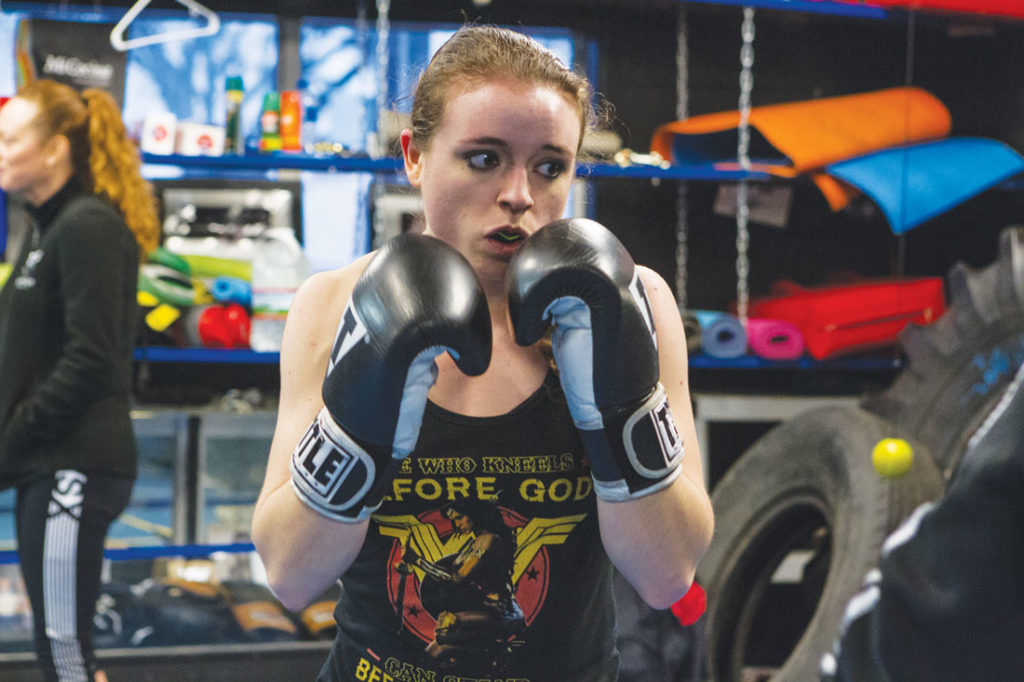 Five judges would decide the winner of our bout based on points, unless a medical or other disqualification or knockout took one of us out of the running. Our coaches and the referee would decide if we could continue fighting. For the novice division, we fought for three rounds, each lasting one minute with one-minute rests in between. That meant I had only three one-minute opportunities to prove myself to the judges. Ramirez' punch to my face that knocked me off balance earned her points. When I started landing more of my head and body shots in the third round, that earned me points. Within this judging system, certain punches weren't allowed. I couldn't hit anywhere on Ramirez' backside (including the back of her head) or anywhere below her waist. Also, punches could be blocked with shoulders or gloves or arms, and none of those counted. Body shots and headshots counted. I was in red, and she was in blue.
*****
The first thing I learned how to play wasn't a sport — it was the piano. Football, volleyball, and occasionally the Olympics were the only sports that my parents or older brother ever watched on TV. Yet I grew up in a family of outdoors-loving athletes: a mother who'd played volleyball for the University of Texas during the team's 1988 national championship, a brother who played football at Vista Ridge High School and now powerlifts competitively, and a father who formed a giddy smile any time the subject of camping came up.
I tried to shake off the pangs of jealousy I felt when my brother could outrun me or climb far higher branches on the Sycamore trees in our backyard. While he built up his body through football and weightlifting, I reminded myself I was strong in other ways: I could read sheet music, sing, and spend hours filling the pages of my journals with poetry and fiction stories.
It wasn't until I started weightlifting in high school that I began to see myself as physically empowered, not just artistically gifted. The stares I attracted when I wore little to no makeup and leg-pressed half my weight felt like a step forward for me and for women in general. My girlfriends asked me to act as their personal trainer and would blame me a day later for feeling sore in parts of their body they didn't even know they could develop.
Then, in my first year of college at TCU, I felt weak again, and I hated it. I was no longer situated comfortably at a neighborhood recreation center where lifting 20-pound dumbbells looked impressive. At the TCU recreation center, college students ripped through the gym like they were born into it: women in yoga pants with nicely defined butts and guys lifting dumbbells half my weight.
I needed a sport that didn't require hand-eye coordination or unlimited amounts of strength, something that could satisfy my need for blood-pumping, adrenaline-building action. And after binge-watching shows like Arrow on Netflix, my dramatic brain connected the sport of boxing to feeling like a superhero.
That year, I experienced my first taste of boxing in the ring when I hit mitts with a trainer at Title Boxing, a cardio-boxing franchise with two locations in Fort Worth. Each time I swung my right glove into a mitt by Mark's face, I heard a snap that emboldened me. My knuckles earned cuts from the heavy pounding, and Mark joked that I still had "virgin knuckles." I also had only so much money and couldn't afford the personal training sessions, and the gym didn't allow patrons to punch each other in the face. I realized what I really craved was the thrill of fighting, not just punching. 
"You'll need to go to an old-school boxing gym if you want to compete," a trainer at Title later told me.
I first told my mom I wanted to compete as an amateur boxer at our family's annual Columbus Day camping trip two Octobers ago. We were eating chili around a campfire when I announced my intention. I wore my bruised knuckles as a badge of honor and willed my mom to look at the months of training I'd been putting in at Title Boxing. 
"Why now?" my mom asked. "I mean, you were perfectly content with lifting weights and punching a bag for the last two months. When did this become something more?" 
I paused, dunking a piece of cornbread into my bowl. "This isn't just about fitness," I said. "It's about proving something to myself."
If I could slip and land punches fast enough and smart enough, I could win a fight.
"And Mom?" I asked hopefully, "I'd like for you and Dad to be at my first fight."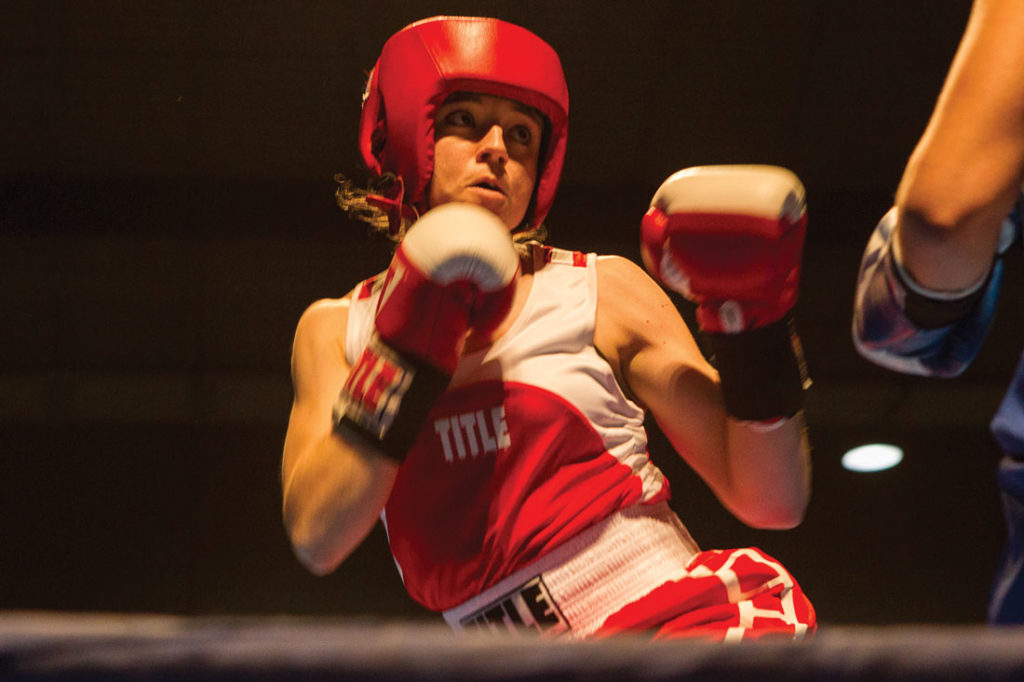 *****
When you start out in the sport of boxing, and you don't know what you're doing, because no one in your family boxed and you're a college student with courses and internships to work around, it becomes very challenging to commit enough time to that sport to achieve consistency. Technically, I could say I've been training for the past three years, but for half a year I only cardio-boxed and for another half-year I trained at a gym that didn't have enough female sparring or training for me.
During summer and holiday breaks, I would return to live at my parents' home in Cedar Park and spar at Richard Lord's Boxing Gym in Austin. I brought my mom and dad out to the Austin gym on several occasions in the past two summers and involved them in recording videos of me. Each time I felt they were connecting a little deeper with my love for the sport. 
It also helped them to see safety measures in play, like Lord's rule that heavier boxers "pull punches" during sparring. At the Austin gym, my dad watched me spar a stocky male boxer named Caleb, who lightly probed the space around my head with his jab. Caleb's shoes came untied after the last round, and my dad walked up to the ring and tied them, which was his way of saying, "Thank you for not hitting my daughter too hard." I wanted my parents to see me as an empowered warrior, not a beginner, but at least they were becoming more familiar with seeing me in the ring.
Last year, I trained consistently at Reyes Boxing Gym in River Oaks. John Andrews, and other coaches like Vincent Reyes and JB at the gym, all coached me using the same basic guidelines, so I wasn't hearing 10 different training styles. I could unlearn poor fighting habits picked up from two years of consulting too many YouTube videos to learn strategies. Andrews taught me to slip punches and drilled me in combinations like "one, two, step right, two." He later coached me in my corner at the Golden Gloves. 
I had my real family and my figurative family of Reyes Boxing Gym behind me, and they pushed me to train harder. I visited the gym multiple times a week, plugged my phone into the speakers in the gym, and blasted my "this is more than just a fight" playlist inspired by that epic line breathed from Michael B. Jordan in Creed II. I jumped rope and ran to build my endurance. I invested in a better mouthguard and headgear and sparred females in my weight class like Nicole Ocasio, who holds an amateur record of 20-4 and has won multiple national titles, including that of the Golden Gloves. 
In one sparring session with Nicole, I bled all over my mouthguard and face when I absorbed hard punches to the nose. My coach held a cloth over my nose and pressed firmly for a few seconds before I continued the round. 
That night when I grabbed an icepack out of the freezer, my roommate asked what happened.
"I got a nosebleed!" I grinned with excitement. 
"Why do you do this again?" she asked, throwing up her hands. 
I pressed the icepack to my nose and said dramatically, "Because once you taste blood, there's no going back."
She backed away slowly.
*****
The week before the Golden Gloves, my coach met with me outside of regular gym open hours to drill me on keeping my distance and changing up my angles. The day before the fight, I shadow-boxed in front of the mirror at the gym, mouthguard in place, watching my veins get all tensed up. 
"I feel like I'm not loose enough," I told my coach. A beat passed, and then a flood of emotions came through in a string of words. "I don't know if I'm good enough, how do you know if I'm ready, what if she's fought multiple times already, what do I do if—" 
He pressed firmly on my shoulders and looked me in the eye: "I wouldn't put you in the ring if I didn't think you were ready." 
I told him I was petrified, not of getting hit but of disappointing myself and others. He told me I needed to have the mentality that I could win.
 "Leave it all in the ring," he said.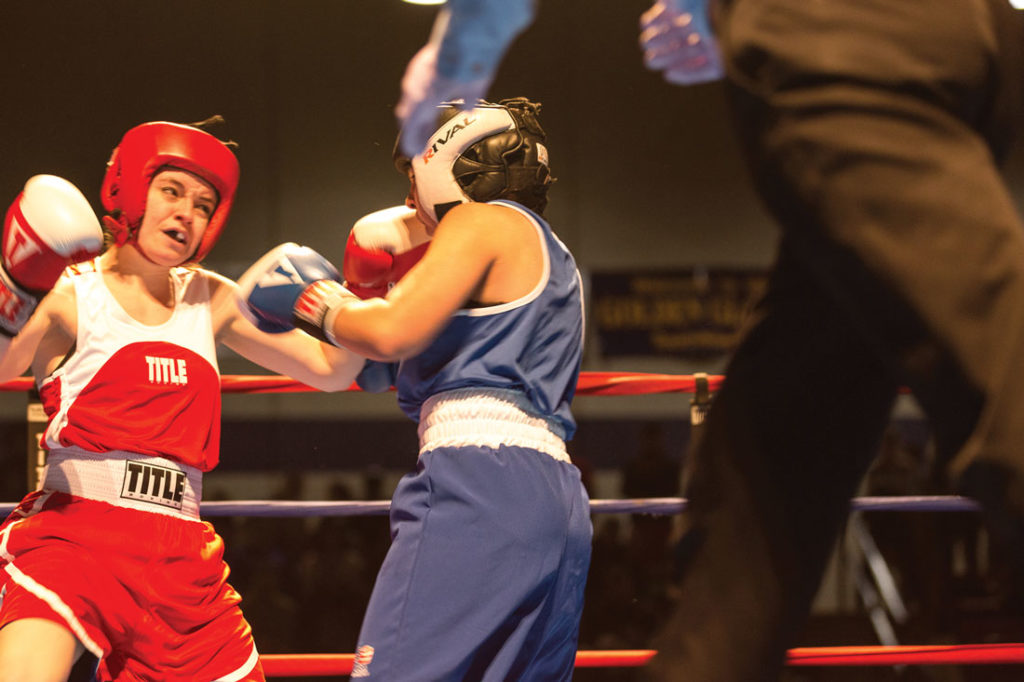 That Saturday, I had gotten only four consecutive hours of sleep when my parents arrived from the nearly three-hour drive from Cedar Park to my apartment. As I bounced around in braided pigtails and my Reyes Boxing sweatshirt, I thought I was the excited one. Then I saw my mom trotting down the apartment hallway humming the Rocky tune with her fists in the air. She'd also brought Band-Aids in her purse, but she expressed her complete faith in my fighting ability.
As the Golden Gloves officials checked me in to fight at Watt Arena, I moved through several stations. I weighed in at 126 pounds, six below the maximum weight of 132 for my category. My coach escorted me to a backroom, where he taped my hands with thick rolls of gauze. The doctor saw me and checked my strength. I lined up with fighters in order of our bout numbers. In another backroom, they checked our headgear and gave us each 10-oz. gloves, different from the 16-oz. gloves I'd sparred with. In the warm-up area by the ring, all gloved up, I hit the mitts with my coach and continued babbling about my insecurities. 
My Golden Gloves opponent had one victory under her belt already, but I didn't know this when I stepped in the ring with her. If I'd known how skilled she was, I might have reconsidered my aggressive approach and eased up to my punches more. But I also had only three one-minute rounds to show the judges how many punches I could land. My coach knew I needed my inner beast to unleash itself in the ring. He reminded me to "breathe" and "remember your training." 
*****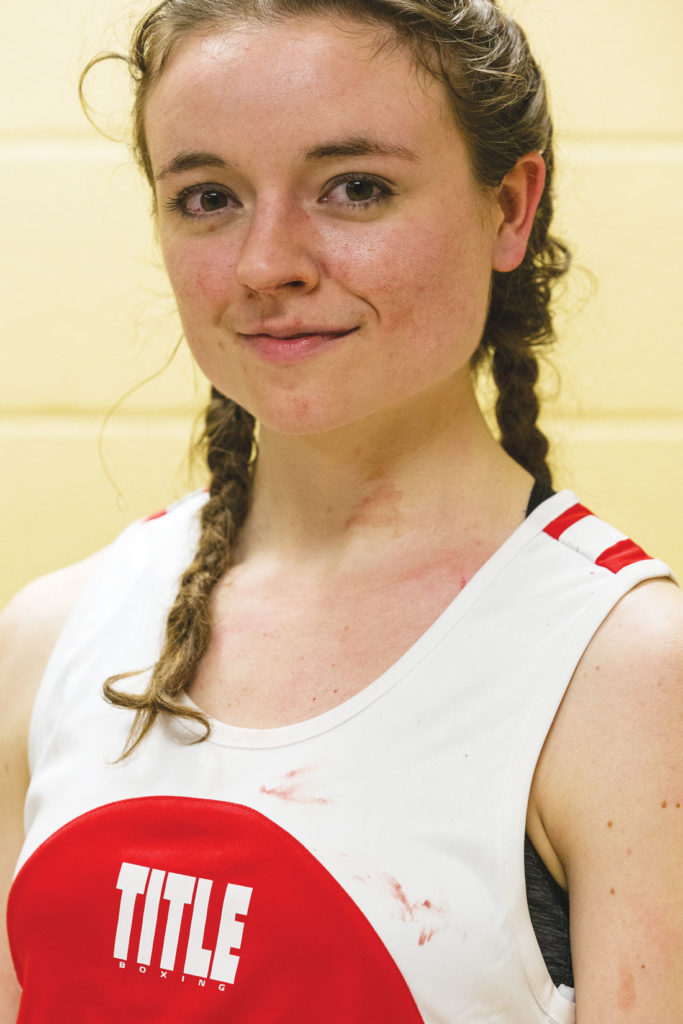 Muscle memory didn't kick in as much as I hoped it would during the real fight. From the first few punches that my cheeks – and nose and forehead and jaw – absorbed, I had a feeling this wouldn't go well for me. I was punching as often as possible, seeking points, but my defense was raw, unchallenged by a real fight until that evening. Sparring was the closest I could get to the real fighting experience, but sparring with 16-oz. gloves only punished me a little if I forgot to duck — it didn't pack the same density as a 10-oz. glove jammed up against my jaw.
I heard about the punches as much as I felt them — because my friends and family members and coaches were all screaming their support. One former coach lost her voice yelling at me to "get in there." I acknowledged their screams stamina-wise but not brain-wise. The other fighter outclassed me, and I knew she must've won by Round 2, even if in the third round, I returned my best shots and even had her on the ropes for a few seconds. 
When the referee held Ramirez' hands up in the center of the ring, I felt defeated but smiled. The judges had unanimously decided the winner, "fighting out of the blue corner," and I attempted to clap for my opponent by tapping my red gloves up against each other. 
She held up the ropes of the ring for me as we exited, and as she patted me on the back with her blue glove, she said, "Good job." 
Fighting back tears, I said, "You too. You did amazing." 
The officials first chaperoned me to the doctor, who shined a penlight in my eyes and said I had popped a blood vessel in my right eye. My nose was sore and bleeding, my lip cut. My coach told me, "Just avoid sparring right after this. But keep training."
My parents and several coaches from Reyes Boxing Gym were the first to greet me after the fight. They kept telling me they were proud of me, and I kept thanking them with misty eyes.  
Because this was technically the championship bout, I received a trophy for "runner-up," which I jokingly called my "consolation trophy." I spotted one of the vendors who had a bar set up on the top floor of the arena and handed the trophy to my parents: "Here, hold this fake trophy." I approached the bartender and asked for whiskey. Fort Worth Weekly associate editor Jeff Prince, who was to accompany me for an interview after the fight, told me they had only three beer options. The bartender asked if I was old enough to drink, and I answered, laughing, "I'm 22 years old and bleeding and would love some alcohol right about now."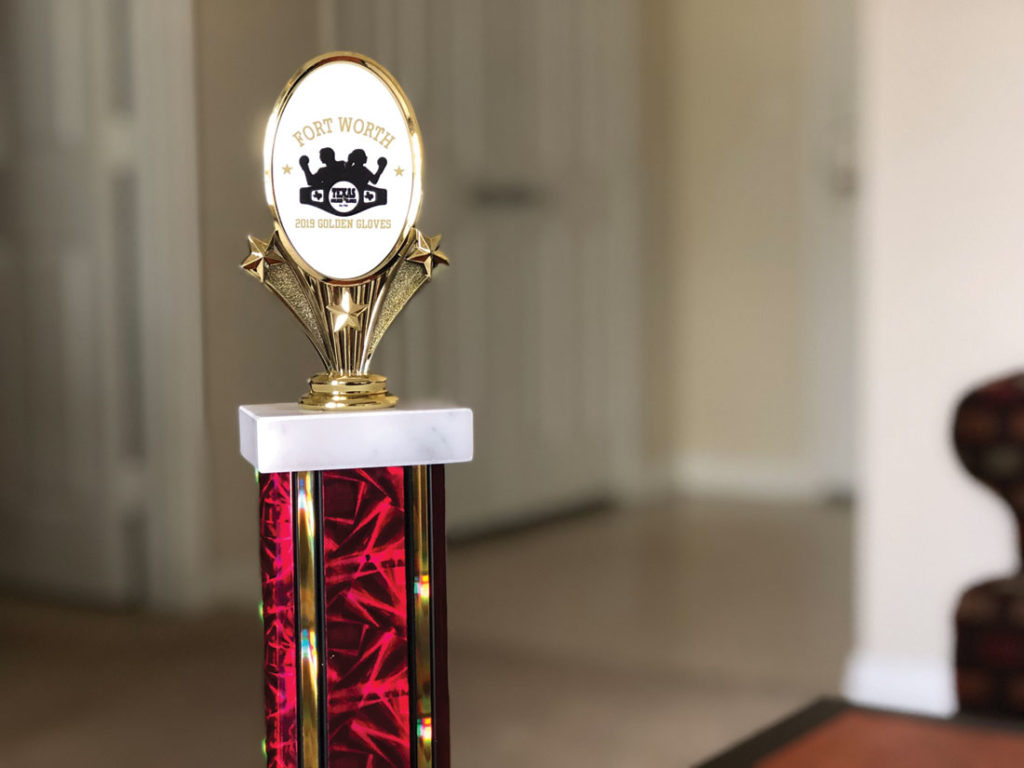 I returned to my parents and finished downing the beer. "It's a fake trophy," I kept saying. "It's fake. Y'all can keep it. I don't want it."
My coach, Andrews, had joined us and halted my verbal self-abuse. "Hey," he said. "I am so proud of you."
He told me how he'd lost some of his first fights but won even more after that. I allowed myself to cry then. "I couldn't have imagined having a better trainer in my corner than you," I said, which earned a few "awww"s from my parents, and Andrews said he might cry too.
The trophy now sits on the dresser in my apartment. I posted a picture of it on Instagram with a caption and laughing emoji: "They gave me a consolation trophy."
Andrews posted a comment in response: "The trophy is not a reflection of your Saturday night, but to remind you of the hard work leading up to Saturday. With this being your first and everyone's hardest [fight], you will have a day in the ring that the audience will see you victorious."