I imagine back when it opened in 2008, the owners of Mac's Steaks & Seafood had a good feeling about their corner spot in the new development that sat in the hollowed-out shell of the old Montgomery Ward building. They were, after all, operators of a hugely successful steakhouse chain, and the storefront was situated in between a Target superstore and a Starbucks, for goodness sake. Never mind the voodoo priestess muttering outside or the fact that the mop sink only poured blood. What could possibly go wrong? Eight, nay, nine restaurants later, we're still wondering the same thing. 
The address 2600 W 7th St, St 153, must send shivers down the spines of restaurateurs. Montgomery Plaza's haunted location has already devoured seven eateries into its greedy hellmouth. Rest in peace, Honey Smoke Pit, M Bistro, King Crab Tap House, Bite City Grill, Monty's Corner, Deluxe Bar & Grille, and, alas, Mac's Steaks & Seafood. 
Now, the landlords are trying to pull a fast one over on the restaurant gods by splitting that location in half and opening two different concepts –– and let's be clear, the two restaurants built on top of that graveyard, both owned by Dallas-based Kelcher Entertainment Group, are concepts in the truest sense of the word. This isn't Ben Merritt or Kari Crowe opening a new spot. Every bit of the décor, menu, and style of both feels like it was ripped right off the clipboard of a focus group's survey.
The twin eateries share an entrance. Turn left, and you're in Barrel & Bones Craft Bar & Smokehouse (817-720-3443), a Carolina-meets-Kansas City-style barbecue joint and whiskey bar; right, and welcome to Bourbon Street Oyster Bar & Grill (817-720-3444), which, predictably, serves up Cajun cuisine. 
Barrel & Bones exudes a rustic cowboy-up vibe, with dark wood on top of darker, browner wood, skulls and barrels everywhere you look, wire light fixtures, and dark floors and ceilings. The attractive bar, replete with more than 100 choices of whiskey, instantly catches your eye.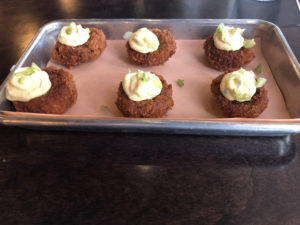 The Buffalo-fried deviled eggs ($8) were a panko-covered grease bomb slathered in a mix of mayonnaise, mustard, and classic buttermilk ranch dressing. It's the sort of appetizer that begs to be chased by a beer, but it was so overcooked, I needed water just to clear it out of my throat –– a theme that repeated throughout my lunch.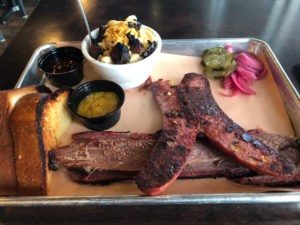 My brisket, served as part of the two-meat combo ($14), tasted of smoke and was perfectly seasoned. Like the eggs that preceded them, unfortunately, the brisket was scorched to near-jerky texture. Better was the jalapeño sausage, split and also a tad overcooked, but the casing snapped and the pepper-and-cheese combo was alternately soothing and spicy. Even the burnt bacon ends served atop the gloriously creamy mac 'n' cheese tasted like they were fished out of the bottom of the oven. 
Bourbon Street appears downright cheery by comparison. The dining room is festooned with beads, skeletons, lampposts, and signs that allude to Bourbon Street institutions like Pat O'Brien's and The Famous Door.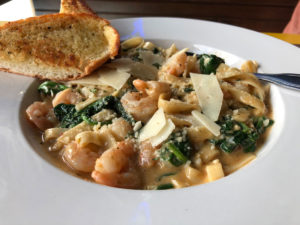 The restaurants must use the same fryer as B&B, because my single crab cake appetizer ($8) tasted greasy, chewy, and overcooked. The rest of my lunch went better, especially the chicken andouille gumbo ($4) and the crawfish etouffee ($15), both of which shared a deep, dark, flavorful roux. The Cajun shrimp pasta ($15) was a little confusing, mostly because the "Cajun" flavors were drowned out by cream, spinach, and thick slices of parmesan and Romano cheeses. What I hoped would be a revelation was little more than a decent, if generic, fettuccini Alfredo. On a side note, that menu needs a proofreader. There are more grammatical errors and misspellings than in any joint in Chinatown. 
I'm not sure why people keep opening restaurants in that space. Maybe these two will break the curse and finally make it more than two years. My guess is the restaurant gods will feast on overcooked meat and bland pasta.