Purple tennis didn't dominate the conference this year the way they've become accustomed. The resurgence of Baylor and UT delivered the Big 12 into privileged tennis status with three teams still alive in the Elite 8. Coach David Roditi's squad flew to the land of Disney last week to clash with their Austin antagonists in the NCAA quarterfinals and promptly crash landed. TCU captured the doubles point when the in-state rivals met during the season. No luck for the Frogs this time. Lines one and two pairs fell easily. Luc Fomba and Sander Jong were comfortably beating their third-line burnt orange opponents when the match was abandoned after their teammates tumbled. Frog phenom Alex Rybakov carried the torch during an otherwise dreary match for Frog faithful as he avenged his in-season loss by beating No. 7-ranked Christian Sigsgaard in straight sets. Good news ended with Rybakov's dominance. At first glance, a 4-1 loss to Texas seems like a rollover, but purple and white always fight. Reese Stadler and Bertus Kruger both battled but lost tiebreakers that decided their first sets, and Alastair Gray's opponent needed a seventh game during the first set to secure the lead. Five Frogs lost their first singles' sets, which became an insurmountable deficit against the eventual national champions. Fort Worth fanatics can take pride that their dispatchers moved on to beat third-seed Florida –– who blanked Baylor in the quarters 4-0 –– before winning against defending champion Wake Forest to claim the national title. There are no official reports if fired Longhorn tennis coach Michael Center attended the match. Center, who initially pled not guilty to mail fraud charges, flipped his plea last month and is implicated amid a far-reaching college admissions scandal. Unreliable sources suggested Center wouldn't bother to show up because he was binge-watching Full House reruns.
In non-sleazy coaching news, TCU assistant tennis coach Devin Bowen was named the Intercollegiate Tennis Association assistant coach of the year. Bowen's arrival to the program coincides with an imposing streak of five consecutive Top 10 finishes and reaching the Elite 8 three times in the last five years.
Team tennis is over, but volleys and serves continue for the Froggers. Rybakov and Gray were both invited to compete in the NCAA singles' championship, with Rybakov receiving the third seed among the 64-competitor field. The purple pair is also playing in the doubles' championship along with Kruger and Stadler. Rybakov has been masterful during his All-American season and already dispatched his first-round opponent from the University of Michigan. The star Frog should have no trouble reaching the semifinals, where he will likely meet top-seeded Nuno Borges from Mississippi State for their third match of the season. Borges and Rybakov will have clashed in the opening doubles' round when we go to press. Borges and teammate Strahinja Rakic bested Rybakov and Gray in a tiebreaker to start the season but fell to the Froggy friends two weeks ago during their Starkville super-regional. Stadler and Kruger face an Auburn squad they should beat, but the first-seeded Baylor pair will be waiting to send them packing in the second round. Expect tournament recaps in next week's edition after champions are crowned on Saturday.
Mixed Feelings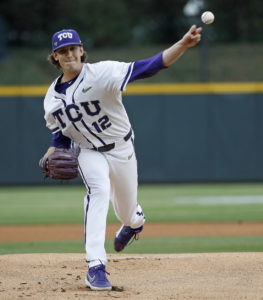 How do you feel about Frog baseball this year? I'm not sure either. Flashes of brilliance overshadowed by mucho moments of mediocrity yield mounds of meh. Coach Jim Schlossnagle's sluggers visited Lubbock without an agenda, sitting smack in the middle of the conference standings. No. 8-ranked Tech was fighting for the conference championship and riding an impressive winning streak until Thursday. Ace Frog hurler Nick Lodolo saved his best pitching performance for the Raiders, striking out 13 batters while allowing only five hits and no runs through eight innings, good enough to be named Big 12 pitcher of the week. His efforts weren't in vain, and his purple pals finally notched the first score of the game in the 11th inning. Tech matched in the bottom of the inning, and this extra-long pitcher's duel dragged all the way through the 14th round. The Frogs cobbled together three base hits to end the madness with a 3-1 victory. This game was a showcase of how good the TCU defense can be. The Raiders accumulated 14 hits but only one run on the scoreboard.
Friday didn't go as well. Tech's leadoff batter blasted the second pitch thrown past the left field wall and thus began a barrage of offense that TCU couldn't match. The Horned Frogs went error-free on Friday, but otherwise there's not a lot to love. Raiders punched back and won easily 7-2.
The Red Raiders had more to play for on Saturday than our Frogs, and it showed. Walks and throwing errors plagued TCU and landed them in a three-run hole in the fourth inning. Schlossnagle and company were efficient with base runners, scoring four on seven hits, but the Raiders punished purple pitching with eight runs from 11 hits. TTU collected the Big 12 championship thanks to their series win over the Frogs and will likely retain their Top 10 national ranking as regional match-ups and locations start taking shape.
Oklahoma City hosts the Big 12 tournament this week. TCU is the sixth-seed and battle third-seed Oklahoma State on Wednesday evening. The tournament is a double-elimination affair with a winners and losers track on a two-sided bracket. Any one-loss team reaching the semifinal will need to win consecutive games against their unbeaten opponent to earn an appearance in the championship series. The Frogs are 1-2 against OSU this year and fell short by one run in both losses. The winner of OSU-TCU will presumably face second-seed Baylor, a team reeling after surrendering their top spot and limping to the finish line with three consecutive conference losses