George Grammer, considered the youngest member of the Fort Worth Circle art group of the 1940s, died on Monday at a hospital in New York City, where he has lived since the 1950s.
Grammer was 90.
"He had been in poor health for a couple of months," said his friend, local art enthusiast Morris Matson. "But, ironically, the last few years of his life, he enjoyed great growth in his popularity and appreciation."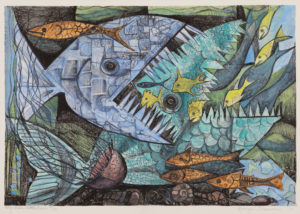 Grammer's hometown of Fort Worth gave the artist plenty of recognition by hosting several exhibitions of his work in recent years, including a show at his alma mater, Texas Wesleyan University, where he attended from 1945 to 1947. In 2017, the university presented Grammer with an honorary doctorate and featured more than 100 of his paintings and lithographs as part of George Grammer: Full Circle. ("Watch Your Grammer," April 19, 2017.)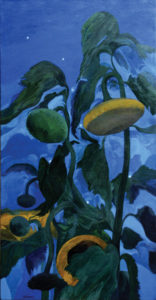 Grammer might have been most known for his depiction of oil derricks.
Fort Worth Circle artists Bill Bomar, Cynthia Brants, Kelly Fearing, Blanche McVeigh, Dickson Reeder, Bror Utter, and others established Fort Worth as an unlikely creative force in the Texas modernist movement of the 20th century. Those artists weren't interested in painting bluebonnets and realistic landscapes. They favored whimsy and experimentation.
Grammer was the youngest of the bunch and sometimes felt unworldly among his older contemporaries.
"I was younger and very naïve except on the painting and drawing," Grammer told me in 2017. "I loved being with those people. They were all very friendly and generous and hard working."
Now they are memories kept alive by the paintings and sculptures that outlived them.