The round of 16 is now in the books, and we all got the quarterfinal matchup we wanted after both USA and France were made to work to earn their places.
When Steve Kerr was an NBA player, his team's fans would always yell "Steve Kerr!" whenever he made a big shot. Should we yell "Sam Kerr!" whenever she scores a goal?
Dude, the time to make that joke was last week, when the Australia striker banged four goals past Jamaica. This week, she and the rest of her team stunk out the stadium in their loss to Norway, with Kerr going all Roberto Baggio on her penalty during the shootout. It was a poor showing from probably the best striker in the entire competition. Fortunately, the Olympic tournament next year will give her a chance to bounce back.
What's the deal with Australia's jerseys?
I have a better question: What's with the odd questions to start us off? Australia's kit (made by Nike, like all the others at the Women's World Cup) is reportedly inspired by Melbourne's graffiti scene from the 1990s. Lots of people like this jersey, and granted, I'm not an expert on Melbourne's 1990s graffiti, but I'm not feeling the vomitous yellow, white, and green mix here.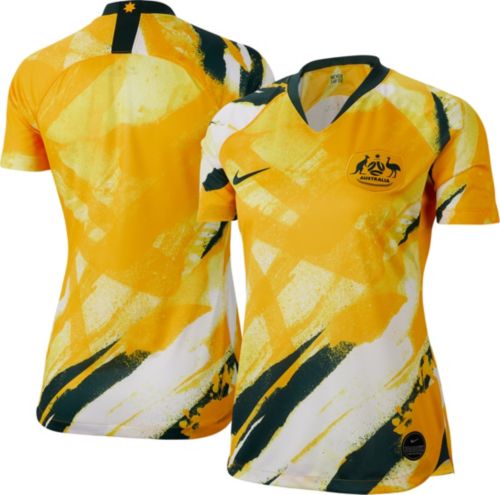 On the other hand, I do like the subtle star-and-stripe motif that Nike worked into USA's change jersey.
And some people thought France's alternate kit looked like a 12-year-old girl's pajamas, but I think the blue dots on white background makes a classy, distinctive look.
How bad is VAR right now?
I defer to the peerless Michael Cox of Zonal Marking:
the football game is really breaking up the rhythm and intensity of the VAR here

— Michael Cox (@Zonal_Marking) June 23, 2019
I would say that soccer is turning into the NFL, but the NFL is expanding its replay oversight (because of the pass interference non-call that screwed the New Orleans Saints last year), so NFL games figure to be even more of a slog. The system had few complaints when it was introduced at the men's World Cup last year, because it was used only in certain instances (penalty/no penalty, offside/onside) and because it didn't take too much time. This year it's being used to second-guess all sorts of decisions, and it's resulted in numerous games with seven minutes of stoppage time or more. In the USA-Spain game, Hungarian referee Katalin Kulcsár was forced to hold up the game twice for penalty calls that were ultimately upheld, but that was nothing compared with VAR calls that took good goals away from France (striker Valérie Gauvin was ruled to have fouled Brazil keeper Bárbara after having the ball punched into her face before ricocheting into the net) and Cameroon delaying the game numerous times on their own to protest in their loss to England. The referee in the latter game, Qin Liang, appears to have been made gunshy by VAR, losing control of the match and seeming content to leave the decisions to the guys in the booth, which was hundreds of miles away from the stadium. The whole reason these delays are tolerable is so that the decision is correct in the end, and the system failed at that. Plus, we're seeing these female refs second-guessed way more often than their male counterparts, and while sexism might not be the driving force behind that, it sure looks like the powers that be don't trust women to run these games.
What's your take on the Cameroon-England game?
I'll agree that Cameroon handled the situation poorly. Had the team pulled themselves together, they might have exploited an England defense that looked shaky under pressure. (A bad back-pass by Alex Greenwood put Alexandra Takounda clean through on goal, and she should have scored.) I'd also point out that France did not lose their composure after being robbed of their goal against Brazil, and went on to win their game. That said, the Indomitable Lionesses had reason to feel hard done by. If Ajara Nchout's goal had counted as it should, Cameroon would have been down by only one goal instead of two. That's a big difference.
That's the sort of sparkling insight that we come to you for. We would be lost without you. What's the fallout from the game?
Everyone in the African nation from the president of the soccer federation on down has accused FIFA and Liang of rigging the game for the English. Meanwhile, the confederation that oversees Africa wants Cameroon punished for their behavior. FIFA is reportedly investigating. A bunch of white men have criticized these black women for protesting what they saw as an injustice. One such is England coach Phil Neville, who said he was "ashamed."
How rich is it that a guy who once bragged about beating his wife on Twitter is now telling other people how to behave?
This rich:

Before we get to USA-France, break down the other quarterfinal matches.
I heard former England striker Eni Aluko saying she was terrified of Norway, but I'm not so sure. The Norwegians will probably put up stiffer resistance than Australia would have, but against the Matildas, they were able to key in on a single star player. England's offense has more weapons. If Norway had Ada Hegerberg, the odds would be much more favorable for the Gresshoppene. Sweden beat a Canada team that frankly sucked, and now they face Germany, which had one of those oh-so-very-German efficient victories over Nigeria. I could see a scenario where Sweden's Hedvig Lindahl (who stopped a Canadian penalty to preserve her team's win) keeps the Germans out and snatches it on penalties, but that's the only way I imagine Sweden winning, because their offense can't keep pace with the Germans. A China vs. Japan quarterfinal would have been fascinating for both soccer and political reasons, but they lost to European opposition, so instead we get Italy vs. Netherlands, a battle of two countries that have had great success on the men's side, but whose women are in uncharted waters. I favor the Dutch's free-flowing attacking style over the well-organized Italian defensive style, but it will be close.
How well did Spain play against USA?
Quite well. La Roja frustrated USA's offense for long stretches, and had they had more composed finishing, they might have pulled the upset. (They also could have used the playmaking of Verónica "Vero" Boquete, who has been blackballed from the team Colin Kaepernick-style after leading the player rebellion that removed the previous coach.) For all that, the sport is growing in their country. Just today, Real Madrid announced that they are joining the 21st century and fielding a women's team starting with the 2020-21 season. If they pay as much attention to their team as their archrivals Barcelona do to theirs, that will boost the sport across the board. That's for the future; for now, Spain's women can be proud of how they played USA more or less even here.
How's USA looking?
Not as good as before. An ugly mix-up between goalkeeper Alyssa Naeher and veteran defender Becky Sauerbrunn gifted Jennifer Hermoso a scoring chance that she converted with a perfectly placed shot. You can put down USA's win to their resilience, but if I'm France, I'm looking at USA's defense and thinking that they can be pressured into mistakes.
Can France do that?
Oh, yes. Even with Gaëtane Thiney out of sorts, their offense is an order of magnitude greater than Spain's, and one of the few that can keep up with USA's. France does have a woeful history of losing to USA at major tournaments, but that mental block may be gone with the presence of unflappable head coach Corinne Diacre, who looks as if an earthquake could swallow up half the stadium and she wouldn't lose that stone face of hers. Her sideline demeanor seemed to help France bag their extra-time winner after the Brazilians had come back to tie the game. She's not just a calm, collected leader but also a keen tactical mind. The men who used to be in charge of France's women could be counted on for at least one bizarre coaching decision per tournament, but that seems to have disappeared with her.
Sounds like you're trying to brace us for a USA loss.
I am. This USA offense and midfield are the best we've ever had, and ordinarily a loss in the quarters would be cause for shame. Against this team, though, it won't be. The French are that good.
Is there any reason for hope?
Yes. Amel Majri, the best left-back in the world and France's dead-ball specialist, assisted on their game-winner against Brazil and then limped off shortly thereafter with what looked like a hamstring injury. You need all hands on deck to cope with an offense like USA's, and if she can't go, it will be a big loss for Les Bleues. Also, goalkeeper Sarah Bouhaddi is one of the world's best, but she's not immune to the occasional error herself. The French team has had its own wobbles in this tournament, which is why Friday's game looks to be so evenly matched.
What do you hope to see from the match?
USA's women having duct tape over their mouths during the national anthem, since our idiot president decided to weigh in on their protests. I hope not to see both sides so afraid of each other that they spend 90 minutes going in circles without taking any risks. That's the only thing that'll keep this from becoming an epic.
Any last words?
I'll let Marta have them. She gave a speech to the girls of Brazil to follow in her footsteps. For all the antics and gamesmanship she indulged in throughout her career, she left us with so many moments of magic. Now that she's likely kicked her last ball in a Brazil jersey, she's looking to save women's soccer from the neglect it has suffered in her country. If Brazil's future players find inspiration in this short video clip, it'll be among Marta's greatest accomplishments.