Sonny Cumbie's unit scored a slovenly 19 points per conference contest last season thanks in large part to turnovers and injuries. Even today, the injury epidemic hasn't been eradicated. Coach Gary Patterson cancelled the purple and white spring game due to a lack of health and depth before transfers and new commitments arrived on campus. There is no reason to doubt Patterson's defense next season, but we could be on the verge of more offensive nightmares. Calm down all of you "defense-wins-championships" people. Defense is essential, but a symbiotic relationship between an efficient and reliable offense forms the foundation for a defense's success. The Oklahoma Sooners have been the unstoppable offense in our conference for years with draft picks and Heisman trophies galore. They haven't won the big game but are proof that a formidable offense can get you there. This week we'll delve into TCU's offensive depth chart with the exception of quarterback. That's a long talk we're not ready for quite yet.
Hogmally Hope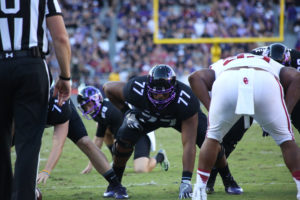 TCU's offensive line should be the most reliable and experienced bunch on the team. Two seniors anchor the left side, and All Big-12 selection Lucas Niang locks down the right tackle position. Junior Austin Myers lines up next to Niang at the guard spot as a battle between centers rages through the summer. The big men aggregate a unit with experience and enough depth from the backups to avoid derailment from injury. Games are won in the trenches, and I'm confident this unit will be definitively better than least season.
Reagor-Gebra
Wide receiver Jalen Reagor should teach algebra after he retires from football. He is the unsolvable "X" for defensive coordinators. It doesn't matter if he's split out, in the slot, at running back, or injured, defenses must know his whereabouts and how to account for him. Reagor represents the only Fort Worth offensive skill player voted to join the All Big 12 team. NFL scouts are watching. Reagor's speed, size, and electricity have landed him on first-round draft boards already, and the Waxahachie native is not long for this team. Jalen the Juggernaut dealt with a volatile quarterback carousel last season and still stood out as the most superior athlete on the field in every game. I'm including Oklahoma quarterback and Heisman winner Kyler Murray. Offensive coordinator Cumbie will utilize the extra attention paid to the star wideout from defenses. Few cornerbacks can run stride-for-stride with Reagor. Defensive coordinators will employ safety assistance and soft zones to prevent deep balls and try to keep the Frog phenom in the short field long enough for the cavalry to surround him. The rest of the wide receivers need to step out of Reagor's shadow and capitalize. Taye Barber is the most accomplished option. The sophomore caught 32 passes last year and showed big-play potential. He's a stealthy and small slot with sure hands and elusive speed. Barber isn't a threat to rise above the secondary but will catch balls underneath and extend plays. Senior TreVontae Hights will mirror Reagor and is a lanky fade-ball threat. He nabbed two touchdowns last season and will need to become a steady performer to elevate him and his Frog friends.
Backs Against the Wall
Balance is essential for finding an offensive rhythm this season and keeping Patterson's defense on the sideline. Running the rock was a struggle last year. The offensive line is better, but the running back situation is worse. Darius Anderson started his last campaign on fire before nagging injuries slowed him down substantially, and he was forced to sit out games entirely. Anderson is presumably healthier after the offseason but is listed as third on the depth chart. At full strength he should be carrying half the snaps and is the most explosive and elusive of all running threats. Emari Demercado, listed as second, was serviceable last season in a change-of-pace role but clearly not a bell cow. Senior Sewo Olonilua has earned top-of-the-chart honors after surviving last season and exploding in the Cheez-It Bowl on his way to MVP honors. Olonilua is a bruiser and one of the strongest players for his weight in college football. Google his name, and you'll see many tiny pictures of him in uniform and on purple promotional materials next to a much larger mugshot from his drug-related arrest in May for edible marijuana and drug paraphernalia possession during a traffic stop. TCU hasn't officially disciplined their running back, but his position at the top of the chart should be considered unreliable at least to start the season. The offensive Horned Frogs are looking for a bounce-back season but are an enigma until the quarterback position solidifies. Check back next week for an up-to-date recap of the no-holds-barred four-way battle to be the TCU signal caller.