At his stage in life, EJ Carrion has accomplished most of what he's set out to do. Just shy of 30 years old, he's happily married, heads a successful tech startup, and boasts a large role in inspiring today's youth as a public lecturer. Last year, he was named one of Forbes magazine's "Top 30 Entrepreneurs Under 30" for his Student Success Agency, an education app that offers students advising, tutoring, and mentorship "anytime, anywhere" via their smartphones. With a long-running string of successes, the need for a new challenge began to pull at him – a challenge that would be a drastic departure from the formal, disciplined professional he's always been. In a leeward yank of life's steering wheel, he's decided to become a rapper.
"I've hit so many of my goals" in life, he explained. "And I just felt this calling to do something that was kind of off-script from the traditional 'get a good job, get married, buy a house [type of thing].' In the middle of that rut, I discovered Fort Worth hip-hop."
Shortly after moving to Fort Worth from  just outside Wichita Falls two years ago, Carrion attended Louapalooza, the now-annual local hip-hop showcase hosted by and starring rapper Lou CharLe$. During the show, he became inspired by performers like CharLe$ and his cohort Solar Slim, who were both around the same age as he was. That they were putting every ounce of their effort into a risky, often-unrewarding career at their age moved Carrion deeply. That they were still chasing and working toward a lifelong dream was profound, he said.
"I'm so inspired by people my age who are not playing the script," he said. "It's easy to be a rapper at 18. It is not easy to try and be a rapper at 30. That ambition doesn't align with something that offers security or social acceptance. It's hard on them. It's hard on their relationships. The fact that guys like Lou and Solar are still pressing that button – that's the most inspiring thing to me right now."
That inspiration has led to Cyborg Destiny, Carrion's debut EP under the simple moniker EJC. The recording drops on Sunday. Carrion's only prior experience with rapping amounted to the occasional freestyle circle and one song he'd perform for students to close out his motivational lectures. The six songs on Destiny account for his first-ever recorded music.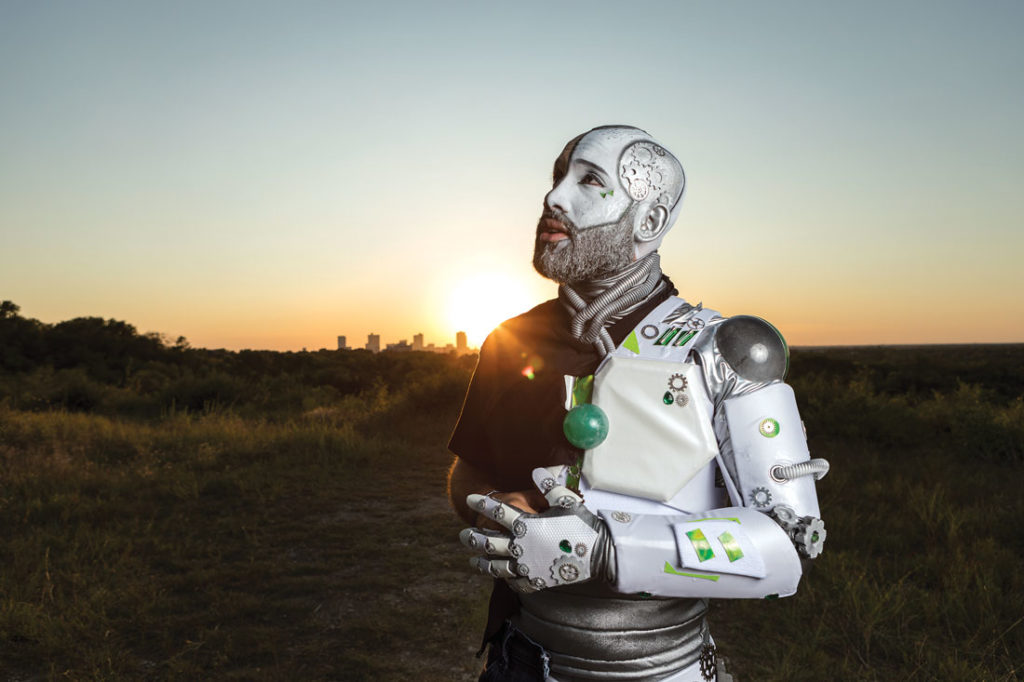 Carrion recruited an all-star team of local music luminaries to help him with his project. Billboard Music Award-winning beat-maker J Rhodes (The Game, Talib Kwali) produced the record, and the aforementioned CharLe$ and Solar Slim, as well as popular hippy-rapper Wrex, are all featured. Neo-soul singer Abraham Alexander added backing vocal and guitar, and though an admitted novice, EJC stands right in there with the rest, proving he deserves to be in their company.
His flow is measured and confident, with the ease of a performer with decades of experience. It's lyrically, however, where he really shines. As he confesses in one bar, he's "a rapper who's not rapping about bitches." He's erudite and informed and trains his keen mind on deep anthropological topics.
Marrying his tech background and a love for the writings on human evolution by Yuval Harari (Sapiens, Homo Deus), Destiny is a concept piece about a future where man has co-evolved and learned to tame and integrate with runaway technology. Songs like "Dopamine" and "Algorithm" speak to present day social media addiction and data mining with a dystopian flare before the title track closes the album in a future setting, as mankind achieves its next step in evolution: becoming one with technology.
Over a jaunty synth line he exclaims, "Cyborg our destiny / Upgrading consciously / I don't know where I'd be without technology / Merging biology / Rapidly evolving."
The EP will receive a proper release with The Funktion on Saturday at Lola's Saloon. EJC will perform with Lou CharLe$, Solar Slim, and Wrex, and techno-soul artist Ronnie Heart will be DJing. The show will be EJC's first ever. And in a bizarre twist, according to him, it could also be his last. He set out to accomplish the feat of writing and recording an album and putting together a big show, and he has done that. He still has a company to run, students to help, and a normal life to live. Whether this leeward tilt in life has run its course, or is just the beginning of something substantial, remains to be seen.
"This is a passion project," he said, "something to get me out of my current reality, to go live in a multi-verse where I'm a rapper, for a month [or whatever], where I can just go and just be me. I don't know how long I'll live in this reality. It could be just a light, like a shooting star – it came, and it was beautiful, but then it's gone. I believe in endings." 
The Funktion, EJC EP release show 

Sat, at 9pm w/Lou CharLe$, Solar Slim, Wrex, and DJ Ronnie Heart. Hosted by Xeus2cool Hamilton at Lola's Trailer Park, 2735 W 5th St, FW. Free.

817-877-0666