It has been a field of dreams and life-long memories.
Globe Life Park, the Texas Rangers' home stadium that opened on April 11, 1994, hosted its last major league baseball game on Sunday. In between, the Rangers played 2,081 regular season games at their home park, winning 1,145 of them. They also won nine postseason games there.
The state-of-the-art stadium was a welcomed sight and a big improvement from the old Arlington Stadium, where the Rangers had played their home games since moving here from Washington, D.C., in 1972.
For me, it is a bittersweet feeling. I love that park. It is a special place, and I have many fond memories of the iconic stadium and what took place there.
Ever since long-time Rangers fans Sister Maggie Hesson and Sister Frances Evans, two Catholic nuns from Fort Worth, became the first fans through the gates on that rainy Opening Day in 1994, more than 66 million people have attended games at Globe Life Park.
As an avid Rangers fan, I was determined to be present for the stadium's debut, although at the time I lived more than 1,300 miles away in Washington, D.C. It was there where my love for the Rangers franchise began.
In 1969, I was in the Army assigned to the Military District Washington. The first major league game I saw in person was between the Detroit Tigers and Washington Senators at Robert F. Kennedy Memorial Stadium in 1970. I quickly became a Senators fan.
Unbeknownst to me, the team would move to my native state two years later and become the Texas Rangers. That's when my allegiance to the franchise became even stronger.
There were many times when I would drive the 40 miles north to Baltimore to see the Rangers play the Orioles at their beautiful Oriole Park at Camden Yards. It was there that I saw Nolan Ryan pitch.
When I heard the new Rangers stadium would mirror the Orioles' home park, I was thrilled because it is a beautiful baseball stadium, and I just couldn't wait to see the Rangers' new home.
A few months before the Rangers' home opener, I participated in the Rangers' baseball fantasy camp, where you live the life of a major leaguer for a week, playing baseball every day in beautiful landscaped parks. Part of the fantasy camp package included tickets to the Rangers' first game at their new stadium, and I anxiously waited for that day.
When the day finally arrived, I took an early flight to North Texas, where my brother Abiel, a high school baseball coach at the time, met me at the airport, and we headed to the ballpark. The light rain that day did not dampen people's enthusiasm as fans began arriving before 10 a.m. for the 3:05 p.m. game, which was delayed 52 minutes because of the inclement weather. Huddled under umbrellas waiting for the game to start, the stadium organist appropriately played "Raindrops Keep Falling on My Head."
Prior to the game, my brother and I were guests at a reception in which Rangers officials and city leaders were present. It was there that I met and spoke briefly with future president George W. Bush, who at the time was the Rangers' managing general partner. Although he was polite, it was obvious that he was more focused on the weather.
The rain eventually stopped, and the pre-game celebration – with all its pomp and circumstance – began, with then-Arlington Mayor Richard Greene throwing out the ceremonial first pitch. It was followed by the late Van Cliburn's stirring rendition of "The Star-Spangled Banner" on a grand piano parked atop home plate. Cliburn later stood and sang as the Fort Worth Symphony Orchestra played the national anthem again from folding chairs set up in the infield. "That was a thrilling experience," Cliburn said afterward.
For me, it was certainly the most memorable national anthem I have seen played at a sporting event. There was a lot of excitement, and the game had not even begun.
It was not until 3:57 p.m. that home plate umpire Greg Kosc signaled, "Play ball!," and Rangers starting pitcher, Kenny Rogers, after receiving the sign from catcher Ivan Rodriguez, threw his first pitch to Milwaukee Brewers lead-off hitter Pat Listach, christening the new stadium.
In the fifth inning, Brewers catcher Dave Nilsson hit the first home run in the new ballpark. Two innings later, Rangers first baseman Will Clark became the first Ranger to hit a home run in his new home park. The first hit was by Rangers centerfielder David Hulse.
While the Rangers lost that game to the Brewers 4-3, before a crowd of 46,056, then the largest crowed ever to see the Rangers play at home, the stadium won rave reviews and many fans, my brother and me included.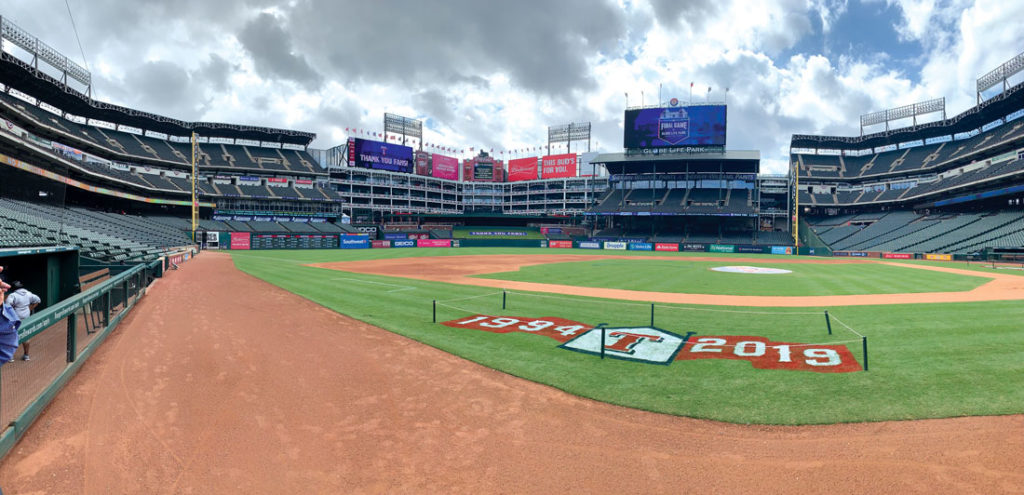 *****
We sat in the upper home run porch in right field, and it was an awesome view. There was just something majestic about the Rangers' new home. A large banner near the center field stands read, "Good Luck Rangers on Your Field of Dreams, Troy Aikman."
I remember telling my brother, "The Rangers now have a big league stadium. I just wish I could come here more often."
That wish came true in 1999, when my then-employer, the U.S. Department of Veterans Affairs (VA), transferred me to Dallas to become the department's regional public affairs director.
Part of my job was to establish good working relationships with local media. I met with a local newspaper editor to propose my writing a weekly veterans' column for his publication, and he was open to my proposal. When he learned that I am fluent in Spanish, he asked if I could also write about some of the Latin players on the Rangers team. I agreed. The Rangers granted me a media credential, and I have been writing about the team and its players for more than 20 years.
In the stadium's 26-year history, there have been Latin Rangers players at every position. Pitchers have won or saved nearly 200 games. Position players have hit tape-measured home runs as well as inside-the-park home runs, been involved in triple plays, have hit for the cycle, made miraculous fielding plays, led the league in home runs and batting average, and been named most valuable player as well as rookie of the year. They have also made more than 30 All-Star appearances, and two have earned All-Star MVP awards.
As a member of the media, I have been a frequent presence at Globe Life Park. I have been hit by a batting practice ball, tripped over bats in the dugout, been accidentally bumped by the baseball commissioner, and drenched with champagne following championship celebrations in the clubhouse.
I continue to be in awe of the magnificent structure that not only put Arlington on the map but also transformed the struggling franchise that has now won seven American League West Division Championships and two American League Championships.
Designed by the Schwarz Architectural firm of Washington, D.C., the 48,114-seat open-air ballpark has been the site of an All-Star game, two World Series, and dozens of postseason games. On July 28, 1994, it was the site of a perfect game, when Kenny Rogers retired all 27 Los Angeles Angels batters in order. The home park was also the site of the first regular season inter-league game, when the Rangers hosted the San Francisco Giants on June 12, 1997.
Last August 16, in a game against the Angels, Globe Life Park was the site of a rare triple play that had not happened in more than a century. With the bases loaded, the Rangers retired all three runners, making it the first triple play in which the batter was not retired. A play like that had not happened since June 3, 1912.
Then there was the punch seen around the world in 2016, when Rangers second baseman Rougned Odor decked Toronto Blue Jays runner Jose Batista following a collision at second base.
For many of us Rangers fans, however, the most memorable game ever played at the Rangers' home park took place on Oct. 22, 2010, when they defeated the New York Yankees 6-1 to go to their first ever World Series. Many fans say that what made the ending of that game even more memorable was that former Ranger Alex Rodriguez took a called third strike.
The stadium just erupted. There was red, white, and blue confetti raining all over the field as players and fans jumped, screamed, and hugged each other. A photographer captured a photo of Rangers catcher Bengie Molina jumping into the arms of closer Neftali Feliz. That moment is forever cemented in history. A statute of that photo was placed on the grounds of Globe Life last year.
During all the excitement, I remembered Alex Rodriguez' comments from a few years back, when he told the media after he had signed a mega-contract with the Rangers that he would help the team get to the World Series. Well, that night he did.
Following that American League-clinching victory, the more than 50,000 fans in attendance, most of them wearing red, cheered as the American League trophy was presented to Rangers officials. It was a sight that many Rangers fans will forever treasure.
Last month, when former Rangers manager Ron Washington was in town for Michael Young's number retirement, he said that the 2010 American League-clinching victory was his most memorable moment at Globe Life Park. Young also echoed those sentiments, saying it was "an incredible experience."
New York Yankees future Hall of Famer Derek Jeter still recalls that day. In 2014, when asked before his retirement about his memories playing in Globe Life Park, he pointed out that the Yankees' road to the World Series always seemed to go through Arlington. "There was a certain team one year that kept us from reaching the World Series," he said.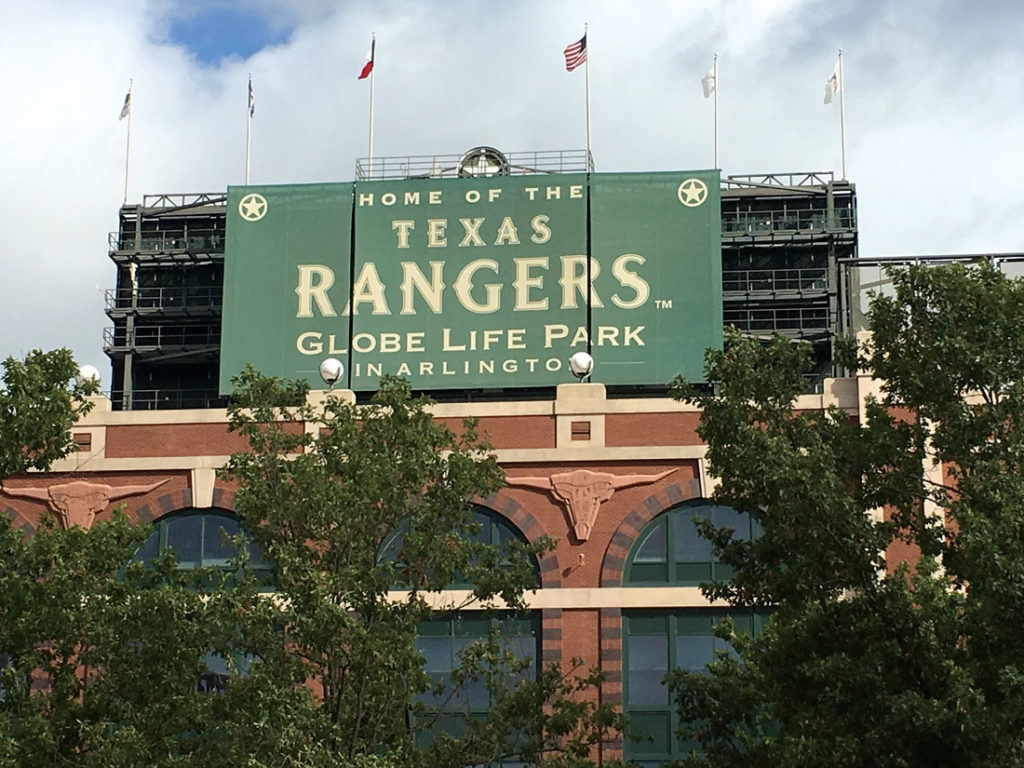 *****
Other significant dates from the Globe Life Park era were the team's first division title in franchise history on Sept. 28, 1996; its first World Series win on Oct. 30, 2010; Nelson Cruz' walk-off grand slam in extra innings in the American League Championship Series to beat the Detroit Tigers on Oct. 10; and the Rangers winning Games 4 and 5 of the 2011 World Series on Oct. 23 and 24.
The Ballpark was also showcased in a movie. In 2002, Hollywood came here to shoot scenes of The Rookie, in which Dennis Quaid played the part of 35-year-old Tampa Bay Rays rookie pitcher Jim Morris of West Texas.
Prior to a game against Tampa Bay, the fans were informed that in the seventh inning of that game, a person wearing a Tampa Bay uniform would be coming in from the Rangers bullpen and making his way to the pitcher's mound. Fans were also asked to meet behind the Rangers' dugout after the game if they wanted to be part of the crowd scenes.
The stadium has undergone significant improvements over the years, as well as name changes. On May 7, 2004, the park was named Ameriquest Field in Arlington. On March 18, 2007, the facility was renamed Rangers Ballpark in Arlington. A few years later on Feb. 5, 2014, it was named Globe Life Park in Arlington.
The stadium has also had some unfortunate moments. Over the years, three fans fell from the stands, one fatally.
There have been seven managers at Globe Life Park: Kevin Kennedy, Johnny Oates, Jerry Narron, Buck Showalter, Ron Washington, Jeff Bannister, and Chris Woodward. Three of those managers –– Oates, Showalter, and Bannister –– received the Manager of the Year award. Washington took the Rangers to two consecutive World Series and managed two All-Star Games.
It was in Globe Life Park that Ivan Rodriguez blossomed into a Hall of Famer, winning eight consecutive Gold Glove awards, six consecutive Silver Slugger awards, and one MVP award.
Alex Rodriguez, Juan Gonzalez, and Josh Hamilton also earned MVP awards while playing at Globe Life Park. Hamilton and Michael Young won batting titles, and Alex Rodriguez won three consecutive home run titles.
Milestone home runs hit at the historic stadium include Sammy Sosa's 600th career home run and Rafael Palmeiro's 400- and 500-foot home runs. Nomar Mazarra's 505-foot home run is the longest home run hit at Globe Life Park.
On July 30, 2016 Adrien Beltre recorded his 3,000 hit, and last year pitcher Bartolo Colon became the winningest pitcher from Latin America when he recorded his 246 victory.
It has been, according to former Rangers president Tom Schieffer, who managed much of the ballpark building project, a "museum of memories."
For shortstop Elvis Andrus, one of his fondest memories of his home field was the 2009 home opener when he doubled in his first major league at bat against Cleveland Indians pitcher Cliff Lee. Nine years later, on July 25, 2018, in a game against the Oakland A's in Globe Life Park, Andrus hit his first grand slam.
Like Andrus, many of the team's players, both past and present, have made their Major League debut at Globe Life Park. Others have reached significant milestones at their home park.
Third baseman Adrien Beltre did when he doubled to left field in a game against the Orioles to reach the 3,000-hit plateau. "It was one of the best moments of my life," he said.
Beltre also hit for the cycle three times at Globe Life Park, twice as a member of the Rangers and once as a member of the Seattle Mariners.
Former Rangers Will Clark, Rusty Greer, and Mark McLemore, members of the 1996 team, remember the division-clinching victory celebration. "We learned we had clinched while we were already in the clubhouse, so we went out to the field to celebrate," Greer said.
For Pudge Rodriguez, his fondest memory was catching Kenny Rogers' perfect game. For Hank Blalock, it was his home-opener homers in 2003, 2004, 2005, and 2006.
Current Ranger catcher Jose Trevino remembers his big moment at Globe Life Park, when he hit a walk-off two-run single on Father's Day last year to beat the Colorado Rockies. "That's an experience I'll never forget," he said.
Danny Santana remembers his Rangers debut in April when he hit a triple to tie the game as the Rangers went on to beat Oakland.
Not all memories of the ballpark have to do with play on the field.
Vietnam veteran and former Rangers coach Bobby Jones' most memorable moment at the park came on Sept. 11, 2014, Patriot Day, when, after 42 years, he was formally presented the Bronze Star along with the citation for his heroic service in Vietnam. "It was special," he said.
Some of America's servicemen and -women remember where they began their military service. It was at Globe Life Park. Over the years, there have been numerous mass enlistment ceremonies of all military branches as these recruits take the oath of office at the ballpark.
My special memory of the ballpark occurred on Sept. 27, 2016, when I was recognized in the pre-game ceremony for my work with America's veterans during my 45 years of government service, 35 with VA.
Since my retirement, I have been serving as a Globe Life Park tour guide. I enjoy talking about this historic Arlington landmark that has been visited by millions of people worldwide. I try to make the tours educational, enjoyable, and entertaining.
People are always asking what is going to become of the ballpark. I'm glad to say that it is not going to be torn down. Beginning next spring, it will be the home of the Dallas Renegades, one of eight teams that have formed a new football league that will play their games in the spring.
The Globe Life Park era came to an end at 4:55 p.m. on Sunday when Texas Rangers pitcher Jose Leclerc struck out New York Yankees slugger Giancarlo Stanton, defeating the playoff-bound Yankees 6-1. The temperature on the scoreboard read 94 degrees.
It will be the last time the Rangers will play in 90-degree temperatures in their home park. The new park, Globe Life Field, will be air-conditioned.
The farewell to Globe Life Park was one befitting a baseball cathedral with all its pageantry and excitement before a crowd of 47,144 that included the 43rd president of the United States. It began with the Fort Worth Symphony Orchestra performing "The Star-Spangled Banner" like it did when the stadium first opened a quarter of a century ago. Former Rangers president and Hall of Famer Nolan Ryan surprised the crowd when he walked out of the Rangers dugout to throw out the ceremonial first pitch to former Rangers pitcher Kenny Rogers.
The game had a playoff atmosphere. Ironically, the Rangers won by the same score as when they beat the Bronx Bombers in 2010 to capture the American League crown.
Following the game, home plate was dug up and transported across the street to its new home in a parade-like caravan that included current and former Rangers, several musical groups, and the Southlake Carroll Dragon Marching Band.
Upon its arrival to Globe Life Field, there was a ceremonial installation involving Rangers officials and Arlington city leaders.
As public address announcer Chuck Morgan said, "Elvis has left the building."
Ozzie Garza has written about the Rangers for more than 20 years and is a frequent contributor to the Fort Worth Weekly.