Before she became internationally known for her eye-popping photorealist paintings of social settings, Nancy Lamb was quite a sculptor. Not only did the legendary Fort Worthian create the jackalope that stands atop an old car dealership on Camp Bowie Boulevard on the West Side, but she also fired off thousands of much smaller though no less fantastical ceramic works between 1985 and 2000 when she worked at the Museum of Science and History. In RefiredPow!, her latest one-person show at Artspace 111, Lamb offers a murderers' row of the ebulliently grotesque and nightmarishly brilliant based on and featuring her early work. 
A bulbous man's face sprouts a gnarly fish head, leafy tree branches entwine an aqua-blue woman in repose, a rhino grows from the neck of a fleshy ghoul with horns of his own, a woman wears an octopus like a bikini top, a dolphin with a monkey face leaps in the air, a red snake transforms into what appears to be a castle – the variety and sheer volume of the sculptures and prints on metal looking out from the gallery walls are dizzying in the most delightful way. Vibrant colors and sometimes swirling, sometimes jagged lines abound, and as part of the show, there's also a section of the gallery devoted to prints of Lamb's social-settings paintings on everything from shirts and neckties to coffee mugs and tennis shoes. And iPhone cases.
Lamb says she was inspired by the Takashi Murakami show at the Modern Art Museum of Fort Worth last year – the Japanese artist's cartoonish work translates well to apparel and other baubles – and also by "reliving and reimagining the '60s, flower power, the colors, the design, and one of my early heroes, Andy Warhol."
Over the past year, Lamb worked with collectors to take images of 150 ceramic originals to produce the metal prints. Seventeen of the original ceramics from 1989 to 1996 are on display, including one of the most striking pieces, a large head crowned with a cactus.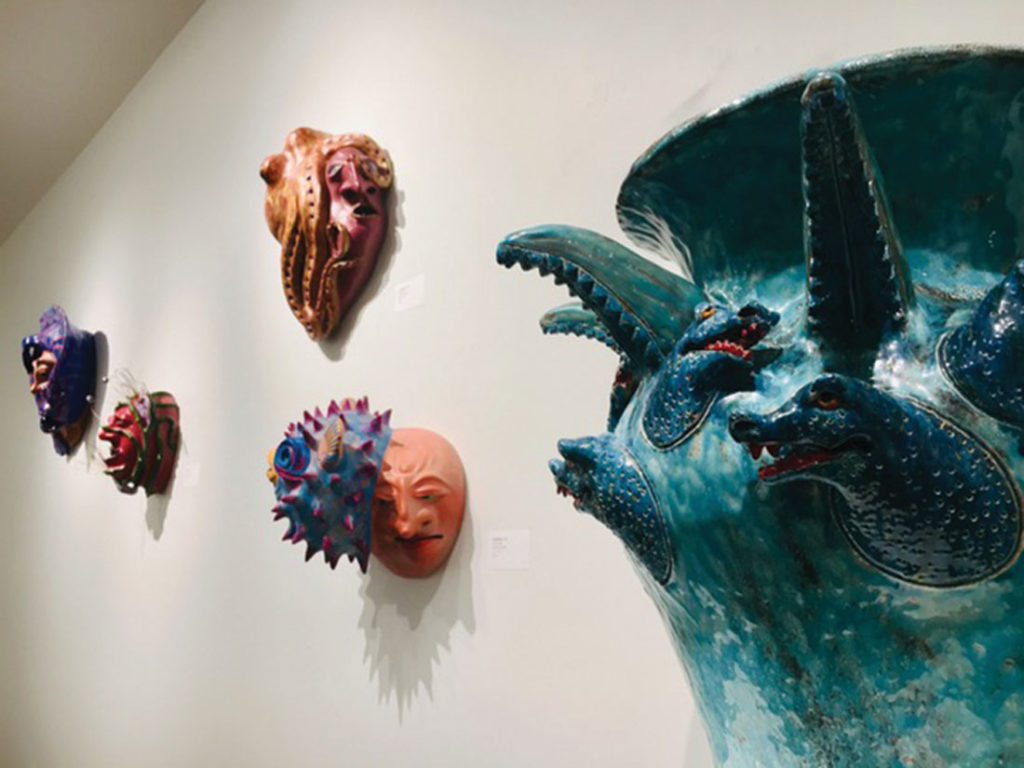 With these new old works, Lamb proves she can't be contained by the social settings, and to see her as only a critic of the bourgeoisie (or a closeted member) really does a disservice to her greatness. RefiredPow! is full of folklore-tinged wonder, trippy-dippy color, beautiful hideousness, power, spunk, and life, all of her characters dancing together in some psycho-surreal disco on Dr. Moreau's island. There's not much meh. 
This show also could be seen as a sort of statement on the future of artists who aren't Murakami or Kaws or some other brand builder. While not everyone can afford an original Nancy Lamb painting (we're talking in the $25,000 range), most of us are able to spring for that same painting on a coffee mug. Not the same, of course, but the spirit is intact.
Fifteen of Lamb's paintings have been returned to Artspace 111 from The Rockwell Museum, the New York state gallery that held a retrospective of Lamb's work over the summer. A rare opportunity to see so many of her originals in one place, the collection will hang at the gallery until October 12. RefiredPow! comes down next Wednesday.
RefiredPow!

by Nancy Lamb

Thru Wed, Oct 9, at Artspace 111,

 111 Hampton St, FW. Free. 817-692-3228.