Members of Fort Worth's black community were on edge already. Six police shootings since June 1 – with four of the six suspects being African-Americans – had many black advocates warning that an eruption was eminent.
"We have a city now that is one incident away from a major uprising," Bob Ray Sanders told me in August on the day following the shooting death of Amari Malone in eastern Fort Worth. Police officers had approached Malone for questioning and fatally shot him after he took off running with a gun.
Sanders, a longtime journalist and voice for the African-American community, had gone to the scene afterward and seen the anger growing among a crowd of people weary of police shootings locally and nationwide.
That "one incident away" seemed to present itself this past weekend when a white police officer shot and killed Atatiana Jefferson, a 28-year-old black woman who was inside a home babysitting her nephew. The crowd at a Sunday night vigil was angry and rightfully so. Police had released a partial bodycam video of a police officer who had responded to a welfare check call at a residence where Jefferson was staying and shot her through a window. The video had included a still-photo of a handgun shown inside the home. Some residents viewed that as blaming an innocent victim for her own death.
Members of the black community were watching to see how police and city leaders would respond the following Monday at a press conference. Most expected the usual salvo of excuses, delays, studies, and sidestepping.
Instead, Mayor Betsy Price stood at a podium at police headquarters and gave an impassioned, apologetic statement that included the word "sorry" several times. Price described herself as "heartbroken" and said Jefferson was a "beautiful, smart, amazing young woman by all accounts who was unjustly taken from her family."
Price said the initial release of photos by police showing a gun inside Jefferson's home was unfortunate.
"The gun is irrelevant," Price said. "She was in her own home caring for an 8-year-old nephew. Atatiana was a victim. She was taken from her family in circumstances that are truly unthinkable."
Price seemed well aware of the importance of this instant and the unspoken awareness that a large segment of her city had reached a tipping point. She described it as a "pivotal moment" in the city's history.
"Justice is critical here," she said. "We will take action swiftly and with transparency."
Following her speech at the podium was interim police Chief Ed Kraus, who threw the offending officer – Aaron Dean – under the bus with a loud thud. Dean had announced his resignation from the police force that same morning before Kraus had a chance to fire him.
"Had the officer not resigned, I would have fired him for violations of several policies, including our use of force policy, our de-escalation policy, and unprofessional conduct," Kraus said.
Dean faces criminal charges and possible civil rights violations.
"None of this information can ease the pain of Atatiana's family, but I hope it shows the community that we take these incidents seriously," Kraus said.
After the press conference, I approached Sanders to weigh his reaction. He smiled and appeared more hopeful than he had when we had talked two months ago.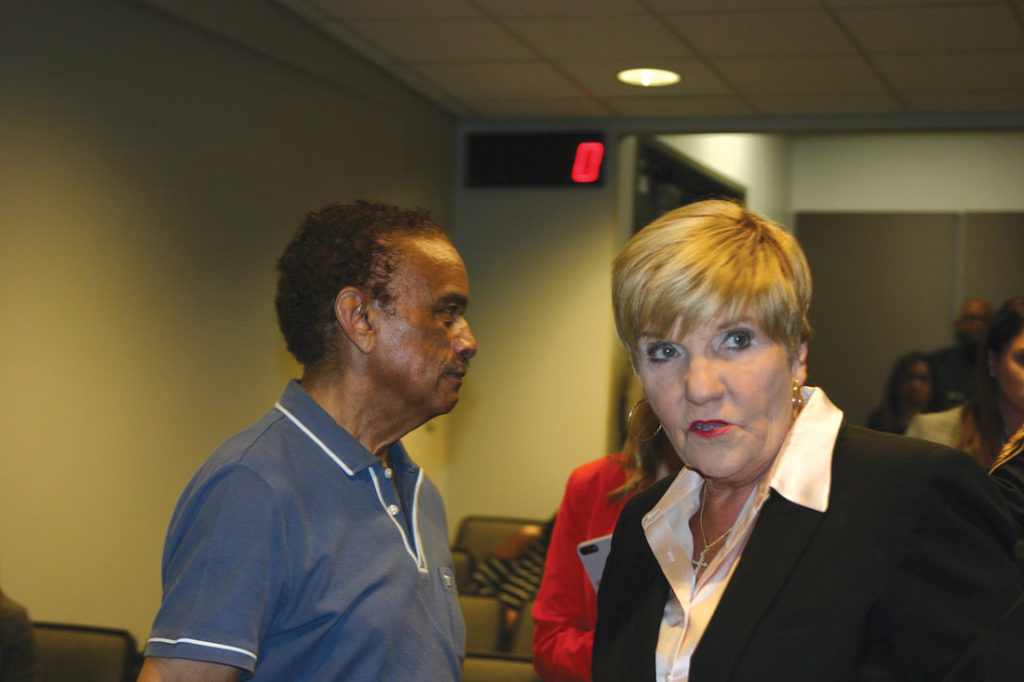 "I was really proud of the way the city [officials] responded today," he said. "I don't know that we could have asked any more from the mayor, the police chief, or the city manager. They accepted the reality that this was an unnecessary killing."
I asked whether city leaders accepting responsibility might prevent Jefferson's killing from being the "one incident away" that could lead to widespread protests and riots.
"For the police chief to come out and say they were wrong to show that picture of the gun, that showed me a side of Fort Worth that I haven't seen in a while," Sanders said. "If they had acted the way most cities act, and the way we've acted in the past by going in denial, the city would erupt over this incident."
Will police investigators pursue a criminal case against one of their own? Will city leaders demand more police training? A police review board? Better community policing and communication? Or will the talk fade until the next shooting? And will that cause the eventual eruption that black leaders predict?
Sanders and others remain in wait-and-see mode, but he said the initial response "will go a long way in quelling that."
*****
The recent police shooting of Malone appears to be justified. Police bodycam footage shows Malone holding a pistol while running on foot, then turning and pointing the weapon toward the approaching officers. A police spokesperson said Malone bolted after being approached for questioning by officers in the Woodhaven neighborhood. Police shot and killed the black teenager on August 21.
"Appears to be justified" is my rubbery description. Justification can be complicated these days, video or not.
That night at the scene, spectators grew angry while police established a perimeter. Rumors circulated quickly that police had shot the teen in the back. Two months earlier, another crowd of residents came close to rioting after another shooting, this one in southeastern Fort Worth. Police officers were chasing JaQuavion Slaton, a 20-year-old black man wanted on an aggravated assault warrant. Police located Slaton hiding in the cab of a pickup and holding a gun. Police moved in and opened fire. Slaton died in a hail of bullets, possibly from a self-inflicted wound.
Two men holding guns, being sought for questioning, running from police, and being killed represented solid police work to many residents reading newspapers or watching TV news. To others, especially among African-Americans, these and other police shootings are a microcosm of how cops, politicians, city leaders, and society in general are quick – perhaps eager – to crush people with dark skin.
"You wouldn't want to trade places with a black man at a traffic stop," said Bishop Mark Kirkland of Greater Saint Mark Church in Fort Worth.
For some, the system appears rigged to create economic disparity, school-to-prison pipelines, and a minefield of obstacles rather than bridges.
Over the years, city officials have responded to public dissent by hosting discussions, forming committees, and debating ideologies. And then … the dissent dies down and not much changes.
Pent-up emotions and frustrations tend to spill over after police shootings, and the spillage has been frequent lately. Black leaders point to 10 police-involved shootings in Fort Worth since spring. The city council meeting shortly after Slaton's death was raucous and combative, as residents demanded the immediate release of bodycam footage. Police complied two days later, with a partial video showing the suspect running and pointing the weapon toward police.
Still, the fury was slow to fade. Sanders had arrived at the scene and saw the familiar angst and anger on the verge of erupting among black residents.
"That's about the third scene I've been on in the past few weeks where the community is very upset and could erupt at any moment," Sanders said. "We're just lucky it hasn't."
Observing the news media's role in spotlighting the civil rights movement during the 1960s inspired Sanders to become a journalist. A half-century later, he's fighting the same battle. Currently, he serves as co-chair on the city's Race and Culture Task Force, created by the Fort Worth City Council after the controversial arrest of Jacqueline Craig and her two daughters by a white police officer in 2016. The task force spent more than a year researching and debating the issues and developing solutions to make the city more racially and culturally inclusive.
The task force's primary recommendation was to establish a board to ensure independent, unbiased reviews of police shootings and excessive force cases. City officials haven't punted on the idea but haven't embraced it either.
Eschewing a police review board would please some in the community who don't want to pay the anticipated hundreds of thousands of dollars in annual overhead costs. Others, particularly people of color, see the issue as a signaling point.
Will a failure to establish a police review board be the "one incident away" that sparks a riot? Who knows? Certainly, Sanders never said as much. Still, the thought popped into my mind as we talked.
Few can predict when a societal explosion will occur, but the proverbial gasoline is dripping and the sparks flying.
*****
Police – locally and nationwide – can be slow to release bodycam footage after shootings. Fort Worth police had waited several days to release video after Slaton died, fueling the wrath that was growing in some parts of the city. Sanders remained angry the day after Malone was killed.
"Every time you have police delaying information," Sanders said, "it puts in my mind –– as it does in much of the community's mind –– that [police] are spinning their wheels while trying to figure out a narrative."
Police kept onlookers away from the crime scene, although some residents voiced their displeasures loudly about another shooting of a young black man. "I was in a crowd when police were trying to push people back," Sanders said. "I kept asking, 'What was the crime?' "
Police officers recognized Sanders, and a lieutenant walked over to share information with him. Malone was a person of interest wanted for questioning about a homicide and was armed with a gun, Sanders was told. That explanation might have been enough to calm things five or six years ago. Not so much now. Public perception has evolved since the summer of 2014, when a string of black men and women were killed by police in high-profile incidents nationwide.
The Black Lives Matter movement that seeks to quell systemic racism and violence against black people originated in 2013 after George Zimmerman was acquitted of killing Trayvon Martin. The movement spread nationally after more deaths followed. On July 17, 2014, Staten Island police officers near New York City put Erik Garner in a chokehold from which he never recovered. The following month, a police officer in Ferguson, Missouri, shot and killed 18-year-old Michael Brown Jr. Many other shootings would occur, prompting Black Lives Matter rallies and protests.
Nowadays, people are skeptical when police justify shooting someone by saying they feared for their lives.
"Those stories have been heard so much in the black community that it's almost laughable when you hear a police officer say that," Sanders said. "The community does not respect or trust our leadership in the police department. They just don't."
After the Malone shooting – and with social media blowing up with angry comments and speculations – police officials released a portion of the bodycam video within a day. Chief Kraus said, "We wanted to release enough to dispel some of the misinformation out there and give accurate information of what the officers faced on the scene."
The video shows Malone wearing a bright yellow shirt, black cargo pants, black socks, and high-top sneakers running with a pistol in his left hand as police officers chase close behind. Malone, while still running, points the pistol in what appears to be the direction of police but does not fire his weapon. The police department's internal affairs unit was tasked with reviewing the shooting. Police officers investigating other police officers inspire little comfort in the black community, Sanders said.
"Residents don't trust internal affairs, which is where you are told to go to if you have a complaint about abuse or anything else," Sanders said.
An independent review board would give residents a greater sense of accountability, Sanders said.
If city councilmembers fail to establish a review board, the community "will consider all of the work of the task force null and void, which is what some people were predicting from the very beginning," Sanders said. "That would really not look good for the city of Fort Worth."
Sanders worries that city leaders will stall a while before either abandoning a review board or creating a watered-down version to please the Fort Worth Police Officers Association, the politically powerful group that provides endorsements, money, campaign signs, literature, and other support to favored political candidates. Local politicians are "so under the thumb of the POA that it is really hard for [local politicians] to make a strong decision that deals remotely with the police department," Sanders said.
Last month, the city council approved a $1.8 billion annual budget that includes adding a civilian police monitor, a non-cop who reports directly to the city manager. A police monitor falls short of a review board but could be a step toward that direction, city leaders say, since one of the first tasks assigned to the monitor will be to consider the creation of a review board. Task force members such as Sanders hope the monitor will recommend the establishment of a review board during the next budget. 
*****
After speaking with Sanders, I contacted another activist, the Rev. Kyev Tatum of New Mount Rose Missionary Baptist Church. Often, Tatum goes to the scenes of shootings to provide comfort, and he has witnessed the growing anxiety. The scene at the Malone shooting was "toxic," Tatum said.
"People were discounting the police story from start to finish," he said. "A lot of them saw it, because he was running, and they shot him in the back."
The police department's quick release of edited bodycam footage did little to appease Tatum.
"The police chief is very disingenuous by showing snippets of the video," he said. "That's telling a narrative the way you want to tell it. It's great to show the video, but show the video in its entirety."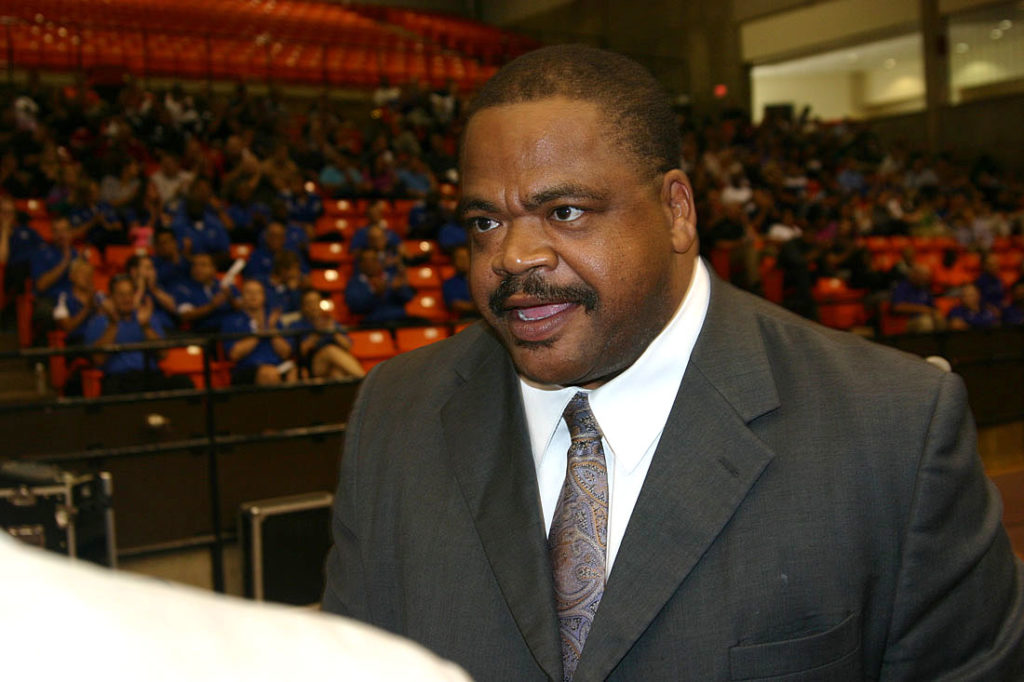 Tatum is among those calling for an FBI investigation of police tactics during these and other cases.
"When you have this kind of out-of-control policing, and they will not accept responsibility for their actions, you must bring in a federal monitor so that both sides can feel comfortable going forward," he said.
Tatum began recounting the names of African-Americans who have been killed by Fort Worth police, starting with Michael Jacobs Jr., a mentally ill man who died after being tazed by police officers in 2009. Tatum was about six names into his list when he stopped: "So many of these cases have been adding up over the last 10 years," he said.
Tatum was among the most outspoken critics of how police officers handled the case involving Slaton. Tatum said the police could have used de-escalation methods to capture the suspect alive but barreled in like cowboys with itchy trigger fingers instead. 
Some onlookers at the scene were becoming aggressive toward police while shouting, "No justice! No peace!" Tatum worried that violence would break out. Residents "could not believe [Slaton] was hiding, and the police found him and just shot him within 12 seconds," Tatum said. "That was a community that was not going to take it. Had we not come there to circle up to pray and give some sense of peace and calm … that one would have erupted for sure."
Manny Ramirez, president of the Fort Worth Police Officers Association, told news media at the time that Slaton's actions with his weapon at the scene initiated the quick confrontation and ended the potential for de-escalation.
Tatum criticized police in the Malone and Slaton shootings for taking what seemed like lengthy periods before allowing the suspects to be taken to hospitals for treatment.
"After they shot both of them, they left them on the street to die," Tatum said. "They provided very little to no medical assistance to those babies."
Tatum has been posting impassioned criticism on social media and at neighborhood meetings. Tatum and others believe police officers are tougher on black residents, particularly young men, and the harassment is "dehumanizing, demoralizing, demeaning, and devaluing them."
Tatum has harangued the police department and served on various boards and committees over the years to help initiate changes. He was a member of a police policy advisory board under the leadership of Joel Fitzgerald, the police department's first black chief. But city officials fired Fitzgerald in May, and the advisory board was disbanded when it appeared that a citizen review board was in the works.
"Never have I seen such a callous disregard for the standard of law as I'm seeing right now in the city of Fort Worth," Tatum said, describing the policing technique as "shoot first and justify later."
As we spoke on the phone, Tatum asked me to hold for a moment while he took an incoming call. He returned to the line after a minute and told me the phone call had been from Kraus' executive assistant.
"Chief Kraus wants to meet one-on-one with me," Tatum said.
"What do you think that's about?" I asked.
"It's about my posting," Tatum said, referring to his frequent online posts that criticize police. "It's about my aggressiveness in challenging their points of view."
I asked if Tatum planned to meet Kraus. Tatum said he would but wasn't in a hurry.
"Chief Kraus has shown me clearly that he is a go-along-to-get-along kind of chief," Tatum said. "He is one of the good 'ol boys, and whoever is calling the shots has promised him the permanent job if he goes along to get along."
Last year, Tatum was part of the city program Panther City Peacemakers, in which police officers and residents completed a 10-week, 40-hour course on mediation. The goal was to create a line of communication between police and the community to help improve relations and perhaps even be consulted during crisis situations.
Now, however, that program seems to have fallen off the grid, and city officials are taking community members on junket trips to observe other programs in other cities. Tatum wasn't invited.
"We've gone through months and years of creating the Peacemakers program," he said. "They've completely ignored the work we put into that program. It's insulting. It's offensive. They don't have to pay for no programs in other cities. Stick with what people in your own community created. It tells me they're not genuinely trying to solve these problems. They're trying to manipulate the people."
*****
Tatum is offended by city officials lauding their recent trip to California to study the Advance Peace program that is geared toward ending cyclical gun violence in urban neighborhoods. City councilmember Kelly Allen Gray, however, believes it's one of many steps that city leaders are taking to establish better communication with the public.
She doesn't feel co-opted by the police association, she said, nor does she feel the association is resisting efforts to establish improved policing techniques.
"We have had several police shootings, but police have worked really hard to hear the concerns of the community and to address those concerns," she said. "We are moving in a direction that allows for the community to be able to voice their concerns."
Sanders' belief that the city is one incident away from a riot doesn't ring true to Gray. She believes residents see how much work city officials and police are doing to create better communications.
"It is real easy to say no one is doing anything, but that is as far from the truth as can possibly be," she said.
She noted how the Malone shooting prompted a quick release of bodycam footage.
"In less than 24 hours, the video was released –– which was something we've never done –– because so much was swirling around social media," she said. "I don't know what to tell you if you say you don't believe what you saw on the video."
I relayed suspicions from black residents that city officials don't appear to back the creation of a citizen review board. Gray characterized the rumblings as "rumor" and believes the board will be established.
"We have never said we weren't doing that," she said.
After the Slaton shooting, residents poured into the city council chambers to complain about how the police and city leaders handled the situation. Now for discussions, city leaders are seeking input from some of those residents, including ex-gang members "who have now chosen a different path and want to be a part of the solution," Gray said.
I asked for the name of someone involved in those talks, and Gray mentioned Bishop Mark Kirkland, a member of the black ministry community and someone she considers to be independent-minded and outspoken.
She was right.
*****
I called Kirkland and paraphrased my conversations with Sanders, Tatum, and Gray and asked for his perception. He too had been at the scene of the Slaton shooting, which he described as volatile.
"Some of the deputy chiefs who reported to the chief of police said if it hadn't been for myself and a couple of other people there talking directly to our community and saying, 'Hey, guys, we can't do it this way,' that situation was a powder keg," he said. "I stayed on the scene for two or three hours talking to my people."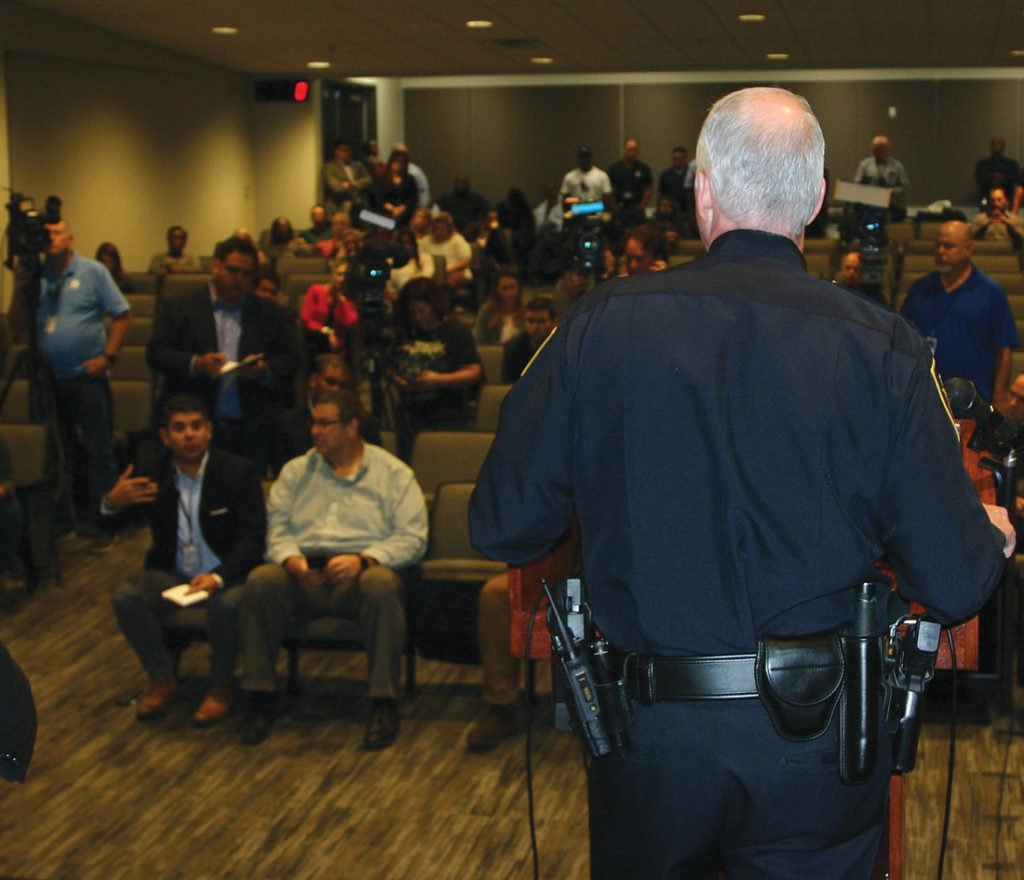 The lack of de-escalation techniques and the quickness of the shooting put people on edge, and police officers on the scene didn't do much to calm things, he said.
"The way they were backing people up and talking to people wasn't the most appropriate thing to do at the time," Kirkland said. "It was really about to become a bigger incident. There are those who don't trust police or what they say. We think that incident could have been avoided."
Slaton, Kirkland recounted, had a gun in his possession but didn't fire at police and was surrounded while hiding in a pickup. Why the hurry to force the issue?
"This young man who never fired on law enforcement is gunned down and massacred," Kirkland said. "We have a serious problem with that. He was contained. Where the hell was he going to run?"
Kirkland said police acted more appropriately in the Malone shooting, since the suspect pointed a weapon at them.
"These [police officers] have the right to go home, too," Kirkland said.
Working with city officials gives Kirkland a voice within the system, and he is committed to sharing his opinions. So far, he feels like he and others are making a positive impact.
"I'm grateful to councilwoman Gray and the chief of police, who are trying to find money to make [California] trips like that and to come up with some efforts that are going to help my people," he said.
If he senses a charade, however, he will say so. Loudly.
He and other activists, such as Sanders and Tatum, are trying to work with city officials but say progress has been slow. The community's impatience falls back on the activists.
"There is a group of African-Americans who are frustrated with the city and with leaders like myself," Kirkland said. "They feel we're not doing enough and that the only thing the city is going to respond to is some of the violence that has occurred in some of the other cities after police shootings. They feel like I let them down."
The divide between police and minority communities is old news, he said, and residents are demanding new solutions.
"Something has to happen for the city to gain the confidence of the African-American community," Kirkland said. "One advancement that could be made is this review board."
Establishing a police monitor but not a review board, he said, would be viewed as another attempt by the city to circumvent real change.
"If the city wants to take that approach," he said, "as it has in the past, we are going to have some major problems with some of the younger African-Americans who are really organizing themselves and educating themselves about what their rights are and how to go forward."
This new bunch "doesn't want to sit at the table," he said. "They don't want to have dialogue."
Some have "contacted me personally and said, 'Bishop, we're tired of y'all. Y'all ain't doing nothing. You're selling us out.' They've grown weary and are going to react. Their numbers are great enough to get the city's attention."
How will they react? Kirkland used an old cultural reference – the Watts riots in Los Angeles in 1965 – to make his point.
"This city is on the verge of burning, of being looted and rioted because they are really tired," he said. "If we do Watts and burn up our own community, we are the ones who are going to lose in the end."