Hot Box Biscuit Club, 313 S Main St, FW. 817-887-9019. 7am-3pm Sun, 7am-2pm Tue-Fri, 7am-3pm Sat. All major credit cards accepted.
Sarah Hooton is charmingly forgetful when it comes to recalling how she and business partner Matt Mobley came up with the name of their totally winning new restaurant. The nearly two-month-old Hot Box Biscuit Club is one of the most thematically and physically distinctive new additions to the ever-expanding array of restaurants, breweries, and clubs dotting the South Main Street area of the Near Southside.
Hooton's candid fuzziness about the origins of the name is about the only area of uncertainty when it comes to her and her partner's approach to the restaurant. Here's what they do know: They always wanted a "fun" concept to celebrate their devotion to childhood-nurtured Southern comfort food, often delivered through the vehicle of a flaky biscuit. 
After a series of successful pop-ups, Hooton and Mobley spent five months on a down-to-the-studs build-out of an old broom factory on South Main Street. The conversion included the eye-catching architectural conceit of Hot Box Biscuit Club's main signage, using a '50s-era roadside diner font seemingly plucked from a scene in The Marvelous Mrs. Maisel. 
The restaurant's mulit-level, 2,500-square-foot interior boasts a curvaceous front, fire-engine-red barstools, and drinks served in Mason jars, with one community table fashioned from wood off the bed of an 18-wheeler –– all underneath loft-standard 20-foot ceilings exposing heating and AC vents.
The easily navigable menu (with such cutesy ribald items as "Miso Corny" and "The Wedgie Salad") at the fast-casually organized lunch/brunch spot is simple yet miles from simplistic. It stands as a culinary valentine to the virtues of cooking from scratch. 
A starter of Pimpmento Cheese Hushpuppies was a paragon of greaseless canola-oil, 375-degree frying. Six of them to an order, these puppies wore a crackling surface tinted bourbon brown and filled with lip-smacking pimento cheese flecked with tomato.
Next to arrive were the addicting, gossamer-light Puff Daddies, a collection of lovingly misshapen (proving their hand-formed origins) chicharrónes – a food group rendering pork totally guilt-free. Their lime-pepper dusting brought a gentle twang to the dried pork's inherent fattiness.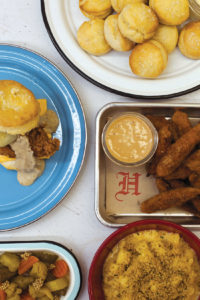 At this point in the meal, I thought it wise to sample the house biscuit in its most buck-naked form. This heavy cream-based (as opposed to cut-butter-incorporated) biscuit did a good scone imitation when it came to balancing gravity-beating flakiness with tenderness. Its countless divots reflected its hand-kneaded preparation. A nugget of biscuit under a cumulus of butter and whiskey may very well be this restaurant's signature taste: pure comfort akin to a down-filled blanket.
Hot Box Biscuit's namesake dish does a nice two-step with The Dolly Parton's crackling wedge of fried chicken, as the bird properly spanned the plate as wing flaps would a jet airliner. This chicken retained its alluring crunch despite supporting a sluice of sausage-based cream gravy.
The Mattie Melt highlighted the richness of the housemade breakfast sausage. Despite the biscuit falling short of the regulation hamburger-bun intactness test, a knife and fork guaranteed the perfect savory-sweet-salty bite of biscuit, sausage, nostalgia-laden grape jelly, and caramelized onions, all obscuring a too-timid use of cheddar cheese –– odd for a "melt" sandwich.
Behind Hot Box's enveloping Zen-like casual calm lurks a meticulous attention to the humblest of items. There's nothing mailed-in about the mac 'n' cheese side, as its little radiator-shaped pasta was perfectly napped – not drowned – in a sharp and mild cheddar cheese sauce and redolent of house-smoked and -cured bacon. I hereby want my day's worth of vitamin C from Hot Box's house-made combination of orange and passion fruit juices, with ginger paste, crushed mint, and, yes, Tang. 
Hooton channels her considerable pastry chef expertise into the dessert that proudly bears her name. Sarah's Buttermilk Pie's slightly bronzed crust is sturdy enough to support a small dune of cream studded with Rice Krispies yet still phyllo-dough flaky. The pie's custard-like interior celebrated the time when chess pies ruled the world. A gumdrop-sized pool of blackberries cooked down with sugar and vinegar complemented the confection's assertive buttermilk bite. 
Just outside the Club's front door, I spied the first of its several nifty logos: two clenched fists in red and white with "biscuits" tattooed across the knuckles. And whether entering or leaving this new biscuit temple, I grew to appreciate a central slogan emblazoned on its company T-shirt: "I got 99 problems, but a biscuit ain't one."
For the first time, I've encountered a biscuit that delivers on taste and a truism to live by. 
Hot Box Biscuit Club

Pimpmento Cheese Hushpuppies $6.50

Puff Daddies $4.50

The Dolly Parton $10

Mattie Melt $9

Mac 'n' cheese $4

Sarah's Buttermilk Pie $5