BirdieBop, 2000 W Berry St, Ste 100. 817-793-7928. 9am-3pm Sun, 5pm-11pm Tue-Thu, 5pm-1:30am Fri-Sat. All major credit cards accepted. 
Chef Joshua Harmon is famously experimental. He once confounded the owners of The Food Hall at Crockett Row –– the setting of his edgy deli mini-storefront –– by roasting a whole pig in the back of the hall's common area. Adrian Hulet is also something of a culinary mad scientist. After all, he's best known in the foodie-verse as the brains behind the multi-pronged FrankenKitchen. It's only fitting that the two pioneering gastronauts would collaborate in a restaurant on The Moon. 
BirdieBop is more than a pop-up but definitely not a full-service restaurant. Order at a tiny window just past the door of the cavernous Moon Bar, and your food will arrive when it's hot and ready –– which may mean all at once.
Hulet's love of fried chicken is apparently legendary, and Harmon has the kind of Southern-fried chops to pull off a good Nashville hot nugget. Don't confuse the months-old eatery's take on fried bird for generic picnic fare –– there's something way more interesting at play. You don't have to love fried chicken to appreciate the intercultural mix happening in BirdieBop's kitchen. Case in point: the stuffed eggs, a riff on deviled eggs with a salty kick thanks to delicate ribbons of nori and a Korean pepper punch on the rebound. The eggs tasted a little like the Everything spice on a bagel: a little salty, a little crunchy from the sesame seeds, spicy, and a little garlicky. One order wasn't really enough, but the menu is full of tapas-like treats and heaver items, so my dining companion and I pressed on.
The appetizer of pickles and kimchi demonstrated more of the East-West (or maybe East-South) zen. Perfectly sour housemade pickles –– the kind you'd want on a fried chicken sandwich or greasy burger –– paired wonderfully with the kimchi that was lightly fermented but not aged to the point that it had a life of its own and could carry on a conversation. The light, al dente crispness provided a delightful balance to the spicy sharpness.
We visited on a Wednesday, when chicken wings are a deal. The giant wings come as nature intended, with three sections fully attached. I've always found the wing tip to be useless, or at least hard to eat, but the drumettes and middle flaps were respectably sized and perfectly cooked. For reasons I still don't understand, we picked the buffalo seasoning for our wing feast. While that flavor featured a glorious vinegary/spicy bite, I had minor food regrets that I didn't order the wings with the Korean sticky lime sauce. Buffalo-style wings are available Wednesdays only, and there is no blue cheese sauce for dipping. However, the house spicy ranch provided an adequate substitute.
The oddly named Closed on Sunday is a two bite-sized sammy – exquisite fried chicken with a couple of pickles wrapped in the most adorable, fluffy little bao bun. If you've been boycotting that chicken chain that's closed on Sundays (or it's actually Sunday and you want a chicken sandwich), this version rules the roost. Hulet cautioned us that most people order two or three because the sandwiches are petite, which was true. But potato heaven awaited, and just like with the stuffed eggs, we figured we could double back if needed.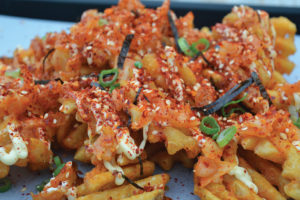 There really was no need. The warm potato salad featured an unusual combo of crispy fried potatoes, chopped egg, and a tasty garlicky sauce. It wasn't like your Southern Meemaw's mustardy pot-luck offering, but neither was it a traditional German-style salad. The sauce was more like a glaze than something that actually was soaked into the spuds. Although my dining companion liked the warm salad, I really loved the waffle fries with accompanying Birdie mayo. The fries had a satisfying crunch, and the seasoning coating them was downright addictive.
On a weekday evening, The Moon was hospitable to both young families (yes, there was a baby in a bar) and to what looked like the entire class from the exercise studio above the bar. BirdieBop is carving a nice, funky niche in the TCU environs. 
BirdieBop

Kimchi & pickles $4

Stuffed eggs $6

Closed on Sunday $5

Wings $6

(Wednesday special)

Potato salad $5

Waffle fries $4