Wicked Butcher, 512 Main St, FW. 817-601-4621. 5pm-10pm Mon-Thu, 5pm-11pm Fri-Sat. All major credit cards accepted.
Steakhouses proliferate in downtown, but Wicked Butcher occupies a unique niche with its intimate speakeasy vibe — a secret lair for your inner gangster. The art deco-inspired eatery is part of the flashy new Sinclair Hotel, Autograph Collection, located in the historic Sinclair Building. Opened in 1930 as the headquarters of the Sinclair Oil Company, the landmark's exuberant architecture evokes the Gilded Age optimism of the Roaring '20s. Wicked Butcher takes its cues from this era of prosperity with a high-end menu of dry-aged beef and seafood, including a well-stocked raw bar. It's the latest venture for Dallas-based DRG Concepts, a restaurant group whose concepts include Chop House Burger, Wild Salsa, Dallas Chop House, and Dallas Fish Market.
Wicked Butcher's full menu is available at its street-side bar, which also offers more casual dishes like steak frites. And in April, the hotel's 17th-floor rooftop terrace will open for small bites, fresh oysters, and cocktails over the cityscape. It will be one of the only rooftop bars around — definitely something to look forward to.
But for this weeknight dinner, my guests and I slipped down the staircase to the basement-level restaurant. Low lighting, rich brown leather, dark woods, and brass pay homage to the old school. Expensive bottles of wine line the windows. Shiny white tiles provide a touch of butcher-shop style, playing off the green marble accents. Massive slabs of beef shine like trophies through the cooler's window. Fusing classic steakhouse aesthetics with art deco élan, the room feels like a luxurious den for drawn-out dinners and confidential conversations.
Service set the night apart. Every staffer went out of their way to make us feel taken care of, from the bussers to the managers. Wicked Butcher obviously knows the power of little details to create an air of specialness. Complimentary champagne tasters arrived when we did, followed by an amuse-bouche of potato crisps with caviar and pickled strawberries. 
White cheddar pop-overs took the breadbasket far beyond basic and hinted at the delights to come. We lingered over the cheese and charcuterie board, with generous servings of artisanal treats and flower petals scattered about. The Spanish chorizo, Prosciutto di Parma, pickled mustard seeds, and hard goat cheese were the table favorites. Pickled mustard seeds also appeared on the Wicked Eggs, six beautifully arranged deviled eggs with six different toppings, including watermelon radishes and crunchy sesame tuile. Truffle and balsamic-soaked tomatoes turned the Butcher's Salad into a highlight of the evening.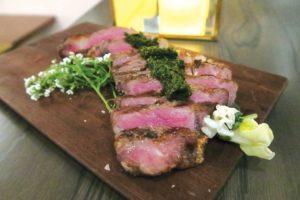 Wicked Butcher specializes in premium cuts of dry-aged meats, including dramatic tomahawk steaks and the massive porterhouse. We settled on the boneless ribeye and added chimichurri sauce on top (seven different sauces are available). We debated the steak's "medium" degree of doneness, however its top-tier quality was undeniable: tender, mellow, and almost nutty in flavor. 
We liked the seafood even better. Seared with finesse, the buttery Verlasso salmon arrived on top of not-boring parsnips and a parsley puree. We'd heard buzzing about the restaurant's raw oysters and had to sample a few fresh-shucked Duxburys. We slurped them down with a friendly mignonette and discovered ice-cold shellfish perfection. The oysters' briny brightness played foil to our decadent side dishes, two of which could have easily passed as dessert.
Tater tots seemed out of place on the fancy menu, but they boasted upgraded extras like goat cheese and truffle oil. Unfortunately, the honey and sweet potatoes overpowered every other flavor with too much saccharine cloy and too little crunch. Sweetness balanced much better with the poblanos and chives in the corn crème brulée, creamy and lavish under the satisfying crackle of caramelized brown sugar. The mac 'n' cheese didn't change our lives with its basic béchamel and breadcrumb top — but then again, comfort food isn't supposed to shake the earth.
Glossy and covered with toasted hazelnuts, the chocolate hazelnut torte roused us out of our "can't-eat-another-bite" stupor. We couldn't resist the rich man's Rocher. Saffron cheesecake split the crowd –– I voted "yea" for its funky flavor, fluffy body, and grape-cherry goo on top. Tiny squares of salted chocolate truffle arrived as our farewell treat, one last touch of specialness on a very special meal — and an offer we couldn't refuse. 
Wicked Butcher

Boneless rib-eye $65

Verlasso salmon $36

Corn crème brulée $11

Cheese board $22

Wicked eggs $10