Two years ago, Clayton Norris and Dylan Rice had a problem. The duo behind the retro synth-pop project Vogue Machine were packing for a gig at a festival in Nuremberg, Germany, when they realized they had too much old stuff. 
Their suitcases were overflowing with production relics like an MPC 2000XL and an Oberheim Matrix 6R. During a recent interview, listening Norris's recititation of his catalogue of antiquated equipment was like hearing a reading of a music production guide from the 1990s. But that's always been Vogue Machine. 
Since Vogue Machine was started in 2013 by Norris, 25, and his significant other, Rice, 26, the pair has crafted a meticulous brand. The duo's sound is digital. Their production is analog. 
"From the beginning, we've always seen Vogue Machine as a brand," Norris said. "We speak a certain way, we dress a certain way, and we use certain instruments."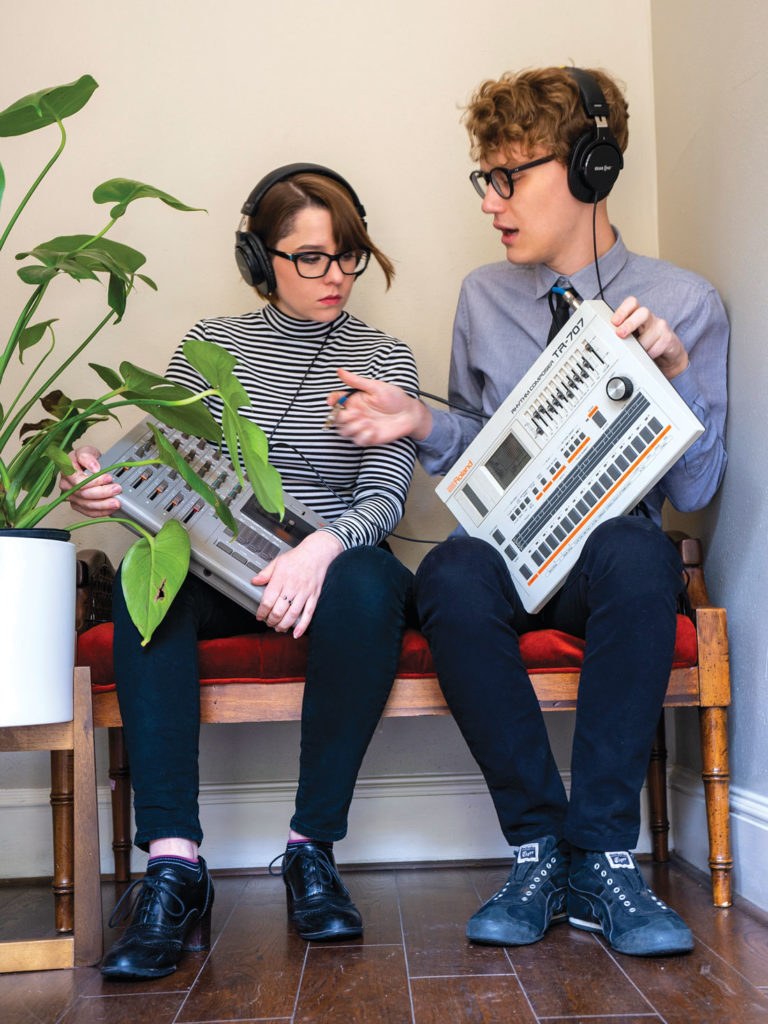 Norris was 19 years old when he and Rice started the band. Since then, the two have lugged their own equipment, designed their own logos, and tried to curate a brand that embodied their seemingly oxymoronic name.
"It's vogue, and it's a machine," Rice said. "Our brand is fashion, but it's also structured and formal. We're aloof and business at the same time." 
When they realized their gear doesn't travel well, they reconsidered what it means to be Vogue Machine. 
"We were never the band that would just take a laptop on stage," Norris said. "But once we used [the popular music sequencing program] Ableton, the floodgates opened. We could not only make music that was complex but incorporate more of the pop sounds we like." 
Their forthcoming releases –– the Placebo Nights EP and the Lateral Move album –– are the manifestations of that overhaul. While they still use a museum of old equipment to make music in their home studio, Vogue Machine has embraced Ableton and a much simpler live setup: just Norris, Rice, a pair of synthesizers, and a backing track machine that plays samples and drums and even controls their synths and the lights. 
The music is different, too. On Placebo Nights, the duo has crafted a pair of dance pop tracks. 
Before the duo began working with producer Samuel Culp and his Common House collective (Wrex, Yokyo, Bryce Bangs), Vogue Machine's moody sound could best be described as "dark wave." Partnering with Culp has led to the creation of the poppier sonics that listeners will hear on Placebo Nights.
"We thought, 'How would Vogue Machine sound for party music?' " Norris said. "This is the soundtrack to the movie that is your spring break." 
The shift from dark wave to pop came amid a feud with Nathan Brown, the band's former producer. In November 2019, Brown, creator of Dead Media Tapes, an 8-track record label and online 8-track retailer and repairer, allegedly released a Vogue Machine album without permission from Norris or Rice. The album was a 14-song record that Norris and Rice felt was "unfinished."
"During production, the final sound ended up not being compatible with mono speakers, phones, and smart devices," Norris said. "All of this hard work ended up being unusable for a release."
According to Norris, Brown packaged the music with a photo, artwork, price, and title that had never been discussed by the producer or band.
"We felt like we lost control," Norris said. "We had no control over this product that people thought was legitimate." 
For Brown, the release was spurred by a desire to see the music come to fruition and a general enjoyment of stoking the flames of social media controversy. 
"My close friends know that I handle Facebook like it's a dog park," Brown said. "I like to let my ego off the leash, run around, and urinate on select individuals' legs that get caught up in watching it happen.
"The base reason for creating the package and going to all this trouble is that I wanted to do it for myself," he continued. "I love the music they were doing. They're friends, and I had invested a lot of time, energy, and spirit along with them into the hope that it would be released soon after we finished mixing." 
Vogue Machine considered it a betrayal and an inconvenience that delayed their 2019 music plans. 
"I think he thought we would feed our egos, like, we would be flattered by it, when, in fact, it was quite the opposite," Norris said. "I don't think he understood how serious we are about curating our own brand." 
That brand is still evolving as Norris and Rice continue to experiment with their sound and setup. Until this latest batch of new material, the couple maintained clearly defined roles onstage and in the studio: Norris was the lead singer and main writer and Rice backed him up. The music on Placebo Nights and Lateral Move marks a shift in that makeup. 
"As Dylan began writing more bridges and choruses, I began writing in her style," Norris said. "Suddenly, she was writing lyrics, taking over vocals, and commanding how a new track was to sound." 
For Rice, Vogue Machine's shifts in sonics and tech have permeated their everyday lives.