"Everything that could have happened," Caleb McCallum said, "happened in 2020."
Sitting in a sprawling Keller warehouse next to his business partner Alan Scott, McCallum, who goes by Rooster to his friends, summarized 2020 — the year he and Scott were furloughed then terminated from Gaylord Texan Resort and Convention Center before founding Dream Maker Builds.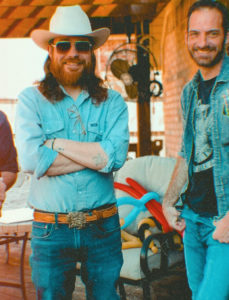 The past nine months have been both "terrifying and exciting," McCallum said. "We could complain, but we feel incredibly blessed."
As turbulent a year as 2020 was, McCallum and Scott have worked nonstop since launching their art installation and construction business in March. The subsequent months were spent building fantastical projects for hotels, nonprofits, and businesses while growing their brand.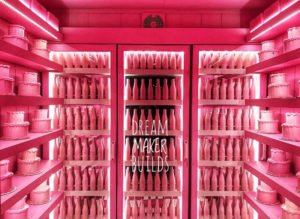 The project-building team used the term "utilitarian art" to describe what they do. Need a spherical-shaped bookcase or a classroom that looks like the inside of a school bus? Dream Maker Builds has you covered. Local musician Jeff Dazey recently hired McCallum and Scott to construct the "World's Smallest Honky Tonk," also known as the miniature stage used to film Dazey's Last Call Tavern, a livestream series that features local musicians and artists.
Dream Maker's projects blur the line between fine and commercial art. It's a space that McCallum and Scott are comfortable with. After working in the entertainment and construction fields, McCallum and Scott have found a love for that middle ground of creating functional creative projects that take viewers out of their daily routines and into spaces where rooms become school buses and hotels become dream-like ice cream parlors.
Scott's early career in roofing offered the benefit of access to tools and lots of metal scraps.
"I'd take them home and fashion them into things," he recalled. "My grandmother was an art teacher in Arlington for decades. She always inspired me."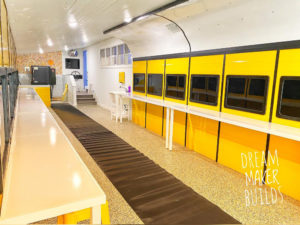 His "gothic-style" metal works include cupholders, candleholders, and other functional items that are typically bereft of creative design. Scott would show his fantastical pieces at local shows, and that's where he met Gaylord production manager Christopher Gonzalez, who soon offered Scott a job.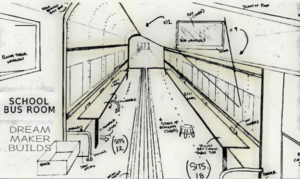 "I started by working part-time at nights throughout a 2016 Christmas program," Scott said. "Then I was asked to come over full time. I started designing things and leading large groups of people to accomplish large tasks with deadlines."
Scott enjoyed the seven years he worked at the Gaylord, he said. As part of the resort's production crew, he learned about carpentry, stage design, welding, and other skills he now uses to build Dream Maker's enormous projects.
McCallum came to work at the Gaylord by way of Marfa — an escape the Fort Worth native took to "sober up," he said.
"I went on vacation to Marfa and decided to stay," he added.
He worked at the campground El Cosmico on the maintenance crew.
"I mostly got sober going to [nearby] Terlingua and building weird stuff," he said. "I reconnected to my long-term girlfriend, and we decided to get married."
The marriage brought McCallum back to North Texas, where he began working at the Gaylord and met Scott, a few years ago.
"We didn't care for each other when we first met," McCallum said with a laugh. "Now, he's like my best friend. We both realized that we both like to build utilitarian art, art with a purpose."
McCallum and Scott often tossed around the idea of starting their own company, but nothing came of the small talk until March.
"In March, we were told jobs were being cut at resorts," McCallum recalled. "They told us to stop work. A week later, they said we were furloughed for two weeks. Two weeks later, they said they are going to terminate our positions."
A friend mentioned a new project in Grapevine that was led by the nonprofit House of Shine. Scott said it was the type of work the two friends had always wanted to do. They reached out to the charity, drafted a proposal for constructing more than 20 installations and exhibits, and began working nonstop from April to August.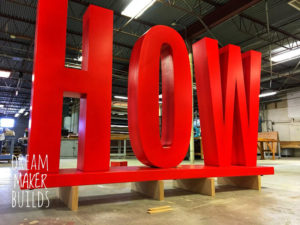 Colleen Monroe, the nonprofit's chief operating officer, said she and executive director Claudia Beeny interviewed several companies for the project. With a mission of promoting self-discovery, House of Shine was transitioning from a traveling educational program to a brick-and-mortar location. Beeny and Monroe were looking for collaborators as much as vendors.
Monroe said, "One of the things we would tell them is, 'You need to spread shine in your corner of the world. There is a corner as you walk in the space. Picture a museum shop in the corner. What do you imagine that to be?' "
Mostly humdrum suggestions like hanging shelves followed, Monroe recalled.
"Then we met Dream Maker Builds," she said.
McCallum and Scott were noticeably excited by the proposition. The duo enraptured Beeny and Monroe with the vision of a globe-shaped shelf that had a walking space down the middle.
"Claudia and I looked at each other and knew they had to be our partners," Monroe said. "They understood the vision and could execute it. From there, it was a match made in heaven."
The pandemic and resulting layoffs meant that the Dream Maker crew had ample time to pour into the project, but materials were scarce.
"Trying to find plexiglass during the pandemic was insane," McCallum said. Those materials were "getting turned into guards at gas stations. The prices became incredibly inflated. We pulled off the project with two helpers working in a barn."
With their first contract booked, McCallum and Scott scrambled to file the necessary paperwork to start a business. McCallum recalled being surprised how many checks he had to mail to various state offices just for the government to acknowledge the existence of Dream Maker Builds. The $6,000 in out-of-pocket expenses may not have sounded like a lot, Scott said, but it was all the two had at a time when there weren't alternative work prospects.
"That's low for most" startups, McCallum said. "We are just blue-collar dudes who really love building art. We had all our cards showing. We were all in."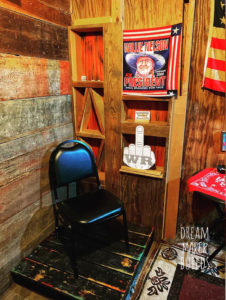 Monroe said the Dream Maker team created new spaces and installations in a relatively short period of time, given the enormity of the task.
"We had been around [for seven years as a nonprofit], but we didn't have anything you could touch," Monroe said. "We described our nonprofit through words, which was difficult. To have a space where people can interact and sit down and do the hard work it takes to learn about themselves, they helped us do that."
At one point during the project, Beeny told McCallum and Scott that they build dreams.
"Everyone is overwhelmed at every turn" when they visit House of Shine, McCallum said. "We created the impossible" that summer.
Scott and McCallum hope to continue making seemingly impossible dreams come true for small and large businesses across the region. Their collective plans for 2021 include creating artistic fixtures, artwork, and other unique pieces for new and refurbished homes.
"I think we'd like to meet some home flippers," Scott said. "We'd come in and design their spaces and possibly move into the consulting and project management field. I'd like to do custom furniture when we have time."
In mid-March, during our second interview, the dream-making duo described their recent transition from small projects to large installations.
"We were still building props," Scott said, referring to the few months following the House of Shine build.
Small projects kept the business afloat after the large nonprofit's contract was finished, McCallum said.
"We had to go inward and get really crafty and creative," McCallum said. "We made smaller props for party planners, pop-ups, and even a pet store. We worked for anyone who needed something creative, whether it be a display or some weird-shaped prop like a rainbow. We got close with a group of women who owned their own companies and reached out to us on Instagram."
The small gigs kept Dream Maker Builds profitable, but McCallum and Scott wanted to work on larger installations and creative projects.
"We realized we needed to find someone who is doing what we wanted to do" but has been doing it longer, McCallum said.
McCallum reached out to two old friends: Patrick Adams, owner of 6572 Builds, and Rick Davenport, owner of Davenport Design Build. The calls paid off. Brandon Pederson, who owns the design and carpentry company Brother Sister Design and works closely with Adams, called McCallum back and offered work and the chance to build a relationship.
"We have been following each other on Instagram for years and years," Scott said. "His shop had a lot going on. It opens doors [to businesses like Brother Sister Design] to have more hands. Same goes for us."
Adams and Pederson were in the finishing stages of placing large installations on the exterior of an upscale home.
"You need as many experienced hands as you can get," McCallum said of the recent residential projects. "These guys have been doing what we want to do, and they have been doing it well. To learn through osmosis has been incredible."
McCallum and Scott are currently undertaking a couple of projects for Davenport Design Build, including constructing a showroom on the Near Southside for Printed Threads, a custom T-shirt maker. Dallas-based Sweet Tooth Hotel, an immersive art installation, has several projects planned for Dream Maker Builds, Scott said. McCallum added that his business is progressing with the "mullet approach" of finding business-friendly installation projects for companies and homebuilders and more party-friendly gigs, like the art-driven Sweet Tooth Hotel projects, that satiate McCallum and Adams' inner artists.
"We hope that people recognize from our story that [life and work] can be really great if you work" collaboratively with others, McCallum said. "We were fired from our jobs, and we wanted to build. We found some other dudes and women who understand that. We are trying to build a community here. We aren't doing anything new, but we are trying to put our own spin on it. We are just a company doing what it loves and doing it with the people we have been lucky enough to meet so far."
Follow Dream Maker Builds on Instagram @DreamMakerBuilds.